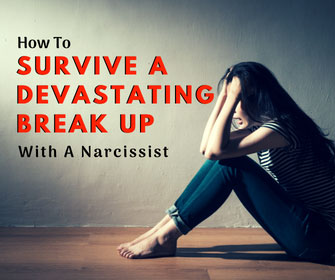 We all know what it is like …
We are reeling, and can barely breathe … let alone get up, get on with it, recover and re-start our life.
Trying to survive a breakup with a pathological abuser – meaning get away, stay away and heal after being in a relationship is one of the toughest things we will ever do.
Why?
Because we are hooked in and deeply traumatised.
We feel helpless because of trauma-bonding and survival programs activated within us, that make us believe we can't live without this person.
It's usual to feel like we are going to literally die.
I went through all of this, and I know so many of you have as well … or are experiencing this right now.
And that is exactly why I wanted to grant you this Thriver TV episode to truly get to the bottom of this to HELP you in the most powerful, fastest way I know of … to get clear, get strong, and become a force of power and truth who can leave …
… successfully.
If you are still with the narcissist knowing you have to leave, or have left and are struggling to keep moving forward, or experiencing the terrible twists and turns and horrifying emotions which are synonymous with trying to survive a breakup with a narcissist, it is my greatest wish that this video will help you beyond measure.
Video Transcript
Breakups with narcissists are devastating because it's not just like we can flick a switch, leave and just get over it.
Why not?
Because we are hooked in and deeply traumatised. Which really means we are trauma-bonded and our deepest darkest survival programs are activated. Everything feels like it is under siege. Emotionally we feel terrorised and even like we could die.
And … the terrible thing is, being with a narcissist is like being pushed towards the edge of a cliff. We know that if we are still with a narcissist that things are getting direr and more tragic. And … there is no way of avoiding this, yet we struggle so much to leave. When we do leave there is a whole other level of challenge – which is 'how to leave in our power?'
Usually, we will have many failed attempts to leave, or can't even imagine doing it, because we haven't yet understood or addressed why emotionally we are still trapped and enmeshed with the narcissist.
Let's start with the real place we need to look at. Which is how we feel when we are still hooked in and connected to the narcissist before we leave.
If You Haven't Left
I want to get straight to it to help you in this video today so that you can understand the REAL reasons why leaving can be so difficult. Here's the answer – it's all about subconscious survival programs.
Deep within our subconscious programs are the beliefs, with the painful associated traumas, which have us paralysed in the fear of things like this: 'Without you, I won't survive', 'If I leave you, you will hunt me down and destroy me, or ruin my life in some way', 'I can't generate my own survival, security or life-force without you', and … other things like: 'If I try to leave you, you will take away those that I love to punish me' … and many others.
(Are your vibrating inside with cellular knowing that you are carrying any of these? You will feel it if you do …)
And … if we have these deep epigenetic (meaning acquired from our ancestors), past life (believe me past-life still-existing traumas in our energetic body are responsible for so much) and childhood terrors coursing within us, which match the narcissist's threats and disgraceful behaviour, we may feel literally powerless to leave.
Boy, do I relate. This was huge for me and was so responsible for me going back over and over again until these beliefs and traumas were addressed in my body and healed. And then I was able to stay out and away easily.
With narcissist number 1, I wasn't able to for a very long time, when I didn't have the tools and the knowledge.  Yet with narcissist number 2, because I did have Quanta Freedom Healing and knew how to shift traumas from my inner subconscious programs, it took me only 3 days after doing No Contact for me to disconnect all longings to return to him ever again, and I never did.
So I cannot recommend this enough – no matter what your challenges and traumas regarding leaving are, whether they are real-life issues without or within, tackle them within. Do the inner work, because once you shift your inner subconscious programs that are generating your life-reality to the letter, the outside must shift.
Where there is no way to leave, a way to leave will appear, and you will start to be able to generate the powerful emotions, boundaries and resources to do it. Many, many people have worked the NARP Program with success whilst still living, working or co-parenting with narcissists. It still works even if still connected.
Setting Emotional Neutrality As Your Goal
This is the utter truth: The more energised your feelings of pain, betrayal, shock and the like … meaning, if you are still angry, victimised and in the throes of the agony – this is going to make your emotional survival of breaking up with a narcissist really painful.
And of course – I want to validate you totally. Of course, you are going to have these feelings. It's normal and human and a part of the entire process of healing. But we need to meet them and shift them out so that they don't get wedged within you and continue to indefinitely wear you down, strip your life-force and literally eat your soul alive. History proves to us that often 'time' doesn't heal narcissistic abuse, whereas the specific inner step-by-step Thriver Recover work does.
'Emotions First' is the total key – which means: As the Quantum Creator of your reality from your emotional/energetic being – you only have the power to change yourself to change your world. If you shift how you feel about something and your beliefs regarding it on the inside, then the outside must follow. That is the Quantum Law of so within, so without which is as absolute as gravity.
And, this is at first totally counter-intuitive to everything we were ever taught, which was: try to wrestle whatever is hurting you on the outside to change how you feel on the inside. Yet this is the biggest wrong-town premise of all time. When we Go Quantum, we know this: 'My true power is to change who I am in regard to something at the level of my emotions inside me and then that thing, in my reality, must shift to match my new Inner Identity on this topic.
Can you REALLY feel this – do you know how powerful this TOTALLY is?
When we are leaving a narcissist and trying to survive a breakup with them – there is no higher time of necessity than to get onto this stuff. In fact, in my honest opinion, if we don't evolve ourselves to this true level of human consciousness and operation, we can only at best try to just go through the breakup instead of growing through it, and we miss the breakdown/breakthrough experience. We don't evolve as a result of what is happening to us … we dissolve instead.
It is so sad to see that, because this total Quantum Law and the way to apply it is missed in so many narcissistic abuse recovery experiences, that most people have the 'break' experience' after narcissistic abuse rather than the 'make' experience. They painfully merely survive, and they certainly don't do what their soul intended as a result – which is Thrive.
Aftershock
A very little understood phenomenon happens to us when we leave a narcissist and stay away. I call it 'aftershock.'
This happens when all the traumas that never had a chance to be felt, because you were stuck in the fight for survival, now have the space to, and they hit like a freight train. Even though you may be away from the war zone and the abuse, so many people say that they feel worse, not better and even like they are going crazy or feel like they want to die. Aftershock pummels virtually everyone who leaves a narcissist, and it causes so many people to return to them. The feelings are so intense they feel like love and 'I can't live without you'.
Nastily, there is so much trauma-bonding going on, which is highly activated in this time of aftershock.  I am including a link with this video to help you understand more about why you feel so addicted to the narcissist and can't stay away no matter how much they are abusing you. Again, the way to break this connection/ addiction/enmeshment is emotional. If we do the inner work on our emotional subconscious programs to break free from them – the feelings of longing, love and 'I'll die without this person' are replaced by repulsion and then detachment and indifference.
When we are deep in the aftershock phase this is the time to batten down the hatches, be deeply with our emotional traumas, holding them and releasing and replacing them, to go free of them – rather than running back to the narcissist or trying to self-medicate the overwhelm away with alcohol, drugs or pills (or other addictive tendencies). If we miss this time to let go of what arises, we can be stuck with it inside us for a very long, arduous and agonisingly torturous time. That is your classic narcissistic recovery, whereas Thriver Recovery is the first so much healthier version.
More Helpful Resources
Before we wrap this Thriver TV episode up, I just want to point you towards a two-part article series I did a while ago on this topic, which will provide you with further links and resources to help you survive a break up with a narcissist.
Within these resources is further information regarding helping our children in the breakup, when we feel too guilty to leave a narcissist, how to handle the inevitable smear campaigns, how to guard against being hoovered back in again, being replaced by another and much more.
So if you know you need to leave, or have left and are struggling – my heart goes out to you because it's a horrible time, its so hard, but what is great is that now we do have Quantum Tools and processes and step by step systems to help move you up and out and through so much more effectively and painlessly – and in ways that render the narcissist powerless against you, and I'd love to connect you to my transformational free resources by clicking here.
And if you want to see more videos make sure you like and subscribe, so you get notified as soon as each new video is released.
So, until next time… keep smiling, keep healing and keep thriving because there's nothing else to do
(Visited 1 times, 28 visits today)
The following two tabs change content below.

Melanie Tonia Evans
is an international narcissistic abuse recovery expert. She is an author, radio host, and founder of Quanta Freedom Healing and The Narcissistic Abuse Recovery Program. Melanie's healing and teaching methods have liberated thousands of people from the effects of narcissistic abuse world-wide.

Latest posts by Melanie Tonia Evans (see all)