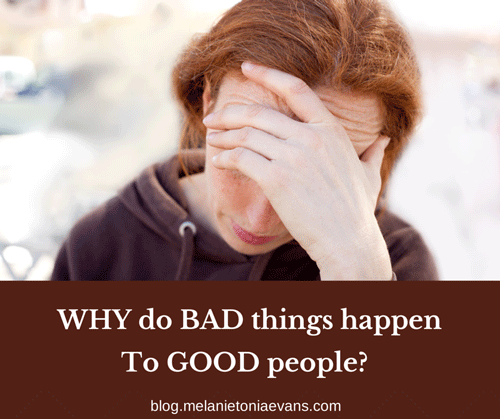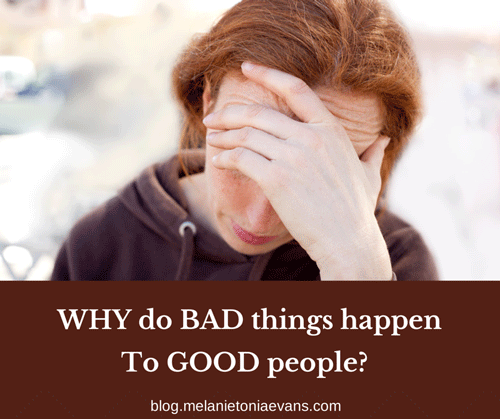 This article is one that has been inspired as a result of a comment that a lady named Jean posted on my latest blog article …
"'Am I carrying enough darkness (fear) regarding my own security and survival that I need to learn the lesson of NOT selling my soul out to abuse to try to survive?'
FEAR = Darkness…here I thought I was a 'lightworker type.'
Getting it!"
Jean's comment inspired me to realise how so many "lightworkers" (good people) are in deep confusion as to why "bad" things happen to them.
It is so easy to agonise over "Why do bad things happen to good people?"
This brings us to all sorts of further questions such as: "Why does God allow such horrible things to happen to good people?"
And generally, we don't want to believe that God would allow such things, so therefore this must mean that evil is at work.
From this a common belief was born: "Evil and Satan is making this happen; this is why bad things happen."
Interestingly, Greek mythology depicts "Pan" as the Devil. The archetype meaning of Pan is "the scapegoat."
Assigning the Devil as the scapegoat means we don't take inward "responsibility" to being "the generative source of our own experience," and we blame things that happen to us on forces outside of ourselves.
When we are stuck in this model, to turn inwards and self-reflect can feel like blame and shame. Then we ask this question indignantly, "Are you saying what happened to me is MY fault?"
Such is the state of unconsciousness and pain that we can be stuck in; the unfortunate binds of believing – this has nothing to do with me, I AM a good person, and my life is controlled by forces outside of me – therefore, I AM vulnerable to darkness and evil.
In this article I want to demystify all of this for you. Most of all, I want to help lead you into understandings which will release you from blaming and shaming yourself. These understandings will not render you powerless to outside forces, instead they will show you a way through to embracing and empowering yourself.
To listen to the podcast click the play button below.
Audio clip: Adobe Flash Player (version 9 or above) is required to play this audio clip. Download the latest version here. You also need to have JavaScript enabled in your browser.
How We Hand Our Power Over
I believe that when we scapegoat the darkness to outside of ourselves, this only perpetuates our beliefs in "darkness" and "evil," and it makes us very susceptible to the "dark" presences, which can infiltrate our life.
We may even feel that "being a good person" makes us a target for evil – because evil forces are going to come after our light.
These beliefs cause several painful conditions, such as more personal and collective fear of: "I'm not safe in the world," as well as our contraction inwards trying to protect ourselves.
We may even begin to think, "If I can't beat them join them" and start justifying having to operate in a "dog eat dog" world with actions that state, "I have to get you first before you get me."
This is exactly the beliefs that caused victims of abuse to become abusers themselves, which was the case for many narcissists.
I don't believe any of these ideologies allow us to be a healthy force of light, and they certainly don't lead us to the development of our own light – our own True Power.
And they certainly don't create a healthy, empowered "safe" life. In stark contrast, our shadows (the emotionally fearful parts of ourselves that we create defences around) are exactly the pain and fear that keeps arriving in our life.
Why?
So that we can evolve by releasing these parts of us which are not our True Selves.
Ironically, until we awaken and become conscious we are only handing over our power and fuelling the very things we are trying to protect ourselves from.
The Perpetuation of Darkness and Evil
Naturally, in the narcissistic abuse communities there is a great deal of belief in "darkness" and "evil," which only fuels victim consciousness, and the tendency to get mired down in the horrible things people do (which absolutely they do).
The problem with this focus is it gives us very little opportunity to evolve ourselves past being victims and attracting more to victimise ourselves.
This also causes the fear of not being able to be in the world safely, which leads to depression, anxiety and all sorts of conditions such as ongoing agoraphobia and Complicated Post Traumatic Stress Disorder.
I know how horrible that is – I've been there. I also know that if I hadn't given up the victim model of "life happens to me" and hadn't taken on the truth of "life happens through me," I still would be contracted, depressed and reduced in every area of my life.
Actually, I know I wouldn't have made it … I know I wouldn't be alive.
I understand how easy it is to believe in "darkness." After all, we observe, "what is"- what is happening and the incredible ways that individuals, countries and groups try to exert power and dominance.
ISIS is a perfect example of the darkest of forces running amok on our planet today.
In many parts of the Western World, we are experiencing ISIS and their insane ideologies and cruelty. The incident with the beheading of a factory worker in the USA, and the intercepting of alleged public beheadings in Australia are only some of these incidences.
I heard an interview recently about people at a major sporting event going through security checks. They were asked if they were worried about the escalating terrorism threats. The majority of responses were, "I'm not going to stop living my life by giving it to fear."
Should we succumb to fear? Should we try to wrap ourselves in cotton wool? Should we be on the lookout for bad people wherever we go?
If we believe we are vulnerable and powerless to outside forces, naturally we are going to be. It is incredibly common for people living the "Survivor" model, as opposed to the "Thriver" model, after narcissistic abuse, to have the experience of being in the world with intense fear.
Why wouldn't we? We all felt like our soul was raped, and we all experienced the very person who should have loved and protected us becoming our worst assailant. A person who we deeply believed we could trust.
But what is the price for hanging on to this fear? What is the price for hanging on to any of our fears, pain and regrets that we suffered even before narcissistically abused?
Conditional Living and Fear of Outcomes
Imagine these two lives: The first – a person living their life from their heart in integrity and joy and freedom. This person living fully, deeply loving himself, expanding into his missions, granting joy and inspiration to others and then having his life cut short by an unforseen incident.
Now imagine the second case, a person who suffered heartbreak and deception, who closed herself down, pulled back from life, took medication, manifested all sorts of dis-ease as a result of negative emotions and depression, and lived with this despair and loneliness to a very old age.
Who would you rather be?
There is a wonderful expression: "To fully live we have to transcend the fear of dying."
What I really believe this means is: we have to get past the fear of attachment to outcomes.
None of us really know what life has in store for us. None of us know whether the next person we meet will be happy, or has just had a difficult day. None of us have any guarantees that a beloved will be with us for life. None of us know whether our business and acquisitions will prosper or be taken away from us next week.
What we need to realise is that any "thing" is not permanent; it's ever changing and always in flux. We live with chronic uncertainly – and that is the truth.
So how do we make peace with this?
We can make peace by realising that the outcomes of our life are nowhere near as important as our minute to minute beingness.
If we are in contraction and fear, we experience exactly what we fear as an ongoing constant emotional reality, which far exceeds the random flux.
The CRAZY thing is that everything we attempt to "do" or "get" in life is for one reason only – to feel happy.
We haven't realised that we can free ourselves of all of the fears, all of the uncertainties, and all of our attachments to things and people having to be "a certain way" and embrace and develop our beingness – our ability to be happy and at peace, and let go of what isn't serving us rather than trying to wrestle it into a "needed" outcome. We start to learn that we have NO control over something or someone that isn't "us," and the only thing that we can control is our own "beingness".
This does not mean being flippant, reckless or complacent.
It means accepting the truth.
When we are in fear and we are in the need to control and fixated about changing things to a certain outcome, we ARE living in "darkness."
Darkness Keeps Out the Light
The carrying of fear and pain in our psyches and bodies is one of the most destructive things on an inner and outer level that we can do.
It means rather than have "space" and "openness" in our hearts and mind to allow in the connection, abundance, gratitude and generation of joy in our life – we are contracted down. We are shut off and blocked – we can't receive.
We are like a container of muck with the lid closed, with the muck festering under a shut lid.
We are shut off from releasing, expansion and up-levelling ourselves – and we deeply take on the Inner Identity of being a victim – being powerless to create a better life, or feel safe in the world.
As a result, our systems start breaking down. Only in recent years is the connection being made between illness and our Inner Beings. Science now recognises exactly what spirituality has taught for centuries – that dis-ease is what occurs physically when we are unwell emotionally.
The effects of stress and negative thinking has now been documented and measured, science now knows that the chemicals our hypothalamus creates (peptides) that are secreted and enter the cells on our body have a profound effect for either good or bad.
The chemicals that are created from our perceptions of fear and victimisation are extremely damaging, and amongst many other things reduce our cells ability to absorb nutrients and oxygen. This causes our bodies to break down and dysfunction much faster.
A great analogy is this expression about resentment – "it's like eating poison and expecting the other person to drop dead."
If we are not evolving (freeing our Inner Being from fear, pain and victimisation), we are dissolving. We are disintegrating much faster than we naturally would.
It's a shame that, as yet, the "unseen world" the "consciousness" of life, has yet been publicly revealed (one day it will be). Because if it was we would all point blank realise some very vital things – such as "my fear and pain (darkness) is generating and attracting more fear and pain (darkness) into my life".
A statement, like the one I just made, can make people riot – literally – especially groups who are perpetuating victim consciousness.
Some of you, who are devoted to working on your consciousness, may have made comments in abuse forums wanting to help empower people from the "inside out" – and been attacked for doing so. In my early days doing this mission I was evicted from abuse forums for doing exactly that.
The greatest "disconnect" is that people believe, "I am a good person, and I was a victim of a bad person, and therefore there was no part of me generating this."
This is a deeply flawed premise. Law of Attraction makes no distinction between "good" and "bad" people. It simply generates life results, which match the belief systems and the frequencies which people are "expressing" in life.
Many of these beliefs may be deeply unconscious, and it's incredibly helpful to take off the labels "good" and "bad" and bring it back to "love" (otherwise known as joy, inspiration and openness) and "fear" (otherwise known as depression, guarding and contraction).
Imagine living in a house, and you barred every window and door, drew every curtain, and turned off every interior light just so that you can hide more effectively. Then imagine setting up surveillance outside, and looking through it obsessively, whilst researching everything you could about the enemy, why they do what they do, and what next move they may make.
Would you have any energy left to become joy, inspiration, love and expansion?
The answer is obvious …
Taking Back Our Light
I can understand that after being narcissistically abused it's normal to feel like you are living in a war zone. I felt it, too. Walking to the local store felt like walking out into a jungle filled with man-eating predators.
But, really what we are all evolving towards, is learning that we DO have the power to work on ourselves so that we can evict the "darkness" out of our being, and then bit by bit by bit we can draw back the blinds, open the windows and shine any darn light as brightly as we want to …
… regardless of what happened to us.
Then, and only then, does the "reality" of darkness as well as the associated attacks stop. The reason it stops is because we are no longer a frequency of "darkness," and now "darkness" has to go somewhere else – to someone else who is a frequency match.
This I know with all my heart, and it is totally in alignment with the vampire myth which holds many truths. When a bright light is shone on vampires, they melt, dissolve or explode.
Think about this logically – when you flick on the switch of a bright light there is NO darkness.
Therefore, our true solution is only ever to become a bright light.
Becoming a bright light (free of fear) does not make us vulnerable, or a target. Being a bright light stands us in solid integrity. We speak up when appropriate, we don't make excuses, and we can easily detach and stay whole and healthy when something is not our stuff (and even have compassion for these people with stuff). It means we are impervious to darkness. We leave it alone, send it love, and if it is abusive we call it out, flush it out, and it gets exposed in our energy and we firmly and easily say, "Not My Reality."
It's like being offered terrible junk food when you already have a fully stocked nutritious kitchen.
In fact, we rarely even encounter darkness anymore, and certainly not on the levels we used to.
So how do we become "light?" The answer is this – we release and up-level the parts of us that are "darkness," so that we can have our blinds and windows open and shine our light brightly.
Then we can show up as "authentic." We can be fully ourselves in ways that are transparent, self-loving and are no longer fearful of rejection, attack or abandonment.
No longer do we believe, "I have to dim my light or you may reject, attack or abandon me."
No longer do we believe, "I have to sell out my True Self to keep you happy so that you provide me with love, acceptance and survival."
When we are a bright light we are co-creating directly with life, and every time we "let go" of who and what is not a match for our True Self, we make space for something far superior.
The hugely important part to understand is this – our windows and doors must be open to receive the good. The lights have to be on, and the welcome mat must be out. This goes for people, situations, fortuitous events, and divine synchronicities. None of these things which life flows in abundance can come to us if we are clogged up with "darkness."
Recogonising and Embracing Our Own "Darkness"
I want you to understand that we all carry darkness to varying degrees. It is the human condition. Look at our planet. Look at how we were raised. Ponder how our role models have behaved personally and collectively. Look at our fearful structures of domination, damnation, control and judgement.
We have all been conditioned and programmed to absorb pain and fear from a very young age, and it is these very young wounds that cause us to draw into our lives the matches to these wounds.
This does not make us "bad"…
If we want to hang on to our righteousness of "I'm a good person, I'm the victim, and he/she is the villain" than we are deeply unconscious and in for a very hard time.
It means that we are only going to keep attracting more and more of our internal painful beliefs (as patterns) until FINALLY we acknowledge them and do something about them.
Or … we have to bar the windows and the doors, draw the curtains and turn the lights out to not experience more hurt … and then we keep all the good out as well.
I want to share with you a story that will help you understand how our "shadows" and our "darkness" play out.
This story is about a lady in her 50's who I will call Tina. Tina is one of the most giving, generous souls you can ever meet, yet she has had disastrous relationships. She has had a string of alcoholic, abusive partners who ultimately left her for another woman.
People in her life were amazed that this is what happened to Tina. She is so loving, and she's beautiful and highly intelligent – everyone adores Tina. People thought, "She could have anyone. Any man would be thrilled to have her."
And it's not like Tina used to walk into bars and meet drunks. She didn't choose men who looked like they drank a lot, were verbally abusive or had affairs. Her partners, initially, seemed highly credible.
Yet, what always happened was bit by bit these disastrous character traits appeared – every single time. These men initially enjoyed a social drink with Tina, seemed respectful, loving and devoted, and then the drinking increased, the verbal abuse began, the late nights working started, and a year to five years down the track Tina was discarded for another woman.
Tina's work colleagues and close friends were astounded at her pain and suffering, and why she stayed with these men until this happened.
Naturally, Tina was distraught that she got tricked and emotionally trapped yet again.
People would say, "She has just had bad luck."
But has she?
Wasn't Tina the common denominator in these experiences?
Yes, she was …
Did this make Tina a bad person?
No …
Did this make it Tina's "fault?"
No …
Did this mean that Tina was a covertly alcoholic, abusive, lying and cheating so and so?
No … she is none of these things.
Did Tina have unconscious wounds, which were playing out and controlling her life in ways that she didn't enjoy?
Yes …
"Fault" Versus "Responsibility"
There is an enormous difference between accepting "fault" and taking "responsibility."
Accepting fault, I believe, is appropriate for something we are doing "consciously." For example, if Tina was never home, and had affairs and was totally abusive in her behavior, then these are choices she knows she is doing.
We could understand that men would pull away, get upset and seek another partner – and who could blame them?
And I mean these things for real. NOT the ridiculous accusations that narcissist project on to you telling you that you are these things.
Taking responsibility is far, far different. It means this – accepting that there is something within us that is generating our experiences.
Our patterns are "unconscious" – meaning we are not "consciously" aware of them. And the reason we are not conscious of them is because it has been our deep inner programming from previous pain and disappointments that have caused us to embody and keep generating similar disappointing experiences.
It has become our "normal."
This is the truth …
Until we realise our own "darkness" we can't escape the "darkness" that life brings us to match it.
I want you to understand this: Tina was not "consciously" choosing these men. She did her due diligence. She did everything she could when meeting potential men to ensure they were not heavy drinkers, abusive or cheaters. In fact, she was so versed in the "warning signs" she knew them like the back of her hand.
What she didn't realise is: her subconscious chose these men.
In order to stop these unconscious patterns, Tina needed to take 100% responsibility to embrace, face and heal these subconscious patterns – without falling into the unconscious patterns of blaming and shaming herself.
Fortunately, that is exactly the path Tina has taken. Her mission is no longer about "these men." Her focus is where it needs to be … on herself …
How Our Subconscious Plays it Out
Let's name the most obvious "dark" spots in Tina's shadow – in her deep unconscious. The parts that were keeping her in these patterns of painful relationships.
Tina's father was an alcoholic who was abusive to her mother. He had numerous affairs, and ultimately he left for another woman, and died of alcoholism in his later 40's.
Tina's mother was emotionally unavailable because she was shattered from the abuse and affairs.
Tina loved her father. She thought he was fun. He was not strict, had very few rules and Tina remembers laughing and playing with her father. The truth was he was a man child, he was irresponsible, yet Tina, as a result of having no connection with her mother, lapped up his attention.
Tina suffered grave emotional pain as a result of her mother's disconnection and depression, and losing her father when he left and ultimately when he died.
This is what Tina's young unhealed parts (her subconscious) had decided, "If only I could have loved Dad more, he would not have been sick and drunk, Mum would not have been sick and depressed, and Dad would not have left or died."
So what Tina unconsciously was doing (without any part of her consciously knowing it) was picking covert alcoholics (she would never logically choose an obvious one) so that she could FINALLY heal her father and change her traumatic childhood.
So these suit and tie professional, charming, "respectful" men all turned out to be manifestations who completely represented her father (alcoholic, abusive, lying, cheating men).
They were never going to be any different. In fact, on some investigation, as a result of working with The Narcissistic Abuse Recovery Program the truth became CLEAR to Tina – she has never been able to be attracted to any man who wouldn't turn out like this.
I really hope you are starting to understand …
What happened to Tina is NOT random, it is not "bad luck;" rather there is an indisputable system to life that can only ever operate through us and not to us.
In Tina's case, when we understand this, it is obvious why this was her pattern. Most patterns are very obvious with a bit of self-reflection and knowing how to connect the dots, which we can all learn exactly how to do – as well as become our own healer. (NARP teaches you how to do that.)
Some cases are harder to understand, yet I still firmly believe that at the quantum level of life there is always a reason. And if we find and liberate the reason, we can break free.
I believe "everything happens for a reason" is to do with our souls' greatest purpose (the real reason we are on earth), which is to work through our false beliefs of fear and pain in order to become light and love instead.
Just imagine if we all stopped scapegoating others, blaming and shaming ourselves, and deeply partnered ourselves to evolve …
… how our world would be so different.
How We Show Up Within the Energy of Our Wounds
A very empowering part of taking the responsibility to recognise and heal our inner wounds is asking ourselves this question, "How am I showing up in ways that co-generate this pattern?"
For example, Tina, once her men started drinking more and staying back at the office, did not speak up. She tried to love them more, cook better meals and look sexier. And she did not question their behaviour.
The young unhealed parts of her were causing this. "If I speak up and tell Daddy I'm not happy he may leave again," as well as: "I have to do everything I can to make Daddy happy, stay and treat Mummy better."
This is what I want you to understand soooo much, is that all of us without exception, show up in ways that perpetuate our "darkness." This keeps going the parts of ourself in fear and pain and it brings more fear and pain into our life.
And we need to grow up enough to face this, and take responsibility for this if we want to change our life, and if we want to change the patterns for our children and their future generations – so that they don't repeat our unconscious patterns.
We can understand that a woman not carrying Tina's inner wounds would not vibrationally attract the partners Tina did (her subconscious would not be attracted to them to try to "fix Daddy"). And if a man started to drink too much and be absent, a healthy mature woman would sit him down, have the talk and lay boundaries. She would investigate, discover the truth and love herself enough to walk away.
Such is the remarkable difference when we are operating from a healthy adult centre rather than our unconscious childhood wounds.
I hope you now deeply understand why "Bad things happen to good people."
I also hope that you are now motivated to take on the "responsibility" of realising that your pain is generated from previous unhealed parts of you, and I hope you are inspired to discover, embrace and uplevel these old wounds so that those parts of you can develop, evolve, and become mature and healthy.
My greatest passion is to help people do this, as I realised I had to do for myself – in order to put my own agonising patterns to rest once and for all. This is what all of my programs achieve. NARP being the Program that I am the most passionate about.
You can find out more about my programs, which incorporate my subconscious healing system here.
I look forward, as always, to answering your questions and comments.
The following two tabs change content below.

Melanie Tonia Evans
is an international narcissistic abuse recovery expert. She is an author, radio host, and founder of Quanta Freedom Healing and The Narcissistic Abuse Recovery Program. Melanie's healing and teaching methods have liberated thousands of people from the effects of narcissistic abuse world-wide.

Latest posts by Melanie Tonia Evans (see all)