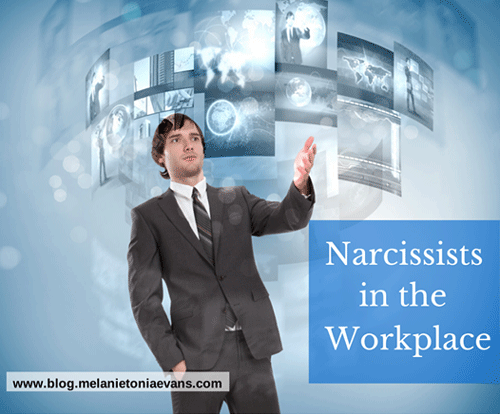 Many people in the community have requested an article regarding narcissism in the workplace.
Finally, I have enough of the backlog out of the way of articles that I wanted to write to be able to focus on this one.
As with family of origin narcissism, narcissism in the workplace is not really my area of expertise. But like with all narcissistic abuse – and this is how I will present the article – it is helpful to understand the dynamics of what is really going on in the first instance, and then accepting that our True Power always lies in the self-reflection on how we can empower ourselves in the face of this.
Narcissists in Power Positions
Understandably, narcissism in the workplace is rife in our world, because narcissists are very drawn to positions of power, and climbing the ladder to gain the resources and entitlements to get "stuff" – the position, status, money and acquisitions in order to gain attention and win approval (narcissistic supply).
Not all narcissists are successful, but many are – or at least successful in the sense that they appear "to have it all." The truth is, with most of them, if you scratch under the surface (regardless of their earning capacity), there is a literal minefield of financial disaster. "Stable" and "sensible" in not the normal narcissistic credo. "Risks," "excessive spending," "flashiness" and "daring" are.
In many ways, I actually do feel qualified to talk about narcissism in the workplace. The first reason being: the true healing, the working on ourselves, is identical for any narcissistic relationship; and the second reason is because the two narcissists in my life ran their own businesses.
As their live-in partner, I was intimately aware of the dishevelment; lack of organisation, zero personal responsibility and how the numerous disasters that continually occurred in their businesses were always scapegoated onto someone else.
These men of course were never accountable.
The truth is: narcissism is narcissism no matter where it is played out.
I posted on my Facebook Page an announcement that I was writing this article and asked people to post their narcissistic work experiences. Thank you everyone for sharing – and I have included some of these messages in this article.
If you would like to join me in these discussions, please join my Facebook group here.
Employees and Colleagues Used as Tools
Like a black hole, narcissism sucks its environment dry in order to sustain itself, and narcissistic bosses or work colleagues are no different to any other narcissist. People to them are not people with a heart and soul or needs – they are tools to be used to grant the narcissist what he or she wants.
If the narcissist does feign that an employee or work colleague is "human," then the shows of "clemency" or "benevolence" will come at a price, and will be used as a manipulation tactic to ensure the person hands over "more" for the narcissist's benefit in the future.
As one Facebook member posted, "Every single person employed by a N is there for one reason and one reason only to line the pockets of the boss. As soon as you no longer meet that requirement you will be fired. The long lunches, gifts and theatre tickets etc. are a prelude to the expectation that you will work 24/7."
The truth is even the most "charming" narcissistic boss will not be pleasant long-term. Narcissists all have the need to "kick the cat." They have such a ferocious self-annihilating inner identity always threatening to eat them alive, that they need to project this self-hatred at the closest and weakest targets who will allow it.
One Facebook member reported this incident: "I had never seen rage and narc injury until that day. He followed me and raged. I thought he was kidding, since everything was a 'ha-ha' joke earlier; but to him he was wounded. From that moment onward, he has me in his crosshairs."
What the narcissistic boss or colleague is really doing, as all narcissists do, is the unconscious acting out of, "If I project my disowned parts on to someone else, and then line this person up with abuse, maybe I can kill off the parts of myself that I hate."
The narcissist will gauge and then attack repeatedly the assistant, the secretary, the office worker, or the factory hand that has low self-esteem or poor boundary function. Extreme security fears make people targets (I have to keep this job at any cost), as does the deep ingrained childhood patterns of accepting abuse as "normal."
As one lady posted on my Facebook Page, "I realised that all these situations were a mirror of my childhood, of being raised by an N mother. Of being dependent on a Narcissist for survival. It was the same dynamic … endure their psychological torture, or end up broke and homeless. Life is a whole lot better now that I have worked on myself, but my heart does go out to anyone who is still a situation like that … "
Workplace Idealisation, Devalue and Discard
People who work for the narcissist as "an integral employee" initially (like new love partners) are idolised, put on a pedestal and made to feel special and "amazing."
Many narcissists in superior positions "deeply" befriend people they employ – or seem to grant them special consideration and attention.
On lady shared on Facebook, "She sucked up to me, became my "best friend," promoted herself and how great she was constantly. But I didn't see how she treated her subordinates, which was dreadfully. She just couldn't do enough for me."
The narcissist, in order to connect to people, has to conjure up a belief that they are of "high value" (my latest acquisition is "amazing") and truly runs with this; yet it is only a matter of time before the narcissist's hair-line triggers of insecurity start appearing.
Sooner or later "the wonderful new source" sends a look, action or word (or inaction) to the narcissist that triggers off an old inner unhealed wound deep in the narcissist's psyche, and the narcissist then despises this person for "making" the narcissist feel this way.
As another lady wrote on Facebook … "One of them actually head-hunted me from another company. All part of the 'flattery followed by annihilation' dynamic."
Therefore, as with all people who are drawn into the orbit of the narcissist as "valued acquisitions," the honeymoon period of idealisation is followed by the inevitable devalue and discard – when it becomes impossible to supply the narcissist enough of the illusion of grandiosity that he or she requires to feel safe or sane.
No staff member (just like no family member or love partner) can EVER adequately reflect back to the narcissist. Not without stepping on one of these inevitable landmines … because 99% of these triggers are the narcissist's deeply insecure imaginings.
People working for and with the narcissist will wonder how and why so many people are the "flavour of the week," and adored one minute and ignored the next.
Naturally, like all addicts, the narcissist gets easily bored, and fresh and new sources of supply are necessary. There is a requirement of new people to impress, and new people to gain worship and acclaim from. Whoever will hand it out in a way that satisfies the narcissist's grandiose self-delusions is who the narcissist gravitates to.
Because of the inevitable discard after being used, there could be a high turnover within narcissistic work environments. Employees and colleagues who are not stuck in survival mentality (I have to hang on to this job no matter what) may leave because of the narcissist's behaviour.
This post on Facebook summed it up: "The last job I had the bullying was so severe, I even got a clip across the back of the head from the psycho boss. 18 women left that job, one girl was hospitalised from stress and he was never fired, as no one spoke up."
Pathological Envy In the Workplace
A narcissistic boss or colleague will ultimately wish to be put up on a pedestal and revered by the staff as "special." He or she needs to be superior – the best at the craft, the most intelligent and the most capable.
There is no letter "I" in team, and having someone shine "beyond" the narcissist, despite being an asset to the organisation, is a total emotional threat to the narcissist.
As one lady wrote, "Both of them took the credit for any business or contacts I pulled in, or any innovative ideas I had, and also blamed me for any mistakes that they made. One of the N bosses started a smear campaign after I left, citing that I was a drug addict and a thief. The other turned my colleagues against me, until the bullying got so bad, that I was forced to leave."
The dire emotional insecurities of the narcissistic boss or colleague means that any great idea had to be his or hers, and any questioning of his or her functioning, ideas, and choices will be seen as a threat that needs to be shut down.
A shared, positive collective result is never the narcissist's goal – the goal is personal narcissistic supply – the attention that gives the narcissist the significance of uniqueness and superiority to fend off the pain of defectiveness for a while.
True leaders lead by example. Narcissists are not empowering or inspiring leaders.
Neale Donald Walsh made statements on this topic which I love – "True masters create more masters," and "True teachers empowers others to NOT need them."
This model terrifies the narcissist because he or she believes, "If I don't have the superior edge other people will overtake, undermine or harm me," "If people are dependent on me for survival and security I have control of them" and "Anyone better than me is going to get all the attention."
Therefore with a narcissist in the workplace you can't win. You will rarely be "good enough" to satisfy the narcissist's demands, and if you do shine – then the narcissist will need to kick the chair out from underneath you to bring you back down.
If you really shine the narcissist may conjure up grounds to lose your job.
The Instability of the Workplace
Narcissists are addicts for narcissistic supply – and this comes before sensibility, respectful boundaries and work etiquette.
The drive of addictions and constant need for "pleasure" (which is really the relief gained from the inner tormented self by getting a hit of the "drug" of attention) means that the narcissist have very little self-limits and self-respect and certainly doesn't respect other peoples boundaries and limits.
People in the workplace are very susceptible for being recruited in games of divide and conquer (triangulation) against people that the narcissist is teaching a lesson to "How dare you challenge my False Self," and people can also be groomed for sexual conquests, adulterous affairs or for long-term narcissistic supply (a "committed" relationship).
What is very true is: the insidious unwholesomeness of the environment generated from the nucleus of the narcissist's disordered personality causes more unwholesomeness.
Things get very unhealthy for all concerned.
My friend Ruediger Fleisch, a renowned German psychologist, shared this assessment.
1. They create the problems for which they want to present themselves as the rescuer – first to you then to others.
2. They pretend loyalty if this seems to serve them.
3. Their communication is characterised by JADE.
J – Judgements in the first place
A – Accusations open and hidden
D – They commit disloyal deeds close to criminal acts, deny it and start counteraccusations against those involved to damage their image.
E – Explanations, long and weird, which don't make any sense which confuse you.
Additionally, narcissists need acclaim and energetic payoff for their efforts, or they become incredibly manically depressed. That means "finishing off" and "attention to fine detail" is not the narcissist's strong point. Big, flashy, immediate "wow factor" and instant gratification are all the name of the game.
Therefore narcissists cut corners, don't follow through, don't look after things and don't clean up after themselves, and heaven help anyone who tries to get them to be mature, structured and responsible. Narcissists take very poorly to anyone trying to curb their freedom, or anyone attempting to control them.
Narcissists don't like order; they don't like regularity because it is too "normal." It makes them feel like they are on the same level as everyone self – which is the terror of not having enough adequate distraction to avoid the sinking inwards into emotional "self-annihilation" (I'm not unique and special).
"Normal" and "calm" feels to a narcissist like being sucked down into a quicksand – a "slow death."
Therefore, the workplace is somewhere where the narcissist either has to manifest drama with issues, poor organisation and terrible communication, or he or she will ignore work and have very little contribution to it – leaving it to everyone else's devices, because of the need to generate drama and excitement somewhere else.
Many people working with and for narcissists have been constantly dismayed at the messes and disasters that regularly occur as a result of the narcissist's loose and unaccountable behaviour.
Scapegoats Take The Fall
The narcissist's self-image is everything, and he or she will wager everything on it – doing things that are unlawful, dangerous and criminal to uphold it. This naturally put his or her business at risk – and the narcissist has no issue in twisting facts and setting someone else up to take the fall when the trouble happens.
The justifications that the narcissist is capable of making to pathologise his or her behaviour are incredible.
Narcissists are disordered, their brain wiring is maladapted to circuits that are not healthy, or humane. The narcissist can justify immoral, inhumane and criminal behaviour easily because their soul was sold to serve the one true master – The False Self – long ago.
It's important to understand narcissists will believe, firmly, that the person they are setting up to take the blame is at fault. Their minds are highly adept at creating a self-delusional story that exonerates their "above reproach at all costs" ego. Once this story has been replayed through the narcissist disordered mind a few times – it is TRUE to the narcissist. That is the extent of the disorder – superiority and impunity is necessary for the narcissist's emotional survival.
This can seem incredibly personal – until we understand that narcissists are operating out of horrendous childish survival fears. The narcissist's unconscious drivers are entrenched in this defence: "If I am exposed as wrong I'll be annihilated," which triggers the narcissist's biggest fear – the bottom line terror of the ego – the fear of NOT existing.
The narcissist believes he or she must be seen as "perfect." However, the intense fear and defences conversely create the narcissist's character as not just "imperfect" but also highly disordered and damaged.
This becomes blatantly obvious if the spotlight is on the narcissist for any accountability for his or her actions or non-actions. This is when the narcissist becomes the most unhinged, or the most dishonest and manipulative.
He or she will do anything to avoid personal fault and scrutiny, and if someone can be scapegoated, the narcissist will employ this tactic.
Can Narcissism Be Channelled For A Greater Good?
Narcissistic personalities are often valued. Narcissists are exciting, daring, dramatic, "stand outs" and often very capable. It could be argued that people like this are needed to make incredible things happen – and could be a positive force if they could be steered and managed.
I don't believe their energy can be channelled for "good," because pathology is pathology – it is unwholesome, unstable and it disrupts and dismantles everything around it.
This sort of "energy" or "force" comes at a price, regardless of the "payoff," and it is not a collective gain for the highest good of all concerned.
As many people have found out the hard way – trying to harness a narcissistic type personality for your own benefit means that you are in danger of being the next casualty. In fact, it is probable that you will be.
Narcissism is a very separated and self-entitled force that generates energy by insatiably consuming the energy of everything that is not it in its path– and then narcissism ultimately deconstructs and self-destructs itself.
Narcissists are the ultimate self-sabotage, self-annihilating machine. Just like cancer, they destroy the host (the environment) to such an extent that they ultimately destroy themselves.
This is the end point for all narcissists.
You may have someone in relation to the workplace who is dynamic, exciting and even "brilliant." This could be a potential new boss or colleague. Yet despite the glitz and glamour, your warning bells are sounding. Something about their energy feels "off;" it feels unstable regardless of what they say. This person may be declaring how wonderful an association would be with them, but you can "feel" the "icky" grandiosity in these statements.
We need to understand a person of character and presence does not perform egoic demonstrations of "look at me." Confidence is not arrogance.
The risk of connecting forces with such a person is extreme, because you are a disposable object serving the narcissist's agenda – for as long as you are useful to that agenda. And at any time you could be trampled underfoot, betrayed, hi-jacked or thrown to the wolves if it helps the narcissist escape scrutiny or get ahead.
Taking Your Personal Power Back in the Workplace
In order to get out of the nightmare of narcissism in your life, if you find yourself in a narcissistic work situation (or any narcissistic situation), you need to take your power back.
We have absolutely no power to change someone else, and in truth we have no "right" – their journey is their journey – and we need to take 100% responsible for our own.
This always means asking ourselves, "Who am I, and what is my truth in this?"
These are some questions we can ask ourselves in order to start taking our power back:
"So now that I know I am being narcissistically abused what is my necessary self-reflection? What is my healing lesson in this?"
"Do I have previous wounds from narcissists that are unhealed that keep attracting 'more of them' into my Life"
"Am I carrying enough darkness (fear) regarding my own security and survival that I need to learn the lesson of NOT selling my soul out to abuse to try to survive?"
"Is there a pattern here regarding myself that I deeply need to acknowledge, heal and break free from?"
Then of course we are left with, "What am I going to do now?"
Here are the three options:
1)    Play along – never disagree or question, keep flattering the narcissist's ego in an attempt to try to escape the abuse; or
2)    Call it out, stand up and lay boundaries; or
3)    Leave this workplace.
With option number one we have to ask ourselves, "Am I prepared to be inauthentic?" "Am I prepared to be manipulated and live outside of my truth?" And "Am I prepared to make statements to the Universe such as 'I will mix with and rely on abusive people,' and 'I am prepared to NOT be real in order to survive'?"
To me, honestly, this would not be an option. I am determined never to sell my soul out for survival again. Firstly, because I know it is soul-destroying; and secondly, because I know it certainly does NOT bring survival relief. Inevitably my world always exploded and left me with less security as a result of trying to appease abusers who I had falsely assigned as a source of my security.
The second option "Calling it out" is tempting. And even revolutionary if you are prepared to stand and walk truth and work on yourself enough to lose the fear of what WILL happen as result.
Narcissists are vengeful, they take very poorly to being exposed and called out. And in fact what is very likely is that the narcissist will do everything in his or her power to set you up as the culprit for everything you are accusing him or her of.
Expect triangulation and even abuse by proxy with authorities, even to the lengths of police and governing bodies to punish you.
So, if you decide to confront, expose, and call it out, be prepared for the fallout – because it could be massive.
I highly admire and I know people who work enough on the healing of their own Inner Identity programming to do so, without fear. And this is not foolish, and it does generate great results.
Our own personal Inner Identity fears we need to be free of in order to take such an empowered stand are these:
"The fear of being wrong and therefore punished (shame and guilt)"
"Terror of authority"
"Terror of being persecuted"
I really want you to understand this: when people lose all fear and walk a straight line, they are impervious to the narcissist's truly powerless bullying. The narcissist has no power of his or her own, it is all extracted from your fear and pain.
Many people who have no choice but to combat the narcissist do find out how powerful the results are when we heal ourselves from the inside out.
Sadly, many people in the workplace (for very understandable reasons) are too scared to stand up. We have all been conditioned so powerfully by our world that "Authority knows best," rather than standing true in our own human rights.
What I think is wonderful is that now we are starting to awaken to the power of integrity and the power of truth, and how powerfully we can walk and generate real results … especially when we lose the terror of being so attached to outcomes and live for truth itself.
The third option I believe is a great option, too. I don't believe it is your responsibility to call out the narcissist if that is not what you feel inspired to do. In fact, most people trying to call out narcissists are not doing it from a place of integrity (strength), but rather they are doing it from the triggering of their own wounds (victimisation) – and they simply feed the narcissist more attention and power.
This does nothing to rid our world of narcissism – it actually promotes it.
As far as I am concerned if everyone disengaged, walked away and refused "to play" the narcissist would ultimately be left with no one but his or herself. That would create the TRUE end of narcissism on this planet.
Such a level of our own self-respect and self-love states: "This is totally unwholesome for my soul and is Not My Reality." Then we do the work on ourselves and up-level our old wounds enough to walk away to generate a much more inspiring, healthy, and wholesome reality in every area of our life.
That I believe is your highest responsibility to heal our planet, and it is your GREATEST and most beautiful responsibility to yourself.
There is a huge difference between walking away after having "gone through" this experience as opposed to walking away after "growing through" this experience.
If you have not cleaned up the reasons why you are still attracting narcissists into your life, you could leave a workplace, and no matter how wholesome the next one appears on the surface – you will still walk into your lesson again.
There is no "outside." Any darkness that shows up in our external work is matching a "darkness" (a fear) in our internal world. And the purpose of this is the necessary feedback to become conscious and evolve.
As such, it doesn't matter where we go or who we meet, we are always meeting ourselves. We are meeting the reflection of ourselves that are healthy, and the parts of ourselves that are not yet healthy.
Before taking on the evolutionary work of breaking out of old fearful patterns, we think we need to create more fear and hyper-vigilance to protect ourselves. That is not the answer – I promise you.
The answer always lies within. You need to become the change you want to see in your life. When you change your Inner Identity you will attract more of Who your Inner Identify is. You have always been attracting that anyway – you just may have not been aware of it. In order to change our Inner Identity we need to be prepared to go inside ourselves and identify what our painful inner patterns are.
If you have a narcissistic workplace in your experience (or family member, friend, associate or love partner) it is because you are learning powerful lessons – to be authentic.
Which means – to live your life without fear, and to create self-partnering in order to be authentic and emotionally secure in the world.
And most of all, to do enough work on yourself to escape the crippling Inner Identity programs of thinking that you have to become inauthentic, sell your soul and hand your power over in order to survive.
I know how crippling that model is. I didn't do it in work situations, but I certainly did it in love relationships. Of course it is really terrifying at first to give up something that is hurting us to believe there can be something else for us. However, if we really work on developing ourselves past these limiting beliefs, we create the space and then the belief for possibility, and then this is what we create in our life.
When all of us realise that we can create a direct relationship with Life Itself, we can leave the illusions behind of dependence on another human being (such as a boss – or anyone for that matter) for love, approval and especially survival.
I believe for so many of us who have been through Narcissistic Abuse, we finally had to learn that handing our power over in this way was a huge invitation for abuse.
And then the agonising abuse that we suffered was the "loud and clear" message to heal these illusion of powerlessness, so that we could become our True Power.
I hope that this article has helped you recognise the dynamic you may be suffering through at work, and the healing opportunity for you.
I look forward to answering your comments and questions.
The following two tabs change content below.

Melanie Tonia Evans
is an international narcissistic abuse recovery expert. She is an author, radio host, and founder of Quanta Freedom Healing and The Narcissistic Abuse Recovery Program. Melanie's healing and teaching methods have liberated thousands of people from the effects of narcissistic abuse world-wide.

Latest posts by Melanie Tonia Evans (see all)