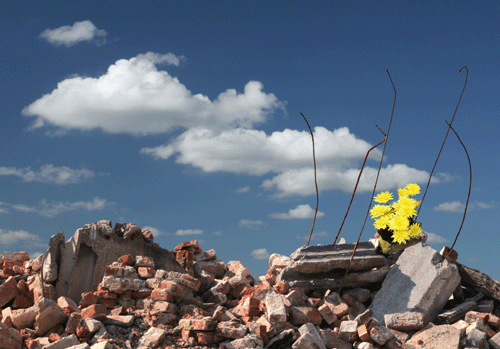 I felt really inspired to write this article and do a radio show on this topic – because more than ever I am noticing within the New Life Community, and all sorts of people I know, that BIG things are happening.
Over the last couple of years many relationships have ended and all sorts of things in people's lives are being shaken up. Maybe you are witnessing the same thing. I am also noticing people in droves saying "I just can't keep going on like this anymore".
Sometimes in blogs and replies I have touched on my belief that we are all 'shifting' – that we are evolving from being in our ego (fear and pain) into our True Self nature which is peace, harmony, reverence and Oneness with life.
Time has sped up – even little children think time goes quickly now (just ask them…) and I really do believe that humankind is ascending – evolving – now at a faster speed than ever  before.
For a very long time I have been fascinated by quantum mechanics and deep metaphysical systems of life. I have found these systems to hold astounding information. According to many astrologers what 'this time' is about is exactly what the Mayans documented thousands of years ago – the shift from the era of Power (ego) to the era of co-creative consciousness (Oneness).
One of the most powerful ways I have discovered to shift out of egoic pain and fear is to embrace the experiences which bring them up.
I am talking about the breakdowns – which is when you feel a trigger so deep within your core that you feel the pain throughout every cell of your body.
This article is going to explain why I have learnt to embrace these painful moments in my life, and how you can do the same to experience phenomenal growth, evolution and expansion.
The Need to Become Authentic
I believe we are all undergoing this 'shift' whether we like it or not – and we now reside in the energy of co-creative consciousness. Which means we must create from our Inner Being. We have to be a 'match' to the energy of the results we want.
Gary Zukav is very precise about this. His message carries as: It doesn't matter what we 'pretend' to be in the world, our direct results will be a match for our emotional intention behind our 'doing' statement.
This means we need to be emotionally authentic and come from an authentic place in order to procure authentic results. If our actions are created from our ego – emptiness, pain and fear – the energetic vibration that we live in no longer supports this energy.
Many of us – if not all of us – have experienced a real shaking up of our fearful, painful parts. You may have realised that the aspects of your life which were not real (such as your narcissistic relationship) crumbled, and we simply can't hang on to what is false and continue to live a lie anymore.
In fact any part of our life which isn't authentically aligned with Who We Really Are no longer works, no matter how much our ego would like to stay stuck in these 'old ways'.
The fear of this energetic shift can feel like anger, terror, hopelessness and extreme powerlessness. It may feel like you are literally hanging on for grim death trying to find ways to feel better, but the old 'fixes' just don't bring relief anymore.
The truth is any substitute for your authentic self is not meant to work anymore.
This is an era of getting real and genuinely and authentically claiming and connecting with your true, inner authentic power.
It is only possible for you to evolve if you stop thrashing around, take your hands off the oars of your resistance, stop struggling and fighting and go inwards to embrace yourself and heal.
Our Egoic Parts
Within every one of us is unhealed egoic parts – these are the parts of us which are in fear, pain and limiting belief systems about ourself and life. These are the parts of us that are stuck in lack – there is not enough love, security or survival – and beliefs of non-deservedness. These are the parts of us which are not connected to loving, accepting and approving of ourselves, and have tried to get these fundaments of ourself from outside of ourself.
These are the parts of us which don't feel worthy or full, or believe that we can be a healthy Source to ourself.
These parts hurt. They hurt because they are not aligned with the truth of Who We Are. They are not how our Inner Being, Source Energy or our Soul really sees us. Not only do these parts hurt, they also have a nasty habit of attracting the people and experiences which are a match for these fearful, insecure, painful parts.
It is in fact the experiences outside of ourself which let us know that deep within – as a belief system – something is amiss. The greater the unhealed part, the more the pain which is delivered.
When an outer event and an inner painful unhealed wound collide, there is an eruption of painful emotion – and it can feel like a breakdown. A breakdown means that our ego did not get its own way.  That thing on the 'outside' that we wanted to behave, do or perform in a certain way didn't.
In effect what happened is: we did not receive the very thing from outside of ourself that our unhealed part wanted to get as a 'fix' to feel better.
I'll give you an example. You feel 'unloveable' – this is the inner belief you have about yourself. You then go to the person that you wish to 'love' you – they don't. They abandon you instead.
Your unhealed wound has just played out a direct manifestation of itself. Your unhealed wound did not get the co-dependent fix – someone giving you the 'love' rather than you taking responsibility and healing your own level of self-love.
The ego feels shattered, and emptier than it did before the event occurred.
There are three choices you can make with the breakdown experience
1) Grab another fix, as a substitute person, addiction or thing to try to fill yourself up with feelings of worthiness or 'being loveable'.
2) Take medication, or self-medicate with alcohol or drugs to try to numb the pain.
3) Go inside and heal the original wound so that it can be sorted, rather than try to avoid the pain from the original wound that is never going to stop presenting until you attend to it.
The True Reason For Breakdowns
Ok so the point to this is your breakdowns are a really good thing. And I am going to explain in detail why…
Truly you can start understanding this – so that you can embrace breakdowns for EXACTLY the purpose that they were intended, which is:  Your Inner Being getting your attention to heal something you need to heal, and so that you don't have to keep living through the same breakdown experiences time after time after time.
I don't know who many people in the NARC Facebook Group, and who are doing the NARP Program have times when they literally hit the ground – absolutely. In fact people who have been narcissistically abused are all doing this, whether or not they are working on their inner selves.
The difference is – are these breakdowns in continuous repeat, or is there an end in sight.
These breakdowns may be times when triggered by something the narcissist has done – or they may be when stuff comes up and it feels like an internal emotional bomb has gone off.
All of this is a regular part of the recovery journey of narcissistic abuse.
The deal is – the people who start breaking through to freedom and recovery – like Rozanne in last week's Thriver Story recognise the significance of these breakdowns. They go to them on an inner level and shift the defunct inner story that was causing their pain to begin with.
When you have the tools to do that, and you make your highest mission in life to evolve from pain and fear (the limited egoic self) into your True Self nature (wellbeing, love confidence and abundance) no longer will you need to avoid the pain or self-avoid through the use of outer fixes.
You understand how powerless and self-defeating it is to do that.
You realise that trying to avoid the pain means that you will keep living out the results of internal limiting beliefs over and over again. This is a path that many people feel so frustrated with as a result of narcissistic abuse. They declare "Why doesn't the pain stop, and why do I go over and over the same obsessions time and time again?" And "Why doesn't he or she stop doing the behaviour which is hurting me?"
Until you realise that each and every one of the breakdowns is pointing to a matching belief system within yourself that requires your attention (hence why the emotional pain) then you are not going to make this inner healing adjustment.
Your Soul wants you to do it, and your subconscious is demanding that you do it (screaming at you for your attention), and the pain is not going to let up on you until you do make this inner adjustment.
You are supposed to evolve – we all are.
How to Turn Breakdowns into Breakthroughs
I would love to explain simply the formula for turning breakdowns into breakthroughs.
When you get hit with painful emotions – as soon as you get some time to yourself STOP. Know this painful emotion is an inner defunct belief calling out for your attention.
Here is your list of don'ts. This is the VERY opposite that human living has taught you!
Don't:
1) Look to the outside to 'blame' the reason for your emotional pain. This is your egoic mind taking over that is going to take you on a path away from healing yourself.
2) Do anything in the outer world before attending to your inner vibration first. If you make any decision or action from a place of fear, pain or emptiness the outer reactions and results from people and situations will MATCH and ADD MORE TO your fear, pain and emptiness.
3) Grab an addiction or a fix to fill the empty gaping hole, or emotional panic that the pain is causing. This is simply self-avoidance, and means you are signing up for 'more of' the same pain down the track.
4) Start mentally beating yourself up for feeling this way. This is self-rejection which only adds fuel to the ego separating you from yourself and convincing you that you are empty, unlovable and unworthy.
5) Push yourself to ignore the pain with a distraction. This is simply another way of creating self-avoidance and not healing the defunct inner belief.
6) Go into any story 'in your head' about the pain. Doing so causes 'blender brain'. Your mind has no ability to rationalise, soothe or heal your emotional inner being. It simply does not have the resources.
Okay here is what you need to create your breakthrough instead.
1) Stop thinking and trying to work out the pain analytically and start feeling instead. Drop right into the pain and then say to yourself or out loud "I bless and accept this pain because it is trying to tell me something. I give myself permission to fully be in it – it is safe."
2) Ensure you grant yourself love and support whilst feeling into your pain. Know that doing so is the MOST VITAL element of being self-love and self-acceptance to yourself. Self-love is SIMPLY this – the willingness to be with yourself (partner rather than self-reject or self-loathe) at your MOST vulnerable and insecure times.
3) Realise the outer person or situation is only a trigger. What hurts inside you is not to do with them – they have simply brought an unhealed wound that is yours to the surface for you.
4) When feeling into your pain allow yourself to be very vulnerable. You are making contact with the most scared, fearful and insecure parts of yourself. By connecting with these parts you will 'be with them' and can ask lovingly 'What is this about?' and be fully present to validate and listen. By being vulnerable and real and open with yourself (trusting yourself fully) you will get your answers.
5) At the very least process what the pain is really about by writing it out, so that you can finally realise what is genuinely causing the inner pain and the outer painful results in your life.
6) If you have one of my Quanta Freedom Courses shift the pain and the associated belief systems with the use of a Healing Module. By doing so you can release the pain, the limiting belief that is causing the pain, and download the new belief system(s) you want on this topic directly into your subconscious within minutes.
After shifting a painful limited belief (unhealed part) the relief and 'rise' you get on the other side is equal to the level of pain your felt when the breakdown occurred.
This is the wonderful part. If the emotional pain before the shift felt like a fully blown 10/10, after doing a shift the relief and feeling of freedom will match that intensity.
Breakdowns are the springboard when they are fully recognised and embraced to catapult your personal growth to incredible accelerations and heights
No matter what your life looks like now – breakdowns truly are the gateway to your glorious future.
Embracing The Breakdown / Breakthrough Process
I am a huge fan of breakdowns / breakthroughs.
There is no doubt I have had to do a ton of work on my Inner Being. I had so many limited and fearful beliefs that I wonder now looking back at that level of 'normal' – how on earth I was 'living'.  Of course my previous state was my level of 'normal', yet now I know how abnormal and unhealthy it was, as well as how much healthier and normal my life is now.
I don't even resemble the person I previously was. I have literally rewired my brain and my Inner Being – belief system by belief system.
It took two narcissistic abuse experiences to really show me what my unhealed wounds were, and how many fearful, powerless parts of myself were in fact a perfect match for narcissists – hence why these relationships happened.
We all know the pain of being in narcissistic relationships and that finally you have to get strong enough to leave the narcissist and stay away. We also know that when leaving a narcissist the pain gets worse before it gets better, because the withdrawal from the addiction to the narcissist hits very hard.
The illusion during this time of withdrawal is that we are missing the narcissist, and we really love him or her deeply. We may believe we can't survive without him or her, and that life will have no love, meaning, purpose, joy or achievement without him or her.
The truth of the matter is the addiction we feel has nothing to do with love in any shape or form – it is all to do with trauma bonding, we have a myriad of unhealed parts within us which are trying to 'get their fix' through hooking back into the narcissist.
These unhealed parts are being controlled by our ego – which is screaming to get the narcissist to fix, soothe and fill the pain and the emptiness for us. These parts feel powerless, out of control and completely addicted, dependent and helpless.
These unhealed parts actually have nothing to do with the narcissist. They are all to do with ourself. The narcissist was simply the trigger bringing them to our awareness. If that particular narcissist hadn't shown up in our life, another narcissist would have filled his or her place. We needed the message at this level.
The sooner we start taking responsibility for and healing these unhealed parts the sooner the illusion is broken, the sooner we are free, and the sooner we start living a version of life we have never previously lived – not even before the narcissist.
When we embrace and heal these unhealed parts we feel no more connection, fear, and attraction or energy exchange with the narcissist at all. We are no longer a match for narcissistic abuse realities.
But this takes work. Absolutely…
Narcissistic abuse is a make or break experience.
It is a journey of disintegration or integration.
It is journey of staying in survival and contraction or gaining evolution and expansion.
We can claim a far greater, expansive, evolved version of life – or continue to live out a severely contracted and fearful life as a result of what happened.
The total key is working DIRECTLY with our breakdown experiences to turn them into breakthroughs, KNOWING every single one of them offers that opportunity, and realising that if we stay stuck and don't evolve that we are in great danger of staying attached to the source of the pain, giving in and continuing to live out narcissistic abuse.
If we don't heed the breakdown moments, we sabotage ourself and go backwards instead of forwards.
This is not a journey for the light-hearted. It takes immense courage. However the more you step up to the plate for yourself the easier it gets,  and you WILL start flowing confidently with the breakdown / breakthroughs process.
This is how I work with 'breakdown / breakthrough'. When I feel emotional pain I refuse to go into the logical 'story', and as soon as I can I get my tissue box (permission to myself to be vulnerable) sit with a journal and pen and start the Quanta Freedom Healing process.
I then go FULLY into the pain, knowing how vital it is to be vulnerable with myself, and fully feel what I am feeling. I love myself in this process like a caring loving adult with a small scared and hurt child. I ask myself 'What is this about?' I always get my answer immediately. This has happened for quite some time as a result of doing regular and committed work on myself. My question 'What is this about?'  is directed at myself – knowing whatever hurts is my belief, the outer experience or person is simply a trigger – it is not even about them.
Sometimes the answer is obvious, and sometimes the answer blows me away – because it was not something I was EVER going to be consciously aware of.
I am contacting my inner being, which holds all the answers and my truth. Many of these truths are deeply subconscious and are not going to be recognised until the pathway through the emotional self is contacted. My logical rational mind is so incredibly limited in granting the true answers – because it simply does not have a connection with my Inner Being, and its function is to look outwards and not inwards.
It is only by finding this inner defunct belief, being fully willing to feel the pain of it, and take full responsibility for it, that it can be released and cease to have power over me anymore.
Exactly the same truth exists for you…
When fully going into the pain it can feel extreme – yet the interesting thing about pain is it always feels incredibly painful when it is disowned – because it has to scream louder for your attention.
No matter how emotionally painful something is, when you fully embrace the pain with total acceptance and zero resistance it is completely bearable. It immediately feels better. Furthermore the relief on the other side of energetic shifts only minutes later feels like the joy and liberation of having given birth after a painful labour.
You are in fact holding a new baby – a New Self. One who NO LONGER has that particular limiting belief creating pain and dysfunctions in your life.
Truly you know when you have shifted something powerfully – because the obsessive thoughts and painful emotions and outer occurrences that trigger you just don't happen anymore.
How Long Does it Take to Evolve
The difference between the time it took me to recover from narcissistic abuse years ago as compared to an incredibly accelerated process with my second narcissistic abuse experience was all to do with the breakdown / breakthrough process. First time around it took me a long time to 'get it'.
The reason I broke down so horribly and took longer to heal the first time is because I did not understand the breakdown / breakthrough experience. And of course the breakdowns had to get heavier and harder and harder to get my attention.
The second time around my unhealed wounds had my full attention and loving commitment from the very day I realised I had been in a relationship with an altruistic narcissist, and I was not tempted to break No Contact once because I was able to release and transform pain very quickly and powerfully and reduce the addiction to becoming non-existent.
I knew that every amount of emotional pain I felt (and of course it was intense) was the key that would lead me directly inside to myself to EXACTLY what I needed to claim, transform and heal.
All I had to do was be prepared to embrace the pain and work with it…
This is why I believe outside therapy is not your answer – unless that answer is teaching you how to directly embrace yourself and be your own healer.
No-one has your inner emotions. They do not have your Inner Being, your inner defunct belief systems or your triggered emotions…
Only You Do…
I don't have your Inner Being, I can only show you and grant you the process so that you can attend to it.
It's important to know that your breakdowns are the greatest gifts, because they grant you the ability to transform a limited belief totally. When the pain is immense, and up and energised it is time for it to be shifted. When you have the tool, and when you have the courage, awareness and know you want to evolve, truly it becomes easy – it becomes powerful as you start flowing with the process.
You can bless the breakdowns, because you know they herald another incredible shift in powerful growth.
The more you shift, the more conscious, empowered, healthy and expansive you become. This isn't possible without the breakdowns. Then the breakdowns cease to be breakdowns – your Soul knows it has your attention, and then the intense times of pain start changing into simply being cues, messages, or intuitive feelings.
This is generally my experience now. It is as if my Inner Being says 'I know you take notice, so here is your intuitive message regarding what you need to shift to keep evolving. I don't need to wack you over the head with a shovel anymore to get your attention!'
It doesn't matter in the slightest if a painful wake-up call comes again because it is simply a doorway through to a better way of being and a better life.
What happens is the more you become consciously connected to and working with yourself, your life transforms from a  'rollercoaster' to a much more gentle path of continuous and glorious growth and evolution.
The more and more pain and fear you transform, the more space you open up for the joy and wonder of life. You have room within you for the good stuff, and you are no longer living in the repeat of 'when is the pain going to end?'. You start fast tracking towards the light at the end of the tunnel, and you actually become the light, and you know it.
If you go back through some of my blogs and read certain comments of people you will read the theme in their words. You will clearly identify the people who are doing the breakdown / breakthrough experiences. These people are easily identifiable simply with their words – because they are shifting big piles of negative belief systems out of their body and creating the breakthroughs we all dream of.
I noticed after reading the comments on Rozanne's story last week, and as a result of receiving  emails from NARP members starting their journey last week as well – that many new people are choosing this path. This is glorious to see!
Taking our path of direct evolution requires a huge shift in perception from negative emotion is 'a bad thing' to recognising how powerfully it is 'a good thing'.
The truth is we are never going to stop evolving and we may never be fully evolved. Why would we want to stop learning and growing?
I do know this – we can choose to evolve – and by doing so we move out of survival (ego) into creation (our True Self). The difference is astounding. We transcend pain and powerlessness and move toward liberation and joy.
What I would really like you to take from this article is to change the way you look at emotional pain. I challenge you to turn your belief systems around 180 degrees.
Another 180 degree turn for you is this: your pain has nothing to do with the outside – that particular situation or person. Those people and things are ONLY triggers showing you what you have got going on within you that needs healing – period.
In fact when we get to become conscious and move towards higher stages of personal development we can thank that person and experience for showing up and helping us out with what we needed to heal. As Neale Donald Walsh states in Conversations With God – "I only send you angels'.
When we make our relationship with life and others all about our essential relationship with ourself  – not only do we get to heal these unhealed parts and truly experience the fulfilment of feeling wonderful, loving and fulfilled in our own skin – we also get to share, give and receive incredible fulfilment and love with other healthy people…
What else is there to do if we wish to claim our true life?
In closing these are our choices:
1) stay in repeat breakdowns with no end in sight, or
2) truly claim the breakdown / breakthrough experiences which changes our life from the inside out beyond description.
I hope this article helps you change your perception about breakdowns.
I would love to here if you are up to the challenge of embracing your breakdowns – going deep within yourself and creating breakthroughs.

The following two tabs change content below.

Melanie Tonia Evans
is an international narcissistic abuse recovery expert. She is an author, radio host, and founder of Quanta Freedom Healing and The Narcissistic Abuse Recovery Program. Melanie's healing and teaching methods have liberated thousands of people from the effects of narcissistic abuse world-wide.

Latest posts by Melanie Tonia Evans (see all)