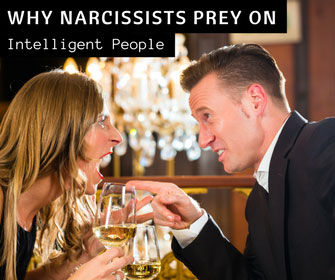 Have you ever wondered how you can be capable in so many areas, yet for some reason narcissists are able to hook and deceive you?
Have you ever berated yourself for not being able to see it coming?
If you're anything like me I used to constantly tell myself "I know this person is tearing me to shreds, I know I need to go … and I'm smart, I know everything about who they are and what they are doing but why can't I leave?"
The truth is you're not alone … this is the plight of intelligent people regularly.
I would go as far as to say that intelligent people are those who are the most likely to get taken in and down by narcissists.
In this Thriver TV episode I explain to you exactly WHY that is, as well as how to make the shift so that you can still be intelligent, but will never get taken down by a narcissist again.
And this is really important because I know that so many of you in this community – like me – take pride in being smart. Not only are you intelligent, but you are capable, hard working and may have already done tons of personal development work (which smart people are very apt to do – invest in themselves).
So WHY is it that we are able to be targeted and taken in by narcissists … and even when we know what they are like and what they do, we still can't get it and get out?
I promise you there are incredibly sane and compelling reasons why this insanity happens to us, and when we learn them, it changes everything about how we can finally break away, stay away and heal and never have to go through this nightmare again.
I dearly hope this episode frees you from the beating of yourself up, grants you a clear understanding of why this has happened to you and gives you the golden key to come home to your True Freedom.
The following two tabs change content below.

Melanie Tonia Evans
is an international narcissistic abuse recovery expert. She is an author, radio host, and founder of Quanta Freedom Healing and The Narcissistic Abuse Recovery Program. Melanie's healing and teaching methods have liberated thousands of people from the effects of narcissistic abuse world-wide.

Latest posts by Melanie Tonia Evans (see all)