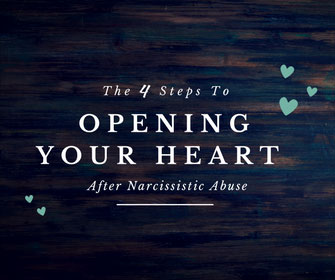 I know you may be struggling to keep your heart open to love again after narcissistic abuse, and it's totally understandable, because there is nothing quite like the devastation that this level of abuse inflicts on our heart …
And it's natural for our mind and body to try and protect us.
However, you may feel frustrated because you would like to connect with others and fearlessly build new relationships, and even possibly fall in love again.
Maybe, because your heart has been hurt so much, you couldn't possibly contemplate purposeful dating, even though there have been no love opportunities enter your life.
Perhaps the thought of opening yourself up to love, and then having to deal with inapplicable people showing you attention, makes your stomach turn.
This Thriver TV episode will show you how to open your heart to love fearlessly including how we know we are no longer suffering a particular painful subconscious love program, and how to know that we have taken our soul graduation, meaning what has hurt us in the past doesn't ever need to show up again.
Today's video is about how to find love again with an open heart whilst NOT being susceptible to damage and trauma and abuse, by taking these powerful 4 steps which I'm going to share.
It is my deepest wish this video inspires you to know you can open yourself up to love, and generate it, whilst staying healthily in your power and honoring yourself.
As mentioned in this episode, I'd love you to connect with me on the MTE Instagram – where will be posting even more daily inspiration, tips and much more.
I know how important the journey of opening our heart is. Once up a time I was lonely, and wanted love, but was terrified of being vulnerable again.
These four steps got me there, and I SO know that they can do the same for you!
I look forward to answering your comments and questions below.
(Visited 6,993 times, 70 visits today)
The following two tabs change content below.

Melanie Tonia Evans
is an international narcissistic abuse recovery expert. She is an author, radio host, and founder of Quanta Freedom Healing and The Narcissistic Abuse Recovery Program. Melanie's healing and teaching methods have liberated thousands of people from the effects of narcissistic abuse world-wide.

Latest posts by Melanie Tonia Evans (see all)