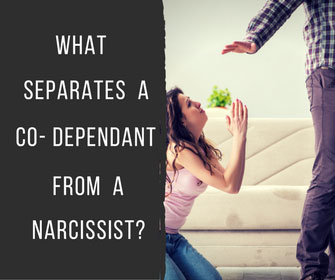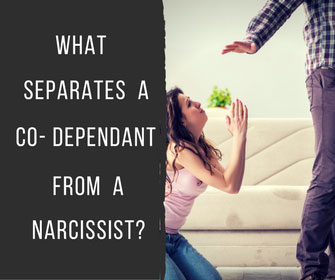 What is great about our Thriver Community, and makes it so unique and empowering, is that we get it – we seek to understand what has unconsciously led us into painful and abusive relationships.
This, finally, releases us from powerlessness and victimisation, and puts us firmly in the driver seat of our life. Because we can now claim and heal our internal traumas to free ourselves from abuse and abuse symptoms.
However, when we realise that our unhealed wounds have led us into relationships with narcissists, we may wonder whether our levels of unconsciousness are healable, or even if they may have caused us to become narcissistic in nature.
Does this mean, like narcissists, our own True Self may be too buried under our trauma to be revived? Does it mean that our ego, and its attachment to the outer world to get relief and significance may be too energised?
So … what is the difference between narcissists and co-dependents?
I believe there are many similarities and some surface differences (which I explain in this episode) – such as the internal wounding and co-dependently assigning people outside ourselves to try to make us feel whole, and narcissists seeking "filling" through taking whereas the co-dependent seeks "filling" through giving … yet there is ONE thing that TRULY defines the difference.
It's one SIMPLE thing which is possibly the most important criteria you could ever understand about yourself, life and how to become free enough to create your True Life.
And I'd love you to watch this Thriver TV episode to find out what it is!
I remember, back in the day when I finally did the journey inside to my traumas to meet them, love them and heal them … I was at first terrified. I thought they might be insurmountable.
Yet I knew I could never turn away from them again, and I applied the ONE difference that there is between me and narcissists. And, I got free.
I know, the very fact that you are connected to the Thriver Way, means that you can too.
Please let me know if you enjoyed this video and leave any questions you have in the comments below, I do my best to respond to all of them.
(Visited 11,191 times, 15 visits today)
The following two tabs change content below.

Melanie Tonia Evans
is an international narcissistic abuse recovery expert. She is an author, radio host, and founder of Quanta Freedom Healing and The Narcissistic Abuse Recovery Program. Melanie's healing and teaching methods have liberated thousands of people from the effects of narcissistic abuse world-wide.

Latest posts by Melanie Tonia Evans (see all)