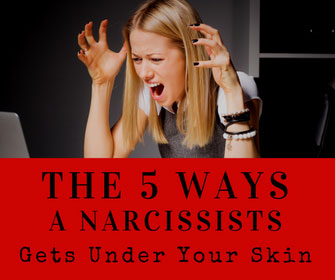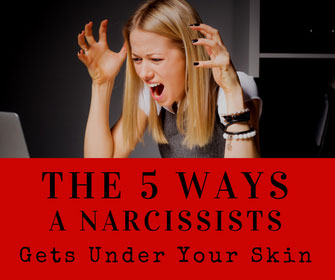 Narcissists get under our skin – absolutely. They infiltrate your psyche, your emotions and your soul.
Last week I talked about "Wetiko" the human psychic virus, and this week I want to take this a step further and talk with you about what happens when a narcissist (a horrible manifestation of the Wetiko virus) has infiltrated us.
It is a phenomenon, because how does one one human being affect another human being so profoundly to the point where you can barely operate?
In this Thriver TV episode I am going to explain to you the exact five ways that narcissists get into our Inner Being.
This starts with how they cloak themselves to merge with you … then how they mesmerize, charm and fascinate in order to bond emotionally with you … followed by how they make sure they secure you as their chosen "prey" … leading on to how when the cracks appear in their persona they can continue to hook you and keep you enmeshed whilst hurting you …and lastly how they can do the deadliest thing of all – let off emotionally annihilating bombs inside you because they have infiltrated your Being to the level where that is possible.
I will also share with you, in this episode, how to shore up all our unconscious gaps that had let them in, so that we can evict them out and never have them taking up residence in our inner and outer lives again.
It is my greatest wish that if you are suffering or suspecting any of these stages with a narcissist, that you now know what you need to do to protect yourself, break away and start generating your true and amazing life.
Many of you know my story, and you know that I went all the way with narcissistic abuse to infiltration level number 5. He was so under my skin that I felt like I didn't even know to breathe on my own – such was the all consuming feeling like he was crawling inside me always.
To me it felt like a total soul takeover and breakdown, that initially I thought I could never break free from.
I promise you I know how bad it can get and how powerless we can feel. And I also know that when you heal the Thriver Way, you will overcome and live again, better and more authentically than you ever have in your entire life.
Please don't give up!
The following two tabs change content below.

Melanie Tonia Evans
is an international narcissistic abuse recovery expert. She is an author, radio host, and founder of Quanta Freedom Healing and The Narcissistic Abuse Recovery Program. Melanie's healing and teaching methods have liberated thousands of people from the effects of narcissistic abuse world-wide.

Latest posts by Melanie Tonia Evans (see all)