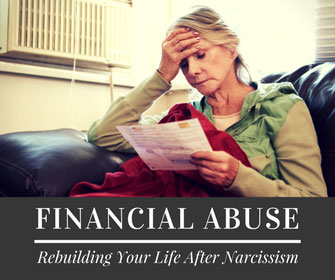 Sadly, narcissistic abuse doesn't only come with psychological, emotional and spiritual torment. One of the most devastating things is the almost inevitable financial abuse. 
Financial abuse is one of the most widespread devastations in this community – so many people are stripped of the resources they have worked hard all their life for.
If you are going through it right now, please know you are certainly not alone.
Today's Thriver TV episode is all about how why we fall into financial dependencies and traps with narcissists – and how you can heal from this, let go of the shame and restart your life, regardless of your age or current situation.

Maybe you are stuck in a relationship with a narcissist where you are financially abused and dependent, where the narcissist controls, withholds and abuses you with money. Or perhaps you are with an altruistic narcissist who generously grants you money but is making you feel like you are totally reliant on their money – and of course uses finances to punish, guilt and control you.
And maybe, whichever the case, you don't have your own source of income. Possibly your health has now suffered so much from the abuse that you feel like you can't generate any income. Perhaps you have always raised your children or you gave up your career to support the narcissist.
I can't tell you how many people contact MTE every day who are in these situations with narcissistic people. Some of them realise what they need to do, and many more ask "What can I do Melanie, my situation is hopeless?"
And this is why, today, in this Thriver TV episode, I want to deeply investigate the ways we get hooked into financial abuse with narcissists and also how our beliefs and traumas about money and finances could be unconsciously keeping us stuck.
Most of all I hope, no matter how hopeless it all seems for you, that you find the strength, healing solutions and support that this incredible Community can offer you, to change your life – including the ability to create your own security and be free of terrible dependencies – beyond description.
I look forward to answering your comments and questions below.
(Visited 7,130 times, 5 visits today)
The following two tabs change content below.

Melanie Tonia Evans
is an international narcissistic abuse recovery expert. She is an author, radio host, and founder of Quanta Freedom Healing and The Narcissistic Abuse Recovery Program. Melanie's healing and teaching methods have liberated thousands of people from the effects of narcissistic abuse world-wide.

Latest posts by Melanie Tonia Evans (see all)