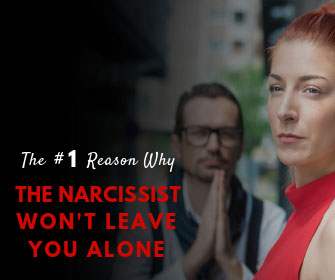 I know you may be baffled, stunned and devastated by the narcissist's relentless quest to keep hurting you.
Soooo many people, just like you and me, have experienced precisely this … every time you try to get up and on with your life BAM!, the narcissist strikes you down again.
This could be in the form of malicious criticism and control tactics.
Or, if you have already left a narcissist, this could be with the use of authorities, or smearing you to your workplace, family and friends … or with incessant stalking, accusations and the constant baiting of you.
Maybe the narcissist has been dragging you through the court system, at any opportunity, for years.
Also, of course, narcissists love to use people and things close to you to continually get to you.
Will it ever end?
How can we FINALLY get it to stop?
In today's Thriver TV episode, I want to take you on a journey to understand something that initially took me years to grasp, but once I did, it allowed me to detach from the narcissist, almost instantly!
Since taking my power back and teaching others how to as well, I've seen thousands of people in this community disempower narcissists and reclaim their lives in record time.
Truly, the way to do this is simple, direct and infallible.
Video Transcript
Narcissists have been likened to terminators, relentless machines that just do NOT stop delivering the pain, abuse and punishment that they seem hellbent on doing to people.
This can happen with narcissists in the form of criticism and demands if you are still connected to one. Or, this could be their actions of smearing, stalking, abuse by proxy, or co-parenting abuse tactics or any of the many ways that a narcissist chooses to make your life a living hell.
And, I also want to explore how the insidious thoughts and feelings about the narcissist, even if one is totally out of your life, can linger on inside you like a festering wound that doesn't seem to heal.
So many people report that the narcissist won't leave them alone and getting rid of him or her on so many levels, including evicting them from their heads, seems virtually impossible.
I used to think this was true myself …
But is it true?
I'm here to tell you it isn't, even though you may jump up and down and declare with everything you have that this is your experience.
Yes, I understand it could be your experience, but it certainly doesn't need to be your truth, and this is even regardless of whether you share children with the narcissist or not.
To Hurt You, The Narcissist Needs Your Energy
To go beyond the horrible human experience where narcissists just don't let up, into one where we take back our power, and they do … I need to take you on a Quantum journey with me, getting down to the energetic truth of things and working with the system of life that will release you into your highest and best realities which is NOT entanglement with a narcissist.
Okay… let me explain, the narcissist in your life is really a No Self. This is a person who is a False Self and is not connected to their own energy system or lifeforce at all.
This means he or she must gain and regulate their energy via the use of other people. Narcissistic supply is the narcissist's biggest and most necessary addiction, gaining the energy feed off another individual's attention (good or bad it makes no difference) so that they can suck that person's lifeforce to survive.
Narcissists need to do this because of their disowned True Self and therefore having no real ability to feel whole – meaning inwardly full, content and secure.
Because of the narcissist's unattended to inner wounds always screaming, at the times when there is not enough narcissistic supply to self-medicate them and numb them out, the narcissist must erupt and dump these narcissistic injuries on others mercilessly.  If you are being lined up by a narcissist who seems like a terminator in your life, you are not just the narcissist's snack handing over narcissistic supply, you are also the punching bag and dumpmaster for their narcissistic injuries.
Now here is a grand illusion to all of this, which is the standard human perception, "Of course I'm hooked in and fighting to survive this and having to defend myself and trying to stop it happening. What else can I do because of what the narcissist is doing to me?"
I totally used to operate in this framework too. Why wouldn't we? Isn't that what we were taught to do?
And until we awaken to energetic and spiritual truths, the deeper undercurrent of what is really going on, we will believe this and get all tied up in it, no different to an insect tangling itself deeper into a spider's web. Retaliating and fighting back, bringing on its own inevitable demise.
There is another way, truly.
And it has nothing to do with our 'doingness' and everything to do with our "beingness'. To take our power back, it is about getting out of the greatest human illusion that exists, which is 'there is an outside'.
The Power Of Our 'Inner Universe'
At the Quantum Level, there isn't. What is true is there is a Universe inside of us relating directly to the Universe outside of us. Therefore, if we try to respond to the Universe outside of us within the level of consciousness that we are already experiencing in reaction to it, then we will just keep getting 'more of the same'.
Yet, if we respond to the Universe outside of us, by purposefully taking our attention into the Universe inside of us, and seek to change the consciousness there, regardless of what is going on in the outside Universe, then the outside MUST shift to reflect the inner shift.
This is the truth of 'be coming' the change you wish to live and understanding that when you 'be' something, then it will 'come'.
It's Quantum Law, so within, so without.
There is no greater power or truth in your life than that, and it especially relates to narcissistic abuse, because literally (and I mean in every case) nothing else, but your inner shift and changes works to get them permanently out of your life, physically, emotionally, mentally, spiritually and psychically.
So, what is the consciousness we need to change inside us to make this happen?
The consciousness change must be the one where we will no longer have any triggers of fear, pain, angst, anger and all the other assorted traumas that narcissists know how to activate within us.
You may not believe this is possible, yet I promise you it totally is. I achieved this, and I can't even begin to tell you how many people in this Community have as well.
(In fact, I'd love those of you that have let these traumas go and now live without them to share what happened with the narcissist after doing that. Please pause this video, scroll down and post, encouraging these people who are your tribe who haven't achieved this yet, that this shift is totally possible.)
True Empowered Detachment
OK, so the goal is "I grant the narcissist no energy". Zip, zilch, no interest, nada retaliation, nothing. To achieve this goal, we do this: "I just get on with clearing my wounds that get triggered and take pro authentic, empowered action regarding being my True Self."
This means letting go of all fear, and instead anchoring into solidness, calm, and the displaying of unemotional, honest, authentic facts where necessary. Amongst this is absolutely no need for the narcissist to understand anything or validate you in any way.
We can't fake this, pretend this and just 'grey rock' this. I am not a fan of grey rock if you are still coursing and surging with adrenaline and cortisol on the inside. Empowered real detachment is the only true deal, because narcissists sniff out energy, even with No Contact, like a psychic vampire zoning in on energetic fears that can't even be seen.
Please know just your pain and fear, even without any contact at all, grants the narcissist the bullets to keep shooting you with. Narcissistic abuse is a psychic phenomenon of personal energy vandalisation of the highest order, and your greatest mission is to detox yourself of everything within you that is keeping you hooked up in it.
It's important to understand the following: the narcissist is like a character in a computer game continually needing to reach power packs to keep going in the game. If you cut off all power packs, the narcissist will need to exit your game and jump into someone else's who will provide them.
So how do we do this, in short, stop reacting, detach and have no emotional charge on what the narcissist tries to do, and therefore a whole heap of energy available instead for real powerful, adult, calm, solid, authentic action?
To help you understand the answer, which I am about to tell you point blank, I want to share my favourite quote of all time, one which I believe relates more than any other I have ever heard to narcissistic abuse. It's this one by Pema Chodron, and you may have heard me say it a lot: "Nothing ever goes away until it has taught us what we need to learn."
This is the answer, to get narcissists to leave us alone (go away) we need to clean up the inner wounds that cause the fear, pain and triggers that they set off.
Freeing Ourselves From the Primal Traumas
Truly there is no missing theses traumas because a narcissist doesn't just give our wounds a little poke, they Napalm them, ripping them up into our consciousness with the carnage of a bomb slamming into its target.
Things like:
The terror of being persecuted by authorities.
The devastation of the possibility of losing our children.
Feelings that we will die and can't survive because of being abandoned.
The horror of being discarded and replaced by another.
The white-hot fear of being annihilated.
And so many more.
The literal primal survival fears that are the fractures of humanity itself.
So, what are we pushed to do via the relentless terminator-like ferocity of narcissists not stopping what they are doing?
The answer is this: Heal these traumas within ourselves.
And when we do, we discover that we are no longer triggered and handing power away. Then the narcissist's ploys fall flat, people stop believing them, and authorities discover their lies.
Additionally, support from people and life itself gravitates to us to grant us more of who we are being: solid, mature, authentic forces of truth.
I want you to feel this because some part of you cellularly knows what I am saying is true.
If you clean up what the narcissist is detonating inside of you, not only will you escape this person and heal very quickly from the trauma symptoms that now feel like they are eating you alive, you will also clean up these terrible primal fears for good.
By doing so, you can expand into life in ways that you never did previously before narcissistic abuse, and you will realise what the true purpose to all this was.
Which is what myself, and the other Thrivers living this life, discovered.
Okay, so if you have any narcissist in your life that won't leave you alone, or patterns of pain and abusive people and drama that you have had more than enough of, the shift out of this all starts here:
By signing up to my free 16-day deep inner healing course which includes a healing workshop with the super-tool Quanta Freedom Healing, a set of comprehensive eBooks and so much more.
Before I go, I want to express my gratitude for all the wonderful support we have had since beginning my new book's pre-launch party, and I'd love you to scroll down and share with me your thoughts on today's episode.
(Visited 1 times, 39 visits today)
The following two tabs change content below.

Melanie Tonia Evans
is an international narcissistic abuse recovery expert. She is an author, radio host, and founder of Quanta Freedom Healing and The Narcissistic Abuse Recovery Program. Melanie's healing and teaching methods have liberated thousands of people from the effects of narcissistic abuse world-wide.

Latest posts by Melanie Tonia Evans (see all)