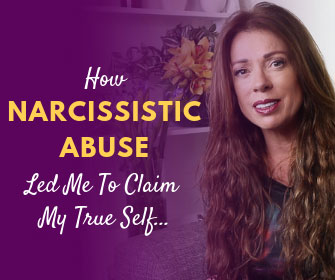 Absolutely, narcissistic abuse is arguably one of the WORST things we could ever go through.
It's devastating … horrifying … soul-shattering.
And in the depths of it, I know you may be feeling like I once did also …
That there may NOT be a way out, or to rebuild after being taken down to the lowest place we could ever imagine going.
This is why I wanted to share this The Thriver's Life episode with you today … for those of you not yet starting to feel the sun shining through the storm clouds … and if you are still struggling when you feel engulfed by fear and pain.
I totally believe that narcissists bring us to our knees to face those parts of ourselves we would rather not see, hold and heal – those inner parts that are our deepest fears and most fragile insecurities.
When activated by the narcissist, these parts make us feel like we are going crazy, send us into spins of panic, and can leave us feeling like we are literally going to die.
Today I share with you the 3 BIG ones that narcissistic abuse activated for me – those unhealed parts, that until I healed them, were never going to allow me to radiate and fully BE my True Self.
And because I DID Heal these parts, these areas of my life are now far more healed and whole than I ever believed previously possible.
Episode Transcript
Welcome to the Thriver's Life series … the creation of your highest and best life after narcissistic abuse.
I cannot tell you how grateful I am for narcissistic abuse. I know many of you are already there, and I know 100% that there are many of you that feel like you will never be. I once felt the same. However, it was exactly this understanding that narcissistic abuse was happening 'for' me and not 'to' me that lead me into being able to create such an incredible Thriver Recovery from it.
There are two distinct ways that people perceive narcissistic abuse. The first is as something to try to 'go' through, and the second is as an experience to determinedly 'grow' through. It is the second version that I want to talk to you deeply about today.
I'd like to start off by sharing with you what I believe all relationships in our lives are about, and to explain this clearly I'd like to tell you what I believe they are not. They are not about getting love, approval, security and survival from another person, which sadly is what many people seek relationships for.
I believe they are about having reflected back where we are in relation to these things with ourselves. Because there are, I believe, four main components to be our True Self. These are being healthy, whole sources of love, approval, security and survival to ourselves. When we are these things we know how not to self-abandon, self-avoid and give our power away.
We know how to be True Sources rather than cling to False Selves such as narcissists and False Sources such as addictions, to try to self-medicate the pain away and feel whole. Instead, we are able to be sourcing, generating and creating instead with the healthy aspects of life.
That is what a True Self having a True Life existence is.
It doesn't mean we get it perfectly right all the time, or that we will always have smooth sailing.  What it does means is when we are triggered from within or without, we know something is 'off', and we can heal that part of ourselves to springboard into the next highest version of ourselves.
When committed to True Self function, absolutely we hit some rocky patches within our own evolution, yet these also become the glorious grist and releases us into even higher expressions of ourselves and life. What is there not to love when we live this way? All of it is perfect.
In Quantum Law, so within, so within, there is no 'outside'. This means every person we meet is an aspect of ourselves allowing us to recognise where we are self-aware and growing (awake) and where we are not (asleep). Missing this is a sure-fire way to get out of relationships thinking we have left the painful relationship dynamic behind, only to find ourselves face to face with it again, with a different face, and usually in an even greater intensity than we previously experienced.
Why? Because our soul is efforting through the experiences it chooses, to make the unconscious conscious so that we can wake up and bring the light into these dark inner places.
I have no doubt at all that narcissistic abuse is the ultimate experience to help us wake up because there is no missing the anguish and trauma it brings front and center to our consciousness.
Over the last 10 plus years, I've seen two main groups of individuals who have been narcissistically abused. The first category of people are 'going' through the experience, and sadly usually stay traumatised, reduced and battling to try to manage their inner fully activated wounds that have become chronic mentally, emotionally and physically. The second group of people are 'growing'; they have decided this is the turning point (enough is enough) to fully meet their wounds, do the inner work and free themselves from the patterns in their life that had unconsciously allowed the handing of their power over and experiences of horrific abuse.
Initially, I had no idea there was option two, because literally no one was talking about it.  Now thank goodness I do, because I discovered the truth that not only saved my life but also provided me with the most incredible amount of joy, freedom, personal power and expansion into being and doing a life that I never had access to before my Thriver Recovery.
I discovered the way, because of narcissistic abuse, to claim my True Life.
After narcissistic abuse, the trauma is so great, the pain doesn't end if we don't claim our True Self. And we can't just 'go on as normal' if we don't. We are now terrified, traumatised, and barely functioning and coping, because our inner operating systems have been shattered into many pieces.
We don't know who we are anymore, or who and what we can trust.
If we don't turn inwards to heal, we remain victimised and traumatised whilst trying to protect ourselves against the billions of people and situations which are happening 'out there' rather than making the true healing changes at the only place we ever can control, 'in there'.
True Thriver Recovery from narcissistic abuse is not for the faint-hearted, yet it's a journey that makes our life so much more light-hearted when we achieve it. I think the real question we all face when we have been narcissistically abused is this: "How hard does it have to get before we wake up?" For many of us, it gets pretty bad. The experiences we go through, before waking up, do keep smashing us.
The narcissistic abuse experience is a powerful soul one, beyond comparison, because it shows us in every which way we could imagine how any energy expended on the outside makes our situation worse.
The narcissist gets energised and attacks us and hurts us more every time we try to make them accountable. People believe us less when we try to get them to realise what is happening to us. Authorities and legal personnel become more ineffective in our life, and if we look to anything on the outside for our salvation, everything breaks, cracks apart, falls flat and completely turns its back on us, until we do the one thing that will work, which is: turn inside and heal ourselves.
When we wake up and start to take back our power, the real and necessary questions are these: 'As the Quantum Powerful Creator I am of so within, so without, what on earth is going on in my Inner Universe for this to be happening to me?" And… "How, therefore, do I change me to change all of this?"
I want you to understand I know that if you are not yet on the Thriver's Path, you may feel daunted at taking personal responsibility to heal your inner wounds, or even feel offended by hearing that you need to. Once upon a time, I did too. Our human conditioning has tried everything it can to stop us from turning inwards and claiming our power. It has made us believe that this means the narcissist gets off the hook and that we are taking the blame and somehow saying we asked for this and that it was our fault.
This is exactly what the 'victim shaming' argument is about.
I used to believe it too. I remember years ago, in the throes of narcissistic abuse, a woman at a spiritual workshop said to me, "If it's that bad why are you still with him? What part of you is attached to blaming him, rather than you working out what you need to heal so that you do leave him?"
I was adamant she had no idea what she was talking about. Now, because of being brought to my knees and finally doing the inner work that she was pointing at, I know she was right.
We are also taught that there is no way that we can go inside, claim and heal our wounds. We are told that the trauma will be too great, and it will take us out. We are told there is no way to do this and we must just manage our wounds instead. And of course, world systems that benefit greatly from keeping us sick and alive would say that.
Quanta Freedom Healing now proves all of this wrong. You only need to go through any of my forums or blogs to see the overwhelming evidence of people, like myself, who now live free from their previous unspeakable wounds.
The following is the three big things that I woke up to in order to start claiming my True Life. By sharing these, I hope they deeply assist your awakening toward your True Self and Life also.
Terrors of Abandonment
By being cruelly and abruptly abandoned mentally, emotionally, physically and literally, I was confronted with the fears and insecurities that I could not survive on my own, and that I was unworthy of love and replaceable.
My fears of abandonment were so huge that at times I felt like I was literally going to die without this person.
At these times, rather than having my own level of healthy self-love and inner wholeness to fall back on, I could not detach or recognise that being discarded so cruelly and unhealthily was, in fact, a tactic to hook, hurt and control me. I played straight into it. This, of course, led to further abuse, because I tolerated even more abuse to try to stay connected, instead of pulling away to look after myself.
I had to deeply hold and look at this or I was going to die.
So, I did.
After healing the deep fractures within my inner being which had set me up to be like this (long before the narcissist appeared in my life as an adult) I became a loving, true source to myself who knows how to generate her own life and survive.
As a result, I now can easily let go of those who abuse and pathologically lie, deceive or manipulate and know that I am my own source of love, who does not need to bargain with or cling to abuse for her survival.
Accepting Objectification and Minimalisation
As a result of not being recognised or connected to as myself by narcissists, and instead, being sexualised, objectified and treated as irrelevant or unimportant, I had to deeply look at the fractures within me generating this and accepting it as 'okay'.
What I discovered were so many ways that I wasn't accepting myself and not giving myself the space and power to truly shine. Instead of doing this I was shrinking and disappearing to feel safe.
There were many responsible beliefs deep in my DNA regarding this, such as 'men can't accept my True Self', 'I can't be a shining light in a man's presence', 'If I am my powerful self, I will be punished and even annihilated', 'It has to be all about other people or they will reject me' and so many more.
I had to deeply hold and look at this or I was going to die.
So, I did.
After healing the deep fractures within my inner being which had set me up to be like this (long before narcissists appeared in my life as an adult), I was able to be more of myself in the presence of men than ever before. (Please know this one is still in progress, and I am putting much more effort into getting totally free of this one, even as we speak now!)
Financial Abuse and Loss
By being financially abused and losing all my security, I was confronted with my worst fears that I was unsafe and unless I had a certain amount of security, and a man looking after me that I would not survive.
I had to deeply hold and look at this or I was going to die.
So, I did.
As a result of coming face to face with my greatest survival terrors and being granted the opportunity to heal them. It was then that I stepped into my True Self function on this topic, which was that my worth and security was, in fact, ME and my connection with my Higher Power and all of life.
If it hadn't been for narcissistic abuse, I would never have been set free from these deep and powerful security traumas and would have spent my life locked into fear, playing it safe and handing power over to others so that they could look after me.
I would never have been able to expand into the world as my own financial force, as I do now because I am emotionally free to.
Your Emancipation From Primal Terrors
Okay… I so hope this has granted you some deep and empowered inspiration to use your narcissistic experience as the springboard to catapult your incredible release and healing into your True Life and True Self trajectories, that are waiting for you to align with.
And I'm so looking forward to answering your comments and questions regarding this episode and exactly how you can achieve this!
And remember, after narcissistic abuse recovery, gloriously we take it further!
Why?
Because we CAN!
Lots of love, bye bye.
(Visited 1 times, 25 visits today)
The following two tabs change content below.

Melanie Tonia Evans
is an international narcissistic abuse recovery expert. She is an author, radio host, and founder of Quanta Freedom Healing and The Narcissistic Abuse Recovery Program. Melanie's healing and teaching methods have liberated thousands of people from the effects of narcissistic abuse world-wide.

Latest posts by Melanie Tonia Evans (see all)