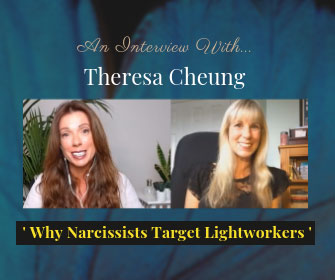 Since we began the pre-launch party last week, the outpour of support for my upcoming book You Can Thrive After Narcissistic Abuse has been nothing short of incredible.
In amongst this, so many of you have posted your heartfelt messages sharing how the Thriver Movement has changed your life.
Words can't describe how much this warms my heart.
My "thank you's" do not seem enough!
Please know, this book and the Thriver Mission couldn't be possible without you, and because of this, I would love you to continue joining in and sharing the material we have coming your way.
Together, we have the consciousness, power, and willingness to bring much-needed awareness of narcissistic abuse into the mainstream.
Today, it brings me great joy to kick off the first week of the book launch party with this interview:
Theresa Cheung is an extraordinary lady and best-selling author in the fields of spirituality, heaven, the science of the paranormal and the afterlife.
Theresa joined the NARP Program in 2017 because of experiencing an insidious narcissistic relationship with a work colleague, and after making tremendous progress in her healing, reached out and shared her story and convinced me to write a book.
From that point, Theresa did everything in her power to make 'You Can Thrive After Narcissistic Abuse' a reality. It wouldn't have happened if it wasn't for her!
Today, you will hear Theresa's narcissistic abuse story, and how, like so many of us who are spiritual seekers, she thought she would be immune to an abuser …but wasn't.
Within this interview, you will also learn about what a lightworker is, why narcissists target them, and what a lightworkers mission really is here as well as the challenges they have to deal with in their life.
If you, like so many of us, know that you are here to help bring light and healing to yourself, others and the world, yet have been traumatised and taken down by abuse and narcissists, I know that this is an interview that will deeply resonate with you.
You will also learn how you can still be a great person, and do your life's work without being susceptible to narcissists again.
Show Notes
Theresa tells her own narcissistic abuse story (3.44)
What is a lightworker? (5.43)
Why narcissists target lightworkers. (6.08)
Narcissistic Abuse is a gift from heaven (7.30)
The lightworker's journey and common things they deal with in life. (9.26)
'Beware of 'givers' being a narcissist. (13.15)
What is the meaning of life? (15.20)
Why narcissists come into our lives and offer us relief from pain and depression. (17.49)
Why lightworkers are here to find their light, anchor it and help other people. (20.02)
The inward journey and dealing with the loneliness and desperation after being discarded. (20.43)
Mel gives the answer so that lightworkers do not become a target for narcissists. (23.52)
Theresa shares her advice for lightworkers who want to help people without being trapped and taken out by a narcissist. (28.32)
Thank You For Watching The Interview!
I know this topic will relate to so many of you who wish to shine your light fearlessly in this world without being a target for narcissists. I hope you enjoyed this interview as much as I did making it for you.
I really do believe that the time is NOW … where we can help shine truth, light and personal power for ourselves and others to become the change that we dearly want to see in the world.
I'd love you to share your questions and comments in the section below!
Please know, we have more exciting interviews coming your way over the next several weeks! The best way to ensure you don't miss anything is to be subscribed to the New Life Newsletter and following me on Facebook and Instagram 
The following two tabs change content below.

Melanie Tonia Evans
is an international narcissistic abuse recovery expert. She is an author, radio host, and founder of Quanta Freedom Healing and The Narcissistic Abuse Recovery Program. Melanie's healing and teaching methods have liberated thousands of people from the effects of narcissistic abuse world-wide.

Latest posts by Melanie Tonia Evans (see all)