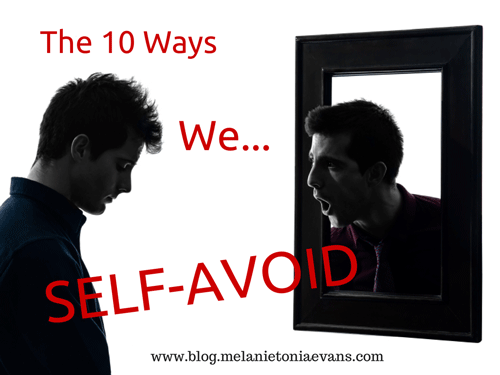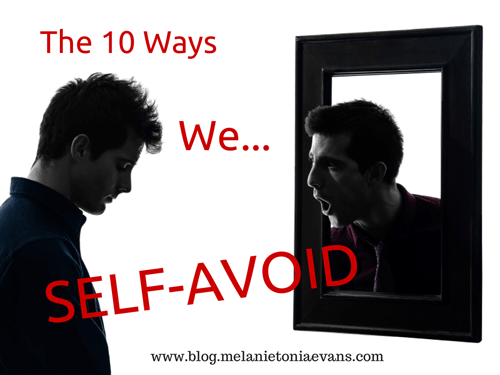 When we are on a journey of healing and resurrection, the most important component is "self-partnering."
This is in dire contrast to "self-avoidance," or what is also known as "self-abandonment."
Many of us had no idea we were "self-avoiding" because we just thought we were doing our best to get on with life. For many people life itself can be all-consuming. You may feel like it is a daily struggle to cope – or even just survive.
For so many people, a need for self-partnering only happens when life brings us to our knees when we simply can't continue on with "business as usual." This generally happens as a result of challenges, adversity or even tragedy.
This is the time when we reach the cross-road of evolution or dissolution. This is where we choose to transform ourselves from the inside out – or we miss the boat and just get progressively more unwell.
Narcissistic abuse is undoubtedly one of the greatest wake-up calls to let us know that the trajectory and choices we were on aren't working, and self-partnering is essential – and absolutely critical if we are going to heal our life.
We may not have realised how "unconscious" we are when we self-avoid. We may not have realised that rather than be our own authority – honouring, loving and respecting ourselves, and creating more of that with life, we have instead been living life by default.
If we are not self-aware and healthily self-empowered, we are controlled and molded by people and situations, rather than being a creative force of truth for ourselves. Eventually this model leads to our own demise, which is exactly what happened to us via narcissistic abuse.
How do we stop this?
By taking our focus off "WHAT happened to me" (the outside), and make it our HIGHEST mission to take our awareness, energy and deep-abiding love inside ourselves, so that we can work on and heal "WHY this happened to me."
The 10 Tactics We Use To Self-Avoid
#1 Blame and Shame (Including Abuse Forums and Groups)
When we are focused outwards, and righteously blaming and shaming others for the state our life is in, we are self-avoiding. In this model we believe our painful energy is being directed at others, however it is deeply damaging ourselves.
This is known as being a "victim." If we are not prepared to give up our victimisation and take responsibility to be with and heal our own wounds, we remain extremely unconscious and we don't recognise that we are in fact the generative Source of our own experience.
Now we have just rendered ourselves incapable of changing our experience, because we have handed all our power to others – we keep handing these people the "gun" to keep shooting us with. When we create others as responsible for OUR life, we grant them permission to deliver us MORE of the powerlessness we feel about ourselves.
This is the number one way hands down, that we can self-avoid. There is no turning inwards to begin growth, development and evolution on this path, only the accumulation of more and more self-abuse.
Victimisation, additionally, creates chemical peptides in our brains that are incredible addictive, and highly self-destructive, and they lead to a life of generating more victimisation and powerlessness.
#2 Not Spending Time Alone
People who are always busy or have to have constant company, and who don't take time to "be with self," are self-avoiding.
A powerful exercise to see how healthy your relationship is with yourself is to sit quietly with no outer distractions, or noise, and simply be with yourself, with your eyes closed, connecting to your inner self for 45 minutes or so.
Many people are literally terrified of doing this, and make all sorts of excuses about "what needs to be done," or "who I need to visit," yet the anxiety they feel is really about STOPPING for long enough for the inner fear, pain and trauma – that they have been trying to avoid – to come and meet them.
There is only so long we can run away from ourselves.
Hopefully we understand that "life" shows us where we are deficient with ourselves. These examples can help us become conscious of this fact.
How can we expect anyone or anything to commit to us or partner us healthily if we refuse to do that for ourselves?
How can we expect someone to help support us with our fear and pain and concerns, when we have no desire to be that support for ourselves?
How can we expect anyone to be present, "hear us" or for goodness sake LOVE us, if we can't even bear being with ourselves?
So many people are incensed by the way people treat them, and have not realised this powerful truth: "I am the generative Source of my own experience – and therefore how other people treat me is IDENTICAL to the way I treat myself."
Many people believe constantly keeping busy and running away from painful emotions makes them go away. No, they don't go away. If you are continually disowning your painful feelings they only get bigger.
Weeds need to be pulled out of the garden, or they take over and choke the flowers. The only way we can pull the "weeds" out (our internal pain, fear and trauma) is by being prepared to deeply partner and work on ourselves.
#3 Food, Sugar, Alcohol, Cigarettes and Drugs
Ingesting substances is an attempt to fill the "emptiness" where self-partnering (self-love, self-dedication and self-growth) is missing.
This is an attempt to numb out painful emotions. All addictions are created from the chemical rush of relief – relief from internal emotional pain.
The dire and self-destructive problem is: The actual emotional wounds (the cause of the emotional pain) is never attended to. It's important to realise that the emotional pain is just the "noise" these wounds are making to try to get a person's attention.
The addiction itself is also a symptom, just like the emotional pain. It's a compulsive action born from self-avoiding inner wounds, in order to try to stop the emotional pain. When the addictive substance is consumed, there is a dopamine hit that is in stark contrast to the emotional pain – hence the "relief."
When we are self-avoiding through addictive substances there is a very frightening element involved. The "weeds" are spreading and getting bigger, the "relief" over time isn't as powerful, and we need more and more of the substance to get the same level of relief.
The relief, naturally, is only a quick-fix. It's a bandaid that keeps falling off. Meanwhile the inner wounds which are not being tended to are a bottomless pit – always needing "comforting" and never being actually healed.
All addictions generate self-loathing – the lack of trust, belief and respect for ourselves – which only adds to the already compounding inner wounds, which then need more "comforting" to try to numb out the emotional pain generated from them.
Such is the vicious cycle of substance abuse.
#4 Social Media, TV, Computer Games
The information explosion we have experienced in the past few years has granted us wonderful access to the world, but it comes at a hefty price – the stripping away of time for access to our Inner Beings.
If we don't have the balance of time with self we can get lost in the on-line world of filling our heads with more and more information, yet losing our essential connection to ourselves.
TV and computer games are other ways we zone out and miss opportunities for self. We may think we are escaping our problems, but at the end of the program or computer game, we still have to meet our emotions, ourselves and our life.
It's so important to realise that if you want to create a life of a higher vibration and higher value, you have to give up things of a lower vibration and value in order to get it.
The greatest value we can ever create – as the platform to our life – is an evolving, growing self. The expanding of our Personal Identity beyond who it was previously.
If your downtime is spent numbing out with social media, computer games or TV, you are wasting valuable time where you could be creating the Life you really want from the inside out.
#5 Shopping and Material Possessions
Many people believe happiness is deemed by "what they have" instead of "who they are." This is a deadly trap – a bottomless pit into thinking that possessions, status and gaining approval from others are the fuel for happiness.
Like all inauthentic sources of fulfilment, the same result emanates – the initial high followed by the same chronic feelings of emptiness, insecurity and anxiety.
It is only through deeply meeting, loving and partnering ourselves and tending to our own healing, "filling" and growth that we can ever be durably happy – anything else falls short of the mark.
There is nothing wrong with wanting and striving for nice things, when it is an extension of an already "full" and "whole" self, because that is the expression of an abundant and expansive self.
Possessions can be an outpour of who we are, but they can NEVER grant us ourselves.
#6 Love / Sex Addiction
Many people believe "If I could just get a partner, or if I was having regular sex with someone, the pain and emptiness would go away."
Love and sex addiction is a common form of self-avoidance that leads to dependence, enmeshment, co-dependency, and abusive and painful relationships.
If we are connecting with someone in order to escape our inner pain, this person is a "drug" and not a person. Rather than take responsibility for our own inner pain and emptiness, we project this onto the other person and hold him or her responsible for it.
Then love becomes fearful and controlling, and misses the vital ingredients of authentic love which are freedom, trust and allowing, and the life is squeezed out of the relationship.
This is a path of unconsciousness – leading to unhealthy expectation, disappointment, glorifying another person as your Source of self, and failing miserably to be that healthily for yourself. Then when this person reflects back to you the emotional "gaps" that you have missing within yourself, they become the "villain."
When we become conscious and we make our first priority to be a "healthy self," we are much more likely to attract and be attracted to individuals who are also whole, authentic and capable of emotional self-sufficiency. Then we can "be" and share love, instead of playing out power-struggles trying to "get" it.
Doing the essential self-work grants the foundation for two people to come together, not as a futile attempt to escape inner wounds, but to grow, evolve and expand together.
#7 Workaholism
It is very easy for people to not realise over-working is an addiction – because our culture rewards people who strive for accomplishment.
If we are working as an escape from our emotions, we suffer gravely. We lose our self, our health, and we are playing out our painful unhealed wounds of security and survival fears – feeling that we will never be good enough. We can chase our tail believing "My life will be okay when I achieve this goal or that goal."
Of course that day never comes.
Workaholics, as a result of not having taken the time to face and heal their inner wounds, tend to "work hard and not smart."
They cause extra-work as self-punishment and self-sabotage. Workaholics have the painful inner beliefs "If I want a job done right I have to do it myself," and don't generate effective support (then blame the people who let them down), or simply refuse to delegate.
As with all addictions, it is vital to stop self-avoiding and perpetuating more anxiety, and deal with the original wounds that are causing such behaviour.
#8 Being Concerned With Everyone Else's Issues
If we are constantly thinking about other people's problems, worrying about them, getting involved in them and not paying attention to our own inner triggers, angst, patterns, emotions and habits that require our attention – we are not growing.
We are simply making it all about other people, or "situations" or "causes" so that we don't have to look at ourselves. Whilst we remain unhealed and unconscious we have no power to positively affect these people or "causes" that we are involved in.
Additionally, many people use gossiping and "drama" to self-avoid. It can provide the emotional energy to help people get out of depression, only momentarily. Then this comes at the price of all addictions – a further stripping away of self.
Interestingly, what triggers us and takes our attention is usually the trauma we have not healed yet, or the aspects about ourselves that we dislike about ourselves that we have deeply disowned.
It is vital to understand, the only people who have ever created positivity change or reform in the world, did so by taking full responsibility to set the example FIRST.
They deeply and devotedly became and then generated the change they wanted to see in their world.
#9 Not Being Present
When we are struggling to connect to people or tasks, and can't "be there," we are really avoiding ourselves.
There are issues within us about being "seen," sharing energy and committing.
We may fear being exposed, judged, rejected, criticised, taken over or abandoned. We may be creating the protection of "If I don't really show up in the first place, I'm not risking anything."
The reasons why we are avoiding others and avoiding life are precisely the unresolved issues and fears that we have within ourselves.
Until we establish self-disclosure, self-honesty, self-love, self-acceptance, and self-partnering, we can't be authentically present with others and life.
#10 Humour, Sarcasm, Putting Up a Front
A method of self-avoiding may be the wearing of a "mask" to fit in and no let anyone see the truth of how you really feel about yourself. This "mask" may be humour, sarcasm, superiority – or simply being who you think other people want you to be.
Being non-authentic may allow you to fit in and function to some extent, but it comes at a high price – the less energy you put into developing yourself and shining your True Self to the world, the more you lose yourself to a False Self.
You will be anxious, trying to gauge people and situations – trying to work out what is your best "mask" to wear on that day, or with that person.
You will also discover that your interactions don't feel heart connected and satisfying. Instead they feel shallow, unfulfilling, and more like a stage-play than real life.
You may be very busy trying to fit in, win approval and get the energy of other people's love and devotion – yet no matter what you receive you won't trust it as being real. After all, how can you be sure other people aren't playing the same game that you are?
What is likely is your connections are superficial and based on "What can I get by being a certain way, rather than what can I genuinely give by sharing my authentic self?"
Until we have partnered ourselves and learnt to love and accept ourselves warts and all – how could we expect other people to accept us and believe we are worthy just for being ourselves?
The Shifting of Self-avoidance Into Self-partnering
In order to change our emotions and behaviours, we need to shift our internal beliefs.
By doing so, our new more empowered healthier state of being will simply be an expression of who we have now become.
For those of you on the NARP Program you can use the Goal Setting Module, and set up the following goals to reverse the faulty powerless beliefs limiting you from entering into a self-partnership.
This is so much more than just speaking affirmations, which take a great deal of repeated effort and time to trickle down into your subconscious in order to produce change. Body shifts are another level entirely because they are a much more powerful and direct application.
To recap, the following are beliefs you may want to release all resistance to in order to help claim Self-partnering:
#1 Blame and Shame 
Self-partnering Goal: "I release my outer focus in order to bring my power back into my own body. I now deeply partner and love myself."
#2 Not Spending Time Alone
Self-partnering Goal: "It is safe to let go and just be with me. I rejoice in joining with myself in love, truth and healing."
#3 Food, Sugar, Alcohol, Cigarettes and Drugs
Self-partnering Goal: "I release the need to continue hurting myself. I free myself to go within in order to support, love and heal myself."
#4 Social Media, TV, Computer Games
Self-partnering Goal: "It is safe to feel. I have the courage to meet myself, and be with myself in order to heal. I am worth it."
#5 Shopping and Material Possessions
Self-partnering Goal: "I am worthy of love just as I am. I am adored by all of Existence simply because I exist. It is safe to be and love me."
#6 Love / Sex Addiction
Self-partnering Goal: "I let go, and fill myself with love and development. By doing so I am a whole being sharing my True Self with others in their true power."
#7 Workaholism
Self-partnering Goal: "I am worthy of receiving. Life co-partners me abundantly to provide my security, flourishing and nourishing. I am supported, and it is safe to be."
#8 Being Concerned With Everyone Else's Issues
Self-partnering Goal: "I recognise what I see in others is what I need to heal within myself. I let go and take my power back into my own body to heal my life."
#9 Not Being Present
Self-partnering Goal: "What I fear about others is what I need to heal in myself. I connect inwards in order to heal, knowing my divinity and True Self connect gloriously to Life and others."
 #10 Humour, Sarcasm, Putting Up a Front
Self-partnering Goal: "I release the need to hide. By connecting with loving and healing myself, I can share my true radiance with others and life. It is safe to be me."
I hope this article has helped you recognise where your blocks may be in regard to coming home to yourself and self-partnering.
This is how we become conscious and generate a life that is not just worth living – one which grants incredible purpose, joy, love and meaning.
This can only occur when we realise life is not happening to us, it is happening through us.
In my Free Webinar I do a deep self-partnering exercise to help people connect to their Inner Being. For many people who experience my Webinar, this is the first time they have deliberately gone to their Inner Being with love, devotion and acceptance.
You can sign up for the Free Webinar here
This is what some people reported after this experience.
"The emotion was incredible, overwhelming in fact. But not in a bad way. I felt this amazing opening in my heart, and a deep desire to be with myself and love me. I now realised how rejecting myself has created so much pain in my life."
~ C.K. USA
"My therapist has been trying for years to get me to feel and connect with myself. In your Webinar Melanie it happened, finally. I am thrilled beyond words, because this is exactly the key that was missing. I can't thank you enough."
~Sue. Montreal
"I can't thank you enough for what I got out of the Webinar. I held myself for the first time and I knew, like I knew, that THIS is the love I have always been searching for and trying to get from others. Now I have incredible faith that I can work on myself to create the most authentic relationship in my life, one I KNOW will create a healthy one with others."
~Dean G. Australia
If you would like to experience the visualisation exercise that these people did, in my next Free Webinar, I'd love you to join me in just under two weeks' time.
I look forward to answering your questions and comments below.
The following two tabs change content below.

Melanie Tonia Evans
is an international narcissistic abuse recovery expert. She is an author, radio host, and founder of Quanta Freedom Healing and The Narcissistic Abuse Recovery Program. Melanie's healing and teaching methods have liberated thousands of people from the effects of narcissistic abuse world-wide.

Latest posts by Melanie Tonia Evans (see all)