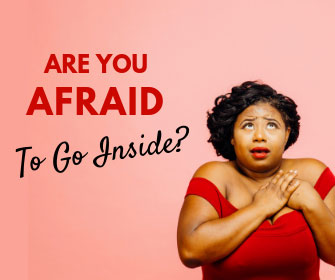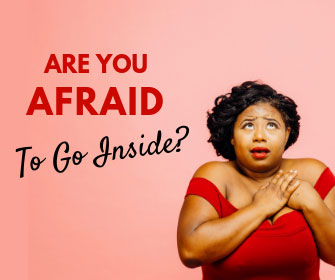 In my opinion, the BIGGEST thing that stops people from healing the Thriver Way is the NORMAL terror of going inside to meet their wounds.
Why wouldn't you be terrified of doing this?
Emotional pain hurts … it can feel overwhelming, insurmountable and like it will never end … and if you DO go into it that you possible WON'T be able to function.
We have been encouraged, all our life, to avoid our emotional pain at all costs.
However, by the time we have experienced narcissistic abuse, does this work?
Does any amount of distractions, substitutes, positive thinking or even dedicated Law of Attraction work stop the anguish?
Do our nervous systems and mental and emotional conditions such as anxiety, depression, PTSD and fibromyalgia … as well as our emotional heartbreak, feelings of loss and inability to feel solid and trust life, self and others in the future, get better as a result of trying to escape our hurting Inner Beings?
The short answer is – No! Absolutely not!
And, you may already realise this, yet are still terrified about going inwards to meet your emotional pain.
I get that – I was once EXACTLY the same!
This is why today, I really wanted to bring this very important episode to you, to take you on a journey into the deep understanding of our emotional Inner Being.
And HOW it is possible to meet, hold and let go of our emotional pain so that we can not only break free from the abuse in our life but also enter into new trajectories that bring us love, joy and purpose.
Video Transcript
Today's topic is a very important one and one that I am really passionate about talking to you about.
This is the deal – we have all been taught to terminally self-avoid and self-abandon. We are told not to feel our feelings. The good ones are okay but not the bad ones. We are supposed to ignore them, numb them out, run from them and do anything possible at all to distract ourselves from them.
But does it work? Do we get better as a result of doing this?
Let's look at this logically. What would happen if we had a car engine that started grinding and making noises? Would we just keep driving it until the car engine seized or blew up?
Of course not!
If we had a ceiling dripping water, would we pretend it isn't and just carry on, until the leak gets worse and our furniture and carpet is ruined?
Of course, we wouldn't!
If we suffered a physical gaping wound, would we refuse to treat it until it turned gangrene?
No!
So why on earth do we think that emotional wounds screaming out to get our attention is any different?
I get it that none of us enjoy feeling painful feelings … because they hurt. And … what we have been taught about them certainly doesn't help. Messages like 'If you turn inwards you will relive that trauma and it could make it impossible for you to function.'
Now, especially with the healing processes we have available, self-abandoning our emotions is a totally false premise that I want to help you get past today.
I hope you understand as a result of this video, your entire life depends on this.
The Truth of Your Inner Being
I want you to imagine this: a young child – your son or daughter – calling out you "Mum (or Dad), I am sad. No one loves me, I hate myself, I'm no good. I don't deserve to exist, I am all alone" (all NORMAL unhealed traumas that are a part of the human condition) and you pushed this child aside and said "Go away. Not listening. And now I'm going to turn to this TV, social media, alcohol, cigarettes, drugs, food or abusive person that I am trying to make love me, no matter how badly they are abusing me, so that I don't have to listen to you and I can try to feel better about myself."
How on earth do you think this child is going to react to this? Of course, he or she would feel even more abandoned, sadder, and more unlovable, defective and damaged.
The anxiety, depression, Post Traumatic Stress Disorders and fibromyalgia, and assorted nervous system, mental and physical disorders are all going to get worse.
It's the same as … the unattended to car engine getting closer to seizing, the water coming through the ceiling increase, and the physical wound that hurts is starting to get a nasty red tinge around it.
And, add on the feelings of being totally invalidated and made to feel completely unimportant.
Are you starting to understand what you are doing to your Inner Being?
I know what I used to do to mine. I used to tell her to shut up, and that she was a failure and I tried to bully and punish her into shape.
And, rather than turned inwards to love, hold and heal her back to wholeness, I tried to assign False Source to do that. How often was I hurting her with even more abuse with pathological, cruel, controlling and abusive False Lovers as well as crippling self-medication choices like cigarettes, alcohol and workaholism?
All the time …
So, was it any wonder that eventually, because I wasn't turning inwards with the love and devotion we should have for any child– including our own Inner Child – that she completely broke with an adrenal and psychotic blowout?
This is the thing … we all vow and declare that the state we are in is because of what other people have done to us, yet I promise you that the conditions we remain stuck in are because the one person that your Inner Being is waiting for hasn't shown up yet – YOU.
How BAD does it have to get before your Inner Being finally gets your attention?
How BAD does to have to get before you stop using the wrong people, addictions and distractions to try to NUMB out the inner screams, only making them WORSE.
Are you aware that not only are the screams getting louder, but your life is also breaking down (like the car engine, celling and gangrenous wound) and you have to use even more energy trying to self-avoid and self-abandon to survive?
This 'metaphoric can' does not get any better by kicking it down the road. It can only heal if you turn around and pick it up and deal with it.
How Your Wounds Project Into Life
I was like so many of us, I thought that turning inwards to meet my pain was the wrong thing to do. Instead, I was all pumped up on Law of Attraction stuff – 'Don't focus on what hurts and instead just focus on the good stuff and create THAT.'
Yet doing that was totally ignoring my inner wounds and traumas, the young unhealed parts of myself that dearly needed ME.
It took me a while to understand – point blank – NO ONE else is coming.
Yet, people did come – the wrong people – exactly the people who confirmed more of my inner wounds, the feelings of being unlovable, being terrified to assert myself, the inability to speak up, say 'no' and lay healthy boundaries. The terrors of not being able to leave people who were hurting me, in order to be my own source of love, approval, survival, and security.
Via these people, this was my unmet parts, the unconscious meeting me in a conscious way. My unhealed shadows were projecting out into life, representing who I was attracted to, who was attracted to me, and how I would miss these things, conjoin with the messenger of my wounds and continue rolling around with them, trying to make these people change so that my inner feelings and traumas could change.
Wrong Town!
I promise you, I had studied my traumas cognitively to death for decades. Then when that hadn't worked to change the patterns in my life, I had practiced positive affirmation for further years, diligently and consistently. I had mediated on visions of what I wanted, and I had journaled about 'my future true life' to the point of getting callouses.
Yet, I was dismayed to find again and again that I landed back at square one.
Let's examine all of these strategies, deeply. The inner dissecting of my wounds was simply my emotional Inner  Being receiving logical information – not the love, support and healing she needed. And with the affirmations and journaling, she was simply being told how she should be without any recognition of how she was. She was completely invalidated and her wounds were never met and healed.
And, so, the trauma lived on inside of me.
No amount of dissecting, positive thinking affirmations and journaling was going to heal these parts. And this is where we can get so caught up in personal development. Yes, it is better than ignoring that we have issues and continuing to drink, eat, smoke or use self-hatred, abusive sex and toxic people to try to self-medicate. Yet, it still constitutes self-abandonment and self-avoiding. We are still only using bandaids to try to manage our wounds, because we still haven't gone inside to fully self-partner and love ourselves enough to feel them and then let them go.
You may wonder like I did, why the pain always returns, the patterns don't change, and we have to up the ante on all our self-development practices to try to survive our wounds.
Now you may be starting to understand why.
If You Don't Go Within, You Go Without
Narcissistic abuse, for myself, as it has been for so many of you too, is a 'game over' proposition. Now we have internal wounds so activated that we can't drown them out anymore. This is when I discovered no amount of my old coping strategies were going to cut it.
I started to understand that Law of Attraction processes for severe trauma are completely ineffective for most people – including myself.
You can't park a Ferrari in a garage that is clogged up with a rusty old wreck.
You can't put ice-cream on top of poop (as the late Debbie Ford famously said).
In neuroscience terms, when severe trauma is activated, the brain can only think in the range of the trauma. Neuroscientists are now researching and proving this; there are very real chemical reasons why trying to think our way out of 'what hurts' is impossible.
Because we are not getting better, and the trauma is still screaming inside us, doesn't mean we are defective any more than it means we should try to keep ignoring it.
It means that we haven't realised yet what we need to do to meet our traumas, the right way, to heal for real.
Quantum Scientists believe there is an inner Universe inside of us generating the Universe outside of us. I totally 100% agree.
This inner Universe is our emotional composition – our beliefs and feelings regarding every topic in our Life. Whatever hurts tells us that we have a trauma in place causing a false belief that is generating traumatic experiences in our lives and will continue to do so, on that topic, until reprogrammed.
Yet by ignoring this (as we were taught to do) we powerlessly run around trying to learn about and change everything outside of ourselves in order to get a different inner experience (feel whole, loved and safe).
Can you see how this is completely back the front now?
If we don't go within, we go without.
If we don't tend to this fragile, ever powerful creative part of ourselves, our Inner Being, we will always come up empty.
What Happens When You Turn Inwards
How do we heal our traumas for real?
Turn inwards.
With love …
This means recognising the true purpose of trauma coming up inside us, as the glorious CORRECT signal to let us know that an adjustment is required to come back to health – just like the grinding engine, the dripping roof and the painful physical wound. Can you imagine if these signals were not present and we didn't know? Are they not a blessing in disguise?
So rather than condemning, demonising and vilifying our bad feelings, we can accept them with love.
Repeat after me this statement first – "I hate my negative emotions' – (if you are already a Thriver you know you won't even go there and say that to yourself) …
Okay, if you did say this – how did it feel in your body?
Be really honest.
Now say to yourself, "I bless and accept this feeling. Now, gloriously I can go inwards to hold, feel, load up and let go of this trauma, bring in the Light, heal this and expand beyond this pain and painful pattern into the next highest and freer version of myself."
How does this feel in your body?
Okay, I want you to scroll down and write what these statements brought up for you.
As I am telling you time and time again, if you want to heal from narcissistic abuse, you must get out of your head and into your body and start healing there – it's the only way
How do you think we got into this mess in the first place – I promise you it was because we were totally out of our body, and NOT integrated and there was no one home!
Do you understand what the opposite of integration is?  It's disintegration … which is exactly what narcissistic abuse is, and it's time to end that!
And we can end it, we have the super tools and we have the ways. We are all coded in our DNA to heal for real. Tragically we were trained out of this – but I can help you reconnect back to it – just as I and countless people in this community have been.
These people and my previous self, like you, were terrified about turning inwards, yet found when we did it the right way, that the relief was indescribable … and we wondered why on earth we hadn't done it sooner.
I promise you that most people, even at their first Quanta Freedom Healing experience, even if abuse and trauma are all they have ever known, feel real somatic, relief, hope and love for themselves, as a result of turning inwards the right way.
But, don't take my word for it, you really need to experience it personally to know that what I am saying is true.
Join me in my free workshop with me holding your hand and heart, connecting you lovingly with yourself and showing you how to load up and release your wounds and make room to bring in the good stuff, granting you a shift – which is instant healing.
You can reserve your spot in my next free healing workshop here.
As always, I look forward to answering your comments and questions below.
The following two tabs change content below.

Melanie Tonia Evans
is an international narcissistic abuse recovery expert. She is an author, radio host, and founder of Quanta Freedom Healing and The Narcissistic Abuse Recovery Program. Melanie's healing and teaching methods have liberated thousands of people from the effects of narcissistic abuse world-wide.

Latest posts by Melanie Tonia Evans (see all)