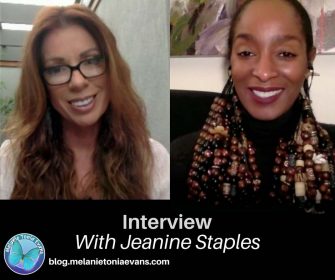 This week I had the pleasure to record an interview for you with my dear friend Jeanine Staples, which is all about how to smooth out the barriers, blocks, and resistances we build against social and emotional intimacy.
It's about melting the iciness within our souls.
Jeanine is a Thriver extraordinaire because she has come back from the brink of not one but two narcissistic relationships to become a force of light in the world.
Now today Jeanine is EXTREMELY passionate about helping people take radical responsibility and empower themselves from the inside out – which is exactly the fundaments that this incredible Community is built on.
I have the utmost pleasure of sharing this interview with Jeanine because she is a truly amazing soul and such a gifted teacher.
if you haven't heard any of her talks before I recommend you don't miss this one!
If you enjoyed this interview Jeanine is hosting is an incredible event next week called #Coldcrush which all about freeing ourselves from the coldness in our heart, and breaking into a Thriver reality which bares no resemblance to our painful past.
By signing up for this free event you will receive information and resource packed interviews with experts from all over the world.
You will also gain access to my interview with Jeanine where I talk about Dissociative Disorder, how it impedes intimacy and shuts down self-awareness and possibilities for truthful, meaningful partnerships, and how to break free from it.
You can reserve your space for this FREE event here.
If you have any questions or comments for Jeanine or myself please post them in the comments section below.
(Visited 6,431 times, 1 visits today)
The following two tabs change content below.

Melanie Tonia Evans
is an international narcissistic abuse recovery expert. She is an author, radio host, and founder of Quanta Freedom Healing and The Narcissistic Abuse Recovery Program. Melanie's healing and teaching methods have liberated thousands of people from the effects of narcissistic abuse world-wide.

Latest posts by Melanie Tonia Evans (see all)