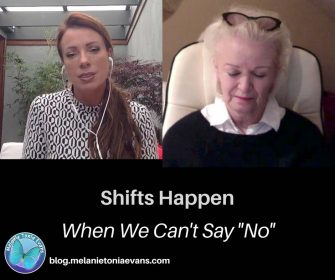 This Shifts Happen episode with Elizavetta is on a very important topic …
The trauma that happens in our Life when we can't say "No".
As a NARP Member, Elizavetta was stuck on trying to shift out the deep inner reasons why this was playing out in her Life.
And, in this session I share an advanced technique that will help people working with Quanta Freedom Healing dislodge and shift big stuck survival programs that we can't seem to let go of.
It was such a joy to see Elizavetta break through!
If you know you struggle with saying "No" … watching and participating with this episode may be just what you need.
I hope that you got a lot out of this episode!
Because not being able to say "No" is such a Universal issue!
Please post your questions and comments below and Elizavetta and myself will be very happy to answer them.
And I would love you to experience a Quanta Freedom Healing session with me soon as well, because it makes such a profound difference in the way that we can heal – cutting out literal decades of cognitive therapy that often doesn't get to the root of the issue.
The easiest way to experience a healing with me is to come into my next Free Webinar where you will be a part of a Group experiencing a Live Session with me … at no cost.
Reserve your space for my upcoming Free Webinar here.
Many, many people world-wide have already received profound breakthroughs by doing so.
And this is the last for the year – so please come join me!
(Visited 4,754 times, 1 visits today)
The following two tabs change content below.

Melanie Tonia Evans
is an international narcissistic abuse recovery expert. She is an author, radio host, and founder of Quanta Freedom Healing and The Narcissistic Abuse Recovery Program. Melanie's healing and teaching methods have liberated thousands of people from the effects of narcissistic abuse world-wide.

Latest posts by Melanie Tonia Evans (see all)