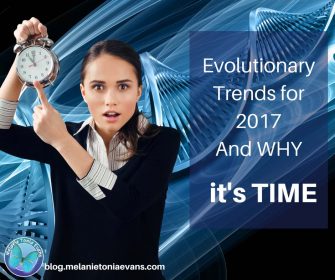 What a year 2016 has been and I don't think any of us can believe how fast it has gone.
Doesn't it just feel like a few short months ago it was last year's Christmas?
Each year is slipping away faster and faster.
This brings me to the first of two points that I would love to investigate with you in this article.
Time.
The other topic I wish to discuss with you is a theme that I have seen come up over and over again – with women I know, women in personal healings and also consistently throughout the Community.
It's actually related deeply to "time" as well.
And I can't wait to share this information with you … because …
In relation to "time" not just is time going faster – it is also time.
Time for big intentions, big changes and big breakthroughs.
Maybe you feel like you are running out of time within your everyday experience.
Maybe you feel like you are running out of time in relation to where you think you should "be" by now.
This I believe …
No longer do we have the luxury of staying the same – being mired in pain, fear and darkness.
It truly is getting too uncomfortable and painful to be there!
So many people are experiencing this shaking of internal chains; the knowing that things are meant to be different and a sense that they can be …
But how?
Within this week's article you many find some answers to some of these mysteries.
Time Speeding Up
I have a theory about the experience of time accelerating, which many people open to Quantum Realities also believe – that we are in a "quickening".
Meaning that time as we experience it is continually speeding up.
Many people seem to think we feel like this because we are getting older.
Yet, even children now believe that time goes fast (try asking one and you will see) …whereas, when we were children time dragged on seemingly forever… we always felt that it took an eternity to get to next Christmas, our birthday or something we looked forward to.
Even a couple of decades ago we felt as young adults that the days dragged when we were at work. We couldn't wait for the day to end!
Does anyone have this experience now, even when they are doing something they don't like?
Maybe they do … yet we don't seem to hear about it.
Certainly all of us have had the experience of "time standing still" when we were in a highly focused emotional event … such as watching things unfold in an accident we were about to have, or when we gazed into another's eyes for the first time thinking I am in love with you.
Is "time" a fixed thing or does the quality of our consciousness have something to do with how time is experienced?
Why would time speed up?
And if it is, what does this mean?
How is it even possible?
At a scientific level there is emerging information to support that indeed time is speeding up – such as the change in Schumann Resonance.
I particularly like this information that I stumbled across in a random article (that I agree with) written by P. Leon
"Firstly, one must understand that time is relative. Traditionally, we think of time as being a constant in the universe, but it's not. Einstein proved that. His calculations showed that the closer an object comes to the speed of light, the slower time passes. Scientists have done experiments that prove Einstein's theory to be correct.
So, if Einstein's theory is correct, then the opposite must be true; if our speed decreases, time will speed up! Researcher Greg Braden says that that is exactly what is happening. The rotation of the Earth is slowing down, and time is speeding up. Evidence for his assertions comes from the Schumann Resonance. The Schumann Resonance is, in layman's terms, the heartbeat of the Earth. In scientific terms, it is the Extremely Low Frequency (ELF) of the Earth's magnetic field. In the 1950's when the Schumann Resonance was discovered, it was recorded to be an average of 7.8 Hertz. Now, according to Swedish and Russian researchers, says Braden, it is an average of 12 Hertz. That means that the normal 24-hour day feels like a 16-hour day. In essence, we've lost one third of our normal daytime.
Interestingly, the Bible predicted this would happen. It reads, "And the fourth angel sounded, and the third part of the sun was smitten, and the third part of the moon, and the third part of the stars; so as the third part of them was darkened, and the day shone not for a third part of it, and the night likewise." (Revelations 8:12).
However, if time is speeding up, how come the clocks aren't speeding up? Why don't the clocks on Earth indicate a 16 hour day? That's a great question! I have the same question, and I don't have a scientific answer for you. My best guess would be that the speed of the electrical pulses on Earth is somehow tied to speed of the rotation of the Earth. This would explain why a two-hour movie, still takes two hours to play by our clocks. But, how can the speed of the rotation of the Earth affect anything on Earth (other than time)? Well, we know for a fact that the Earth's magnetic field has been weakening at a parabolic rate. And since magnetism and electricity are so closely related, wouldn't this have an effect on the electricity of the planet?"
The Soul Evolution of the Quickening
I have my own theories as well in regard to the quickening.
I believe that the veils between spirituality and science is now much thinner, thanks to our Quantum scientists who connect to the understanding of a Higher Consciousness (a Higher Power).
And Quantum Science is all about that – the realising that "something" is the consciousness behind all matter which when broken down to the smallest possible atomic particle reveals a "wave function" of pure intelligent consciousness, which is communicating Intelligence to the atoms in ways that can't be physically or even scientifically measured
We may term this consciousness as "God" or "Life-force" or "Creation".
And even though there may be scientific reasons for time speeding up, I believe that the spiritual cellular reasons are deeply entwined and there is an evolutionary "soul reason" for this to happen.
Technology has sped up, and the functions and tasks that we cram into our days has become more and more.
Life has become increasingly complex as opposed to our forebear's roles and tasks even though we have innovations that improve our quality of life. We have all been thrown out of natural cycles to process and be multi-focused in so many more ways that we used to.
Most people have become severely time poor and highly stressed.
To even begin to accept a possibility that time is going faster means giving up experiencing Life from simply a logical linear perspective and opening up our inner knowing to other felt truths.
Which means accessing our own Inner Consciousness which can only be experienced as "knowing" because it can never be pinned down logically.
According to Quantum Science (as well as ancient spiritual traditions) we are "making all of this up" … meaning that we are literally shaping our world and our experiences from holographic realities that we are creating from the inside out.
From our consciousness.
If we believe we have less time and more is happening – then maybe this is the experience that the collective is generating.
If everything is "meant to be" as per a Higher Consciousness continually striving to awaken us to our highest actualised flourished and nourished form (which is a wonderful topic to explore another day!), what is this experience of time speeding up helping us to evolve toward?
I believe that at the Quantum Level we are being forced into no longer wasting time by battling logically in our egos in deep analysis, confusion and procrastination ("analysis paralysis").
Instead we are learning that to be effective we can't be weighed down with the emotional "junk" that we have known as the normal yet terribly unnatural and unhealthy human experience – the feelings of pain, loss, regret and any other associated traumas that are burning up our fuel in the past and generating a fear of the future that is never allowing us to be fully actualised human beings in the now.
So what is a fully actualised human being?
In my humble opinion, it is someone who is freeing themselves of trauma in order to be in alignment with the Universal Flow of Higher Consciousness, which is the wellbeing that we may call "God" or "Source" or even "Lifeforce".
Meaning we are holistically "whole"; we are tapped into our inner knowing, our self-partnered support and love and the attraction and co-generation of being supported by Life and others organically as an "in-synch" state …
And we are "awake" enough to navigate, choose, grow and adjust ourselves from the inside out to continually evolve beyond patterns, choices and behaviours that are NOT supportive of our Highest and Best Self.
Which also means we have given up the fruitless battles of blame and shame and trying to criticise, prescribe or force people and things to change in order to try to become whole.
Because if we don't take responsibility to raise our consciousness from the inside out – we are losing ground, wasting time, and dragging things out by staying stuck firmly in repeat patterns that don't serve us, others or our world.
Nothing changes if nothing changes.
To get the results we want when we are still asleep takes eons (if it ever comes), instead of simply being the change we wish to experience.
To make this dramatic shift into being a self-actualised person, we have to be living from within our own Being with a connection to our soul – which is expressed through our emotions.
It is only when we have let go of needing to know and needing to control outcomes with our logical mind that we can be in our synch with our organic inner holistic connection of Oneness to "all that is", and moving towards our soul calling …
Which is our highest functioning.
When we make it our mission to free ourselves of the wounding that is causing the recycling of our trauma from the past and the never-ending fear of the future, we start to experience Life as our True Selves.
Because from this state of consciousness of "being" Who We Really Are without our wounding, we have access to a much Higher Consciousness then our logical mind can grasp or harness.
Then from our unlimited, infinite self we step into trajectories where the permutations to support us also become infinite and unlimited and we start to experience the truth – that all of Life supports our flourishing and nourishing if we just get ourselves out of the way.
Soooo …. how do we "get ourselves out of the way"?
The answer is simple. In fact, it is more simple than we could ever realise … we let go of all of the traumas – the pain, fear and judgements which have not allowed us to be-come our Higher Self in human form.
In order to do this, we need to give up the ONE thing we have all been trained to do … having an "outer in" egoic focus.
We have to let go of focusing on whatever it is that we judge and dislike as being in our experience that is not allowing us to feel "whole" and instead take full radical responsibility to attend to the Universe inside of us which has an incredibly powerful impact on the generation of the Universe outside of us.
We must be-come it. Be it and then it will come.
For all of us there has been so much to do on that score, because the human experience has been fraught with trauma – atrocities, barbaric acts and terrors that have plunged our entire humanity experience into darkness.
As a result of what we have suffered, it is very easy to look at "what is" and believe that we are in terrible times of no return.
Yet many of us don't believe that – we sense something much more powerful is going on.
We sense, feel and even experience a resurgence of Light that is building in intensity.
Many of us (including myself) believe nothing short of a mass awakening is occurring.
Meaning this … people realising their power to connect to and BE their Higher Power in human form – namely authenticity and fierce yet tender love and truth … knowing that they have the power to generate their own lives from the inside out rather than be stuck in battles of unconsciousness with others also stuck in their traumatised egoic pain bodies.
Experiencing that they have the power to be-come the changes they want to see regardless of what others are or aren't doing.
And knowing that this shift is to help bring heaven onto earth through them, which is freeing others from the "outer in" false trance as well.
I believe we are in incredible times … that are beyond exciting.
Times where we have to be-come at one with "time". We have to be in the now as actualised beings flowing with Life and this Higher Consciousness … because if not we will literally be …
OUT of time.
And therefore out of The Flow.
Separated from the Lifeforce and Wellbeing which is our organic right to be tapped into.
These are the people who are ignoring the knowings, messages and callings deep within their gut and staying stuck in situations that they know are not serving their soul – out of obligation, fear or neediness.
These are people not connected to believing, going with and experiencing the Higher Consciousness wave of truth to let go of what is not their True Self and True Life, and heed the call into support, flow and Thriving.
The support, flow and Thriving that is never logically presented, but has to be deeply felt, trusted and connected to emotionally before it becomes physically real in your experience.
You are not handed this practically.
You are led to it by your consciousness, the same force that is responsible for your highly actualised, deeply desired and fulfilling True Life.
Maybe you are still operating at that frequency of "stuckedness", and if so, I understand totally… that was where I lived my entire Life that nearly destroyed me before my Thriver Recovery from narcissistic abuse.
The Quickening, I believe, is pushing us towards this necessary shift in consciousness at warp-speed.
And … as more and more people lose the dense energy of trauma from their bodies, the Light of Higher Consciousness (Love) is shining brighter.
Which is important because light is more powerful every time … we only need a small amount of light to take out the darkness of any area that it is brought to.
Identically every time we release any darkness from within ourselves, the light starts streaming in which loves and heals these places previously trapped in fear and pain back to wholeness.
For me this is the most important focus moving into 2017 …
Replacing the internal fear and pain with Love.
The Return of the Divine Female
The second thing I want to address, regrading the big shifts for humanity that I believe can take place in 2017, is the healing of collective female wounding.
It's not just because I am a female that I think this is so important.
The Dalai Lama himself stated that the modern day woman would heal our world.
The shift that I believe that we are being called to make is the connection to our hearts and souls and the collective coming home to each other, our planet and nature in unity.
These energies are female.
I believe in relation to this topic, history can explain a lot in regard to why the Divine Feminine was so traumatised. From the 15th to 18th centuries there were numerous witch hunts and executions.
In parts throughout Europe and America any woman exhibiting the traits of connecting to her body (or others bodies such as in midwifery) her emotions (such as inner seeking / meditation / ritual) or natural medicine or nature was highly susceptible to being branded as a witch and murdered.
Women learnt and passed on to their daughters to disconnect form their Inner Beings, get into their heads and do whatever they were told to do.
From that time onwards women betrayed themselves … they had no choice.
They stopped listening to and acknowledging their feelings.
They stopped listening to and acting from their intuition.
They stopped reaching out with fierce loving devotion to hold and heal themselves and others.
But this wasn't the only problem …
Men were taught to distrust women and minimalise them, and they stopped letting women into their hearts.
Women felt disconnected, shunned, distrusted and abused … and tried to get their way back into men's hearts with the use of their heads and logic.
But it didn't work …
Because these women had forgotten how to connect to their own hearts, just as their mothers and the women before them had forgotten.
And … love and unity with men was now a distant memory that had been firmly replaced with fear, suspicion and separation.
Women lost their organic given power – to love and heal All to wholeness.
They also lost their ability to lovingly ground men's physical and mental prowess into heart directed action for the benefit of the collective.
Men and women knew they wanted each other's love, but because they had been so terribly disconnected from each other, instead were at war.
They held each other responsible for the love they were not experiencing. They tore each other down whilst in the trauma of their own broken hearts.
Hurt people hurt people.
They gave birth to generations of boys and girls who would have no choice other then to walk the same path.
The wars that start within, terrorise the home and plague the world.
Those who had orchestrated all of this knew this would happen and it did.
Whilst females and males were mentally and emotionally separated from each other, then people would look outside rather than organically be the unity – inner male / female – that they sought.
They could be controlled and manipulated into action to try to seek the wholeness (Divine Feminine / Divine Masculine internally and externally) that was missing.
The ensuing separation and sickness funded huge unhealed monsters of war and illness.
The Necessity of the Shift to Heal the Divine Female
The Collective Feminine wounds right now time and time again are presenting.
How this manifests is – a deep feeling that a woman can't be herself.
That if she tries to be authentic and in her power that she will be smashed.
Women instinctively are awakening to know that they need to connect into their bodies and that they need to be their own person.
Women hear the inner call to return inwards … to be intuitive, self-partnered and operating powerfully from an open heart.
Yet there can be this terrible terror and fear and even huge feelings of guilt when turning inside to do the work to free themselves.
For many women it goes like this … If I come out as myself I will be annihilated.
(I know a lot of women reading this will relate because you can feel these terrors coming up from within.)
Within these wounds, that are surfacing from deep within women's programmed DNA, is often massive fears of the masculine … an intense fear or repulsion.
And even though there is a such a huge organic and natural urge to connect back to unity with another (because that is what women were always supposed to do with and to the masculine) there is absolutely no idea how to connect safely without the terror and rage of possibly getting her heart and life torn apart again.
Now … right now … it is time to heal this wound.
This (more than anything) is the shift our world needs … gravely.
Women need to be safe to be women again – in their powerful Feminine Essence to do what we came here to do.
Which is … heal pain and fear with Love.
To do so we need to come home into our own bodies – we need to love our own broken parts back to wholeness, and then be a force that shines that Love into the world.
I am one of these women who is continually personally uplevelling from that old trauma – and the relief and joy of becoming more and more of my radiant self is indescribable – truly.
So much so – that I want it for every woman.
Everything in the ascension and quickening of this planet is supporting our courageous leap from our minds into our hearts … to rid ourselves of control, fear and pain to tap into something so much more astounding … so that finally we can come home to ourselves.
The time is urgent, and really there is not the time left to not be-come Who We Really Are.
This is not just the healing for the Divine Feminine this is also the healing for the Divine Masculine.
Yes, good conscious men do the work – they are evolving in droves too … yet it is vital for our world to heal the Divine Feminine, to release the old inflicted brutal scars to become the loving, radiant force to heal this world.
Men enter a space in the consciousness where women are … totally.
Women who start behaving, feeling and radiating the loving power that they Really Are are Queens who inspire men to be Kings.
Women who are still trapped in their trauma, trying to live thorough their mind disconnected from their Inner Beings are in fear. They are in competition, scarcity consciousness, and they try to earn love instead of being it and they hand their power away whilst trying to be loved.
If I be everything I think you want me to be you will love me.
If you are only operating at the level of a Princess, you can only expect to receive a Prince – a man who is not going to be inspired to reach for and become more for you.
I know this as my own powerful and personal lesson. This was my previous experience with men constantly. Men reflecting back the treatment of me that completely matched my inner wounding.
For all of us it is the same, and we need to wake up to realise and own this if we wish to have different experiences with men.
As I stated "this" is coming up for individual women over and over again, in fact I would have to say this is the BIGGEST theme I am seeing in these last few weeks of 2016. It is literally everywhere with women in my Forum Groups, with personal clients, with my fellow female tribe … and within myself.
Right NOW the Collective Female Wound is bursting to the surface to be released and healed.
And I have had the absolute joy of working on this lately with women, in personal Quanta Freedom Healing sessions, to free them at a deep internal cellular DNA level.
I am also experiencing my own freedom from this wound in ways that are mind-blowing.
Everything within the energy of our quickening (ascension) right now supports the shift.
It's time.
I'd love to know if you relate … and would love to hear from women and men about your thoughts on these two topics in your comments below.
(Visited 5,691 times, 1 visits today)
The following two tabs change content below.

Melanie Tonia Evans
is an international narcissistic abuse recovery expert. She is an author, radio host, and founder of Quanta Freedom Healing and The Narcissistic Abuse Recovery Program. Melanie's healing and teaching methods have liberated thousands of people from the effects of narcissistic abuse world-wide.

Latest posts by Melanie Tonia Evans (see all)