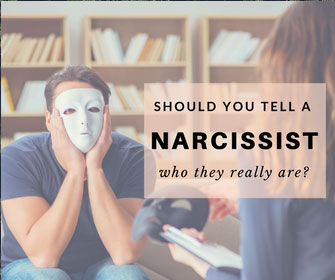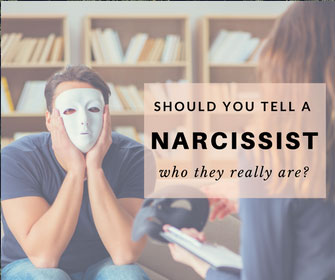 It can be a very emotional experience when we find the information that allows us to understand why this person behaves the way they do.
And even though the information is shocking it makes so much sense.
All the pieces add up.
 And we realise we are not going crazy … and it's NO wonder we feel like we are going through (possibly) the worst experience of our life.
All those times we were blamed and told we were the crazy one now doesn't seem to hold quite as much weight anymore.
And at this time it is very likely to feel an intense urge to tell the narcissist who they really are.
We may believe "the truth sets everyone free …" or we may wish to exonerate ourselves to the narcissist, or we may hope that now there is a "reason" for the behaviour that something can be done about it.
So we tell the narcissist:
 This is WHO you Are.
 This is WHY you do the things you do.
 But the most important thing really is …
 Is the narcissist going to "get it"?
 Is he or she going to FINALLY see the light, take responsibility for his or her behaviour and get help and become healthy?
Does this person even have the ability to own the fact that they are suffering from Narcissistic Personality Disorder?
In this week's video we deeply investigate the urge so many of us have to call the narcissist out and let them know that they have pathological narcissism …
I'm going to explain why you should never act on the urge and what is the most beneficial thing to do for you and your healing instead.
I'd love to know if you have had the urge to call a narcissist out and tell them who they really are, and after watching this video would you do something different?
Please join the discussion by posting your comments and your questions about this topic and Thriver Recovery below.
(Visited 27,766 times, 8 visits today)
The following two tabs change content below.

Melanie Tonia Evans
is an international narcissistic abuse recovery expert. She is an author, radio host, and founder of Quanta Freedom Healing and The Narcissistic Abuse Recovery Program. Melanie's healing and teaching methods have liberated thousands of people from the effects of narcissistic abuse world-wide.

Latest posts by Melanie Tonia Evans (see all)