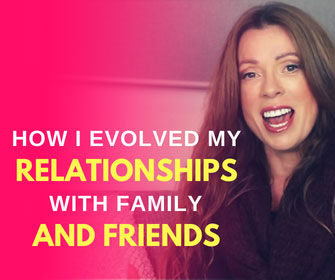 I remember a time, several years after I had cleared an immense amount of trauma from my past relationships, being in a place where I felt like I had truly made it.
I was no longer carrying any shame or guilt for the mistakes I'd made in the past.
I had established a deep-abiding love for myself and I was truly feeling happy in my own skin.
It was amazing!
There was just one thing missing, now that I'd opened up to the incredible possibilities of what the Thriver's life could hold … I had this sinking feeling that I would have to do it all alone!
Because, when I took stock of the people in my life, I realised how much unconsciousness and trauma other people were carrying that made them, at times, seem quite 'narcissistic'.
I really didn't want to accept living my life alone and away from people in order to keep myself safe from being betrayed or hurt again.
So I knew I had to evolve myself further, I had to find and apply 'more' in regard to loving self-honesty and turning inwards to start generating relationships that were a step up from the level of sincerity and connection that I have ever had before.
This journey is so important because when you show up at a higher level of authenticity, you give people the opportunity to meet you at that level and see them rise to their true potential also.
The joy I've felt from evolving these relationships has been truly remarkable, and I know it wouldn't have been possible had I not committed to making these shifts.
I hope with all my heart this episode of the Thriver's Life will help you achieve the same.
Video Transcript
Welcome to the Thriver's Life series … the creation of your highest and best life after narcissistic abuse.
This topic today is a really important one because so many of you report this: after being narcissistically abused, that you start to doubt many of your important relationships. You may see really bad behaviour, such as dismissive or unavailable behaviour, and really struggle to know who you can trust. Maybe you start to realise things about your family of origin and friends that really scare you, and you start to feel like there are abusive and unconscious people everywhere.
Okay, I'd like you to pause this video, if this is you and share how you have either gone through this – or are going through this right now. Scroll down and write your comment about this!
I so get this, because I went through this drastically myself. And I want you to know with all of my heart that this is really common. As always, in these The Thriver's Life episodes, I want to talk to all of you, those who haven't done the NARP work yet and those of you who have and are ready for the next level – which in this case is about up-levelling and healing your important and existing relationships.
Okay, the truth is when we are coming out of narcissistic abuse, the most important relationship we can start to turn towards and heal is the one with ourselves. And the reason for this is because being susceptible to being narcissistically abused means we have struggled with our boundaries, self-partnering, and being able to self-soothe and support ourselves in times of emotional distress, in order to have the capacity to pull away from abusive others and look after ourselves and the generation of our own lives.
These things are vital in regard to healthy relationship building, and they are vital to repair within ourselves first.  This was so my trip – 100%.  Before and during narcissistic abuse, I was not whole and solid inside. For all of us, we may have been incredibly accomplished and even capable, and be really good people with high integrity. Yet (if we are honest with ourselves) we were not good at our own healthy self-talk, being able to control our emotional impulses, and we didn't feel safe, whole and solid inside, regarding being the commodities of love, approval, security and survival, regardless of what someone else was or wasn't doing. We had made these things depend on other people, or we felt really alone and empty when we're trying to do life by ourselves.
The truth was our Inner Identities had not as yet healed or grown up to be mature, emotionally whole, self-generative adults. We were still operating from the unhealed wounds from our childhood, that rendered us at times needy, powerless and assigning power to other adults, unconsciously wanting them to do a better job of helping us feel whole and safe than what our parents had.
Additionally, another fracture to our essential foundational inner relationship was that we were likely to seek our lovableness and worth through projects and accomplishments and other people's opinions of ourselves. Because of this we were very hooked into what was happening with other people and things and trying to fix those rather than declaring and being aligned with our truth and healthy choices and power.
The truth is – and I'm just going to put it to you straight Dear Thrivers, is we didn't know how to generate healthy, honest, and authentic relationships. And that is what today's The Thriver's Life topic is all about. We didn't know how to show up in our power, have the difficult and necessary conversations, ask for what we want, be clear on or direct with people regarding how we wish to be treated, and we didn't know how to invite other people up into more evolved and healthier relationships with us.
And, if we don't clean up all of this, we are left with either trying to be everything people want us to be to be loved or we will defend, pull back and observe things we don't like about them. And let's face it, we can be super sensitive after narcissistic abuse.  And then we may give up altogether because we ascertain that everyone is unhealthy and unsafe to have a relationship with.
However, as Thrivers going forward we need to do what we always have to do to truly Thrive – we need to take 100% radical responsibility to be the generator of our own experience. We need to start working out what is our truth and values, what we would like to receive from others and how to stop expecting people to read our mind and just 'do the right thing'. We need to grow up and be mature, take charge of our life and stop expecting other people to do that for us. We need to start being honest when communicating with others.
Of course, when you are still working through your abuse recovery with NARP, the time is spent between you and you – just as I and so many Thrivers did, wailing the wounds out of our inner identity, on our couches or beds, or in forests or wherever it is, and bringing in source to get instant healing shifts on theses traumas. Initially, it has to be more about that mission than anything,
But then after we have the space inside us to feel well and healthy and even blissful within ourselves, without the need for outer people or props (which is our natural state without our inner trauma) it is time to look at our relationships around us.
I remember a conversation I had with my very wise son one day, about all the wounded people – the family and friends around me that I was terrified about connecting to again. I said to him 'Everyone's wounded and unsafe'. And Zac said, 'Yes, they are, everyone's got their stuff, and so have you! Are you going to deny yourself all human relationships because of this?'
He was right that was ridiculous. So, I got it – healthy relationship was actually up to me. It necessitated me growing up my inner, terrified parts that didn't want to be honest, that were scared to speak up and had previously handed power away constantly trying to keep the peace, avoid rejection and be accepted. I realised that I had to be able to know my values and truth and walk them and ask people for clarity, deeper connection, and to enforce the respecting of my boundaries if necessary.
To start setting up this healthy template I had some necessary inner work to do. I confronted these following, painful beliefs in my own body to heal them:
'Humans are unsafe.'
"If I'm my True Self, people will reject me.'
"I have no rights or value with others.'
'No one will love the real me.'
And once I healed these beliefs with the shifts within the Empowered Self Course (there are three whole modules in this Course about relationships and boundaries), I was ready to start showing up in much healthier ways. The terror, despair and feelings of giving up and 'what is the point I'm doomed to be a hermit because that is the only way I can be safe' (sound familiar?) were gone.
Then, without those old terrible beliefs and fears, I was keen to take my relationships to the next level.
My dear friend and colleague Katherine Woodward Thomas taught me about how to generate evolutionary relationships. It was about showing up saying this: 'I am so sorry that I haven't been totally honest with you about what I have been feeling. I really value and love you, and I would like to create a much closer loving relationship with you. I'd love us to have a conversation honestly, heart to heart, about how you feel and what you need from me, as well as what I'm feeling so that we can have a much deeper connection, love and understanding of each other.'
This was life-changing for me, coupled with my energetic healing, and also with these additional next relationship level Quantum inner shifts:
'I am a generator of true love regardless of what someone else is or isn't doing.'
'No matter what the outcome, and even if this person can't meet me at this level, then I am free to create deeper, healthier relationships with others.'
'If someone doesn't have the resources to meet me here, I can downgrade the relationship 'expectation' whereby I relate with them on a level that is healthy and boundary protected for me. In no way are they responsible as my source or my happiness, I am.'
'In the face of abuse or compromising my values, I am willing to lose it all to get it all in the future and let this person go.'
Then I was truly armed to be a generator of real relationships. This is what I discovered when I just started making it my highest mission to be truthful – I spoke up when people hurt me, I told them the truth about what I needed from them, and I invited them to do the same with me.
One person unravelled right before my eyes as narcissistic. I let them immediately go and went no contact. Many more people moved up into incredibly fulfilling and loving relationships with me of renewed honesty and trust and compassion for each other.
Some relationships I let stay as 'acquaintances' or low-level connections because nothing else was possible with them.
The greatest thing about all of this was I now knew that I had the skills and ability to show up honestly and authentically as myself and open my heart to others without in any way giving my heart and soul or my power away.
Which is EXACTLY what I used to do when I was trying to get my worth and lovableness through others!
And, not only did I stop fearing human beings and their wounds, because I realised we are all wounded, all in this together and can grow together if we choose to. I also knew that I was so not susceptible to narcissists anymore – at all. Which meant no more hiding, closing down, protecting and trying to work out other people and 'how to be' in relation to them.
When we are fully ourselves and honest with great self-truth and boundaries, no narcissist can take you down – truly. And, people respect you and see you and hear and hold you more than you have ever experienced in your life! And you have the ability to grant the same to them also.
This is the new path of Unity Consciousness for humans – the dispelling of distrust and unspoken expectations, resentments and judgements, and the dawning of the evolved age of communion, mutuality, connection and love, and the modelling for our future generations of how to do this.
And, I'm so excited to answer your comments and questions regarding this episode!
And remember, after narcissistic abuse recovery, gloriously we take it further!
Why?
Because we CAN!
Lots of love, bye bye.
(Visited 1 times, 6 visits today)
The following two tabs change content below.

Melanie Tonia Evans
is an international narcissistic abuse recovery expert. She is an author, radio host, and founder of Quanta Freedom Healing and The Narcissistic Abuse Recovery Program. Melanie's healing and teaching methods have liberated thousands of people from the effects of narcissistic abuse world-wide.

Latest posts by Melanie Tonia Evans (see all)