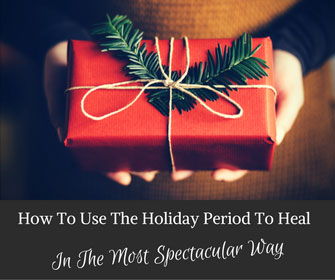 First off, I want to wish all of our lovely American Thriver Family a wonderful Thanksgiving this week!
Because we are heading into the holiday season, I really wanted to do this Thriver TV episode to help you stay safe and maintain your peace this Christmas …
And also to explain how you can use this time to heal in the most spectacular way.
If you are dreading holiday time, my heart goes out to you. You may still be suffering the trauma of what happened to you, or be in terrible battles with the narcissist over custody and property.
And perhaps, because your life now bears little resemblance to the life you wanted with the narcissist, holiday time feels like a terrible reminder of being single, lonely and devastated about the way your life has turned out.
Maybe you are dreading get-togethers with narcissists who are in your life … or not having your children with you for special celebrations.
I remember feeling so down, so depressed and barely functioning at holiday time. I was like a zombie not knowing how on earth to engage happily with my family.
I know, you too may be feeling these feelings, and like my previous self, just want the holiday period to be over as soon as possible.
So … do we just ride it out in the best way we can, or is there ANOTHER way to deal with this?
I promise you there is – there is another way.
And, in fact, holiday time can be the most powerful and incredible time to work on yourself, turn a massive corner and start coming out the other side.
The two things that can hurt the most about holiday time –  having extra time on your hands and being severely emotionally triggered, can be two of the biggest PLUSES in our lives when we embrace the Thriver Recovery Model in Quantum Ways.
And in this Thriver TV episode, I go into the detail as to HOW and WHY we can use these things to our incredible advantage.
It is my deepest wish that this episode helps bring you faith and hope, and even inspiration, for this upcoming holiday time.
Because it is Thanksgiving, I want you to know for my heart to yours, how grateful I am for you – whether you have been a part of the Thriver Community for years, or if you just joined today.
I couldn't be doing my dream career, my life/love mission, if it wasn't for you.
I feel blessed beyond measure to be sharing in this Thriver Community with you, changing our world one person at a time.
Sending so much love to you!
I look forward to answering your comments and questions below.
(Visited 3,854 times, 1 visits today)
The following two tabs change content below.

Melanie Tonia Evans
is an international narcissistic abuse recovery expert. She is an author, radio host, and founder of Quanta Freedom Healing and The Narcissistic Abuse Recovery Program. Melanie's healing and teaching methods have liberated thousands of people from the effects of narcissistic abuse world-wide.

Latest posts by Melanie Tonia Evans (see all)