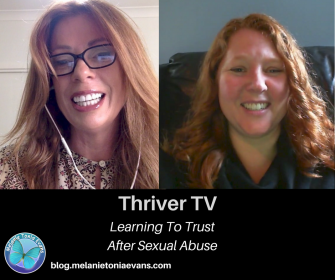 This very special interview, with my dear friend Rachel Grant, is one that I am so pleased to share.
It is about a topic that is often hidden in shame and pain, and is one that personally and collectively deeply requires to be held in love and with deep compassion for its wounds to be healed.
Sexual abuse is such a common thread in the Thriver Community – it is one of the greatest traumas that many people have suffered before entering into adult narcissistic abuse relationships.
Statistics tell us that 1 in 3 girls and 1 in 6 boys are sexually abused, usually be someone known to them. That is only the statistic of reported cases, and we can imagine that there are in fact many more cases that go unreported.
Rachel Grant is one of the brave women who is a force in the world to help heal this, after embracing and share her own sexual abuse story and recovery, and then helping others do the same.
She is the owner and founder of Rachel Grant Coaching and is a Sexual Abuse Recovery Coach. She is also the author of Beyond Surviving: The Final Stage in Recovery from Sexual Abuse.
Rachel believes in Thriving – She brings to the table a passionate belief that her clients do not have to remain trapped or confronted daily by the thoughts or behaviors that result from abuse. She strongly believes that there is a way to not only recover but live the life you were born to live, regardless of what happened in your past.
And it is for this reason that I felt a great urge to share her message with the community. I truly hope Rachel's depth of knowledge and empathy for this topic brings about a giant leap forward in your healing.
There are many great evolutionary takeaways within this interview, including a fascinating discussion about trust and boundaries, and how to rebuild our ability to trust ourselves and be safe in relationships going forward.
If you enjoyed this episode I'd love to continue the conversation on the blog. I try my best to respond to every comment!
(Visited 2,694 times, 1 visits today)
The following two tabs change content below.

Melanie Tonia Evans
is an international narcissistic abuse recovery expert. She is an author, radio host, and founder of Quanta Freedom Healing and The Narcissistic Abuse Recovery Program. Melanie's healing and teaching methods have liberated thousands of people from the effects of narcissistic abuse world-wide.

Latest posts by Melanie Tonia Evans (see all)