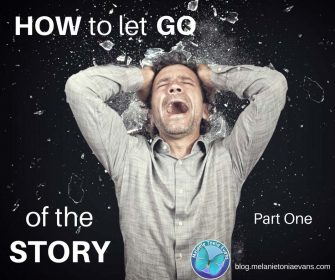 This article is very important for new members of this Community who are only beginning their recovery journey … as well as veterans to recovery, who are struggling and feel stuck.
I'm going to start this article a little differently …  from the end game.
So that you know this story does have a happy ending and so that you have something to aim for and a solution to believe in.
Myself and many other people in this Community no longer have any daily thoughts whatsoever about the narcissist or what happened to us.
Yes, the odd thing may still bring up a trigger, which as Thriving NARPers we are dedicated to finding, releasing and up-levelling as soon as this happens …
But, the absolute truth is this: We are no longer haunted, obsessing and stuck in the ongoing cycle of not being able to stop thinking about, and not be in the present free of the trauma of the past and the fear of the future, because of the ongoing analysis paralysis that our mind was once dreadfully stuck in.
This I want you to understand …
Myself and these fortunate people are not freaks.
We are not some weird breed of people who were a) less affected initially b) very gifted at being able to blank it out and get on with it, or c) just happened to wake up one morning, having experienced "time heals all wounds" and found that the monkey mind had simply stopped.
Not at all.
I am not only speaking about myself, but the thousands of men and women in this community who experienced the same thing.
We were constantly tormented with trying to pigeon hole, come to terms with or receive closure over the most unfathomable acts that tore apart the very fabric of everything that we believed should be humanity, let alone love and trust.
Because, as you are well aware, when you witness a narcissist commit certain acts it smashes to pieces your very beliefs of what humans are capable of.
And it is extremely likely that the way you "know" yourself (your Inner Identity) has taken a massive blow after being traumatised so severely by someone like this.
My heart goes out to you if you are still in this place and it is my greatest wish, right now, that this two-part article series empowers you with the wisdom to break free from this cycle that is not only self-defeating but so painfully torturous to go through.
The Truth About The Mind Stories
Why do we continually obsess about something, even though we understand that no matter how much we think about it, we can't change what has happened?
When I posted on my Facebook Page about this topic, this is what some Community Members said:
"Yes, I definitely need to learn how to let it go and move forward. I keep replaying things over and over in my mind even though I can't change it."
"Over a year of NC and I still think of him."
"Round round round it goes wanting to ask him why vanish when being so full on."
"Omg I was thinking this today!! How do I move on, how do I stop the abuse from controlling my life, thoughts, mood … EVERYTHING?"
If we are simply viewing "our mind" as an isolated entity, we only get to realise a tiny part of the puzzle.
And that part goes like this …
My mind can't stop thinking about and trying to work out "why" this happened to me.
Why did this person profess to be someone they weren't?
Why didn't I see it coming?
Why state that you love me and then behave like I'm the enemy?
Why hurt me so much when I was willing to truly love you?
And … we think about "what if" …
What if this person was different?
What if I was different?
Why didn't I leave earlier?
What could I have done to stop this happening?
Etc. etc. etc.
When we are operating at the level of "thought" we are only working at the symptom level – the obsessive thoughts.
What we haven't realised is that our thoughts are positioning themselves in repeat around a story or several stories that we believe as our truths.
Many of our stories, when we don't realise where they are coming from and how they were formed, can be hugely detrimental to us – because they cause us to continue to feel and think in ways that confirm the validity of that particular "story".
Another word for "story" is "belief".
Therefore, when we start to investigate and work at the level of belief we are getting much closer to the truth of what is really going on, and much closer to the ability to be able to free ourselves of the mind torture we are constantly trapped in.
Painful stories (beliefs) stuck in repeat are not the truth of Who We Are.
Who We Are at our Essence is Wholeness.
Our stories (traumatic beliefs) are our fractures.
None of these were our fault – they were impregnated into us by people who were carrying their own fractured stories.
Hurt people hurt people.
Let me just share a little about my obsessive mind chatter that used to haunt me after narcissistic abuse.
Who is he seeing now?
Did he really love me?
Was any part of this relationship real?
Am I going to be able to continue on and rebuild my shattered life without him?
Who will want me now that I am so broken?
How could he have done (fill in the gap) when he continually said "(fill in the gap)?
And of course the replay of the scenes (good and bad), the continually flood of emotions – the anger and resentment, the missing him, the questioning of myself, the trying to work out how to reconnect and this time get a different outcome …
As well as stalking the women on social media that he had been with, trying to find out everything I could about them.
As well as comparing myself to them.
I couldn't stop myself doing this – usually daily.
All of it would NOT let up!
Around and around and around it would go in my head … slicing and dicing it a thousand different ways and always ending up in the same place – feeling empty, traumatised. unlovable, unworthy and broken.
And severely emptied out.
Why was this happening?
The answer is this: because my analysis paralysis was all to do with the stories that my mind was creating aligned with my current beliefs.
Meaning my unhealed fractures.
Little did I realise for a long time that the true healing path is this:
Face and heal the beliefs … and then the stories about oneself, others and life changes … and then there is no longer any thoughts being automatically generated that fulfil the previous painful beliefs and stories.
What I discovered was this … when I stopped giving the thoughts energy and stopped trying to battle them and instead got supremely interested in the beliefs and finding and healing them instead … piece by piece by piece there was simply no more painful thoughts to manage anymore.
I also discovered that this worked for other people as well.
Profoundly.
Here is the simple truth about this …
How do we change our obsessive painful thoughts?
Change ourselves.
How do we change ourselves?
Address our Inner Identity at the level of belief.
I promise you this is NOT a mind job.
This is not possible through combating the mind with the mind at the level of the mind chatter.
(Haven't we already battled fruitlessly with that?)
So many people, including Facebook Members know only too well how difficult and frustrating it can be to try to stop the painful thoughts.
This is what they posted:
"What happened to me there" is pretty overwhelming. I sometimes come across information that confirms a particular aspect or "act" and I still can't believe all the things that happened, what I allowed and the ever fluctuating feelings that surround it all. I would really like to be able to look back on this without painful feelings and actually I would really like not to think about it anymore at all.
"I can't seem to move on, it's been 8 months of separation and only 3 months since we last talked but my partner has not only moved on but has now moved her and the boys into the home of her new partner. Is there something wrong with me? I'm told I was and am the narcissist?!?!? I'm so confused."
"Telling that story now only seems to be me keeping myself trapped and allowing him to rent space in my head. I'm at the point where my truth is on the verge of being my victim story. Mentally I am ready to be free of him. I don't want to cause myself harm by reliving my truth, because he has already done enough the first time. How do you move on positively from this point?"
"I've been in therapy for over 2 years now, and even though he's not in the house anymore, I'm still struggling with moving forward beyond this point."
"I struggle and have for a good long time. Words can't describe the pain in my heart and I just can't seem to shake it off. I hate me for ever loving this "thing". I've said many times that I wouldn't even wish this on an enemy. Its destroyed my life. I barely function. 15 years and still wasting time on this."
"She has been gone five years and I have been working on myself since then but it's like the movie ground hog day, still can't let it go, still pain, hurt and so much loneliness."
What these people have expressed is the usual result of narcissistic abuse – deep trauma, shock and powerlessness coupled with ongoing obsessive thoughts that strip our energy, creativity, trust, spirit and Life.
(This is why I am so passionate about helping people for real through to the other side of this.)
So let's get to it …
Why can't we change mind chatter at the level of the mind?
Because the mind chatter is not coming from the mind … it is ONLY a symptom of the composition of the Inner Identity.
The mind follows the beliefs – always.
To heal for real, you need to be willing to let go of believing it is your mind that needs to change.
In fact, you need to get out of your mind and into where it is really going on – your body.
Aligning With the Deeper Truth
I love that the truth sets us free.
Because it does and we can experience durable emancipation from working with the truth.
It grants us a way up and out and towards Who We Really Are, instead of being mired in the problems with no solution.
The truth is this: the thoughts that you are having is NOT what needs to be tackled.
You need to go deeper and discover what the beliefs are and work with yourself at that level – to literally reprogram yourself to create a different story about self, life and others – which then creates you as a changed Inner Identity, which then completely changes your mind.
Literally …
Away from tormented and confusing thoughts that go around and around – to calm, peaceful and solid thoughts (free of trauma) leaving the space within to create your life in happy, healthy and fulfilling ways.
I want to demonstrate this, and start by sharing again my previous continual obsessive painful thoughts.
Who is he seeing now?
Did he really love me?
(As well as the others I listed earlier in this article.)
Why wouldn't these thoughts of mine stop?
Because they were confirming EXACTLY my Inner Identity painful programs.
Which when I self-partnered, and went to my Inner Identity (my Inner Being) to hold and heal her with my full self-devotion, this is what I found …
Beliefs (stories) such as:
"I am not worth loving."
"The people who are meant to love me hurt me."
"If I don't receive love from others I can't exist"
"Without another looking after me I can't make it on my own."
"I can't survive without a man."
(And many more.)
Upon a much deeper investigation and full commitment to love myself – I realized another impactful truth … which changed everything, because I knew if I didn't clean this up that I would always be looking outwards to try to have relationships with painful people who would only deliver more of the painful beliefs that I had about myself and love.
And then … dreadfully …  I would crave and obsess and not receive closure afterwards.
I had done that with EVERY relationship breakup!
This was what I realised …
Unknowingly I had been being to myself exactly the confirmation of the beliefs that I had about others.
Meaning …
I did not demonstrate to myself that I was worth loving.
I often hurt myself with behavior and choices that lead me into pain and not toward love.
My existence was indeed very fragile as a result of not loving and accepting myself healthily.
I certainly did not feel like or demonstrate being a source of love, approval, security and survival to myself.
Rather, I had a ton of fear and distrust for myself and feelings of incompetence.
Now please know … I was not blaming myself.
Because none of this was my fault … it was a product of my childhood, my genetic and ancient female history and also deep fractures in the collective female pain body that just happened to be in my personal pain body. As they are for many women.
(Please know I also acknowledge that men have had to deal with very painful collective beliefs as well!)
I had not consciously chosen ANY of this … in fact I had epigenetically inherited lots of it, and then taken on the rest through absorbing messages like a sponge as a child with no cognitive filter (as we all do) and also then had added accumulated trauma throughout my life which matched my already existing Inner Identity fractures.
I had a lot of work to do.
Namely – healing my painful beliefs and setting very clear intentions about growing and developing myself to become the person to myself that I wished to receive from others.
Because one of the most profound Quantum Truths of all time is this: We will only attract, accept and participate in a level of love that is at the same level of love we genuinely experience and for ourselves.
This Quantum Truth is as absolute as The Law of Gravity and there is no avoiding it.
The wonderful thing about this Truth is this: When we shift up in vibration toward a healed, whole and self-loving Inner Identity, the people who we used to be emotionally and mentally enmeshed with hold NO appeal for us anymore.
Yaya!
We are FREE!
I promise you this is true!
When I realised this Quantum Truth and knew that I wanted out of the torture (heaven forbid I knew I couldn't go through any more of this) there was nothing else to do, other than roll ones sleeves up.
Because I had had enough.
So now … it was about stopping giving energy to the thoughts – not letting them suck me in any more or distract me from the real level of work that needed to be done.
And  … It was no longer about the narcissist.
No longer about trying to work him out.
Or … talk to numerous people to try to explain what he did.
Or … research more about narcissists.
Rather, it became firmly about healing and reprogramming me.
Because every moment I spent focused on him and the topic of narcissism was a precious moment I was denying myself my own love, healing and necessary reprogramming.
At 40 years of age, I wanted to start having my Real Life … not this tortured ongoing existence after narcissistic abuse.
And … I knew it was possible to reinvent myself and my life … but only if I went inwards to release and replace the beliefs causing the thoughts that were crippling my soul and my life.
Evicting The Story
I'm going to give it to you straight.
The only way I know of to get out of the story of narcissistic abuse trauma is to be dedicated to working on the true level of where this is coming from – the level of belief.
The only other way I know of to avoid the traumatised thoughts … well …  I don't believe is healthy.
Because it means not tending to the Inner Identity and then having to try to bury the trapped internalised trauma … usually under denial, or self-destructive hatred and judgment (such as narc bashing on Abuse Forums), or prescribed medication or a self-medicating addiction.
Yet the trauma still lives on inside us and then generally turns up – like a bad penny – as another abusive situation in our life experience, or as our own haunting inner trauma that keeps resurfacing as soon as there is a "gap" without the addiction/ distraction that was numbing it out.
The Inner Identity was never changed, which means the traumatised belief systems continue to play out (to the letter) for the purpose of providing the feedback of Who We Are Presently Being (the levels of health or trauma within our emotional inner composition) … offering us the opportunity to change ourselves (evolve) accordingly.
So that being that, the following is vital.
Stop focusing on the thoughts – the stories that you are getting drawn into.
About him / her, about you, about life and others and relationships, because this only confirms and supplements the fractures that you already have in your Inner Identify.
It keeps them going and adds to them.
Rather, go inside, go through your body, get in touch with your feelings and work at that level.
This is why Quanta Freedom Healing is so powerfully effective because it enables you to bypass the mind, go directly into the Inner Identity, release trauma from it and reprogram it into healthy beliefs (stories).
Virtually every person in this Community who has reached Thriving and been released from the obsessive thoughts has achieved this as a result of working with Quanta Freedom Healing in the NARP Program.
But there are still people working with the NARP Program – who have Quanta Freedom Healing at their fingertips – still struggling to let go of the stories. And that is one of the major reasons I wanted to write this article after it was requested in the comments of last week's Shifts Happen episode.
"Do you think, Mel, you could do a short video or blog on what exactly you mean by "don't create a story" and some tips and guidance for how we can avoid falling into that trap. I know I'm not at all clear on the lines between identifying the emotion, articulating the belief, and creating the story. I know I get visual images during module (NARP) work which often help me identify my feelings and beliefs – but then they also seem to just spin out of control. It sounded like Catherine was struggling with that same thing as well."
(Quite the discussion broke out about this topic there, after people viewing me guiding Catherine to stay out of the story and in her body.)
If you haven't watched this Shifts Happen episode I recommend that you do – because it will help this article make sense to you.
And here is the confusion – people are not sure who is who in the zoo.
What is thought? What is emotion? How much of the story should I go to to get the emotion? Do I need to go into the story at all?
What IS the purpose of the story?
I want to make this really simple for you – and explain some vital points.
When we shift trauma up and out at the Quantum Level we connect with the emotion in our body.
Rather than run from the trigger of a painful thought – we go toward it instead.
BUT … and this is vital … we don't start "thinking" about the story attached to the thought – the details of it.
Instead we go inwards into our body and access the emotion (the Energetic Charge) within us.
If we start thinking about it – we are rolling around in head thoughts … trying to think our way out of the trauma, yet fuelling it instead.
If we go into our body we are going directly to the traumas that are causing the thoughts … to accept them, hold them, release them and replace them with Source Wellbeing and Healing.
Why is the first path totally ineffectual for severe trauma and the latter one completely successful?
Because if we are only operating at the level of thought, we can only access thoughts within the range of the trauma.
The brain / thought follows the body / emotion always.
This means our thoughts are "crisis consciousness", and any positive thought we try to think will default back to a stricken thought very quickly.
The brain / thought follows the body / emotion always.
You have to be outside the problem to think of a solution – not mired in it.
This is why other people can see the clear answers when we can't.
So how do we get "outside" the problem?
We do that by shifting up and out the trauma trapped inside us that is causing our consciousness to be crisis stricken.
That is body work – this is energetic work done directly on the problem – which is ONLY ever this: trauma trapped in the subconscious, in the Inner Identity.
Our Inner Identity communicates with us via emotions.
We access this part of ourselves via emotions.
We shift trauma up and out by doing the work at the emotional / body (not the head) level.
(If this article is really resonating with you and you would like to learn more about the complete system I have developed to not only survive but Thrive after narcissistic abuse with the use of energetic work then I recommend you take a look at the Narcissistic Abuse Recovery Program.)
In Part 2 I will take you through the difference between thinking about the trauma and shifting it out of our body with clear examples on how to achieve it.
You can read part two of the article series here.
Please know that I personally adore reading and answering your comments on the blog. If you have any questions you'd like answered please share them below this article.
If you are new to the Thriver community I'd especially love to hear from you!
The following two tabs change content below.

Melanie Tonia Evans
is an international narcissistic abuse recovery expert. She is an author, radio host, and founder of Quanta Freedom Healing and The Narcissistic Abuse Recovery Program. Melanie's healing and teaching methods have liberated thousands of people from the effects of narcissistic abuse world-wide.

Latest posts by Melanie Tonia Evans (see all)