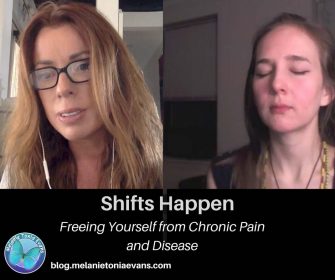 I am so happy to be back tapping into the MTE channels bringing you weekly inspiration and healing for 2017.
I hope that you have had a positive start to the New Year.
I want us all to know and start connecting to the cellular knowing that we are in truly exciting times.
Revolutionary times of being able to say "no" to the aspects of life that we may have been living, and "yes" to a whole new way of being able to transcend into up-levelled emotions and experiences.
This year and this month is all about "change".
Positive, powerful steps towards the Self and Lives we are born to live.
And that's what today's Shifts Happen episode is ALL about.
It's a special episode … because it is where Catherine, my lovely subject, and I work together with Quanta Freedom Healing to address BIG stuff.
In fact, this is one of the biggest and toughest Quanta Freedom Healing sessions I have ever done.
If you are new to the Community then this will be a wonderful first experience for you, because you will get to see exactly how we are able to shift ourselves from trauma and free ourselves from the suffering of narcissistic abuse, and any other assorted blocks and issues.
Every few weeks I share new Shifts Happen episodes with you, as I work with members of the Community who are struggling as a result of deeply routed trauma, which is hijacking certain areas of their life.
And by sharing it with you, you are able to take part in the Healing yourself for the same benefit.
Within this healing on many occasions I had to step in and do releases for Catherine on her behalf because the trauma load was so high for her.
Catherine has been stuck in chronic pain and aliments all of her life. She has known nothing but suffering, with Lyme disease, mold toxicity, high pathogen loads and autistic like issues.
How this plays out in Catherine's everyday life is that suffers from cramps and spasms, digestive pain, extreme anxiety, difficulty sleeping, mental fogginess and uncontrollable crying spells.
And … Catherine has suffered narcissistic abuse.
To say that mere survival, let alone Thriving, has been a challenge for Catherine is a gross understatement.
And what is causing her struggles are exactly what is responsible for all of us being separated from our True Self … internal embedded trauma.
There were massive somatic physically felt traumatic memories and traumas in Catherine's energy field responsible for the physical, emotional and mental conditions that she was trapped in.
Catherine has been trying to shift these deep issues and working SO hard with the NARP Program … and feeling like no matter how much she works on herself it is never enough.
And this is why I stepped in to help, to get to the bottom of the big subconscious programs that were underpinning and sabotaging her.
This healing was fascinating on so many levels and has the ability to help a lot of people who are stuck in deep physical and emotional suffering … and maybe that is you …
Both Catherine and I are passionate about how this healing may be able to help the people in the Community who are suffering from conditions that they can't seem to find their way free from.
Past life trauma still operating in our Energy Field is responsible for so much – and if the trauma is significant and is not addressed it plays out in very impactful ways.
You will see during the healing how this energy was contacted and released and replaced – layer upon layer of very significant trauma.
Furthermore, this healing is a demonstration of the interlaced web of beliefs carrying high trauma content that need to be released to get true space and relief in our cells, for healing and well-being (up-levelling) to enter.
This is a healing for anyone stuck in chronic trauma and it is especially relevant to women who need to emerge as themselves, free of trauma and consequential suffering.
A great takeaway from this episode happened about an hour into this healing. What emerged was, what I believe in my humble opinion, the biggest fracture in the human experience.
Also what presented is a fascinating dichotomy and emerging wisdom (which happens organically with the Quanta Freedom Healing process) regarding "victimisation", whch I know many people will be able to relate to.
Especially if you feel like they can't shake the victimised feelings no matter how hard you work on yourself in order to heal.
The continued sequence of inner work Catherine was granted at the end of the healing, with the Goal Setting Module in NARP, will also interest those of you who can relate to this Shifts Happen episode and deeply want to clear up chronic pain and conditions.
This is exactly the healing path I took some years ago to emancipate myself permanently from chronic physical and mental conditions which I was told were incurable.
And it is my greatest desire today that this Shifts Happen episode can help you at the deepest core layers within your soul.
If you are new to the community and would like to learn how to apply Quanta Freedom Healing to your healing journey then I recommend you take a look at the Narcissistic Abuse Recovery Program. 
This program specifically addresses the 10 most crucial hooks of narcissistic abuse and gives you a complete system to Thrive.
And as always I look forward to your comments and questions in regard to this healing!
(Visited 6,676 times, 1 visits today)
The following two tabs change content below.

Melanie Tonia Evans
is an international narcissistic abuse recovery expert. She is an author, radio host, and founder of Quanta Freedom Healing and The Narcissistic Abuse Recovery Program. Melanie's healing and teaching methods have liberated thousands of people from the effects of narcissistic abuse world-wide.

Latest posts by Melanie Tonia Evans (see all)