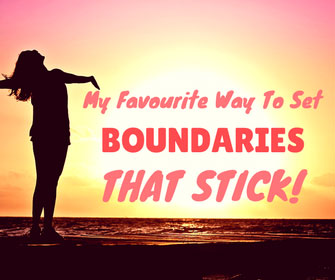 Setting boundaries can be incredibly confusing and sometimes even terrifying.
What if you're unclear about your personal rights?
Or, are susceptible to being talked out of them?
How on earth do you get people to respect your boundaries – even if you can identify them and express them?
Is it possible to lay boundaries, not get sucked into arguments about them, and just have them stick?
Yes – it is! But … we SO need to know what we are doing.
Because, even though communication should just be about speaking up and other people respecting us and our wishes, it's NOT that simple!
It often doesn't turn out that way.
In reality, we can feel unsure, tongue-tied, triggered, fearful or even guilty about asserting our own needs and rights.
For years, and in high-conflict relationships (yep that would be with narcissists!), I SUCKED at boundaries. I had no idea what my boundaries were, how to express them, or how I could look after myself healthily if other people didn't agree with them.
After going through my own personal journey with two narcissists, as well as deep intensive inner development … as well as helping thousands of other people with theirs, now, I set boundaries like a BOSS!
And that's exactly what I want to SHOW you today!
If you have struggled with being able to lay strong, powerful boundaries that honour you and stick, you need to watch this video.
Regardless of how hard it is for you to assert yourself, be confident enough to speak up and have people respect you – I know that this information and simple steps will help you immensely.
I look forward to answering your comments and questions on below.
(Visited 9,708 times, 3 visits today)
The following two tabs change content below.

Melanie Tonia Evans
is an international narcissistic abuse recovery expert. She is an author, radio host, and founder of Quanta Freedom Healing and The Narcissistic Abuse Recovery Program. Melanie's healing and teaching methods have liberated thousands of people from the effects of narcissistic abuse world-wide.

Latest posts by Melanie Tonia Evans (see all)