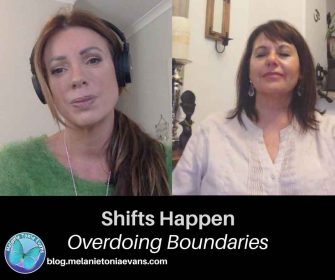 This episode with Bren is such an important one, because it covers a very important topic that can happen to us as adults when we have experienced so much violation in our life.
A tendency to overdo boundaries …
Where we are quick to defend and protect ourselves, and even though it means we may not get taken in and down anymore … we can end up suffering the disappointment of separation and loneliness, and not being able to have deep connections with others.
This was what Bren wanted to address, so that she could be safe and in her Feminine Power in effective ways that worked to fulfil her goals of personal truth and healthy connection with others.
I am so happy to share this very important Quanta Freedom Healing with you – because I know how this can be such a confusing topic in our life – how to be safe whilst generating loving and healthy heart connections.
I would love you to join in on this healing, if you know it relates to you, and as always I look forward to answering your contents and questions below.
Also please note I would love you to join me in my next upcoming Free Webinar Group – where I work personally with you … teaching you Quanta Freedom Healing processes, and how to heal the deep traumas that have been unconsciously generating painful relationships…
So that you can go free into the live and life that you truly deserve.
(Visited 12,262 times, 1 visits today)
The following two tabs change content below.

Melanie Tonia Evans
is an international narcissistic abuse recovery expert. She is an author, radio host, and founder of Quanta Freedom Healing and The Narcissistic Abuse Recovery Program. Melanie's healing and teaching methods have liberated thousands of people from the effects of narcissistic abuse world-wide.

Latest posts by Melanie Tonia Evans (see all)