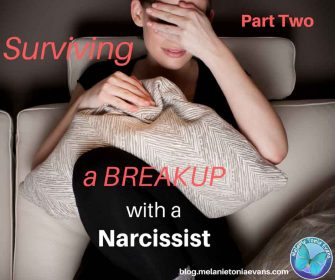 Last week in How To Survive a Breakup With a Narcissist – Part 1, we delved deeply into the emotions that we can all struggle with when breaking up with narcissists.
All of those parts of ourselves which are now highly triggered and activated.
The unconscious parts that deeply need our love … are even more so in panic when we breakup with narcissists, and it is very usual for us to feel hooked and dependent on the narcissist.
And that's disastrous – because this is someone who is not going to assist our panic and insecure feelings.
The narcissist is the messenger of our wounds and not the healer of them.
I released a video last week – which relates SO much to this – called The Narcissist as Our God, and I would love you to watch it after reading this article if you haven't already – because it will help you understand at a very deep level how we DID hand our power over to the narcissist.
Naturally, in regard to breaking up with a narcissist there can be many practical concerns, that are not just heartbreaking and gut-wrenching – but turn into our worst fears realised.
How true it is that if we are living with unresolved trauma in our bodies that Life often (via a narcissist in our case) finds a way of delivering that fear and hitting us in real time in real life with it.
Why?
Because our soul evolution personally, and for the collective, is to release fear and pain, and live in love and expansion.
When we believe this is all happening "from the outside in" we have missed the Quantum Truth of our emotional energetic interconnectedness and how powerful a Creator we really are – for good or bad experiences.
Which is the recipe for powerlessness and believing we are victims.
How do we come back from this?
How do we combat the terrible things that the narcissist is inevitably going to inflict on us when the relationship ends?
The Fallout When We Break Up With the Narcissist
Breaking up with a narcissist is anything other than a normal relationship breakup.
It's kind of ironic that not just our worst personal fears start to come to life, but our niggling doubts and concerns that we had pushed aside regarding the narcissist erupt into full force as well.
When our inner voice prodded us with … This person is really not to be trusted, and … This person has been really vindictive with other people in the past … and other assorted uncomfortable feelings.
Yet, we chose to believe the declarations of love, the sorry's and other assorted goodies that were drastically in contrast to the nasty behaviours that we personally experienced.
We wanted to believe the false promises …
We wanted to believe this person DID have our best interests at heart …
Yet, after breaking up with narcissist we realise this:
I am totally NOT valued, and …
I AM the enemy.
This has happened for these reasons:
1) The narcissist has replaced you; you are no longer the choice of drug (narcissistic supply) and are therefore non-useful and require dispensing of … and …
2) You challenged the narcissist's False Self and did not appease it to the level it demanded (total compliance and service) and therefore as far as the narcissist is concerned you deserve to be punished – harshly and even brutally.
This is when we feel like the narcissist has all power and we have none. You feel like you are dealing with a heartless cruel machine, who does not respond, no matter what you do to try to turn on their "heart light" again.
The heart light was never on … not genuinely. You were simply adored as the drug that granted the narcissist relief from him or herself.
You were never adored for your True Self – only the function your provided.
None of this was personal. The narcissist did not set out to destroy you to get their jollies. They were simply doing what they need to do to emotionally survive – use people for "attention" "energy" and "significance" in order to avoid being engulfed by their own inner self-annihilating wounds.
When your usefulness is gone then you are the enemy who was NOT the salvation to the narcissist that they will never be to themselves.
It's so interesting how we ALSO can position the narcissist as the enemy who did not provide us with what we though they needed to.
See the correlation?
And we talked about that a lot in Part One …
But now in Part Two we are moving onto the real life sinister aspects of what narcissists are capable of when they are triggered into vengeance and other nasties (which is a typical reaction for people who lack consciousness) … and how that plays out in your life, and the power you DO have to combat that.
Inevitable Smearing
When you have fallen from grace with a narcissist, as likely as the sun comes up each day … you will be smeared.
Just as you were initially idolised by the narcissist, Look at my new shiny toy (narcissistic supply) … you are demonised when discarded, or when you leave.
The narcissist needs to convince him or herself that the breakup was their idea and the reasons are because you are NO good.
This is what one Facebook Member wrote in about regarding this topic:
"Hi Melanie, for me the hardest part of my breakup has been the smear campaign and the allegations of me being crazy. How do you get through without feeling you have to prove your truth and sanity?  Why does the truth keep getting twisted and used against you and you're the one who ends up feeling shocked dazed and confused?"
I have done a couple of publications about this topic before …
How Do I Handle Smear Campaigns?
A Deeper Look At Triangulation – The 3 Phases Of Narcissistic Abuse
People, in the midst of being smeared, have said to me over the years, "Melanie why are you telling me to up-level my emotions when I have serious issues going on in my life? My reputation is being shredded! I need to DO something! How on EARTH can working on myself help this?"
If you are being smeared, you need to realise what is really going on.
Once upon a time I did NOT realise what was going on.
And when I lived my life through my five senses, and had no recognition, respect or understanding of the unseen world … I too got dragged into "thinking and "doing" and had terrible results when combating the narcissist.
Which is everyone's experience that I have ever known.
Combating when triggered is disastrous.
The more incensed, triggered and activated I was emotionally, and the more action I tried to take to clear my name, the more it backfired … horribly.
My life was crumbling around me – authorities believed him, police believed him … my colleagues believed him … even my accountant who was a long standing family friend believed him … and the deepest pain was this …
Family and friends believed him.
I was on my own with the anguish and terror of my world exploding with what felt like no way out.
And, it wasn't until my profound awakening and necessity to commit to self (the only choice left if I wanted to live) that I stumbled upon the absolute Quantum Law of "Emotion First."
Then I stopped trying to combat all the smearing against me, and instead went into my body to clear my emotional trauma regarding being smeared.
That was when the magic started to happen.
Smearing, within a very short amount of time, completely left my experience.
Before clearing these wounds, when I was in the terror of being smeared, I showed up in ways where I looked "guilty" … because I was so incensed and reactive with counter statements about his narcissism.
He, in total contrast, was cool, calm and collected and acted "credible".
We can get so frustrated with how narcissists can pull this off, but that's only when we are still unconscious.
I know with all my heart that it was PERFECT that he played this out with me, because if he hadn't, I would not have had my whole world turn against me and be brought to my knees with the terror of persecution, and I would never have found it or freed myself from it.
Can you imagine what it is like to no longer feel "guilty" or "mistrusted", and to not fear "persecution"?
And to know that it's not important what others think of me, it is only important what I think of me?
Additionally, I discovered – since shifting these wounds – most people automatically trust me and work honorably with me – and if they choose not to … it becomes revealed, and they simply move out of my experience.
No more horrendous fallout.
It's a miracle.
It's Life as a True Self.
If you are being smeared, this is the key to heal it (as well as everything in your life).
This formula is as absolute as gravity – and it relates to what is going on in your body which I promise you – as this article unfolds … you may understand and recognise is the central point of everything.
What 'hurts you now" is a replay of an inner trauma (childhood, ancestral and / or past life) that already existed otherwise it could have never showed up in your experience.
If you focus on the person who is bringing it now as a "cause" instead of a "symptom" (sign of the repeat trauma) then you will never dismantle (heal) the energetic signature of the trauma in your experience, or evolve beyond it and stop the pattern of it appearing in your life.
If you jump into your head about the trauma that is triggered by this person's actions you will only operate within the level of the trauma (lower consciousness) and continue to experience situations and people who match more of the trauma and contribute unconsciously (by handing your power away) generating more of the trauma.
If you do the ONE thing that your ego resists with all its might – let go, and instead of mentally judging or trying to combat the problem outside of you and instead combat the issue inside of you – then you will see the miracles happen.
Not just for yourself, because you will cause a ripple effect of healing throughout collective humanity. Every time we judge something as "wrong" and do not take personal responsibility to shift what turns up in our experience, our powerful consciousness adds to "more wrong" in all of human energetic creation – which then creates that reality.
When we live in Quantum Ways, address the trigger in our body and refuse to be sucked into going into our cognitive mind about it – we discover that all of Life starts to support us in Quantum Interconnected Ways … Things fall into place, and the right solutions, people and inspirations come. False Selves LOSE their power, grip and influence over us because we are now living free as a Creator – as a True Self.
So there it is … in regard to smearing – I understand.
It was massive for me.
In fact, it had been massive ALL of my life.
For these reasons …
As a child and teenager I was accused of lots of things I hadn't done. Being wrong or caught out or accused of anything was TERRIFYING for me.
Even as a young child I was horrified if anyone thought badly of me, or if I did the wrong thing.
The real reasons this was so impactful for me?
Locked deep down in my subconscious was the wounds that SO many humans carry – the white hot terror or accusation, persecution and annihilation.
Think about it – what has been the theme on this planet?
How many women (millions) were hunted down, persecuted and put to death?
I was tapped into all of that energy within my personal DNA energy and also the female pain body and the collective.
(If you don't think human history has had an effect on your Inner Being I really urge you to do some research into epigenetics.)
I have met many people like me that this was a terror for, and these are the people significantly hooked in and traumatised by smearing.
It feels like you are going to die.
And … from an Inner Being perspective that is literal.
On the flip side I promise you I have met people who don't give two hoots about narcissist's smear campaigns against them … they laugh it off, carry on and the smear campaign gets NO traction at all … it falls apart pretty much immediately.
Why?
Because these people have no matching inner wounds about it.
So what is the only effective way to combat smearing?
It certainly isn't running around trying to put out fires and convince everyone what a good person you and what a monster the narcissist is.
Can you FEEL the powerlessness in reading that?
Your SOUL knows its powerless.
All of that stuff of the fear of accusations, persecution and annihilation (that is often buried underneath our proclamations of being incensed about the lies, and on principle how we need to defend our character) gets up-levelled and healed when we self-partner and shift the related wounds.
(The Quanta Freedom Healings in NARP – Module 4 and 5 – are specific to this.)
And from this we can learn a powerful truth – our inner beliefs ARE generating realities. Whatever we fear deeply (internal trapped traumas) continue to sock us hard in our Life experience.
When the trauma is removed the experience must LEAVE your experience.
Note: I feel like adding what I am about to right now. (It must be relevant for someone.)
Please don't misunderstand me in thinking the narcissist will stop acting like a narcissist if you up-level, and suddenly morph into a decent being.
A narcissist is deeply unconscious and will continue being a narcissist – but they will have to take the behaviour elsewhere – to someone else who is still wounded.
Trying to Make Others Understand This Person is NPD
It's inevitable when we are unhealed and triggered that we feel incredibly vulnerable and unsafe, and we try desperately to make other people realise that the person hurting us has Narcissistic Personality Disorder.
This is what one Facebook Member had to say about this:
"Dealing with friends, especially mutual friends of mine and my ex narc. The LONELINESS of nobody really understanding he IS a narc. People saying, 'He can be a jerk, but he's a good guy'."
When we call it out to other people – that the narcissist is a narc, it's not like people just say, "Oh okay I agree with you!"
Why not?
The obvious surface reason is because the narcissist is such a skilled consummate actor.
Yet, the True Quantum Reason is because these people are not supposed to agree with you.
If they did, there would be no evolution for you and you would not discover the truth of "Emotion First" and how you are the energetic Creator of your experience.
And you would not have been able to live the real life results that happened as a result of you tending to the trauma of "needing other people to support you" as a result of freeing your Inner Being from that trauma.
Let me explain to you what happened to me, and what has happened for so many other Thrivers working with NARP.
Initially when we were not self-partnered, we needed other people to get us. We felt triggered, terrified and empty. We wanted other people to step in to fix how we felt.
Yet, people didn't.
The harder we pushed and tried the more they pulled away.
What we did not realise is needy, desperate energy is repulsive. It doesn't inspire people, it's not credible, and it turns people away.
The more we scream out about what a narcissist is personally, or as a part of a Group, the more we create less healing and not more.
We add to the problem, instead of being the solution.
We will only have other victims listen to us – and then what we discover is they are operating at a level where they have very little awareness of other people's feelings, boundaries or emotional health.
They are easily triggered, they take things very personally. One minute they are demonising the narcissist, and if you don't support them in the right way they will turn on you.
Hurt people hurt people period.
Neale Donald Walsh so correctly stated … "all attacks are a cry for help."
And … what happens is the one-upmanship. "My situation is worse than yours. My narcissist was SOOOOOO high-level."
And if people start pulling away – the gloom and doom is projected onto them.
Misery likes company and victims take hostages.
Sooo, what does generate support, understanding and compassion from other people.
THIS and this only:
Support, love and compassion to self.
Which means literally this – going inwards to heal your own wounds regarding needing other people to validate you and the agony that has been causing you.
And taking on the absolute mission to self-partner and be-come that to yourself.
When you "be" unwounded about this, and deeply, lovingly self-partner instead … then the people will "come".
Promise with all my heart.
Being Replaced
This is what one Facebook Member asked about:
"Being replaced before I even moved out."
I am so glad this was brought up in the related Facebook conversation, because it is one of the most common horrors of breaking up with a narcissist.
No-one like to be replaced – especially immediately; it is a terrible core wound to suffer.
And it can be SO hard to fathom, after the narcissist's proclamations of love and commitment.
Narcissists need narcissistic supply, and "love partners" ensure a steady source of narcissistic supply because they stay with narcissists despite terrible behavior, handing over copious amounts of energy and attention whilst doing so.
All the stuff narcissists need in order to "exist".
People are commodities to the narcissist … not because the narcissist intentionally wants to be like this, but rather because the crippled Inner Being replaced by a False Self is only capable of connecting to people as "commodities".
When we have assigned a narcissist as our Source of love, approval, security and survival and we are then replaced as coldly as if we never mattered, this triggers very old traumas within us.
Such as these:
"I am unloved", "I am unlovable", "I am not important enough to love", "I am not valued", "I don't deserve to exist" … and so many others.
It is usual for narcissists to flaunt new loves. Mostly, this is because the newly acquired shiny toy (new narcissistic supply) is thought of as "the greatest and best thing" … granting the narcissist a huge high – convincing him or herself this new drug is AAA quality.
Also the narcissist has no issue regarding hurting you.
Again its not personal, the narcissist is just being a narcissist … however …this can leave the ex-partner reeling.
It's only when we go inwards and unravel and heal this that we can recover.
When we do … this is what we discover …
We had never truly recovered and healed from the related original wounds that we suffered as children, which are likely to be the wounds our forebears suffered – and in truth have been wounded programming in the human experience for the last 5000 years
Survival, things, doing, achievements and practicalities are much more important than loving people as themselves.
Many of us have known this wound intimately.
The wound is conditional love.
In the collective painbody this wound becomes even more sinister – especially for woman.
It is also this:
If I am replaced, I can't survive.
If you don't realise the plight of the human female psyche, and the collective accumulated trauma, please do some history research into the rights of women, and what used to happen to them in even developed countries not so long ago, without a man.
It will stun you.
It may also explain to you your literal irrational terror that feels like you will die if you are abandoned or replaced.
I had this trauma HUGELY wedged inside me.
I'm not alone … at all.
Men, also can suffer a horror of being abandoned and replaced. It triggers off their primal wounds – such as "I am not good enough", and "I can't provide happiness or security to others" … as well as – of course – the huge wounds of feeling unlovable and unacceptable … which is the human experience.
If we don't heal this within ourselves, what happens?
More abandonment and being replaced.
Until we heal this.
The good news is, as we heal it one person at a time, we free humanity from this trauma as well.
Explaining and Living With PTSD
This one is very on-point for this conservation …
One Facebook Member wrote:
"Melanie, a way to explain to friends and family that PTSD (which I clearly had) is a REACTION to one's partner's personality disorder (despite that he may be known as an intelligent, professionally respected and charming man)."
I have already talked in detail about what happens when we need anything from anyone else in order to feel okay … and how when we make the shift to work at our own Inner Being to free it of trauma, so that we can unconditionally feel okay, then what we find is people start automatically granting us what is "more of" our already established wholeness.
I understand how painful it is to be shattered and not have people understand – especially when we try to get people to "get it".
I was there also … and it didn't work.
What did work for me was healing my Inner Being and then seeing the miracles of the shifts around me – namely this: People loving, accepting me and and backing me like they never had before.
And this happened even before I was "healed" … it started happening automatically as soon as I no longer looked to the outside and made "me healing me" my highest priority.
When we stay in the beliefs of having PTSD and we affirm it within ourselves, and want other people to recognise it, and believe they should organise themselves around our condition and cater to it … then we are affirming "I am a victim of abuse."
And … we may even join PTSD groups and then even further cement it with the discussions about how we will have this condition for life and what we can do to  "manage it".
I had a wonderful discussion recently in the present 3 Keys Group with a lovely lady who had this to say …
"Both of them (contemporary medical personnel) were very interested and thought it was a wonderful thing that I be doing this (The NARP Program). I didn't need their approval but I'm glad to have open minded medical professionals around me. My psychiatrist spoke of her frustration with patients who had been in therapy for years and had shown no improvement because they spent all their time in group therapy and in abuse forums and the like focusing on the pain. She was also frustrated by her last patient who expected medication to do all the work without ever working on herself. She laughingly asked me if I would speak to her!"
I agree with this lady: It is SO wonderful that there are now people within the system who recognize that we can heal our conditions!
This I promise you with all my heart – PTSD is not about what happened to us. What happened to us is a symptom for something deeper.
PTSD is about us not turning inwards to come home to our wounds and traumas, and self-partner our Inner Being. Our inner emotional container is screaming out for us to come home to love, approve of and heal ourselves.
Not someone else.
When we hold others responsible for our wounds, and when we need other people to acknowledge our wounds and change who they are in order for us to feel better – we are handing our power over and we are terribly in Wrong Town.
As adults, our boundaries and the state of our Inner Being is our responsibility.
And not healing ourselves and expecting others to fix it only makes our Inner Identity even more precarious and unsafe.
Every moment we are trying to address our wounds from "the outside in" we are denying ourselves our own essential self-partnering, love and healing.
When we release our trauma, our Inner Being resets to "wellbeing" (it's organic state without trapped trauma).
When you do that you will not have PTSD. In fact, you will be on a journey of continually freeing yourself from any anxiety and trauma, continually expanding into becoming a more radiant, confident and extended being.
I know this because I live it. I know this because it is the total truth for those I know who suffered PTSD, (even those who were previously medicated for decades) who did the inner work with NARP.
Hoovering, Boundaries and Trusting Again
People on Facebook wanted to know about these topics …
This is what one lady wrote:
"Please address strategies we can employ when the N again decides to disregard the boundaries we have set to both protect ourselves and to move on in our lives."
And one gentleman asked this:
"How do you get what you want from them? Before doing no contact and removing them from your life, how do you persuade them to do what you request of them?"
And two other ladies wrote about these very common concerns.
"Hoovering non-stop. Do I have to go far away from my ex?"
"How to stop feeling broken; not good enough, and feeling scared to trust another man."
The answer to all of these is exactly the same formula.
Emotion First.
When we stop trying to change things outside of us, and become the emotional shift inside of us that we wish to receive in our life, then our life starts automatically changing beyond description.
In such a way that when you start living like this you will never again dismiss the Quantum Mechanics of "so within so without."
But, logically … it's so tough initially to accept this.
Because we were not taught the truth of Quantum Mechanics (we have actually been totally disconnected from it), we struggle profoundly to let go and give up trying to control things outside of us.
That is until we realise that the only control we can exert is to get emotional control over ourselves. The Quantum Way to do that is release the trauma to make space for insight, wellbeing, inspiration and personal power … which are all organic True Self states when our trauma is up-levelled effectively.
Then we show up powerfully and effectively, and we start to observe the miracles of things falling into place.
And we may think it is "coincidence" until we start to understand the interconnectedness of Life in everyone's experience in relation to their inner beliefs and emotional programming.
The epiphany then is how uncomplicated and direct Life is when we do the work in the "inner engine room" rather than running around everywhere BUT where it's really all going on.
Then you discover as a True Self – dealing with a narcissist or no narcissist – that when you no longer have charges or fear on "what someone else does" and you are in the flow of great boundaries … then the narcissist becomes powerless against you.
Just as the hoovering ceases when there is no longer any wounded part of you feeding the connection … and you state "enough" and mean it and have no emotional charge or fear left.
And If you don't believe that is possible – then you are buying into the purposefully programmed beliefs of the last 5,000 years in this world – "things outside me have power over me", and you haven't turned it all around yet to do the real emotional upgrading work directly in your Inner Being …
The true liberation of: the salvation I create within = my salvation without.
Now regarding "trust" …
In regard to "trust" this is very important to understand ….
Trusting others is irrelevant and not the Quantum Goal. We have no power over others and their choices – ever.
All we ever have choices over is Who We Are – meaning how self-partnered we are with ourselves and how it all unfolds from there.
If we are living the illusion that we have to trust people we are in a very back the front position.
Again, we are handing our power away; we are not focused on trusting our gut, showing up honestly and authentically, asking the difficult questions, or stating what we would like and need from this relationship.
In other words not taking responsibility for our own wellbeing.
Instead we obsess about "Can I trust him / her?" and we hide … we play out relationships as wounded children in adult's body.
We are not honest, not checking in and we put our emotional wellbeing into the hands of the other person … "You HAVE to be trustworthy" because we are too fearful of rejection, criticism, abandonment or punishment to show up as a healthy adult in relationships.
Before I committed with all my heart to my own inner development I used to do this. And then I would blame others constantly for my misfortunes with them.
I always handed power away – and it was NO wonder "terrible people" filled my life on all levels.
Why?
To wake me up, and Thank God they did!
Everything changes in your relationships when you stop living from the outside in and live from the inside out.
When you make your development, authenticity and being healthy in the Field of Life the highest priority – you easily leave alone things and people that check out as unhealthy and you start generating healthy, evolutionary relationships with people in your Life who live as growth and honesty also.
You inspire people who have the resources to do so!
In stark contrast to my former Life, my world is filled with these relationships now … and in NO way is my Life in anyway reliant on trusting anyone.
I honor myself and others and I back myself and life now in such a way that if anything turns up that "throws me" I will shift the inner beliefs inside me that hurt – and then I know what to do.
It is truly that simple – there is nothing else to work out!
There is only ONE true level of betrayal and abandonment – and that is what we play out with ourselves – because at the Quantum Level there is no other doing anything.
There are many previous resources I have created on the topic regarding boundaries.
Google Boundaries + my name to see the extensive list.
You may also want to read these articles:
Hoovering – How The Narcissist Tricks You Into Breaking No Contact
Why Won't The Narcissist Leave Me Alone?
How To Restore Your Trust And Faith Again After Narcissistic Abuse
I want to finish off with this big one …
This Was My Soulmate and Meant to Be For Life
This is what a Facebook Member wrote in …
"Just prior to meeting him in my mid 20's I had been praying for the man of my dreams. I just knew that this man was a gift from God. The irony is that I "get it" now, the "gift" part, but at that time, I thought he was to be my love and soul mate for life."
So many of us relate.
This is the way I see this – the greatest evolution wake up call of our Life could not come with someone we had a lukewarm connection with.
And there is no doubt our relationships with narcissists were "soul-mate" level.
At soul level, what is the greatest, most loving gift someone could ever give us?
I believe it is this: giving us back to ourselves.
This is what she also wrote …
"The other "thing" I had with this man leaving was that seriously at my core I thought I would literally die without him. It was beyond intense. That was such an intense feeling of panic that I couldn't address how irrational the feeling was, I just had to get the man back!! I had dated many men but I'd never experienced that before (father was a covert N) I would love to hear your perception of what was at the core belief of each of these."
What were the core beliefs?
The truth is only you have access to "what they are" by going to your Inner Being to uncover them.
For most of us, they were like this:
"I can't survive on my own."
"Without you I will die."
"You hold the key to my lifeforce."
"If I separate from you I am dead."
They can even be …
"If I don't save you then I am dead."
These are all ancient, past life, generational and even childhood traumas.
Survival Programs such as these are beyond impactful.
They are big and self-annihilating – until we release them from our Inner Being and break free of them.
Goodness … I hope all of this has made sense.
Because it really needs to for you to break free.
And that's THE stuff I love helping people with, no longer merely surviving a break up with a narcissist – but truly thriving from it instead.
If you know you need help with this … I would love you to join me for the very last Webinar of 2016.
In The 3 Keys To Thriving After Narcissistic Abuse you will join me and thousands of others from all over the world where you will learn all of the essential keys and tools that allowed me to make my Thriver recovery a reality.
If you haven't been a part of this life-changing event, now is your last time to do so before the end of 2016.
Reserve your space by simply clicking here and filling in your details.
I truly hope this two-part article has helped you face quite possibly the most difficult, but also the most crucial events of your life. Because it holds the key for your True Life to unfold and for you to move forward into the life you were born to live …
If you have a question or comments, please share them in the section below and I will look forward to responding with more insights very soon.
The following two tabs change content below.

Melanie Tonia Evans
is an international narcissistic abuse recovery expert. She is an author, radio host, and founder of Quanta Freedom Healing and The Narcissistic Abuse Recovery Program. Melanie's healing and teaching methods have liberated thousands of people from the effects of narcissistic abuse world-wide.

Latest posts by Melanie Tonia Evans (see all)