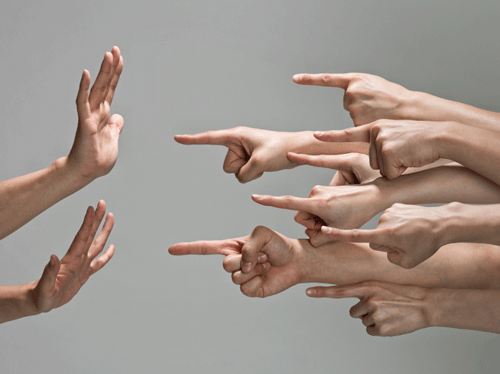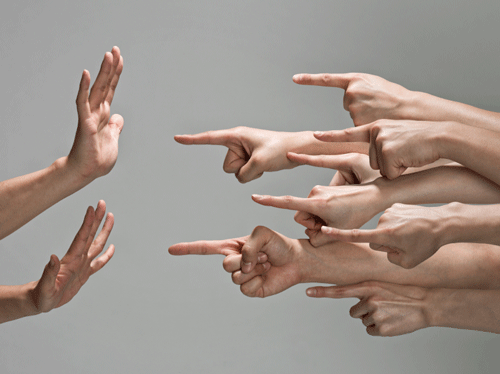 Truly…I hear this question all the time…
Even people on the Narcissistic Abuse Recovery Program can agonise with this question.
This is how they present it to me…
"Melanie please tell me WHY I shouldn't hold him / her accountable!" and,
"WHY shouldn't he / she PAY from what he / she did?!"
In fact this is one of the greatest (if not the greatest) stumbling blocks to creating a Thriver recovery.
In this article I address why trying to gain accountability from the narcissist is one of the biggest pitfalls you can make one – one that can severely disable you getting well.
This article is ALL about this topic, and how accountability and the system of life really works.
The System of Life
To become effective humans, there are certain base line understandings we need to realise – IF we want the painful aspects of our life to change…
The fundamental Law that affects everything in our life without exception is Law of Attraction.
This means "Like energy is drawn to itself".
Sadly Law of Attraction is viewed by many as 'airy fairy' or 'New Agey', yet Quantum Science now quantifiably matches spiritual understandings – and what this means is: there is a much greater and more absolute system that determines cause and effect, rather than just a surface level reality.
It means there is a force, a consciousness which is operating beyond logical understanding, which is responsible for the match-ups, the drawing together and the relationships of events and people in Life.
This is the Law – 'What is alike is drawn to itself'.
There is no escaping this Law – because it is as absolute as gravity, and it is the unseen consciousness that unfolds every creation we experience.
In your daily life you experience this Law constantly.
If you start the day in a frustrated mood, things go wrong in really frustrating way. Law of Attraction sets up for you the rendezvous experiences of other frustrated people, delays, setbacks, misunderstandings and events that bring you more frustration.
If you start your day with immense gratitude and a full heart of love, Law of Attraction sets up for you the rendezvous experiences of loving people, good news, opportunities, and co-operative events that bring you more gratitude.
Is this coincidence?
Truly feel that answer, and you know it is not…
If you want to assign it to 'coincidence' you are a) not being responsible for your creation in The Field of Life, and b) you are living a victimised reality that means you are NOT powerful in life – instead you are doomed to feel powerless in many situations – because you believe things are happening 'to you' rather than 'through you'.
It's so important to realise that ALL of our life is 'relationship'.
You are in relationship with Life every milli-second as a 'cause', and how you show up emotionally has a massive impact on how life shows up for you – the 'effect' – just like ANY relationship.
That's why the most IMPORTANT relationship we can ever have, which affects all relationships, is this one…
The relationship we have with ourself.
What this really means is – Where ARE you emotionally?
Where is Our True Power?
When we understand Law of Attraction, we are in fact incredible powerful – but not in an egoic, fearful 'push and shove' or controlling way.
We are powerful in an emotional way – and by tending to our own vibration we become a match for what we want to experience in our life.
It is the understanding of this Law and our True Power which is the basis of all of my information all healing programs – and I am very passionate about helping bring you home to yourself.
Because truly – for myself I realised the utter futility of trying to receive harmonious, pleasing and life-affirming changes in my life (effect) when I was still stuck in the agony of victimisation and intense anger, injustice and judgement (cause).
I entered the words 'cause' and 'effect' in the paragraph above for VERY good reasons.
If I were to state (and I used to) "My feelings of victimisation and injustice are because of YOU" – then I am truly powerless.
Because what this is really saying is…
"I have NO power to heal my feelings and change my emotional set point with Life. Therefore in order to receive better results with Life I have to wait for you to do it, and that is WHY I am trying to force you to change, OR want you to be PUNISHED for what you did!"
Have you ever heard the expression 'Anti-climax'?
I can assure you this –  the rare person who does experience the narcissist being punished, does not receive peace and resolution with THEIR OWN inner emotions – despite believing the narcissist being punished will provide that.
This is simply another trick of the ego – keeping us separated from our own true emotional transformation.
It wasn't until I realised what becoming a 'vibrational match' really meant, that I started to have incredible shifts FIRSTLY in how I emotionally felt, and then in the real life results unfolding in my life.
It required an emotional shift away from the anger, desperation and focusing on 'what the narcissist had done to me and how wrong that was'…
Because when we are in that victimised vibration we are completely snapped off from connecting to the openness, spaciousness and miracles of life – which support our highest good and greatest joy.
When we are disconnected from wellbeing, no matter what amount of DOING we EVER do,  'justice' just doesn't happen.
Now I'm going to get all spiritual on you (as you know I often do)…
I would like you to feel your vibration.
Which means I want you to feel your emotions in your body and what they do to you.
If you are presently feeling the hurt, injustice and the urge to make the narcissist accountable (which is of course very normal) – you will be able to access that feeling.
Close your eyes, take a breath and really feel it…
Really take your awareness into you body and be with these feelings of hurt, injustice and wanting to make the narcissist accountable.
You will realise these feelings hurt…
Now be really aware of your body and energy. Your body has contracted down, it has started engaging your ego, and you have just become 'small' and 'fearful'; it feels like powerlessness and you may even be experiencing the emotions of vengeance.
It's important to feel this, because when you start becoming conscious that you are a Creator Or Your Own Experience you realise your vibration is your guide to Life and living.
I can assure you this, it is imperative to LISTEN to it – because if it hurts you are on the wrong track!
In this state of being you are completely disconnected from the literal miracles that are your birthright.
Trying to Take Matters Into Our Own Hands
When we take matters into our own hands (even emotionally), we are trying to control the uncontrollable which means anything which ISN'T ourselves.
Now we are really 'small' – we are a singular force of ego (just a fearful personality) trying to create results all on our own WITHOUT the mechanics of life supporting us.
Miracles and support don't happen on this level – only the results that keep reflecting back to us more 'fear' 'powerlessness' and 'smallness'.
I believe one of the most misunderstood quotes in the bible is this: 'Vengeance is mine sayeth the Lord'.
Man took this as meaning "If vengeance is okay for God the that's the right model for me to use."
(Just look at the state of the world to know how literally that WAS taken!)
However, what this really means is – Source / Life / God looks after it energetically.
The Field of Life takes care of it!
It's NOT your job to bring someone to justice, and I promise you it is ONLY when you clean your own vibration up, let go and then take any action from a place of your own inner wounds being healed back to being a whole source to yourself – that results DO fall into place.
In fact in many cases you may not have to DO anything at all – that's how well The Field looks after it…
Let's break this down even further…
What is the biggest healing message narcissists deliver to us?
This message: I am NOT the healer of your wounds – I am the MESSENGER of them.
What are the wounds that ALL human beings carry?
The belief that we are inherently unlovable and unworthy and that our love and worthiness has to be granted to us by someone or someone else. That our love and worthiness is reliant on conditions – what we do or don't have, how we do or don't look, and what we are or aren't doing.
This is the grandest illusion that the ego loves – because it is a never-ending hellish trip of pain and more pain.
The ego is insatiable, it can never be appeased. There is no way to ever be durable peace or wholeness when sourcing life through your ego.
The narcissist is the massive wake-up call for us to heal these wounds.
Which means healing to the level that we CAN unconditionally love and accept ourselves.
This means releasing the illusion of being separated, small, limited and fearful.
This means opening up into the space of realising Who We Really Are, and how powerful our Inner Being is as a harmonious and joyfully Creator with all of Life.
We can't take this gift and actualise it in our life if our ego needs this statement:
'My identity is reliant on the narcissist being held accountable'.
Can you see how this is handing your power over?
Can you see how this is a function of the ego stating CONDITIONS are necessary for you to be wellbeing, and to love and accept yourself and generate a wonderful life?
Let's check in with your body again – and feel what this following statement does to your body…
I want you to state this:
"I can't be happy and get on with creating my life UNLESS the narcissist is held accountable".
Now feel it in your body.
Feel how powerless and small it feels.
So…why does it feel so 'yuk'?
Because the wisdom of your Inner Being (which is connected to ALL of the mechanics and energies of Life) is letting you know you have just taken a wrong turn AWAY from Who You Really Are.
This is the buying into the total illusion humankind has been modelled on.
It is TOTAL illusion, because when you are in your power there is NO neediness involved…
You are lovable, worthy and connected to the Field of Life sourcing your life and expanding UNCONDITIONALLY.
And it doesn't matter what you have lost up to this point.
It doesn't matter what the loses have been emotionally, mentally and even financially…because can you imagine what happens when you sort out your inner wounding and FINALLY come home to yourself connected to the true stream of Life and wellbeing?
It's like nothing you have experienced to date, if you are not there yet…
Truly, the best is yet to come…
How Life Works With You
Your ego may be having a really hard time with this – It may be jumping up and down and screaming "NO! This woman is crazy! Don't listen to her! That is not right – this person needs to be brought to justice!"
And truly you can stay in that model if you like – and I know (because Law of Attraction  is as absolute as the sun rising every morning) – that you can stay in that vibration trying to force justice, and all you will get is more injustice.
Why?
Because you are a HUGE emotional vibration of INJUSTICE, and the unconditionally loving mechanics of Source / Life / God are unconditionally and lovingly granting you more of yourself.
These forces SEE you as the Grand Creator you are and honour and serve you as that Creator.
These forces do not employ logic…such as "Mary really wants justice even though every cell in her body is screaming injustice!"
These Laws don't take into account that you haven't yet worked out how to create miracles and enlist all of the support, synchronicities, line ups and match ups in Life.
In fact these forces which adore you beyond measure would NEVER short cut the system – because these forces want you to know what a powerful creator you REALLY are, and hope that finally, one day you will wake up from the trance and realise how the Life really operates.
These forces keep saying "Look at WHAT you are creating. Would you like to change that for yourself Grand Creator?"
If you do, not only will you know the glory of creating and trusting and knowing that you are NOT small – which means you don't have to do it all on your own (all of Life IS at your disposal), you will also realise your REAL JOB is to focus on your vibration first and foremost and then let Life take over the rest.
Your ego tries to convince you this means losing control, not putting in enough effort, and even being irresponsible…
…or 'blind faith' is ridiculous.
Consider this – how much EFFECTIVE energy do you have available to make any progress when your energy is tied up in the painful negative emotions of injustice, conditional requirements, retribution and fear?
How can you generate and receive miracles from life when you are contracted and all blocked up?
How can you be open enough to receive the intuitive messages and sense the opportunities of your fullest flourishing and greatest joy that Source / Life / God is always waiting to grant you in abundance if you could JUST get your limited self out of the way?
How can you realise that anything you may have lost pales into insignificance compared to the wellbeing that awaits you if you heal, raise your vibration and connect to the flow of The Field?
How Compensation Comes to You
You might misunderstand me…
You may think I JUST want to you to use my healings in NARP, meditate or sit omming under a tree every day until you don't care.
That's not what I am saying at all.
Here's an example of one of my clients which will help explain…
Let's call this man George. George, like many people got ripped off by a narc. He bought her a car on the 'promise' she would pay him back when her property settled. It was an expensive car.
Of course she was never going to pay him back the money – because narcs just don't do that…
He was incensed, especially because she had left him for another man. The thought of her and him in the sexy black Mercedes, driving down to the beach with the roof off was almost too much for George to take (amongst the other usual assorted injustices).
George, understandably from a 'normal' human perspective wanted to do all he could to get the car back, hold her accountable or make her pay for it.
I helped him realise no decision was able to be executed effectively until he sorted out his vibration first. So George stood up to his ego, surrendered into healing and got to work on himself.
After working determinedly with Module 4 (Releasing Injustice and Betrayals) and Module 5 (Releasing The Need To Win / Get Accountability) of NARP, he had no charge remaining on his loss, and could feel into his next step forward from a spacious, calm, uncluttered inner centre.
He then sought legal advice and George had no attachment to outcomes. He was merely checking out confirmation of what he already suspected was true.
George was advised he really had no course of action available, because the car was in her name, there were no witnesses to the agreement and no contracts had been drawn up.
The solicitor was also very honest and stated that high conflict personalities don't capitulate with 'threatening letters', instead they thrive on legal drama.
So George easily let it go, and he kept working determinedly on himself, and now 2 years later he is 3 times more successful than he has ever been.
George is so grateful that his narc experience was the gift that finally gave him back to himself. It forced him to clean up his vibration, and by doing so he expanded into the Truest version of himself that he had ever been in his life.
Like so many of us who have done the inner work – George for some time now could not care less about her, what partner she might be with, or any details of her life …it's totally irrelevant.
Unlike George you may have a case, you may have facts and you may have a leg to stand on regarding what the narcissist did…but DON'T attempt ANYTHING when you are coming from the wrong vibration.
This is the deal – you are SO powerful energetically that you are connected to everything in The Field that is related to your topic, and you have the vibrational choice as to what you want to draw in to this experience.
These choices are like night and day…
A rubbish solicitor who is only interested in taking your money (victim match), the narcissist still getting away with abuse by proxy and fooling authorities (victim match), accountants and other personnel believing falsified documents (victim match).
OR you can vibrationally match up with a brilliant solicitor (co-partnering with the Field of Life), the narcissist slipping up and being exposed for lies and criminal behaviour (co-partnering with the Field of Life) and an accountant demanding accountability and not being fooled with lies (co-partnering with the Field of Life).
You really have to ask yourself – WHERE does your TRUE power lie?
Clearly it is an inner job…It is to do with WHERE you are emotionally.
Yes, you can take 'outer' action, but take inspired action ONLY.
This means take action ONLY from a place of WHOLENESS.
You can't take action to try to get 'whole' and expect pleasant results…because that's not how the Grand Creator you are can effectively create.
This is what does work…
"'I already love and unconditionally accept myself, and I have no attachment to outcomes, because my true identity needs nothing in particular in order for me to be WHOLE."
Now say that to yourself with heartfelt conviction – and take note of how your body and vibration responds to that..
Yep…you are on the right track.
Right and Wrong
Our ego loves 'judgement' as a method of contracting our body and shutting us out from our connection to The Field.
This makes us 'small' and keeps us in the eternal pain of being separated.
Please know this – being separated from The Field is the greatest pain – every other pain is a derivative of that…
Judgement is a sure fire way to create separation.
Absolutely you can observe that something is not for you. But this is still unconditional. This means "This thing or person is not my reality but there is NO NEED for me to have to change it or them in order to be whole."
Judgement is something completely different – it IS conditional. You have personalised it – you made it about you, because the emotional charge of judgement states "I can't feel whole unless I change this thing or person, or bring it to justice to STOP it".
Now rather than being able to change it or them, you have just granted that 'wrong' thing or person more power to show up as 'wrong' in your life.
You think you have said "No that is wrong – I don't want it!" – but the forces of Life don't decipher logic – they only know intense emotional resonance on anything as one big fat "Yes".
Additionally, your energetic system knows no difference between judging yourself or judging another – it's all judgement…There is no upside to it.
Let me share with you my definition of 'right' and 'wrong'.
I believe 'right' is this:  realising Who You Really Are and breaking free of the insane illusions of how we were doing life, and becoming the true unlimited, happy, expansive being that you really are…despite the pain you suffered up till now – and especially BECAUSE of the pain you have been suffering up till now.
I believe 'wrong' is this:  staying stuck in the illusions and continually trying to pit yourself against life as a small, limited, negative vibrating being.
We all know the definition of insanity…Trying to create different results with the same actions.
Please understand this – you cannot up-level and evolve your life at the same level of consciousness that you've been trying to make it work from.
Possibly as much as ANY article I have ever written – I hope this one shines a huge light for you regarding the TRUTH.
I look forward to your comments and questions.
(Visited 2,664 times, 1 visits today)
The following two tabs change content below.

Melanie Tonia Evans
is an international narcissistic abuse recovery expert. She is an author, radio host, and founder of Quanta Freedom Healing and The Narcissistic Abuse Recovery Program. Melanie's healing and teaching methods have liberated thousands of people from the effects of narcissistic abuse world-wide.

Latest posts by Melanie Tonia Evans (see all)