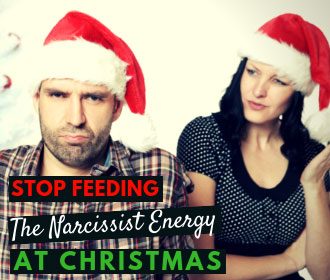 My heart goes out to all of you at Holiday Season who are dealing with narcissists.
Because this is the time where they tend to act out BADLY …
When narcissists can't isolate, organise and regulate people to get narcissistic supply, they can suffer terrible narcissistic injuries that cause them to lash out.
A narcissist's worst nightmare is others getting attention, and them being reminded of their own defectiveness.
Holiday time delivers that to them in SPADES!
So what can you do to minimise this horrible time?
How can you enjoy your Holiday Season regardless of what the narcissist does or doesn't do?
Video Transcript
Well, here we are. Coming into one of the biggest hotspots if not THE biggest for narcissists to act out.
Holiday Season!
This is when the focus and attention isn't all on them. In the holiday season, narcissists have difficulty in isolating, controlling and regulating people enough to get adequate narcissistic supply, the attention they need to feel 'alive'.
People are busy, others are around … the narcissist is not the centre of their intimates' universes.
Additionally, narcissists don't like Christmas for this reason: because they can't feel the happiness and connection that other people do. They truly feel like they are a fish in a fishbowl looking out at festivities that they can't genuinely participate in.
This is such a reminder to the narcissist of their own defectiveness, and it can also bring the haunting memories of their dysfunctional family of origin at Christmas time.
And this is the deal when narcissists suffer a narcissistic injury, a kick to their fragile False Self, they get nasty, cruel and don't give a damn about how that affects other people. In fact, according to the vindictive ego, the more it affects people, the better. As far as the narcissist is concerned, if they can't enjoy this time, why the hell should anyone else either?
Today, in this Thriver TV episode, just before Christmas Time, I want to grant you the number one arsenal you have to survive a narcissist and not be in the fiasco of being back in their clutches for narcissistic supply.
It's the Big D word – DETACH – and this means stop arguing, justifying or expecting. In fact, make the narcissist null and void this Christmas, truly! And as we go through these points, you will understand why Detach is your best Defence!
Let's have a look at what narcissists commonly do at Christmas time and your EMPOWERED response to deal with it.
Don't Expect Anything From The Narcissist
The narcissist is not going to happily assist with proceedings. Don't ask them to get or do things because there will be absences, delays, excuses and false promises, anything that it takes to push your buttons, hurt you and get you to react. Don't fall for it. Do it yourself without them and don't be angry about it. Enjoy the process.
Then be prepared for the inevitable accusations about you not including them in the festivities. Darn straight you are not! However, don't bite, argue, explain and justify. Say nothing and get on with it. Don't respond to anything you get labelled as. The best you can hope for is that the narcissist takes off to get narcissistic supply elsewhere, and if they are not getting a rise off you, they will.
Gift Inconsideration
Narcissists are selfish and entitled, they really don't care about other people. If the narcissist has been bothered to get gifts for other people, which is highly unlikely, they are usually lazy and thoughtless choices or ones that are totally about them for their pleasure, not the other person's. (Mind you if the narcissist is a love bombing narcissist, at the beginning the gifts may be over the top. Again as their version of what they think that person should have rather than as a result of tuning in to what the other person wants).
It's critical to not expect a narcissist to act like a normal person especially at Holiday Time. Do not confront them about their non-existent or selfish present giving. Because as soon as you poke this bear with a stick, it lashes back with excuses, projections, minimalising, guilting, tit for tat and blame throwing.
Also, realise that the narcissist is likely to make a song and dance about other people's supposed selfish and poor present giving, specifically regarding what they get.
Detach, ignore, 'speak to the hand', grant this no energy.
How Narcissists Behave In Group Settings
Narcissists traditionally make the atmosphere as uncomfortable as they can, when they can't be the centre of attention. Other people shouldn't be getting energy and life-force when the narcissist can't. How dare they! So, the narcissist will work on what could turn the tables the most.  Would it be them exiting the scene without warning? Maybe making an inflammatory statement that gets people arguing against each other would be better? This one can be tricky if other people get involved. If you have a family onside with how the narcissist is, then you could all detach and ignore the narcissist and refuse to get sucked in.
Regardless, of whether other people know to do this or not, you need to. If the narcissist is not getting a feed or attention again, he or she will have to go and get narcissistic supply elsewhere.
The Disappearing Act
Narcissists can do the hugely nasty thing that narcissists are famous for at Christmas time, devalue and discard. It's a favourite time for them to do it.
He or she may make promises for Christmas and then disappear. Or he or she could create a huge fight and dump you just before Christmas or even on Christmas day.
It's vindication for them to cause others to be grief-stricken so that they, like the narcissist, can't enjoy Christmas either.
Let the narcissist go, because what choice do you have? If you accept unacceptable behaviour like that again, then you are only signing up for more cruelty. If the narcissist is low on other narcissistic supply, he or she is likely to return as if nothing happened. If he or she has got new narcissistic supply that won't happen until that goes bad for them.
Whatever the deal, we all must get well enough and do our inner healing enough to permanently detach from being treated like this and know that we are better than being someone's object being used as their drug when they feel like it and then their punching bag the next.
We deserve better.
The Hoovering Hitlist
Narcissists can be very prone to hoover old sources of narcissistic supply at Christmas. It is no compliment to be on the narcissist's hoovering hitlist. It's never about 'love' or 'you', it is about them punishing someone else, or fulfilling their own agenda to get much needed narcissistic supply.
If this happens to you, an ex-narcissist in your life makes contact with you, block, delete and ignore. Don't fall for it.
How To Deal With a Narcissist At Christmas Time
Let's get very clear about the rules of detachment. It means no energy. You don't get sucked in, to try to defend, explain, justify, lecture, prescribe or even get decency or reform.
The narcissist uses holiday time to act out, hook you, hurt you and punish you, so don't let him or her do it.
And be prepared, because this could be the end. Lots of narcissistic relationships go down at holiday time. This can be when the ultimate explosion happens when the narcissist leaves or has an obvious affair or does something else that is so horrible you know it has to be the end.
Wouldn't it be better to end things on your terms, in empowered ways, where you say 'no more' to abuse? Because it's pretty much a sure thing at Holiday time you are going to see it.
Please know I stand for you. Like me and so many others in this community, you deserve the best life and holiday times with many more to come. So many of us dreaded and hated festive times as narcissistically abused people, but I promise you in the future whether single or partnered you will love and enjoy holiday seasons and festivities again more than you ever have when you get past this rubbish. And your life will fill with enjoying celebrations with whole, beautiful and healthy people who care about each other and connect genuinely. Yaya!
And myself and the MTE team are here for you, to help you when you lean in to get help to heal the Thriver Way.
So, to go deeper than just my videos and blogs, so that you can get this level of support from myself and my team of Thrivers, you can sign up to my free 16-day course.
And the great thing is, you possibly have time to really commit to your healing now.
Click here to get immediate access.
And please share this with anyone who you know needs help with a narcissist at Holiday time.
So, cheers to a narcissist free Holiday season!
And myself and the MTE team wish all of you beautiful Thrivers a Merry Christmas.
The following two tabs change content below.

Melanie Tonia Evans
is an international narcissistic abuse recovery expert. She is an author, radio host, and founder of Quanta Freedom Healing and The Narcissistic Abuse Recovery Program. Melanie's healing and teaching methods have liberated thousands of people from the effects of narcissistic abuse world-wide.

Latest posts by Melanie Tonia Evans (see all)