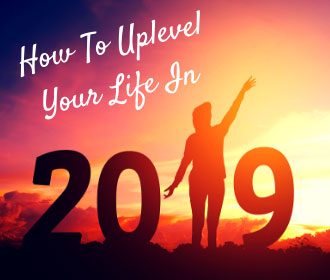 I can't believe that we have nearly finished 2018!
Where did this year go?
When the holiday period comes, and we prepare for New Year many of us get to thinking about our life … with these sorts of questions.
Did I achieve what I wanted to?
What does my life look now?
Am I happy with how my life is going?

Am I with the people I want to share a happy and healthy life with?
We all want to create the life of our dreams and get to the states and results we wish to live …
But how can we REALLY do that?
Especially if you've been abused and feel you're missing so many parts of yourself and your life.
Time goes sooo fast now, and I really believe we need to know the answer to this … otherwise, one year rolls into the next (and the next) and we may not feel like we are making REAL progress.
That's why today I wanted to give you some very Quantum, straight awareness and directions as to what it takes to let go of the life we were living and step quickly into a life that brings us freedom, abundance and joy.
I think you're going to love it!
Video Transcript
This is what happens when we draw closer to the completion of each year … we reassess. We think about the year that has just been. Maybe you feel pleased with how far you have come, or you may still wonder why you are stuck and in the same position.
Maybe you did experience great progress … or may you had stop/start results.
Whichever the case, the truth is that we all want the best out of life. We all wish to expand forward onto the trajectories and experiences that please us.
And what we understand when we start Thriving is that the only life that does please us is the one that has broken free from our old fearful and limiting patterns.
But how do we do this?
I believe the partial answer to this is knowing we must take personal responsibility to change our life because nothing or no one is coming to save us from our previous patterns. This is the job that we have to perform ourselves.
I've been thinking about this a lot lately, explaining the fastest way through to changing our lives for the better. I have known for a long time that when we release trauma and replace it with the Light (which is done in the Narcissistic Abuse Recovery Program) that we automatically start expanding beyond our Old Self and into our New Self.
And today … I want to unpack more about this for you!
How Do We Change – Really?
Chemically, physiologically and spiritually how do we change and what is the total key to this? If we aren't yet a being who is aligned with happiness, success and health, we haven't yet been able to tap into the abundance and flourishing and nourishing of Lifeforce, which truly wants the highest and the best for us too, if we can get ourselves out of the way.
If this is you, it doesn't mean that you are a failure, or that you have been doing something wrong. What it means is that you haven't yet known the direct way to do this. There is an old saying 'nothing changes if nothing changes' And, there is another, that goes like this, 'we can't do the same actions that haven't worked and expect a different result.' Well today, very soon, I am going to explain to you EXACTLY how to do something different powerfully that will change your entire life, very quickly beyond description.
Before I do that, I want to explain to you what unconsciousness is.
The Truth About Unconsciousness
What is unconsciousness? It is being stuck in the same cycles and pain and not taking our power back by realising that we are the generative source of our own experience. It is the experience of being a victim and looking outside of ourselves and blaming other people and situations for the way our life is. This is the epitome of fruitlessly trying to control, change or fix the billions of situations and people on the planet to try to get a different result, rather than attending to the only person we do have power over, which is ourselves.
When we know that this is the way home to ourselves and an incredible life, we know that this place within is the seat of our creative True Self power. It is here that we have a literal powerhouse of an inner universe connected to an outer universe.
The connected inner and outer is the entire experience that we know to be our life. When we wake up out of unconsciousness into consciousness, we know this to be the truth.
How Our Inner Universe Works
Let's check out how our Inner Universe works. It is like this: we have an experience and then experience a perception which is our interpretation of that experience. The perception that we have is unique. Ten different people could witness the same thing and have ten completely different emotional responses to that experience. These depend on already established belief systems.
These beliefs systems are what the Inner Identity 'truth' is about this experience. This depends on the health, or otherwise, of the Inner Identity's composition on this topic.
As an example, last week's Thriver TV episode was regarding smearing. If someone's Inner Identity is carrying the epigenetic, past life, and childhood traumas of being persecuted, scapegoated and even annihilated as a result of someone else's opinion of them, then the perception of smearing is very painful, personal and even feels life-threatening.
If someone's Inner Identity does not carry these traumas, or if this person has already done the work to release and heal the traumas of persecution, then smearing will not affect them. They will easily detach, know it doesn't need to be accepted as personal truth and carry on with their lives without fear, regardless of what other people think of them.
It's so important to realise that these are NOT logical decisions, these are triggered (or not) emotional responses depending on the formation of our Inner Identity (it's health or otherwise) regarding any topic that could potentially trigger us.
Now back to how our Inner Universe generates our experiences …
Here is the thing that when we become conscious, we start to understand. By being whatever frequency we are Being (meaning feeling emotionally regarding any experience we have) we are now vibrating at that frequency.
Emotions are energy in motion. We are now energetically on the Life trajectory that matches exactly where we are emotionally Being. If our emotions regarding the experience are painful, fearful and feeling unsafe, then the people who are hurting us now have us within the frequency range to keep hurting us. We are on the same playing field with them.  The people and situations of a higher True Self vibration that could grant us relief and solution are not available on this emotional trajectory. We are completely shut off from these.
Likewise, we don't have access to thoughts, ideas and inspirations that generate relief and solution. The only thoughts within this range of consciousness are the ones that match the fear and pain we are currently undergoing.
And think about this, because MORE pain and fear is getting generated in our experience because of being connected to a Field of people and events that match the fear and pain we are emotionally vibrating at, more bad stuff happens. Then we try harder to change, fix and stop what is happening outside of us, from THIS state of pain and fear, which just makes matters worse and worse.
And there you have in a nutshell the experience of narcissistic abuse, being stuck in the bowels of hell, where everything escalates into more pain and fear. Of course, it feels like there is no way out! But really narcissistic abuse is showing us in massive technicolour, in a way that we can't miss it, how life from the outside-in doesn't work and that if we wish to change our life, we need to start living it from the inside-out.
There is the necessity to step into the True Power of who we really are, rather than rolling around in ridiculous sand pits of trauma with False Selves.
How We Used to React to Pain and Fear
We must attend to the true universe where this is all happening which is your Inner One. And this means completely changing the way we used to react to traumatic triggering and being aware of why we used to react in the ways we used to.
I will explain it to you. We get triggered, and then we feel emotional pain and fear. We then start thinking the thoughts that match the pain and fear, and we also make choices that match the pain and fear.
These are some examples: We think and fear the worst about other people and what may happen. We mentally and emotionally beat ourselves up. We try to numb out the inner pain with junk food, alcohol, cigarettes, toxic relationships, unhealthy sex … all the things that may grant us some momentary relief that numb out the pain temporarily, yet which break down the integrity of our Inner Identity even more, ultimately manufacturing more pain and fear and therefore the vicious cycle intensifies.
As a result, our life doesn't change, the painful patterns in our Life don't change, and zero transformation has taken place.
Do you want to stop doing this? I promise you that when you understand the following and apply it you will, and your life will change very quickly for the better.
How To Change Your Life From The Inside Out
Here is the formula to change your entire Life, truly (I'm not kidding).
1.The painful trigger hits
Of course, this is going to happen, because we always have inner trauma, especially originally before doing the inner work, that is not serving us that we need to release and heal beyond in order to change our life.
So … you need to stop not wanting that to happen and fully accept it is necessary. Pain is inevitable, it's the gateway to something greater. Suffering is optional and only happens when we are unconscious and try to avoid our painful triggers.
Say instead this to yourself: "I bless and accept this feeling".
2. Know you are going to go straight into unconsciousness
Recognise you are going to want to do what you have always done, grab the self-medicating, self-avoiding choice to drown out the pain and/or start thinking the worst, overreact, or self-abandon and hand your power away.
You may try to force someone or something else to change in order to feel better.
However, you can make a commitment to yourself to NOT do any of this anymore.
Instead say this to yourself: "I now commit to turning inwards to heal what is really going on here."
3. In the height of the trauma attend to it
When you are fully peaking in unspeakable trauma, if you no longer self-avoid, self-abandon or self-medicate to try to run away from it, and be fully with it instead, to load it up, release it and bring in love and power where that pain and fear once was, then you will change your Inner Identity and your matching brain synopsis wiring in powerful and instant ways.
You literally have this hot spot of opportunity to generate lifetimes of evolution on that topic, to live totally free from the old trajectories you were unconsciously stuck on, and to access brand new ones that are organically connected to the wellbeing of Life, in minutes.
I'm not kidding. This is how powerful Quantum Healing really is because you literally dissolve away (let go of) the Old self and bring in your True Superconscious self on that topic. This literally changes your Inner Identity, your mind and your Life, instantly, rather than it taking forever to achieve.
You may think this sounds far-fetched, too easy and even ridiculous. Once upon a time, I would have thought that too. So, I invite you to park that belief and experience this for yourself.
If you have something that is stuck in your craw that you know is really hurting you and incredibly fearful and painful, please come with me, hold my hand and do my free workshop with me, where you get to face and release this thing, from your Inner Identity in a Quanta Freedom Healing session with me, powerfully and effectively.
And you will know when its cleared because you just won't feel like that anymore and then you will see your Outer Universe shift, often in record time, in alignment with your newly created Inner One.
So, what you have got to lose?  And what new incredible Quantum Self have you got to gain?
Click here to register your spot for the Workshop.
And I'm so looking forward to a Quantum rousing discussion about all of this (because it is fascinating!), as well as answering your questions, on how you wish to create your incredible True Life in 2019.
The following two tabs change content below.

Melanie Tonia Evans
is an international narcissistic abuse recovery expert. She is an author, radio host, and founder of Quanta Freedom Healing and The Narcissistic Abuse Recovery Program. Melanie's healing and teaching methods have liberated thousands of people from the effects of narcissistic abuse world-wide.

Latest posts by Melanie Tonia Evans (see all)