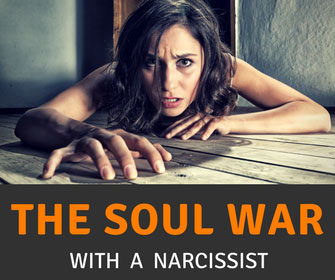 Are you being haunted by terrible nightmares about the narcissist?
Do you feel like he or she is crawling under your skin?
Do you find it almost impossible to stop thinking about this person?
Are you experiencing flashbacks and triggers going off all the time, making it nearly impossible to be out and about in everyday life because you don't know when you will feel the next meltdown coming on?
Do you feel like there is a hose stuck into you, sucking your literal life-force out to the level where you feel so exhausted, shaky, numb and foggy that you barely have the energy or the concentration to do even the most basic of tasks?
After narcissistic abuse, this happens to more people than we could possibly imagine, and chances are if you are reading this you know precisely what I am talking about.
Why does this happen – these shocking feelings of having had our literal soul been taken over? And why is this so different from the normal heartbreak, pain and even betrayal recoveries that we may need to make after suffering disappointments with people who are NOT narcissists?
How has this happened? How do we recover from devastations and psychic infiltrations that are so deep that they affect the very core of our being?
This is EXACTLY what today's Thriver TV episode is all about. In it I discuss with you what has REALLY happened to us, and why our souls have become so sick.
And, I also explain how there is a true healing solution for this, that myself and so many others have undertaken to get out of the bowels of hell and into true joy and life-force.
It is my deepest wish today, if you feel like you are never going to recover and the damage is too much, that you now know there is a way to not only heal but also truly Thrive after this.
The following two tabs change content below.

Melanie Tonia Evans
is an international narcissistic abuse recovery expert. She is an author, radio host, and founder of Quanta Freedom Healing and The Narcissistic Abuse Recovery Program. Melanie's healing and teaching methods have liberated thousands of people from the effects of narcissistic abuse world-wide.

Latest posts by Melanie Tonia Evans (see all)