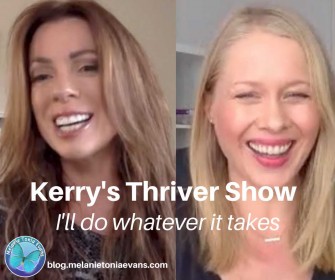 Kerry's Thriver Show is so inspirational – and it is wonderful that we were able to do this interview on camera.
Two years ago Kerry was at the lowest point she could ever remember.
Her marriage had ended and her financial state was ruined.
And … devastatingly she thought her dreams of being in a loving relationship, conceiving and becoming a mother were over.
At that time … all she was left with was her broken and traumatised self.
Yet … Kerry made a decision that was going to change her life.
This one …
"I am going to do WHATEVER it takes to have a great life."
Now today – Kerry has the lot.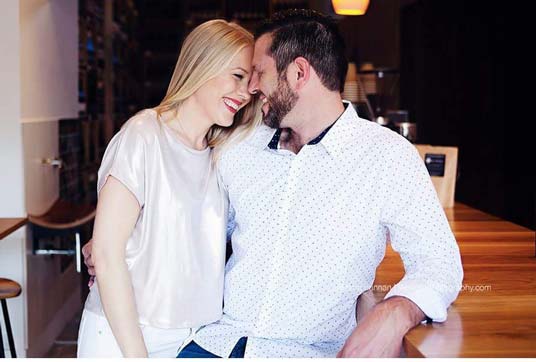 Kerry with Shaun, her new loving partner.
I can't wait to share with you this story!
Please see some notes regarding Kerry's details below – but also please watch this show as sooooo much more is expressed within it.
I'd also love you to post your comments and ask any questions that you may have for Kerry or myself below.
And if you would love to learn more about the Narcissistic Abuse Recovery Program that was the core healing work that Kerry connected to and committed to
You can do so by clicking here.
Please note: We are still having a couple of issues with the new recording technology and unfortunately the video freezes at 9 minutes but goes back to normal at 15 minutes. You can still listen along during this time as the audio is unaffected.
As mentioned in the show, Kerry does amazing work with coaches, therapists and business owners to help them grow their business with her energy healing program Align + Attract.
If you are looking to build a heart filled business that helps people I can't recommend Kerry's work highly enough.
She is SO on it!
You can find out all the details here.
1) Please describe your narcissistic abuse experience to the audience.
I met the Narc on the street in Melbourne and there was instant connection and familiarity. which felt past-life related. The relationship started quickly and I ignored my own (admittedly quite mild) reservations. It was all so perfect on paper and I thought any uncomfortable feelings or discomfort at the pace, or issues with communication were my own issues. I had a history of depression and mistrust of my own feelings at this point.
As is often the case in such situations, we moved in together fast, and then bought an apartment together within a year. I didn't ask questions about his financial situation, as he seemed to be so solid in that area, with a good track record of investments, and I happily let him take the lead. I did observe a lot of spending. It soon became apparent we had very different attitudes to money and debt. I knew very little of what was going on with him financially and as time went on, became too scared to ask too many questions.
The relationship went downhill dramatically over the final 3 years, after we got married. This started out looking like mental health issues, including depression and anxiety, which were treated for a short time. It became obvious something very serious was amiss. In the end, the ex lost 3 jobs over a two-year period, which created a lot of instability, pressure and chaos. My physical health deteriorated over the course of the relationship and I developed adrenal fatigue, digestive issues and reproductive issues. His behaviour became increasingly shocking and elements of emotional and verbal abuse emerged- particularly targeting my business, my lack of support to him as a wife, and creating big arguments when questioned about money or other sensitive issues.
Everything felt very confusing, like I was in a washing machine, and it didn't occur to me that leaving was an option. I was committed to the marriage and determined to manifest my vision of what I thought the relationship was going to be.
Finally, life exposed the extent of what was really going on, which was substantial debt through loans from family and friends, credit cards and loans and black market loans which were by now creating major stress and drama. This all came to light over the course of one week and I left at that point as his behaviour towards me also escalated.
After a few weeks staying in hotels and continuing to see clients, I made changes to my business to allow me to move interstate to be with my family, including a move to working with my clients via Skype. There was much entanglement in relation to the apartment, which was eventually transferred into my name to release equity. I continued to pay the whole mortgage as I had for a year or more prior. The apartment was put on the market despite a lot of resistance from him and it was 7 months before he moved out and I was able to retrieve my possessions. It took 10 months after I left to sell and settle. I stayed with my parents and sister's family during this time, and focused on my healing journey.
As is so often the case, there was a lot of drama, regular new shocks and revelations, and incessant contact in different forms in the months after I left, until all contact was progressively shut down.
2) How were you as a result of this experience?
It was very apparent that I was not dealing with the break up, It felt very different to a "normal" break up. I was highly shocked, traumatised and disassociated and had a sense of disbelief at what had unfolded. I felt relieved to be out of the daily chaos. I was initially highly adrenalised and kept moving; I had to make a lot of decisions and deal with all the people contacting me. I knew I was going to feel worse when that wore off and did.
I experienced post-traumatic stress symptoms, along with panic attacks, adrenaline surges, pain in my body, obsessive thoughts, an inability to focus and low energy. I needed a lot of sleep, and felt like I couldn't function properly. I avoided group situations and spent a lot of time alone. I did the minimum I could in business and focused on my Kinesiology client sessions, and was able to focus and work effectively in that context.
3) What had you tried to do to get well?
I knew I was not yet healing in the initial months, as I was still dealing with all the contact and associated drama, despite being interstate. I saw a great counsellor but we were just dealing with the unfolding story and I wasn't yet at the healing stage. I felt very adrenalised in telling my story.
4) When did you discover he was a narcissist?
The CAT team visited him twice at home at my request, as I was so concerned at his behaviour. I thought he may be bi-polar but they told me that was not the case, but did encourage me to look into narcissism when I mentioned that as another possibility. A couple of people had raised the "narcissistic" word but I hadn't yet encountered Narcissistic Personality Disorder so didn't have the full picture. Finally, I found a slide show through a google search that described NPD and everything I had experienced perfectly.
After finding the slide show I put out a clear intention: "I need to find someone to work with who specialises in this issue." Within a few days a friend told me about you Melanie. I bought NARP the day I found it and booked sessions with Melanie and ended up having 10 one on one sessions.
I started the program the day I bought it, which was the day I found it. This was about 3 months after leaving the relationship.
The process created instant relief. I was so glad to know I had an approach to deal with the pain and trauma and release the bad memories. Initially I felt huge charges in my body as I went through the process, and it was good to be able to do something with that energy. I felt attacked and disempowered and that started to shift right away.
As I worked through the program I found I was initially releasing recent memories, and that soon shifted to childhood and past lives. I began to feel stronger within myself, and knew I could get through it; I just had to keep working the program and releasing all the charges. I gained the strength to sustain no-contact.
I was very clear that I deserved the absolute best after what I had been through and would do whatever was required internally to create that. I did daily NARP, daily walking, yoga, meditation and weekly healing sessions with Melanie for a time. I also worked with some other healers who had a good understanding of NPD.
5) What did you discover about your inner programs that you were carrying within you, that had co-generated the abuse in your life?
A lot of my beliefs centred around the fact I felt helpless and powerless, and that other people had more control than me, and I learnt:
I defaulted to feeling helpless and powerless in challenging situations
I felt worthless at a deep level
I believed men could over power me and I could not stop them
I was scared of life
I feared the worst
I believed I was fundamentally flawed and that my weaknesses left me vulnerable to attack
I was not in control of my life and I had to try and secure control
I saw other people as gate-keepers to what I want and they may or may not grant me permission to have what I want and need
6) What has happened since doing the inner work in your life?
I did NARP every day for around five months. I continued to cycle into helplessness around the apartment not selling: I just Needed It To Sell so I could Move On. I couldn't move on otherwise, was the story. So there was still a belief that I need something outside of me to shift so I can be ok. I did a lot of work around releasing this and feeling ok to be where I was in my life.
Once the apartment sold I rented an apartment in the city and started to more fully establish my new life, which felt very calm and peaceful. A little after a year after leaving, and six months after my intensive NARP journey, I felt ready to meet new people. I had read your posts Mel about online dating and felt inspired to approach dating from a positive, empowered place, and did a lot of intention setting, reflecting, and further healing and reading about relationships.
I had good experiences meeting new people and testing out my intuition, ability to communicate and to assess what I wanted, and to more easily let go of things that weren't right. After 6 months I met my current partner, Shaun. We seemed very different on paper, and in the past that probably would have been insurmountable to me. But this time I was focused on connection, communication, ease and love, and less concerned by externals like job title or age (he is seven years younger).
We are very compatible, communicate about everything and work together as a team very well. We moved in together at the start of 2016, soon decided we wanted a baby, and I'm now pregnant.
7) Have you had to deal with or are you still dealing with property or any other matters?
The property was quite an issue for some time and both the refinance and sales process were very time-consuming with lots of delays and a few dramas. I didn't receive anything from the sale of the property but was pleased for the closure.
The divorce felt daunting, as the ex was by this point untraceable to serve the paperwork to. However, through a synchronistic series of events and encounters with helpful people, a different way forwards emerged, and in the end I was able to complete the divorce easily with no direct contact, via a substituted service.
The inner work helped me to address the inner feelings of powerlessness and helplessness that were activated by the house not selling, and letting go of the lost money from the house sale and allow me to feel detached about these things. It also helped me to open to the idea of dating, and to feel comfortable in the unknowns of dating.
8) What has changed in your life emotionally now, and in what ways?
My life feels easy and I have a sense of flow. Interestingly, after my intensive NARP journey, people started to tell me I look much younger than I am, so there were also visible effects from the healings. I have a great, healthy relationship and a thriving business. I am a lot more confident in my ability to continue to co-create a happy life, and this does not feel dependent on external things happening or not happening.
If things come up or I feel stuck in any way I know that is a false feeling and still go back to the goal setting module. For me now, the internal stress that might cause me to turn to the goal-setting module is often activated by growth and new vistas.
What final message do you have to share with others?
Do the inner work as it's so worth it. Know that you are worth it. Any thoughts you have about things being especially challenging or impossible in your own specific circumstances – take them into NARP.
Do the work until the work is done.  You will probably need to do more than you "think" you should do. It may be harder than you "think" it should be. It may take longer than you "think" it should take.
When you decide you and your future happiness are your highest priority you stop thinking this way. You will do whatever it takes to be free. You know you're worth it.
(Visited 5,145 times, 1 visits today)
The following two tabs change content below.

Melanie Tonia Evans
is an international narcissistic abuse recovery expert. She is an author, radio host, and founder of Quanta Freedom Healing and The Narcissistic Abuse Recovery Program. Melanie's healing and teaching methods have liberated thousands of people from the effects of narcissistic abuse world-wide.

Latest posts by Melanie Tonia Evans (see all)