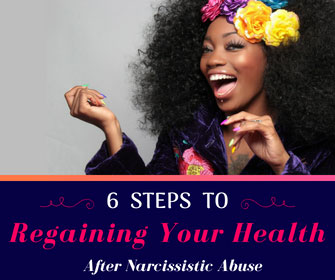 It today's article I want to share with you the 6 steps I took to regain my health after narcissistic abuse, and how to apply them in your life in order for you to achieve a full Thriver Recovery too.
Please note these steps are applicable after we have created No Contact (or strict Modified Contact). Because the truth is: if you are still in contact and can't break away, or at the very least powerfully detach in order to focus on yourself and heal, then you are continually being abused and violated. All the energy you will be expending trying to survive (or obsessing about what is happened) is draining your life-force, meaning it is not available to love and heal yourself back to wholeness.
If you haven't yet signed up to my Free 16-day Recovery Course you can do so now and receive my How To Do No Contact eBook for free, as well as many other helpful resources.
Okay so let's get into these steps to heal … and I'm going to start off with the First Step that actually underpins every step. In fact, this step is so crucial, that without embracing it and applying yourself to it, your recovery, in my opinion, is not going to happen. Rather your life is forever trying to manage your still in existence inner traumas.
Meaning … there is no room or energy for the good stuff to start flowing through you and taking hold.
Sooo … the Number 1 Step in order to regain your health after narcissistic abuse is:
1. Releasing The Trauma From Within
We all know the feelings of anxiety, depression, powerlessness and constant obsessions that are sucking us dry and barely giving us the energy to function, let alone Thrive and create a great life. These feelings when we are mired in them, can feel unbearable and often near impossible to escape.
The truth is this: These strong painful emotions are our inner unhealed traumas screaming 'Come to me and help me!'
If we don't shift this toxic, dense energy out of our inner being, then at best all we can do is attempt to manage it – try to numb it out, or distract ourselves from it. Yet when we have suffered narcissistic abuse, generally these strategies don't work anymore. The trauma inside us is too activated and intense, and it is exhausting and takes virtually (in many cases) everything we have to try to get out of bed and face our life (let alone get well) – it's so big!
Many of us who are into self and personal development will try things like meditation, constant affirmations, journalling, yoga and all sorts of wonderful spiritual work, to try to overcome how we are feeling … yet we discover this self-work has to be constantly engaged in, often for hours a day, and as soon as we aren't doing it the terrible trauma comes screaming up to the surface again.
The amount of effort required to try to feel good often becomes unsustainable – and we discover it just doesn't durably 'hold'.
Because of the level of soul rape we experienced via narcissistic abuse and the terrible trauma that isn't getting better over time, we may decide that medication is the answer. Yet even though we may get some relief from the all-consuming feelings, we still don't feel extended, truly happy, confident or free. We still feel diminished, frail and unworthy and incapable of claiming the life and love that we truly want to live.
It may not be until we 'Go Quantum' that we finally understand what is really going on here – that there is a grand design to this inner trauma NOT going away. Finally, finally (when we awaken) we realise that this was always about us turning inwards to meet, love and heal (release) ourselves back to wholeness.
Of course, we have all been taught to avoid our trauma and not meet it – yet we can't heal what we are not prepared to feel. Meeting and healing our trauma is the ONLY way to be free of it.
I promise you if I hadn't done this, I know I would not be alive today, and I wouldn't be as healthy, radiant and able to Thrive as I am, as well as help so many other people achieve what I have.
So, that is my highest and most important message that I could ever share with you: meeting and releasing your trauma to go free of it is the most important self-mission you will ever engage in to get well. For all of us, when we did this with full self-dedication, we realise how true this is, and WHY nothing else was working.
Once we realise how vital this is, as the foundation for our very healing, this then leads on to Step Number 2.
2. Emotions First… Always!
This I promise you …
You cannot THINK your way out of severe emotional trauma.
Why not?
Because your thinking is always triggered into the exact thoughts that are a match for the traumatic wounds inside you. The traumatic wounds have high-jacked a huge 95% of your entire system, and the weeny 5% logical brain power you have just gets swept into this painful abyss.
Hence why no matter how much you try to think differently in ways that help you feel better and honour you – you simply can't help but default back to the terrible 'stinking thinking' that makes the emotional inner wounds feel even worse.
So what's the answer?
Stop trying to think about how you feel and rather meet your emotions directly in your body, and do the work on them there.
This may sound really weird, if you have never understood this concept before and never tried it. And I don't blame you, because after all we were all taught that whatever is going on is taking place in our head!
(I promise you it's not!)
If you don't improve your emotions, then you aren't signalling Life to do it any differently for you. This is the absolute 100% truth – the Quantum System of Life is totally unconditional. It responds to your Beingness … which means your emotional state.
If your emotional state is trauma, depression, hopelessness, helplessness and victimhood, then the Quantum Mechanics of Life say this: 'I love you so much that I will grant you MORE of whoever you are being.' Which means you are simply creating in the hologram that we know as 'life' more trauma, depression, hopelessness, helplessness and victimhood … which means the right characters have to show up to grant MORE of these states. This manifests as things like: crummy lawyers, friends who don't support you, family members who attack you, horrible bosses, legions of minions … random events that just make life harder and harder and of course your ongoing connection to narcissists who treat your cruelly and with utter contempt.
We need to understand that none of that will stop regardless of what you 'do' to try to stop it … if you are not changing your emotions FIRST. Because, until you do, you are trying to stop the power of an avalanche (all of Life backing your Beingness) with the power of an ant.
Attending to – inside of yourself – 'Emotions First' is the total 100% goal as the absolute foundation of creating a True Life the only way it has ever worked which is from the inside out. This is where Law of Attraction, in its most basic form, falls over badly – the system of 'ignore the bad feelings and just push on into visualising and feeling the good stuff.'
HELLO! With severe trauma we can't JUST do that!
It is not possible when we are clogged up with trauma because there is no "room" to anchor in good thoughts and feelings, our insides are too sick for that.
When we understand the REAL bigger picture truth, this we know … all of this happened so that we could go inside, self-partner and become our own truest loving source to FINALLY stop trying to get love from all the wrong places. Does ignoring our Inner Being screaming in pain achieve that soul evolutionary goal?
That is what this journey is all about, and please know a vastly improved, safer, more empowered version of ourselves isn't possible when we are carrying the wounds or our childhoods and ancestors inside us. This is why we need to turn inwards and attend to 'Emotion First'.
This is now my 100% Life choice, because I know if I am triggered and don't go inside to heal it, I don't have the improved consciousness to show up healthily and powerfully and authentically. Rather, because I am acting out of my wounds, instead of a more evolved self, I will say or do something with only compounds the message (the pain) of the wounds that I am self-avoiding by not going inwards. And of course, I hand my power away by making life and others responsible for how I feel rather than being the powerful generator of my own life.
This equals 'how to lose' for all concerned!
Now that we have covered over the Quantum necessities (Step 1 and 2) that flip your life around powerfully when they become your way of life, I want to also address supplements that I feel are incredibly powerful to help support your recovery.
3. Regaining your Physical Health After Narcissistic Abuse
Our emotional, mental, spiritual and physical bodies are all deeply connected. For a true Thriver Recovery to take place we need to get very serious about DE-TOXING our bodies from all energy and substances that are causing dis-ease within us.
Especially when you're re-wiring your subconscious with Quanta Freedom Healing and letting go of toxic trauma, in rapid and powerful ways, the healthier you become the easier your healing journey will be.
I am a big fan of seeing a Functional Medicine (Holistic) Doctor, who can do extensive blood tests to examine your blood levels and how your internal systems are functioning. Be prepared to invest in yourself (if financially possible) with changes in diet, minerals and supplements. These can all make an enormous difference to your healing journey. If you can't afford to see a Functional Medicine Doctor, then I really urge you to start doing your own research regarding health and nutrition. We are all now in an information age that we don't need to just accept what our standard doctor tells us.
I promise you this – if I had accepted my GP doctor's advice I would not be alive today. (Please know there are wonderful doctors – just explore your options!) We now have so much information and resources at our fingertips that we can educate and empower ourselves with what feels right and resonates with us – regarding diet and health. If you think your diet and health is not impactful on your emotional state, then I urge you to think again. Clean food and water sources are a big part of the puzzle and the sooner you start addressing this the better your recovery will go.
What is wonderful about Quanta Freedom Healing, is if you are suffering resistance to changing food habits, such as for example if you suffer from a sugar addiction – you can shift out the trauma from your body with NARP Modules, and then you will find it so much easier to adopt better health habits – emotionally and practically.
Truly when we have trauma inside we create more of 'that' – we choose junk! Yet when we target and release it, our craving for junk dissolves away.
When we feel better – we do better.
4. Declutter Your Life
This is also about letting go of even more toxicity and stale energy that no longer serves you, in order to make the space for a New Self and New Life. This feels so freeing and healing when we do this!
This includes de-cluttering your home environment. What do you no longer use or have a use for? What can you donate or sell? What do you own that keeps you anchored in a painful past or is keeping you stuck and not able to let go and move forward?
This includes emails and messages and documents.
De-cluttering is also about making a list of and letting go of habits and people which you are addicted to and/or which are not healthy. Who and what no longer serves you and is not aligned with your New Self and New Life. Who and what can you let go of in order to make space for your New Life to start showing up?
I know this can be so hard to do, but please know if you are doing the inner work and the shifting, you can powerfully blast through and release unhealthy stuck attachments to help free yourself. Remember 'Emotion First' is the most powerful way to change on the inside so that you start generating a completely different life on the outside!
5. Moving Your Body Is Powerful
I believe it is important to move our bodies as we heal.
As Thrivers, our goal is to have space in our cells and freedom within, because that is the true foundation of our entire life.  Movement is so helpful for this. I love things like dance, yoga, Pilates and walking. Breathing as we walk in nature is so powerful to open up and release stale stuck energy and create room for wellbeing and good feelings.
Naturally, if you are shifting out trauma as it arises as your self-dedicated lifestyle, you will discover that your body will organically heal. Old complains and dis-ease melt away, and you become healthier, more active, and more eager to move and engage in life.
We also find that our stubborn fat and toxic deposits start to melt away as we reset to our True Self.
I do believe, initially when you are in terrible shock and trauma, you may need to stay indoors on your couch wailing out the wounds. However, when you start to get some space inside, try to connect to gentle exercise, being in nature and finding a regular practice that works for you.
I love to move my body every day, in some way even if it is for only 15 minutes.
6. Evolving Your Habits
If we wish to become highly actualised human beings, surviving and then Thriving after narcissistic abuse, we need to get very serious about how we spend our spare time.
Yes, downtime and relaxation are important. Yet, it is healthy when it's in balance and not used as a way to self-abandon and self-avoid the essential work we need to do on ourselves.
My highest suggestions regarding changing how we spend our time are to replace TV, researching narcissists, negative Abuse Forums and Facebooking with self-healings, positive information and sources that feed your soul, spirit and spiritual development. Spend healthy time in life with things that nourish you, like getting a massage, art classes, nature trips, taking yourself out to lunch, or reading and journaling in cafes etc.
Okay … so I really hope this helps you understand the steps and the self-dedication I took to heal and Thrive, so that you can too, no matter where you are on the journey or how bad it has been for you.
It is our soul's urge for us to GET WELL. We are all being called towards our True Selves, and the wonderful thing is that here in this Community there absolutely is the tools, spirit, and support for you to achieve it.
As always, I look forward to your comments and questions.
(Visited 1 times, 23 visits today)
The following two tabs change content below.

Melanie Tonia Evans
is an international narcissistic abuse recovery expert. She is an author, radio host, and founder of Quanta Freedom Healing and The Narcissistic Abuse Recovery Program. Melanie's healing and teaching methods have liberated thousands of people from the effects of narcissistic abuse world-wide.

Latest posts by Melanie Tonia Evans (see all)