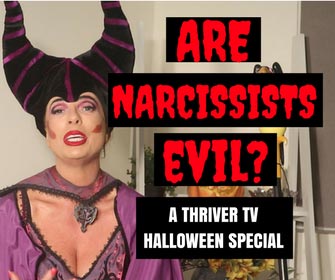 The costume might be a bit of fun, yet today's Thriver TV episode is a really deep, interesting and serious one.
It tackles these questions that so many of us have asked: What is evil? Is the narcissist evil?
We all know the feeling of ice in our veins and the horrible disbelief we feel, and the dread and unspeakable trauma when connected to a narcissist. We know it feels intensely evil.
It also feels like a creepy psychic phenomenon – not unlike the Dementors in Harry Potter who can literally suck your soul and lifeforce from you.
Is this undeniable energetic force that is going on "evil"?
Okay … I want to warn you from the get-go, this Thriver TV episode is going to be controversial.
In response to this discussion about "evil" and narcissists, I reach into the Quantum vault for answers, as well as what I have felt regarding personal spiritual experiences that I have had.
I understand these may not be your beliefs, and I totally respect that as well as your beliefs, and as always with anyone's information – including my own – take with you what resonates for you and dismiss what doesn't.
I promise I will not be offended!
I look forward to having riveting discussions with you about this video!
I'd love to talk about "Evil" with you. What do you believe?
And … did you or are you dressing up for Halloween? I had a BLAST doing it! It was a little quiet here in my neighbourhood, but I know that in some parts of the world it is a very big deal! I'd love to hear about what you or your children are wearing for Halloween and what your festivities are/were!
The following two tabs change content below.

Melanie Tonia Evans
is an international narcissistic abuse recovery expert. She is an author, radio host, and founder of Quanta Freedom Healing and The Narcissistic Abuse Recovery Program. Melanie's healing and teaching methods have liberated thousands of people from the effects of narcissistic abuse world-wide.

Latest posts by Melanie Tonia Evans (see all)