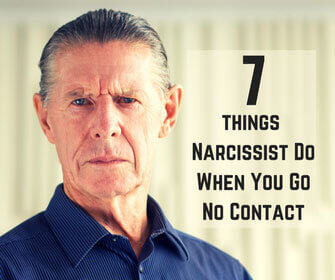 Going no contact with a narcissist, and holding it, is excruciatingly difficult.
Firstly, there are the terrible feelings of loss of leaving someone, and a life, that you poured your heart and soul into.
And … maybe … if we have just tried "that", or if he or she had done "that" … that it could have worked.
And then there's the chaotic thoughts in our head trying to see into the future to predict …
What are they going to do next?
Do they miss me, and will they try and win me back?
Have they found a new target already and completely forgotten about me?
Will they take revenge on me for leaving them?
We know logically what the right thing to do is (stay No Contact and strong and get on with our lives), yet in reality, we feel so traumatised, hurt, empty, lonely and confused that we may doubt our ability to make the right decision when the narcissist does "something" or when a powerful feeling of despair overtakes us.
After suffering two narcissistic relationships and personally aiding thousands of people through this critical stage of the recovery journey, I've witnessed time and time again the behavior that narcissists exert when people go No Contact with them.
Fascinatingly, most narcissists act in very similar ways, so today I'm going to go through the 7 most common things a narcissist does when you go no contact.
First I explain each one in detail, and then I'll take you through exactly what you need to do in each situation, for your own health, safety and to bring about the greatest opportunity for you to heal for real from abuse – once and for all.
Regardless of whether you are still battling through this difficult time, or went through it in the past, I want you to know that my heart goes out to you.
The entire Thriver community and I, are standing with you and for you to end the pain of toxic people in your life.
I look forward answering your questions and comments below.
The following two tabs change content below.

Melanie Tonia Evans
is an international narcissistic abuse recovery expert. She is an author, radio host, and founder of Quanta Freedom Healing and The Narcissistic Abuse Recovery Program. Melanie's healing and teaching methods have liberated thousands of people from the effects of narcissistic abuse world-wide.

Latest posts by Melanie Tonia Evans (see all)