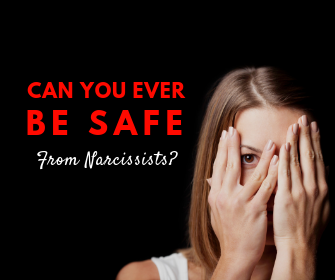 When my life had been turned upside down and inside out, by a pathological person hurting me more than I thought humanly possible, I remember thinking …
How could my judgement have been so wrong?
How could I have let this person into myself and my inner world, thinking that he was the most trustworthy person I had ever known … only to be hit with total carnage instead?
I know, like my previous self, you may feel totally shell-shocked at the possibility of more wolves in sheep's clothing entering your life.
It's not just concerning; it's downright terrifying because when they do EVERYTHING is at stake …
Your emotional, mental and physical health, your finances and all and everyone who is dear to you … and literally your SOUL.
After getting away and even recovering from narcissistic abuse, how on earth can we ever be safe again?
Is it possible and how?
In today's Thriver TV I want to give you the most important steps to follow so that you will not only develop yourself to feel completely inoculated against narcissists, you will literally never even fear being with one again.
That's right – narcissists simply won't be your reality.
Before I begin today's episode I want you to know that we are soon approaching the release of my new book You Can Thrive After Narcissistic Abuse. The release date is only 6 weeks away!
To celebrate the release of my book, myself and the MTE team have been working very hard over the last couple of months and we are very excited to tell you that we will be hosting a 6 weeks to launch party – where we will be releasing lots of content to heal form narcissistic abuse, for real.
Included will be:
Exciting interviews with experts from a range of different fields.
Lots of new video presentations, articles and posts across our social platforms.
Live Q and A's and
Giveaways!
To get all the material we have coming your way, please make sure you are subscribed to the New Life newsletter and also subscribed to my YouTube channel and following me on Facebook and Instagram.
Alright … now on to today's video!
It truly is terrifying, initially, once we start understanding there are people in the world who just don't think and operate the way we do.
It is unfathomable to most of us that there are people who mine, manipulate and purposefully scheme their agendas despite the terrible way it affects others – without conscience, remorse or care.
This defies what we have believed about human nature and it can seriously compromise our ability to 'see the good in people'.
After this shock to the very core of our spirit, can we be safe in Life again?
I truly believe we can. And the way we can is to heal our fear, walk our truth and show up making the choices that do nourish and flourish our soul and completely leave alone what doesn't.
Let me explain how …
Becoming Anti Fear
I talk a lot about anti-fear in this community and for a very good reason – because we are waking up as a collective humanity into taking responsibility for our consciousness and just how powerful we are as Quantum Creators. What this means is if we spend our days researching narcissists, believing they are everywhere and that we must arm, protect and guard ourselves against them, then what have we become?
The truth is we are NOT safe, rather we are magnets for more of what we are trying to defend ourselves from. Just like how dogs bite people who are scared of them and sharks are drawn to bleeding bodies in water, we also become targets for exactly what we fear.
Let me share this simple to understand example with you. I have previously been a dating coach, helping women date and meet men online. The people who are stuck in the fears of 'men are only after one thing' continually get hit on inappropriately, sexualised and traumatised by men doing this.
Yet, the women who have absolutely no fear of men acting inappropriately and if they did would simply ' block and delete', hardly ever (if ever) come up against this and are so prepared that if they do they would have a laugh at the 'twit' devaluing them, thinking that is attractive and would be over it and on to their next chosen reality as quickly as it takes to boil a kettle.
However, the women who are fearful and carrying trauma and terror could spend an entire month agonising over how men are, how there are no good ones available and what hope do they have? In fact, after a couple of these experiences, they would probably ditch dating altogether, sinking into even further contraction and fear.
I love this Quantum analogy – when we are no longer scared to walk under ladders there will be no more on our path. Our job is not to try to avoid ladders, rather it is to welcome them showing up, and then show up powerfully ourselves and be fully prepared to walk under them.
Then you will no longer need to.
I hope you understand this because it is everything. And in identical ways if we don't become anti-fear with narcissists then we can never be free to access emotionally, vibrationally and for real the good stuff in our life.
Not My Reality
I love 'block and delete' when we realise an experience or person is toxic, abusive and not the alignment of our values and truth. When we are still stuck in our inner trauma that matches what this person is hurting us with – we will stay connected, even if just emotionally and mentally.
If we are still rolling around in it, we have not yet dedicated enough to turning inwards to purge, heal and up-level the pain and trauma within us that is being significantly triggered (like the women who carry the traumatic beliefs 'men are only after one thing').
Unconsciously what we are doing is trying to figure out, change and fix the billions of people and situations in the world in order to feel safe – rather than letting go, going within and doing the real work on the only person who we ever can – ourselves.
How do we know that we have done this successfully? When the urge and desire to obsess or fear this thing or person in your life gets less and less and your real life that is a million miles from that previous reality gets more and more.
But it takes work, it takes development, and it takes the understanding that this is where our growth is, this is the REAL opportunity and grist of painful people and experiences, and the longer we keep looking outwards and fearing, researching and protecting the more we deny this to ourselves.
Once you know someone is pathological, non-accountable, unconscious and has no ability to be remorseful or truthful or have consideration for others and is not aligned with your truth and values – stop playing. Block and delete, let go and turn inwards to work as hard as it takes on yourself to release all connections, attachments, and feelings for this person.
Then they will become Not Your Reality.
Not only will the pain about this person stop, you will also have graduated beyond the unconscious tendency to connect to other people at this painful lower vibrational level again. Does that inner development feel empowering and make you safer in your own body going forward into the future?
You bet it does!
Your Authentic Self Revolution
This is the deal, if we are hungry we may look to junk food as an instant hit to feel better. We make excuses for what we choose and don't care about how that faux food could be abusing us.
The same is true regarding our inner development. If we are not dedicated to feeling full, whole and releasing ourselves from our traumas of CRAP – the fears of criticism, rejection, abandonment and punishment that made us play small, go along, keep the peace, continue to believe lies and excuse unacceptable behavior and hand our power away to abusive people, then we will choose relationships and situations that are as toxic for us as junk food.
If this is the case, of course we are going to be in fear. Of course, we are not safe, and the thing that brings us the most fear is this: 'I can't trust myself, I can't show up and back myself and I still try to get other people to grant me love, approval, survival and security instead of being these sources to myself.'
When we are full, healthy and self-loving we are no longer relationship addicts trying to self-medicate our inner emptiness. We don't jump straight into friendships, love affairs and business deals with people. We are not living in a society where people are holding a gun to our head making us do these things; we are now waking up to the truth that we are Quantum Creators making up all our experiences, and unfolding them, from our own inner beings.
We can have power, by trusting and listening to any uneasy feelings in our inner gut (tell me it's not usually 100% right!) ask questions, take our time, draw up contracts, honour ourselves, retain our boundaries, investigate anything that we need to, and know there is an unlimited supply coming our way if this 'one' doesn't work out. We understand that at Quantum Reality there are trillions of permutations that are being called forth from our inner alignment constantly.
Please know no narcissist will hang around while you do your due diligence. They are instant gratification junkies – they need the hit of narcissistic supply and your energy very quickly or not at all. If they know the deal is not stacked massively in their favour, because you are too self-respecting and honouring, they will need to move on to easier pastures.
The Power of Being You
I promise you, in my life now I don't consider if someone is a narcissist or not. It's not even important and I truly don't care. I actually don't have the energy to work out other people, I'd rather just be myself.
I have found the biggest inoculation is  I don't hand people my 'sad stories' for them to tell me how they will be the oasis in my desert to fix it (narcissists are experts in this) because I now have taken full responsibility for healing my own sad stories myself.
Additionally, I am prepared to have the difficult conversations, honour my gut feelings and tell the truth about what I feel or need to retain my boundaries and values.
Toxic people leave my experience because they can't mine me to their own benefit anymore and beautiful genuine people gravitate towards the realness because it reflects who they are themselves.
Is fear necessary? Not at all. I have less fear than I ever have, even though previous narcissistic experiences desecrated me to a millimeter of losing my life. What was necessary for my transformation was the intense work on myself so that I could be totally confident and comfortable in my own body and skin regardless of what anyone else is or isn't doing.
Gosh … I hope this has helped inspire you to become this true version of yourself also!
Can you see how our world would transform personally and collectively and how narcissists would be starved of any energy or power whatsoever if we all just put in the effort and work to become fully ourselves?
Truly, when we work on ourselves and make it our greatest mission to develop and show up as our authentic self, narcissists are about as relevant as the greasy hamburger that we just don't even think about eating anymore.
If you know it's time to get to this level and you deeply feel the truth of what I am saying – join me on the other side (this side!) – which starts by connecting to my free inner transformational 16-day recovery course, which includes an invitation to a healing workshop with me, a set of eBooks and lots more. To access these, just click the link on the top right of this video.
And if you want to see more videos make sure you like and subscribe, so you get notified as soon as each new video is released.
I've really loved sharing this with you today, and I'm really looking forward to our conversation about this!
And make sure you are linked in to receive all upcoming notifications of my 6 week Pre Book Launch Party!
The following two tabs change content below.

Melanie Tonia Evans
is an international narcissistic abuse recovery expert. She is an author, radio host, and founder of Quanta Freedom Healing and The Narcissistic Abuse Recovery Program. Melanie's healing and teaching methods have liberated thousands of people from the effects of narcissistic abuse world-wide.

Latest posts by Melanie Tonia Evans (see all)