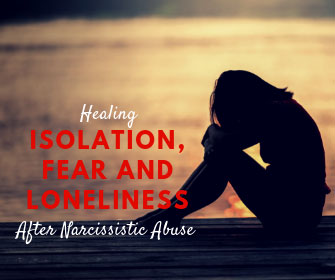 Recovery from narcissistic abuse is such a big thing. It is one of the hardest things we will ever have to do because there are crippling feelings to deal with.
There is the death of the dreams that we thought we were going to be living with this person, the shock of what this person is capable of, the fallout due to the smearing, the losses of finances, resources and our health (all the usual symptoms of narcissistic abuse), and the dreaded pain of the reality of life now, as we look at the rubble of our previous life on the floor all around us.
In amongst all of this, I believe there are three overwhelmingly painful and traumatising feelings that we are suffering, regardless of the practicalities and the real-life battle we are facing and suffering.
These are Isolation, Fear and Loneliness.
The Insidious Feelings of Isolation
We feel so alone with all of this. We want to clutch onto someone or something to help us, yet they can't. We feel shameful, defective and broken and that no one can really understand us. So many people in our life simply can't get it. They either don't see what the narcissist has done, or tragically side with him or her, or if they are with us, just tell us to 'get over it'.
Additionally, maybe we have been hiding from others what is really going on, or simply haven't been able to face them. Perhaps we have become so reliant on, trapped with and trauma bonded to the narcissist that we don't know how to connect and relate to other people any more. Now that the narcissist has gone, we may feel like we are dying without their presence because we feel so emptied out and incapable of looking after ourselves and generating our own life.
This may shock us, especially if we have been a person who previously prided ourselves on being strong and being seen by others as capable. Now, horrifyingly, we may feel like a man or women stranded in the middle of a barren desert where no one is coming, and there are no resources available for us.
Initially, after narcissistic abuse, we may feel like the only person on the planet who has suffered this and felt so low and shattered, but I promise you that we aren't. There are so many people who have experienced these common feelings of utter helplessness, hopelessness and being hooked, addicted, obsessed and like life will never be okay again.
Soon we will look at how we can recover from this, but before we do, let's check out 'the Fear'.
The Frightful Feelings of Fear
The feelings of fear that engulf us because of narcissistic abuse are akin to a literal soul fracture.
Everything we believed about ourselves, others and life has been turned upside down and inside out. What terrifies us the most is we don't know who we are anymore other than this screaming agony inside us which is letting us know that something is terribly wrong with us.
It's very scary when we can't just get on with our lives 'as normal', and we have no idea how we are ever going to even 'feel normal' again.
These questions haunt us: Why can't I just get on with it? Why can't I just forget what happened? Why can't I let go of the urge to reconnect with this person who I know is/was destroying me? Why can't I get them out of my head no matter what I do?
There are reasons for all of this, which our normal human conditioning hasn't taught us about. Reasons that we only start discovering and releasing ourselves from when we go deeper than the standard faux solutions which is to 'do or take something so that these feelings stop.'
The pain of narcissistic abuse is terrible and inevitable, but it only becomes and remains chronic suffering if we miss exactly what the pain is all about.
Emotional pain and fear are no different to a baby crying, a ceiling dripping or your car engine making grinding noises. It means 'something requires attention here and if it doesn't get your attention then there will be a bigger problem soon,' such as nappy rash, ruined carpet and furniture, and your car engine stopping.
The phenomenon of narcissistic abuse is a soul healing opportunity at the highest level.
When we are carrying traumas and false beliefs that are not our True Self, that unconsciously keeps us trapped and rolling around with these people, rather than leaving and looking after ourselves, we continue to be abused with the evidence of these continuing traumas and painful beliefs.
This hurts like hell. Our unhealed old wounds are ripped open repeatedly. The more we look to the narcissist as the solution and try and change and fix them to stop the fear and pain, the harder these wounds get smashed open.
Finally, when the relationship ends, we are left with the wounds and aftermath of the abuse of being out of alignment with our true selves and true life and trying to fruitlessly hold a false self responsible for it. We are the victim. We feel ripped off, devastated, cheated and deeply abused.
This is all a part of the normal feelings and trauma until we realise the truth. This person is showing you those insecure, unhealed parts within yourself that weren't anchored yet in your own power to be the source of your own life, generating your own life with the healthy components and people of life, regardless of what any other people are or aren't doing.
The terrible, shocking fear we feel, I promise you, is this: Our inner being knowing we have not yet turned inwards to self-partner, and that no one is at the helm, and that looking outwards to false sources only means more pain and destruction is coming.
Now let's check out Loneliness.
The Empty Terror of Loneliness
We may believe that 'loneliness' confirms that we are unloved, unworthy of love and all alone because of this. In our conditioned human makeup, we have believed that our worth is what other people reflect back to us. Yet this is such a false premise.
It is in the loneliness that occurs, because of narcissistic abuse, that we can finally discover the key to our true emancipation and be released from the old self of abuse and powerlessness to the new self of freedom and powerfulness.
Let me explain …
How to Heal Isolation, Fear, and Loneliness
This is how we start the process… Say this declaration with me: "I (my name) I am going to turn my loneliness into the greatest mission, connection and love for myself that will heal all of my life from here onwards, and so it is."
How does this feel in your body?
You may want to write this down in your journal and date it to make it really concrete for you.
Now let's dive into this.
We will never overcome our traumas and limitations until we embrace loneliness because within it we establish the most vital relationship that we will ever have, which is the relationship we are having with ourselves.
At the quantum level, everyone who is in your experience is reflecting back a part of you. Many people get this confused when they say 'What! You are telling me I'm a bad person because I have been with a narcissist?' That is not what I am saying at all. What I am saying is that people treat us, and we stay attached to the treatment that matches how we treat ourselves.
Therefore, if we invalidate and are hard on ourselves, then we accept people who treat us the same way. If we don't love and accept ourselves and expect ourselves to be 'perfect' then for another, we will never be good enough. If we self-abandon and self-avoid ourselves with distractions and addictions when we are in emotional distress, then we gravitate to others who will abandon and replace us when we need them too. So within, so without.
Please don't for one moment think that if you clean this up that the narcissist would be different. That's not what I am saying. Narcissists are narcissists. What I am trying to help you understand is that if we are not having a true and loving relationship with ourselves, then we are susceptible to getting with false selves who will smash us with our own unhealed wounds as hard as it takes until we turn inwards to free ourselves from them.
How do we heal and create a healthy connection to life and others again? By firstly connecting with ourselves. In the past when we had traumatic events and problems, we may have been able to get up and get moving and recommence, despite the pain. Narcissistic abuse is different. This time trying to do that doesn't work. And it's not meant to, because rather than self-avoid and self-abandon the inner screams of pain, it's now time to honour, 'come heal this.'
When we dedicate to the truth and start leaning inwards to these unhealed places of ourselves to heal them back to wholeness and wellbeing, the pain stops, and the incredible feelings of growth, expansion, wisdom, resolution, and gratitude begin.  If the feeling of pain of the breakdown of your life from narcissistic abuse is a 10/10 on the scale, then I promise you the breakthrough feelings on the other side are a 10/10 of even greater magnitude.
I know it's the hardest thing you could ever do, meet yourself and heal. Yet, it is the one action of your life that will yield the biggest results of your entire life. I and many thousands of people in this community have discovered, through embracing loneliness and turning it into intense, devoted self-healing dedication, that we have emerged as the joyful, confident, capable, whole people that we always wanted to be, and our life started to truly work.
What is so beautiful about this community is that you don't need to feel like you are alone. We intimately understand what you are going through, and we help support you to help yourself in ways that mean you will not feel nearly as isolated whilst you're learning how to self-partner and free yourself from the fear and pain.
I know that you may not have any idea yet how you are going to heal from the terrible fear and pain. And that's okay, you don't need to. I'm going to show you, because I've been helping people do this for real for more than 10 years now.
The first step is by connecting to my free inner transformational 16-day recovery course, which includes an invitation to a healing workshop with me, a set of eBooks and lots more. To access these, just click the link on the top right of this video.
I'd also love you to scroll down and share with me what was the greatest 'ah-ha' moment you had as a result of watching this video today.
So, until next time… keep smiling, keep healing and keep thriving because there's nothing else to do.
The following two tabs change content below.

Melanie Tonia Evans
is an international narcissistic abuse recovery expert. She is an author, radio host, and founder of Quanta Freedom Healing and The Narcissistic Abuse Recovery Program. Melanie's healing and teaching methods have liberated thousands of people from the effects of narcissistic abuse world-wide.

Latest posts by Melanie Tonia Evans (see all)