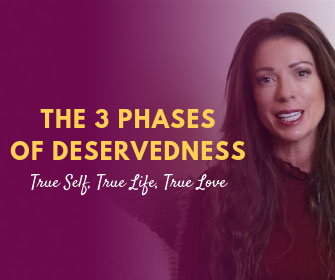 Deservedness applies to all of us, whether we are still in the heavy trauma of narcissistic abuse, or if we have recovered enough to ask 'What's next?'.
There are 3 things I believe we all want.
To be our True Self.
To have a True Life
To experience True Love.
Are these things just far-fetched concepts that are unrealistic?
Certainly, after being narcissistically abused we may barely be able to put one foot after the other and stay vertical, let alone believe in having a FABULOUS life.
Does living this way mean our lives will be wonderful all the time?
Or … does it take more than that?
I certainly believe it takes more, yet the birth into these ways of being are totally tangible and achievable for all of us when we know what they are and how to access them.
And that is what Today's The Thriver's Life episode is all about.
Video Transcript
Before I get started on this week's episode, I want to mention that I just received the first copy of my soon to be released book 'You Can Thrive After Narcissistic Abuse', and you can see the picture of it on Facebook or Instagram. The links to these are in the description of this video.
And to celebrate the release of my book, we have lots of exciting announcements that I am going to be sharing with you over the next few weeks. The best way to stay up to date is to make sure you are subscribed to my New Life Newsletter and following me on Facebook and Instagram where we will be posting all these exciting announcements.
Okay, on to today's video!
Welcome to the Thriver's Life series, the creation of your highest and best life after narcissistic abuse.
Today's topic is such a lovely and expansive one, and I have the absolute joy of delivering my first ever video to you from my new home!
I love this place and what is awesome is I am literally a stone's throw from the beach, just around the corner from awesome cafes and surrounded by friendly, beautiful people. I really couldn't ask for more.
And today I want you to know that deservedness applies to all of us. Those of us still in narcissistic abuse trauma, and those of us looking for the next steps after releasing ourselves, because deservedness is key to a happy, healthy life.
What is the Truth About the Life We Are Born To Live?
Let's get really real about this, we all want to be our True Self, have our True Life and experience True Love. But maybe we have never understood what this really means. It all seems like a lovely concept but are these things attainable? Do they exist? And what exactly are they?
I'd love to share with you what I think it all means. I believe it means aligning with what Creation truly wants for us, which is our highest and best, the real deals that will gratify our heart and soul because they are aligned with our truth.
I don't believe that there is any force declaring you are doomed, you are damned, and you are meant to live a painful, terrible life. I really believe in a benevolent force, whether we want to call it Creation, God, Life-force or Wellbeing, which is ready to nourish and flourish us beyond measure if we just get ourselves out of the way; meaning lose the trauma that is stopping this almighty force of abundance and love flowing through us as us.
Why Has It Been Such a Struggle?
And, I know … believe me, I know … after narcissistic abuse, we may really struggle to believe this because we feel victimised, terrorised and soul raped to the point where nothing seems abundant, good, healthy or even remotely flowing.
Why has this been the case? I really believe this has been our experience because before we got here we said 'Bring it on, let's embody and bring up all this trauma that myself, my ancestors, the collective and humanity have been carrying. Let's get it all up into my consciousness so that I can claim it, feel it, let it go and liberate myself and others from it.'
Those of us who have been narcissistically abused, we are here on angel's work, and it's no small feat.
As the saying goes, 'there is nothing else to do' but to do the work. Namely, find and release the trauma and open ourselves up to have the Light enter us (which is exactly what Quanta Freedom Healing helps us perform in record time and startlingly direct ways) so that we can have the birthright of wellbeing and abundance flowing through us.
Which brings me back to the meat of today's topic, deservedness. So much of the human condition has been about shame and lack of deservedness. In fact, it has been a heavy part of our conditioning to believe that we are less than, should stand at the end of the line and that resources are limited, and others deserve more than what we do.
Yet, in Quantum Law which is the absolute truth of things, there are no limits, there is plenty, and everyone deserves. It's conditioned scarcity thinking that has set up separation, fear, depravity, self-sabotage, me versus you and even narcissism. 'If I don't control, manipulate and take, then I won't get my stuff, someone else will take it from me.'
All of this defies the true laws of Creation and is a part of the sickness that our world and humanity has been plunged into. At the quantum level, everything is One, which means that you are Creation itself. You are the Oneness of all that is. How can you not deserve when you are already All Of It? In fact, the ultimate blasphemy is to see yourself as small and less than and not deserving of what it is not just your birthright to have but who you actually are.
Vital Inner Identity Alignment
Let me explain to you how manifestation works at the purest quantum level. If your Inner Identity does not embrace a certain belief about yourself and life, then this 'thing' will not be in your experience. It's a Law as absolute as gravity – so within, so without – because you are the Quantum Creator of your reality; that's how powerful you are.
The real question is, are you going to claim your power? Are you going to do the rearranging at the inner level, or try to battle your outside circumstances with the still existing inner painful beliefs? I hope you are starting to understand by now that the former track will change your life forever and the latter only cements you deeper in the pain.
There is no amount of doing that can overcome a defunct, pointing in the opposite direction, being.
The painful thing is most of our inner identities by the time we have got to patterns of disappointing relationships and/or narcissistic abuse clearly don't organically have healthy, wellbeing beliefs. In fact, they are the exact opposite. How do we know this? Because our important and impactful relationships, that we stay attached to and roll around in, are always reflecting back to us the state of our Inner Being.
Okay, let's examine where our inner identities are at. And please I don't want you to judge yourself or feel helpless, because you certainly aren't. If you have the courage, awakening and self-responsibility to accept where you are at, then you are already on your way home. Then it's a matter of landing this plane by rolling up your sleeves and doing the work. Today I'm going to give you some answers regarding exactly how to do that – to get yourself into health and deservedness, and tapping into the stream of joy, well-being and plenty that is yours by Divine Right.
Who Is Your True Self?
Let's start off with True Self. Who are we as this person? Let's get very clear that living as your True Self does not mean that you are a perfectly sorted person always having a magical life. What is real about being a True Self is that you have got real. You are no longer living in illusions, delusions and denial. You see the truth. You start to accept all of it as a blessing. You know it is all in perfect and divine order, and it is all happening for you and not to you, and there are no mistakes. You know the benevolent life-force is leading you home through whatever means necessary IF you get the gift and stop resisting and hating your awakening (which is usually painful because that's the only way it gets our attention).
Then, when we take the gift and awaken, we can stop trying to change the billions of people and circumstances in the world and instead tend to the quantum machine of Oneness that exists inside us to forever reprogram our personal experience from this point forward.
At True Self level our orientation is to get deeply self-partnered and instead of trying to fill our emptiness and self-medicate away our pain with outside people and substances, we release our trauma and replace it with Light, which is our True Self, True Life and True Love.
And we start living truthfully, no longer bargaining with, clinging to, fixing and trying to change people to feel loved, safe and whole. We bless and release all that is not our truth, without resentment (which has to be released) and with an open heart of compassion, wishing them the best, we have a whole heap of available beautiful space within to accept who and what is aligned with our authenticity, values and healed deservedness.
Then we see how our alignment and choices and open-hearted truth starts to unfold real, blessed and enriched soul-gratifying results.
That's True Self.
Do you want this?
Did we come here to live under a guise of denial and delusion, or are we prepared to walk through the fire of our own traumatised consciousness to get to the other side, the only Beingness that was ever going to truly gratify us?
I'd love you to pause this video and scroll down and give me your thoughts on this. Honestly …
How Do You Access Your True Life?
Alright, let's move on to creating our True Life, which is only possible if we are prepared to live as a True Self, which is so ironic because most people try to put the cart in front of the horse and wonder why they continually aren't getting anywhere, or even keep getting squashed.
Let's just reiterate what True Self is – realising everything is happening for you and not to you to wake you up, and that all of Creation adores you, and that when you lose your trauma that then you will see yourself as Creation does as more and more of it flows through.
Then you can target and release the beliefs of lack of deservedness such as: it is greedy and selfish to flourish and prosper, others deserve this more, other people will miss out if I get the good stuff etc. Additionally, we may also be carrying all sorts of beliefs about being bad, wrong and defective and can't have the good stuff because of not being good enough to deserve it.
And maybe we think we need to do the spiritual self-sacrifice model, 'I can't accept abundance for my life's work, and even though I give all my time and energy to others, my house and car are cracking up around me, not to mention my personal health!' Boy, do I know a lot of spiritual people like that who are entrenched in literal past life vows of poverty believing that this would get them to divinity.
Divinity is right here right now, and it is about wellbeing and space in our cells and being a generator of expansion, positivity and abundant blessings for self and others. And allowing others to know that they too can rise and show others the way out of the pain and darkness.
The Generation of True Love
Now True Love … this is big for many of us in this Community. How many of us have settled for second, third or less best? Or think we are aligned and then discover we aren't and stay regardless, instead of being alone and waiting for our true aligned connections. How many of us have had such low deservedness that we don't know how to generate the love and connections that really are a match for our True Self?
Life truly is a series of choices. The incoming stream is always there, and the mechanics of life are always quantumly responding to our choices. Yesses mean, 'okay that's your level of self', and no's without any additional energy on that choice means 'okay that isn't a match for your inner identity.' Every well placed 'no' (without anger, victimisation and resentment) is an up-level to a greater and higher value of your Inner Identity composition and set point, where things and people of higher value enter you stream.
How do we get into this flow of wellbeing? By letting go of the snags (traumas) within you that are keeping your enmeshed in recreating the past that has hurt you, and healing and step into your higher level of deservedness.
Where Is Your Inner Identity At?
Okay, I'd like you to follow these instructions in your own time. Get out your journal and ask yourself 'Where am I with my deservedness to be my True Self?' Listen to how this feels in your body because this is how your Inner Identity communicates with you. Rate yourself out of 10.
A 0/10 means I am nowhere near my deservedness, and a 10/10, means I'm there. Repeat these questions with 'True Life' and 'True Love' and be really honest with what your body reveals. If you are not a 10/10, then you have trauma blocking your organic, true flow of wellbeing on these topics, that is yours to have IF you get your trauma out of the way.
Those of you working with NARP, you can use the Goal Setting Module (GSM) and set the goal 'I deserve and am open to fully receive the highest expression of my True Self, True Life and True Love'. You may want to work on these separately or all together to start clearing your trauma blocking this.
Get prepared for incredible breakthroughs by doing so! They will blow your mind!
Those working with the Empowered Self course you can start working these desires and goals into your expansion Module work.
And please ask any questions you want regarding this, and I look forward to our very rich and lively discussion about this ground-breaking topic!
And remember, after narcissistic abuse recovery, gloriously, we take it further!
Why?
Because we CAN!
Lots of love,
Bye Bye.
The following two tabs change content below.

Melanie Tonia Evans
is an international narcissistic abuse recovery expert. She is an author, radio host, and founder of Quanta Freedom Healing and The Narcissistic Abuse Recovery Program. Melanie's healing and teaching methods have liberated thousands of people from the effects of narcissistic abuse world-wide.

Latest posts by Melanie Tonia Evans (see all)