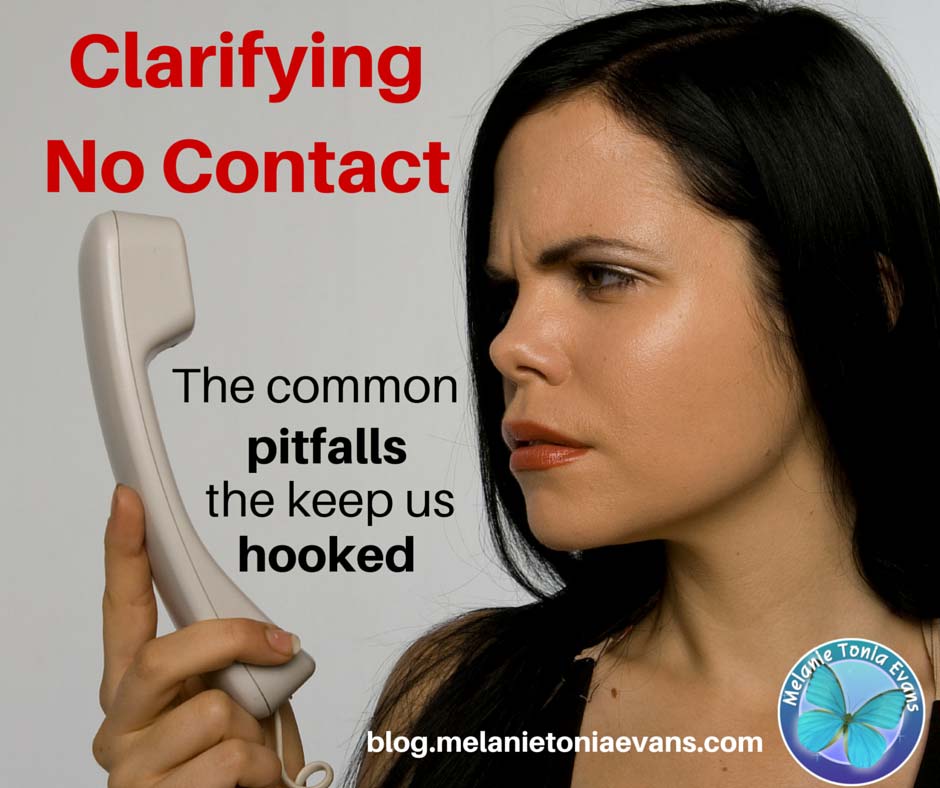 No Contact is probably the biggest buzz word in narcissistic abuse recovery, and that's really no surprise because it's widely acknowledged that No Contact from a narcissist is vital in order to recover from one.
Anyone that has experienced narcissistic abuse knows the feelings like black ink and ice running through your veins when enmeshed with a narcissist.
If you don't achieve No Contact it is like being continually poisoned whilst trying to detox from the poison that is making you so sick. It's very, very difficult to get well when you are constantly tied up in the battle of trying to survive the onslaughts of narcissistic abuse.
But really there is a deeper truth going on.
And that is that we are dealing with an obscene addiction. And like all addictions, what we are addicted to is an attempt to self-medicate our own inner broken parts. We are trying to get relief from them.
This attempt to self-medicate is always a pull towards what generates "more of" these broken parts, rather than understanding we need to let go, detach from what we are addicted to, and take responsibility for and heal these parts ourselves.
What are these parts?
They are the young, insecure parts of ourselves which have not yet become whole, which are trying to seek love, support and approval from the narcissist.
These are the parts of ourselves that feel so devastated by what the narcissist has done, and are causing us to feel like we will emotionally and literally die if we don't somehow fix it and change what the narcissist is or isn't doing.
No Contact is a VERY big deal, as is Modified Contact if co-parenting or being in another situation that necessitates some contact.
But what does No Contact really mean?
No Contact is as Emotional as it is Physical
We may think that No Contact simply means "not contacting someone" and "not taking their contact", but if we are not really clear on what No Contact means and how to get there – not only will we still feel "infested" by the narcissist's energy, we will also be at risk of breaking or taking contact.
There is a much greater reality going on here than just logical or physical realities. Narcissistic abuse is an emotional and spiritual phenomenon. It is a spiritual awakening of the highest order.
There are many people who have been No Contact for decades, yet the narcissist still lives inside them as if the abuse happened yesterday. The contact is still happening in their very being.
Sadly, people think that this is a normal side-effect of abuse, and that the conditions of agoraphobia, Complicated-Post Traumatic Stress Disorder and a diminished trust in life, others and self are some of the legacies of being abused by narcissists.
This is what is often termed as a "survival recovery" – meaning I got out, I survived, but yet I am diminished as a result.  This person may never have recovered from the smearing, the emotional and financial loses, and is suffering mental and even physical health effects as a result of the narcissistic abuse – without getting better.
The truth is this person may have done a physical No Contact but they did not do an emotional one. They never made their healing all about raising and healing their own consciousness – the gaps that the narcissist was able to target in the first place.
And this is perfectly understandable when we have been conditioned to think that our life is "logical" and that "reality" is about what is physically happening, rather than our emotional recovery being placed as the highest priority.
Way too much emphasis is placed on the "seen" world and not the "unseen" world – not realising that all our results in the seen world are emanating from our emotional ability to generate our life – period.
When we understand Quantum Truths we can start to see how the inner drivers of our life happen – they are emotional not logical, and our Inner Being knows no difference between actual events and the memories and emotional chemicals our perceptions create of past events which are still coursing through our beings.
The total Quantum Truth is this – there is only "now" and the emotional state of your Inner Being now. There are people who have been No Contact for thirty years who are diminished, traumatised and living extremely limited survival realities that are still based in fear and protection.
Conversely, there are people who have only done a month of No Contact who are working hard at cleaning up their original traumas that led them into narcissistic abuse unconsciously. These people who have made their journey all about evolving themselves, accept the narcissist was a catalyst and are already starting to feel more expanded. They are on the way to their True Self more so than they ever have been in their entire life.
Some time ago I met a lady who escaped a narcissistic marriage 28 years previously. She hadn't had contact with him for 26 years, yet she confessed to me that she was still terrorised by what he had done to her.
Every day she still obsessed about how he always had a woman that he "loved" after discarding her, despite declaring his undying love when they were first married. She had been agonised about how "the love of her life" could just move on, whilst she was too heartbroken to maintain any new relationship.
She had never been able to reconcile these tortured emotions, even after numerous psychiatrists and copious amounts of anti-depressant and anti-psychotic medications. This lady had at times in her life when the pain got too much, been admitted to psychiatric care.
She never broke No Contact physically, yet he was in constant "contact" in her thoughts. The "sensible adult" inside her was preventing her making physical contact with him, but the broken inner child that she had never gone to and healed – who felt so abandoned by her parents before him and then by him – was still screaming inside her in agony.
These parts of her hated and resenting him for not healing her original emptiness of emotional neglect, and then at times fantasised about how one day he would return to her and grant her the love she really craved, but never received as a child.
Both forms of thought about him were emotional ongoing contact.
No Contact Without Coming Home to Ourselves
When this lady didn't understand the deeper reason she had experienced a narcissist, she was stuck with her young wounds with no way out.
Even though she had separated from him physically.
Her husband, as a soul contract, was never meant to grant her a pardon to these wounds. Instead he had been in her life to allow her to see them, so that she could finally stop self-abandoning her inner being.
This was the opportunity for her to self-partner, heal her original traumas of emotional neglect and put an end to the future trajectory of playing them out with other people – mirroring how her essential relationship with herself was positioned.
If we are continually experiencing the emotional content of unfinished business that the narcissist brought up for us, we are still doing emotional contact.
The narcissist's abuse, our energised trauma and our diminished self lives on.
When we haven't turned inwards to become the healer of our own emotional Inner Being, we will always position the narcissist as "the healer of our life". This happens when we were unconscious to the soul contracts we have with these people.
Even though narcissists showed up as "the person to love us" – as the love partner or as a significant role model in our life such as a parent – this person was never going to love us back to our own health and wholeness.
No matter which way we slice and dice it, this person was not the healer of our emotions and life – rather they were the messenger of all the areas of our life we have not yet self-partnered and loved ourselves back to wholeness on.
As a part of our soul's desire to evolve beyond our previous personal and ancestor's emotional levels of consciousness, the narcissist in our life hits these parts very hard.
When we remain unconscious, we hang on despite evidence showing us logically that this person is hurting us more and more. In fact, the more we try to force this person to provide us with the love, approval and security that we are not providing for ourselves, the more they will abuse us.
And that is exactly what these soul contracts are supposed to produce.
And even if we pull away without cleaning up our original traumas and subconscious programming that disconnected us from loving, approving of and generating our own incredible life, we remain in agony about what the narcissist did to us.
We still hold them responsible because the soul contract is not fulfilled.
Meaning we haven't come home to ourselves yet.
This is a time when No Contact emotionally is incredibly difficult and naturally could be incredibly difficult physically.
When this person is still held responsible by us for our life we will be addicted to getting "something" – some energy from them. We may be so addicted (which always means not taking responsibility and turning inwards to heal our own emotional self) that we know this person is killing us, yet we feel like we will emotionally die without this person.
It is very, very hard to get serious about No Contact at this point, because we are still showing up within the emotional container of the unhealed child – hoping unconsciously, powerlessly and immaturely that the narcissist will heal our wounds.
We are unconsciously looking for a "parent" to do it differently, rather than becoming a healthy parent / partner to ourselves.
This is when we will do No Contact like a drug addict. We may obsessively check up on Facebook, or seek information through any channels. We may read through old texts and emails that we haven't deleted. Maybe we look at old pictures together. Maybe we hang onto things that the narcissist bought us that remind us about him or her.
If we do any of these things, we are still doing emotional contact absolutely.
And this stunts recovery … totally.
This you need to understand …
It all gets back to the emotional healing. Are we doing the unravelling and healing of our original wounds? Because if we don't commit to this, we significantly run the risk of staying hooked.
The Reasons We Break No Contact
I myself broke No Contact more times than I could ever count. That is not unusual – in fact it is very usual.
Virtually all of us did this before working on the original traumas in our subconscious.
As Pema Chodron famously said "Nothing ever goes away until it has taught us what we need to know". Just as such, I know with all of us who ever struggled with No Contact, that we had not fulfilled the soul contract of narcissist abuse and that is why we were still hooked into it.
We were making it all about the narcissist instead of healing ourselves.
Another one of Pema Codron's quotes which is very appropriate comes to mind … ""If someone comes along and shoots an arrow into your heart, it's fruitless to stand there and yell at the person. It would be much better to turn your attention to the fact that there's an arrow in your heart."
When we believe the narcissist is responsible for our love, approval and security instead of being these things to ourselves – we are in for a hard ride.
It means we haven't had enough pain yet to awaken out of unconsciousness into the consciousness to make a 180 degree turn towards ourselves, inwards, to our essential self-partnering.
The vicious cycle of addiction in narcissistic abuse is this:  abuse – triggered wounds –attempts to try to get the narcissist to fix the wounds – escalated abuse – escalated triggered wounds – escalated attempts to try to get the narcissist to fix the wounds …
Do you see? Can you understand how this takes us all the way to our own demise?
Because we haven't awakened yet to the soul contract of the narcissist making our conscious wounds conscious so that WE can heal them.
In this phase we are likely to only half-heartedly put up blocks to contact. We may easily cave in to moments of weakness, or take contact when the narcissist hoovers us for narcissistic supply again.
 This following information is a part of what we are deeply workshopping in the 3 Key Facebook Group at present. To be a part of this Group click here to join.
I promise you … I know intimately how hard No Contact is when you feel addicted, when you feel hooked, and when you just can't seem to stop giving into those highly charged, panicked urges, or the "excuses" that your mind keeps telling you, which make you either take his/her contact or initiate it.
Despite knowing that it only ever leads to the same pain, over and over again.
And the reason I am sharing my story with you is to help you know there is a way out of the insanity and hell of this addiction – truly … I promise you.
I broke No Contact soooo many times. I broke No Contact, even after moving out, even after settlement was finalised, and even after businesses were separated.
I broke No Contact even after divorcing him for god sake!!
And I snuck around like a drug addict … lying, hiding the fact I was still seeing him behind everyone's back – including the person I love the most in the world – my son Zac.
Why did I do this?
Because I was drastically unhealed. My young wounds had grabbed complete and utter control of me and I was powerless against them. I would stay away for one hour, one day, one week, and at one point an entire year … but, because I didn't know how to, at that stage, address my inner wounding that had hooked me in so hard to him – I did it the tough way.
I was white-knuckling all the way barely hanging in there. Constantly having to work sooo agonisingly hard at reminding myself about all the reasons why I should stay away. Which amounted to attempting to manage my wounds instead of self-partnering and healing them.
I thought I was not free from him – but the truth was I was not free from myself.
I was like a heroin addict, and when I would cave back into the addiction when my urges to reconnect got the better of me, I would sell my soul for one lick of a crumb of hope regardless of what I had to go through to get it.
I was sicker than sick …
And it is important to understand what happens is this: the brain organises around the body.
And what that means is – when we have unhealed inner subconscious wounding (emotions) our brain will find a way to default to agree with these wounds. Which is exactly what subconscious beliefs generate – the validity of the belief with Life itself.
These were some of the triggers that my young wounds (unhealed at this stage) would get hooked in by, causing me to break No Contact, causing me to make justifications and excuses in my mind.
1) Sometimes it was because of something horrible he did that I was incensed about, despite knowing logically he would never be accountable.
The related inner belief systems that had not been re-programmed: "People who love me crush my boundaries / I have no rights."
2) Sometimes it was because other people would report what he was doing, despite realising his behaviour had been exposed to me as sub-human long before this.
My unconscious related beliefs: "I can't trust people the people I am supposed to trust. They say one thing and do another."
3) Sometimes it was because he was love bombing me and promising me the world to reconnect, despite knowing that would last all of a day and then would be back to "narcissism as usual".
The unresolved beliefs in my life still hooking me into this was: "I am not important enough to be loved decently or safely."
4) Sometimes it was because he "seemed" to be owning that he had issues and that he would work on them. (As above.)
5) Sometimes it was simply because I was so shattered, empty, lonely and devastated about the man and life I had lost, that I couldn't' stand it anymore, and I'd ask to see him, despite knowing that if I told him I missed him he would tell me all the reasons why I was not good for him!
This was HUGE for me! Like so many women I had the trapped DNA belief traumas of "I can't survive without a man."
6) Sometimes it was because I kidded myself in thinking "I can handle this, just seeing him once a week for dinner is not harming anyone!" Even though knowing that was generally a disastrous, intensely traumatic evening.
This was the justifications and making excuses because my internal beliefs went like this: "I have to cling on and make this work otherwise I won't survive."
7) And sometimes it was because I felt like it was me who had the issues, and somehow I was the cause of the majority of the problems, despite knowing my admittance of my faults did not help matters.
This was also to do with the justifications and excuses my mind was coming up with in order to cling on.
Closing Communication Channels Down
I really want you to understand that true No Contact means shutting down channels of communication, and this means blocking and meaning it – phone, emails, Facebook, and deleting people who are in contact with the narcissist or blocking them.
Making sure there are no channels of contact open for the narcissist to get to you – or for you to check up on him or her.
Also knowing that if the narcissist does find a way to contact you, such as using another email address or another phone number, that you will not reply.
To this day I don't answer any random texts that I don't know who they are from and I refuse to  pick up phone calls from numbers I don't know. It's a habit I have firmly implanted in my being since deciding No Contact ever in any shape or form.
I also will not reply to any emails that don't feel "right" to me.
Why Closing Down All Communication Channels is Vital
With narc number one I did No Contact the white-knuckling way, feeling like a totally powerless addict until I had Quanta Freedom Healing and found the way to up-level my original wounds and fulfil the soul contract – meaning becoming my own source of love, approval and security in the places he had showed up for me where I wasn't.
With narc number two I did No Contact in a much cleaner and more empowered way.
That time I knew what had happened had nothing to do with him, other than being someone who had made my unconscious wounds conscious so that I could heal them. I knew that if I simply focused on self-partnering and going to the wounds he had triggered and up-levelled them, that there would be zero urge to have him in my life.
I was right – that is exactly how it played out.
The first time around with No Contact with the first narcissist I was trying to stay away logically;I hadn't understand the evolutionary Quantum Truths yet.
And at the time I was soooo bamboozled as to why I knew better, and yet the results never changed – because some part of me just kept going back and back for more.
It JUST didn't make sense! Wasn't that the definition of "insanity"?!
Back in my No Contact struggles I would put intervention orders on, change my phone numbers and emails and then BREAK No Contact, re-connect and have the intervention order removed and give the ex-husband my new contact details!
Naturally the police stopped taking me seriously. People in my life stopped taking me seriously, and the worst of it was I could no longer take myself seriously because I was letting myself down again, and again and again.
Once I self-partnered, faced myself and worked on my original wounds with Quanta Freedom Healing I was able to heal myself and become an up-levelled mature adult within my emotional container … and then the urges, pulls and addiction left me.
The RELIEF was indescribable because there were no related parts of myself hooked onto trying to make him heal me anymore.
I had healed them myself.
I finally knew that the pulls to the narcissist were actually not about the narcissist – they were about the wounds within me causing the anxiety that were making me try to self-medicate with the narcissist.
I found it was exactly the same with all of my other addictions – cigarettes, workaholism, and even food.
When I stopped enabling these addictions, by simply stopping doing them (going No Contact with them) and came home to my own self-partnering and let the wounds come up and fully met them with Quanta Freedom Healing to release them out of my body – every addictive craving simply melted away.
I have seen the same happen with every person who I have ever helped with healing their inner traumas in order to hold true No Contact without the agony of addiction.
And truly there are two ways to do this.
Pull away and block all channels, stop checking up on the narcissist, and let go of everything and anything that reminds you of the narcissist that you have been "clinging to" and then take on full self-partnering and go straight to the wounds, or
Let go as much as you can – and then immediately start working diligently on your inner wounds. By doing so you will find that you detach more and more and more and organically it becomes so much easier to feel no attraction, pull or need to resolve anything with the narcissist. Because you have been able to achieve all the up-levelling and resolution you need within yourself.
The Truth About No Contact
The bottom line is this:
Without working on yourself No Contact is grueling – and you may not set it up in a way that you even really mean it.
However, when you work on yourself to fulfill your soul contact – meaning resolving and healing your self-levels of love, approval and security – then you will do No Contact easily.
You will not bite if the narcissist does make contact, and you will have no care whether or not they even try to.
Because you know your life has nothing to do with them and everything to do with you.
I so hope this article has helped you understand the deeper levels and truths about No Contact.
I would love you to join me in my next 3 Keys to Thriving After Narcissistic Abuse Webinar where you will join thousands of people from all over the world learning to up-level and heal their soul contracts with narcissists.
Also, we are presently workshopping with No Contact and other associated topics in the 3 Keys Webinar Group.
In only days people are already experiencing profound breakthroughs, and the same can happen for you.
As always I look forward to answering your comments and questions.
The following two tabs change content below.

Melanie Tonia Evans
is an international narcissistic abuse recovery expert. She is an author, radio host, and founder of Quanta Freedom Healing and The Narcissistic Abuse Recovery Program. Melanie's healing and teaching methods have liberated thousands of people from the effects of narcissistic abuse world-wide.

Latest posts by Melanie Tonia Evans (see all)