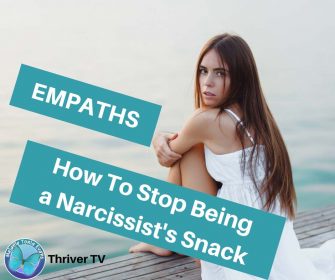 It is well known amongst Abuse Communities that people who are empaths can be very susceptible to being in relationships with narcissists.
It is also noted that spiritual people, caretakers, or individuals in human service industries … for some reason, seem to be high on the narcissist's snack list.
Empaths are sensitive, caring souls who sense other people's pain and try to make a difference.
Narcissists are self-absorbed, self-involved people who create pain for people while they make themselves the number one fixture.
It makes sense that these opposites would attract and that Empaths provide the perfect opportunity for narcissists to "take". 
However, the information in this episode may turn upside down what you previously believed about the Empath / narcissist union.
(Just as this learning did for myself …)
It is my deepest wish that this episode will help everyone who has been taken in by a narcissist …. especially those who feel that they are sensitive Empaths.
After watching this episode, I'd love to hear what your thoughts about this issue!
Please leave your comments or questions in the comments section below this blog and I will do my best to respond personally.
(Visited 15,683 times, 79 visits today)
The following two tabs change content below.

Melanie Tonia Evans
is an international narcissistic abuse recovery expert. She is an author, radio host, and founder of Quanta Freedom Healing and The Narcissistic Abuse Recovery Program. Melanie's healing and teaching methods have liberated thousands of people from the effects of narcissistic abuse world-wide.

Latest posts by Melanie Tonia Evans (see all)