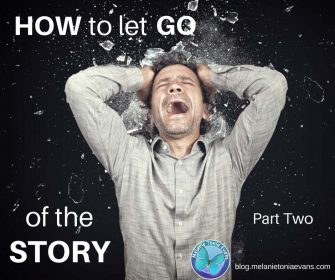 What an interesting discussion we had last week regarding Part 1!
If you haven't read the first installment of this two-part series please go and read it first.
I think it's very important that we don't get sidetracked by some of the comments differing from what the message really was all about … (even though … thank you … I did greatly appreciate everyone's amazing emotional intelligent, love and support!)
Understanding how to get out of the loop of repeat painful thoughts that cripple our ability to regain control and start taking positive actions in our life.
Last week we learned that the story originates from the beliefs we have about ourselves and all of life – our Inner Identity.
As you are very aware, the levels of trauma experienced in narcissistic abuse deeply affect the way you are now seeing the world …
It is usual to struggle to put your faith in people and believe humans are ultimately good people.
And … it is likely you have lost faith in yourself to make the right judgements for your happiness and your safety.
Worst of all … you feel as if life does NOT has your back.
Unfortunately, most common methods of recovery do not address the truth – that the trauma is in your Being and not your brain, and it's the reason I spent years in crippling pain and repeat trauma, before I found the answer that would eventually set me free.
In the final piece of this two-part series I am going to teach you all about that trauma which is currently residing in your Inner Identity, as well as how to heal it.
This is such an important topic because the understanding of what "your story" is about, and the exact trauma that it originates from, grants you the vital piece of the puzzle that will give birth to your Thriver Recovery.
Trying to Think Our Way Out of the Trauma Versus Shifting it Out of Our Body
I want to really explain the difference …
Let's take one of my reoccurring previous obsessive thoughts – Who is he with now?
In the mind story I would be going through his Facebook account, trying to work out "who she was" and stalking pages. Or doing drive-bys past his place to try and see whose car was there.
And … spending hours upon hours in deep depression fretting … imagining the worst.
Imagining him making love to another woman in the bed we used to. Imagining him wining and dining her (as he had me) and having her fall for him – thinking he was the most wonderful man she had met …  ever.
Some of my deepest fears was somehow he would be different with her. Maybe she was the woman who was going to get the goodies of what I thought originally was my dream man.
At this point of my "relationship with myself, others and Life evolution" I was nowhere near knowing that I was capable of generating an amazing life, directly with Life.
I wasn't on the field let alone anywhere near the goals.
I felt powerless.
There was so many young, undeveloped not yet healed and grown up parts within me, that I truly believed (without even realising it) that someone else had to provide my Life for me.
I was co-dependent (seeking myself from outside of myself) and subconsciously trying to get a partner who would act as a parent, instead of partnering myself enough to be a healthy partner and create a healthy relationship with another healthy partner.
As you can imagine, my head was spinning with all the associated anguish regarding him not granting what I certainly wasn't granting myself – love, approval, survival and security –terrified that my supposed Source of these things was going to start granting them to someone else!
The feelings of being alone, powerless and empty were overwhelming. There was no ability to date to try to find a replacement … someone to love me out of my trauma.
Then there was the constant agony about losing so much and not being in a position to rebuild, let alone meet someone who may love me, take the pain away and grant a sane, safe, abundant and healthy life.
At this stage of my journey I also believed stuff and assets defined me.
How on earth could anyone love and accept me with very little (because of losing so much) when I certainly didn't love and accept myself without what I thought made me me?
Here I was behind the eight ball regarding loving myself, let alone inspiring anyone else to … waking up in the middle of the night, most nights, with yet another nightmare – sweating profusely, suffering a panic attack and not knowing how to face the next day.
It literally felt like I was going to die, with no way out.
And this is only some of the dozens of reoccurring traumatising thoughts that used to batter me relentlessly.
Many of the other thoughts were regarding what he had done … the mental abuse, the physical abuse and threats and his abuse by proxy – which had turned countless people as well as authorities against me.
How could someone who professed undying love be so cruel and act like he wanted to destroy me?
Yet … the craving for him persisted.
All of it came back to the same unhealed truths within me.
I had made him responsible for my Life because of the inner wounded child inside running my emotional Inner Identity believing he needed to be.
When he refused to be a savior and instead played out the role of torturer … my Inner Identity (which was underdeveloped and powerless) ONLY let go when the pain of staying became worse than the terror of leaving – meaning when it became a life and death situation.
The oscillation was insanity – keeping going back because of the obsessive thoughts that I could not survive without him, and that I certainly did not have what it took to survive on my own.
In those terribly limiting traumatic dependent beliefs, I was powerless to solidly pull away and be a healthy solid Being, despite any amount of therapy, reading or "learning".
None of it stuck or held, and time and time again there was the defaulting back to everything "known" being flung out the window to land back in powerless, triggered, panicked, "feeling like dying without him" states.
Why?
Because of unhealed trauma wedged in my Inner Being – fractures that had been there long before meeting the narcissist that represented every terror he was triggering.
It was so huge … trying to sort this out cognitively was total Wrong Town!
And in regard to extreme trauma, it doesn't work for most other people either.
Now … let's look at the Quantum Way to heal … the way to circumnavigate the head, get into the body and get to the truth of what is really going on.
This is the way that not only saved my life from certain demise, but also started to shape it in ways that changed everything to astounding new levels.
It even increasing how happy I thought I was before the abuse. (I know now that level of happiness was precarious and superficial anyway, compared to the True Self happiness that I experience now.)
Okay …. so the terrible thoughts, Who is he with now? would start up.
So instead of thinking about them, I knew it had to do with old traumas within that were being activated by him.
So instead of giving analysis paralysis any energy, I instead turned inwards.
How we connect to that is this: we feel inside of ourselves, accepting the traumas are somewhere within our body (they are NOT in our brain).
And the trauma won't heal – until WE go to it and heal it.
We being the vital key.
No-one else is coming to do it for us. It is our Inner Being that is waiting and screaming out for ourselves – no-one else.
And the more we assign False Substitutes to this task, the more we get anything but the healing. Rather, Life and our Soul hits us hard, with continued patterns that traditionally intensify, to hopefully evict us from that path.
All for the purpose that we can come home to the only REAL truth there is – home to ourselves.
Which is the foundational and vital template that creates a healthy life with all of our Life.
So within, so without.
What I discovered was this – the fastest most direct route home was to release myself from trapped internal trauma by getting it up and out of my body and replacing it with love and healing.
That was the only way the obsessive thoughts that I had fruitlessly being trying to manage stopped.
Here is the most important truth you could ever know about the thoughts that have been torturing you:
When there is no trauma remaining there is NO thoughts happening about it.
Because it just isn't there anymore!
(Re-read that as many times as you need to, to really get it!)
Once you do "get it" you will know what your real mission "to do" is.
Locating the Trauma In Order to Shift It
When I went inside my body, in regard to the terror of being alone, abandoned and replaced, there were many traumas I located in my body … primarily felt in my upper back and in my heart.
What I discovered was the TRUTH of why I was clinging, obsessing and couldn't let go and move on.
It was because:
I did not feel safe in life.
I didn't feel safe with men.
I did not believe I was worth loving.
I believed I was only loveable if I fulfilled certain conditions.
I believed people who were supposed to love me would hurt me (annihilate me even).
I believed I needed a man to survive … regardless of whether or not he was respectful and caring or even abusive to me.
I believed if I let go and was alone, I'd die.
I believed that on my own I was worthless.
(And there were more …)
All of these traumatic painful beliefs were inside me, generating exactly what belief systems do – the validity of the belief to the letter.
Here's how.
I was scared of being with a man, and I was scared of not being with a man.
In that double bind I was constantly living the personal reality of being unsafe and anxious in and out of relationships.
I made choices and continually showed up in relationships in ways that was unloving to myself.
I made choices out of relationships in ways that was unloving to myself.
I was ignoring my intuition and letting my head talk me out of warnings and would make excuses based on my "neediness" instead.
I clung no matter how much I was being hurt.
When I finally had to let go I was pining, feeling like I was dying and obsessing continually.
I remained in the stranglehold of this pattern, with it intensifying all the way to narcissistic abuse (the Big Bad Wolf) UNTIL I healed where it was really all going on.
At the level of BELIEF.
At the level of internal wedged trauma.
When I discovered and channeled how to heal with Quanta Freedom Healing – my life was never the same again – because finally I got free of the traumas, the terrible thoughts and all of the anxiety and depression which I had thought was my normal life existence to continually battle and try to survive!
In stark contrast, I discovered it was NEVER the way ANY of us are intended to live Life!
Not me, not you, not anyone!
Previous life in "my head" was all to do with the narcissist, what he had done, and the terror of him moving on with another woman – as well as my own helplessness, worthlessness and powerlessness.
The new life, being deeply self-partnered, was only EVER about releasing myself from my inner trauma.
It was through my previous unhealed wounds that I had assigned narcissists as the savior of these wounds rather than realise they were the messengers of them instead.
The message being …
Release the trauma and become your own Source of love, acceptance, survival and security and then you will generate wholesome and healthy relationships with others.
Then … you will no longer be so empty and powerless that you will cling to people even when they hurt you.
And … you will love yourself enough to never again attach to False Substitutes.
Since then I have never stopped shifting trauma out of my body.
If I get a negative thought occur that is in ANY way persistent, or a negative emotion surface, I go into my body with Quanta Freedom Healing to find the dense traumatic energy I am holding, load it up and shift it up and out.
Why would I not do this, when I know my life just gets better and better and better as a result … continually expanding and becoming more abundant, loving, joyful and magical?
For those of you who have not seen my Shifts Happen YouTube clips – this will grant you a better understanding of what Quanta Freedom Healing is, and how it works.
Turning Inwards
I want you to try this …
Think of something in your life that is a reoccurring painful thought and then close your eyes, open you body and breathe deeply and take your attention inside yourself.
State to yourself: Somewhere in my body is going to light up with this trauma I have wedged inside me.
Then it will … trust this.
It will feel like a dull (or sharp) ache, a sinking feeling, or even a somatic painful sensation.
It may feel heavy – like a depression or even dread.
Where is it?
Is it in your heart, your solar plexus, your back …  or maybe the pit of your stomach?
Maybe the dense energy is so big that it feels like it is under your skin everywhere throughout your body.
Then ask this part of you (wherever the energy is in your body) – with love and kindness (as if you were talking to a small hurt child who you adore) …
How old are you?
Be conscious that you are trying to get in contact with a previous underdeveloped part of yourself who still feels incapable of being a source to self and who still feels powerless, in regard to this trauma, this topic, you have just contacted in your body.
Trust your answer, and it will come to you through intuition – not logical analysis.
As a feeling … such as the flash of a number, or a memory … it will be however your subconscious chooses to communicate with you.
This communication may be loud and clear or barely audible. If we have been in our heads disconnected from our emotional self for all our life (which I put my hand up to previously) then this inner communication may take time … it can take dedicated, devoted effort on your part for your Inner Being to start trusting you and partnering with you with information.
But oh gosh … is it so worth persisting!
Trust and write down the age. If you receive the intuition of multiple ages, write down the youngest one.
Then ask this part of yourself, Sweetheart (or whatever term of endearment feels right for you) what is this about?
And do this with the loving intent to listen, be present, not judge – and to offer love and healing.
Be super-present.
Information may come –  scenes, feelings … or maybe words … of pain and fear.
Write the information down.
What you will find is the age appropriate wounds and terrors we suffered as little people that were never held and healed back to wholeness.
The wounds that we have been carrying forward with us, and still generating unconsciously in our life as adults – by meeting people who not only bring forth the dynamic reality of these unhealed wounds, but who are also carrying similar wounds of their own.
There is only one way out of that dance of love destruction.
Heal our own wounds back to wholeness.
We may attempt that with loving intent, or much Inner Child work and affirmations and most definitely that can provide some in the moment healing and relief.
Such as what you can do right now, if you are not working with Quanta Freedom Healing – you can be present with these wounds and offer your love, compassion and deep validation for the trauma that your Inner Being has suffered.
This can help a lot.
Yet, if we have intense and numerous traumas in our Inner Beings (which is very likely when we reached the make or break deal of narcissistic abuse) we may need some help to get past our constantly triggered obsessive thoughts, as well as the symptom of the traumas (such as PTSD) still wedged in our Being.
The shackles and blocks that can make it so difficult to fight our way out of the quagmire.
And it can be very difficult to clear space to reprogram our Inner Identity – just as it is very difficult to drive a Ferrari into a garage that is blocked off with a rusty old wreck, or put ice-cream on top of poop and think we can have an enjoyable desert!
Quanta Freedom Healing creates the "brain bypass" as the powerful game-changer that gets the job done, hence why you will hear so many people and myself constantly referring to NARP and NARPing (Quanta Freedom Healing Modules are in the Narcissistic Abuse Recovery Program).
If you are new to the community or are unfamiliar with the NARP Program this page explain exactly how it works and how it came into being.
What we realise when we start coming out of the trance of living life from the outside in (obsessively thinking about everything) and instead start living life from inside out (going directly to the traumas to release and heal ourselves instead) is …
There is no point continuing to indulge in analysis paralysis when we continually experience that it only compounds the issues.
Why would we try to think our way out of trauma when the thinking is only at the consciousness level of trauma in our Inner Being?
And we wonder … why on earth weren't we taught all along that this was never the REAL way to heal ourselves?
What If I Know This But My Head Continues to Get In The Way
Some of you people working with the NARP Program may be saying …
"I know ALL of this, I know the trauma is in my body, but what if my head derails me and takes me out and I can't do shifts?"
Our egoic mind tries to control; it doesn't like giving control up because it is insecure about it's existence.
It obsesses, wants guarantees and answers NOW. It doesn't like surrendering over to our super-conscious (which always holds and generates the perfect imprint of wellbeing, expansion and joy for us).
Also, our egoic mind loves to play the victim.
It likes to forgo personal responsibility by making everything and everyone else responsible for our pain – rendering us helpless to shift out of and release our trauma – because in the ego-hold our focus is NOT where our ONLY power lies – inside of us.
In the obsessive looped thoughts, we can be stuck in this trap.
Such as these Facebook posts demonstrate, which of course are common when trauma is trapped in someone's Inner Being – generating the thoughts that match that trauma.
(I have great compassion for those in the agony, still trapped there – because I myself was in this torturous prison for long enough to nearly kill me.  And it is my greatest wish to help people get out of it, just as I have.)
"The greatest struggle I had was with the acceptance that the nice person I adored never even existed and also that he did most things to deliberately hurt me and as a form of punishment. Another struggle I still have is that he knew about my past abuse and did not even think twice to re-traumatize me."
"I was told today that I've basically screwed his life … we aren't together but now I feel awful and sad, we have minimal contact but even that little bit sends me right back to where I started. It's horrible."
"I think it's mainly anger that keeps bringing my mind back to it. I have antidotes for when I feel frustration, resentment or the desire to control, and they serve me well. But my antidote for anger lets me down. Now and then, out of nowhere, I feel intense bursts of anger and find myself (in my head) really giving him/them a "piece of my mind"!"
"I was discarded AGAIN after an 18-year relationship with a very mentally/emotionally abusive Narc who triangulated me with his estranged wife. 18 months free of the monster and I am still stuck with so much self hate & living in a land of depression. I hate that I can't find my way to start a new life. I so badly want to write MY STORY. I need help."
This is sooooo painful … being constantly pounded by the powerless, painful thoughts that match the trauma in our body. I so know what that was like – because that was my entire life before Thriver Recovery!
When we realise the ego's game … we recognise it's like a cancer; it's a parasite and it wants to live off the toxic dense energy in our body. It doesn't want us to heal and tries to block that happening.
All egos eventually destroy their host … because they destroy life-force.
The ego is our Internal Narcissist – making out it serves us and protects us, but is destroying us instead.
How do we rid ourselves of ego?
The same way we do a narcissist … free ourselves of all of the internal trauma that allows it to attach within in us and feed.
When you release your internal trapped trauma your ego dissolves away with it.
To dissolve your ego away means you have to bypass you head, get into your body and access and shift the trauma out that is feeding your ego.
The ego's domain is in your HEAD.
If you have been suffering from ego takeover (painful thoughts), then your head needs to be much less involved.
Here is a list of points to help you, those of you who are working with the NARP Program.
Whilst accessing a trauma in your body, if the story pulls you into it, then stop with getting information about "what it is" and simply feel the Energy of IT in your body. Do your shifts from there, with NO information until you can access information without getting dragged into it.
Know this: you are accessing information ONLY to be able to feel the charge of the trauma in your body. If you feel the charge, then there is NOT even a need to find the age or the information about it. Load up the trauma and shift it out with the process, and with your Inner Child see him / her as however he / she appears.
To heal any trauma there is NOTHING to learn, only traumatic energy to shift up and out and wellbeing to bring in. It is interesting and informative to get the "information" about it, but in NO way is it necessary.
Don't run from the emotion (charge) in your body and don't judge it. When you have claimed a trauma in your body and feel it (which is totally necessary to heal it), what is necessary is to just BE with it fully and unconditionally, as you would a child you adore who comes to you with intense pain (if you were being a conscious parent).
Hold the trauma by feeling it fully, being super-present, body open and breathing and just BE with it – heart open with love. Don't talk up a "victim story" about it, such as: This is horrible, this is shocking. STOP doing that!
In stark contrast to trying to divorce yourself from negative emotions (leaving trauma there to feed your ego), say to yourself in the painful triggers, I bless and accept this feeling because it is leading to my greater liberation … and mean it with all your Being.
For you to Go Quantum and leave behind the victim egoic mind perspective for ever (accelerating your healing journey beyond description) that last point is VITAL.
And always … self-partner, go inwards and free yourself from the trauma.
Now you are living your life as you were always intended to – evolving yourself beyond Who You Were Being into the next Highest Version of Yourself – because every time you release trauma and bring in wellbeing as the replacement (which is what the QFH Process in the NARP Program does for you) all of that energy you had locked down trying to survive your wounds is unleashed to be available for love, creation, inspiration and miracle.
That is when your life starts taking off in ways that you simply did not have access to before as the Old Self.
When you start living as the New Self you will see …
You are finally Living.
To Do Is To Know
This 180 degree turn in the way you live, may be something your mind will demand "proof" of before trying.
But there is no way to get that – it is a reality that has to be experienced to be known.
As was stated in this brilliant post by Kirstie last week:
"What Mel describes, going into the body, is something you have to experience; it cannot be understood by words. Like this experience of trauma cannot be understood by describing it with words.
To know and not to do, is not to know.
I can now describe, speak about my experiences without having a physical reaction. It is now just a situation I went through in the past.
But in fact I don't speak of it, because it's not relevant now.
Do the body work and your life will become stable again, and your concentration will settle back to normal.
I did NARP for 2 years and now I am free and happy. I smile with my heart again.
I think sometimes we don't believe we are doing it right (NARP) but one day it all just clicks into place and we start to notice we are grounded and stable again, and like we don't know when the abuse took over, the same happens with being stable and happy again, it just happens, we don't really notice. I think it's good to reflect every few months the progress….because there is always progress.
Keep going, keep smiling NARPers….. x"
Many NARPers in this Community have discovered the same, just as I did, but of course you don't have to take my word for it. Your mind may want to research (there is nothing wrong with being skeptical), so please do some research and read the many regular comments of people who are NARPers in this Community living this reality, and you will start to sense what is possible for you.
Most importantly connect to your cellular Inner Knowing …
What does all of this information feel like to you?
Some part of us always knows the truth.
That was exactly the part of us that also knew better when we were connected to the narcissist. Our Inner Knowing was screaming and warning us – something feels really wrong here, but it was our egoic mind that wanted a different reality …
Because of the parts of ourselves not yet healed back to wholeness – the insecure, scared parts that didn't know how to let go, heal and generate for ourselves a healthy, solid and real reality.
Your Inner Being is no different to any other human being's.
It can heal.
When you release and replace the trapped internal trauma – no matter WHAT your life circumstances presently are – then you, your thoughts and your Life must shift.
It's Quantum Law.
That is what the Thriver Way is all about.
I hope you have enjoyed Part 2 as the conclusion to this series, and I look forward to answering your questions and comments.
The following two tabs change content below.

Melanie Tonia Evans
is an international narcissistic abuse recovery expert. She is an author, radio host, and founder of Quanta Freedom Healing and The Narcissistic Abuse Recovery Program. Melanie's healing and teaching methods have liberated thousands of people from the effects of narcissistic abuse world-wide.

Latest posts by Melanie Tonia Evans (see all)