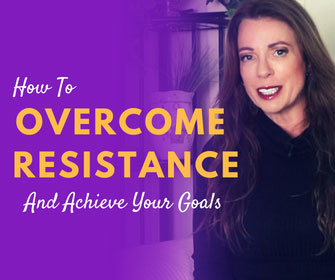 Have you had the frustration, when trying to create your new life of …
All of a sudden doubting yourself (or even feeling like you will fail)?
Feeling like the self-defeating voice is so overwhelming that you just have to give up?
Or … finding that every door you knock on closes in your face?
Why can't we break through?
What is really going on?
After we have done so much work on ourselves shouldn't life just open up and start to flow easily?
Yet, so many of us can feel literally THWARTED in the areas of love, health, prosperity, success and all the dreams that we know our soul is urging us to generate and accept as our True Self.
I really wanted to address this, because I know this plagues many of you … and it used to mess with me a lot too … until I realised WHAT was going on and HOW to address these parts within me keeping me separated from my true goals and dreams.
And that's what today's The Thriver's Life series is all about.
Video Transcript
Welcome to the Thriver's Life series, the creation of your highest and best life after narcissistic abuse.
Today's topic is one that I am very excited to share with you because the dreaded glass ceilings can be so frustrating and painful. When we want to go forward into new realities and trajectories, and then all sorts of blocks can come up for us – stopping us.
And this is really common after setting goals and intentions. At first, they can seem really exciting and even possible, and then there are all these doubts and fears that usually emerge.
It's so important to understand what this is about.  It truly is about the composition of our Inner Identity. If our Inner Identity doesn't believe that these goals and intentions are possible for us, then we will be hit with self-sabotage when we do try to go forward, and/or outer events will continually thwart us. It will be like when we try to open new doors, they won't budge, or they will open and then slam shut again.
We all know the expression, 'being stuck in a comfort zone'. Yet comfort zones are never comfortable, and the reason they aren't comfortable is because our True Self is always urging us forward into the next highest, grandest more expansive version of ourselves – namely the becoming of our true potential. Yet, the traumas that our personality carries that are not our True Self (our blocks and our limits) are holding us back.
We know we yearn for something, yet we fear failure, or exposure, or risk, or ridicule … and we don't go for it. And we may not realise that these blocks are stopping us from living and expressing the only life that was truly going to gratify us.
Is it any wonder that when we settle for second, or much less best – such as the terrible job or the awful relationship, that we suffer intense pain, anxiety and depression, which are all symptoms of not living as our True Self.
And this is the thing, as Thrivers when we start releasing trauma from our being, our soul and higher self starts getting all excited knowing that we are reaching into Who We Really Are. And, as toxic trauma and necessity for survival is shifting out of our cells, we have created the space for Source to flow through us as us – as pure unleashed creative potential. And the faster and fuller this flows, which is determined by how much clean, clear space there is in our cells to allow that, the more we start feeling hope, inspiration, possibility and miracle within us. The energy that was hijacked into being and needed to try to survive is now transmuted into life-force.
This means we have improved health and energy … ideas and inspirations start coming, and also outer opportunities start to open up and knock on our door. What this means is that our Inner Identity is changing dramatically from the old trajectories of unsatisfying life circumstances to being able to generate and accept higher versions.
This all sounds wonderful, but please know it is in this time of grand opening up and True Self becoming, that your dense parts that are still stuck in trauma and limiting beliefs are going to get smashed up to the surface.
The reason? Because they cannot come with you into higher vibrational realities – they have to be purged in order to release you into them.
A dear friend of mine who has been using Quanta Freedom Healing to up-level incredibly successfully beyond addictions and into a new vocational reality, told me the other morning, whilst she was on a walk, that she was struck down by the most intense feelings of powerlessness and that she wasn't going to make it and that she was going to fail.
This is common, this is exactly what happens, and the reason it happens is because the inner parts of us that are our pain body know that when we do the work, they are facing extinction. Thus, they will try to find a gap and come up telling us exactly the story that they hope will manipulate us into falling back into our old ways, stay stuck in the trauma, self-avoid and unhealthily try to self-medicate ourselves, and start generating pain again.  Feeding them exactly what they want – more toxicity, trauma and our own helplessness and powerlessness not permitting us to get up and out of it.
Fortunately, my dear friend knows the game. She knows that these parts are the internal narcissist. They are our ego. These are our parts that keep us stuck in darkness if we let them. Yet when we know the truth, that these parts are self-saboteurs we can take the stand for our inner child and rescue him or her from these self-defeating tricksters. We can show up and take charge as a loving, powerful adult does and say, "No! I'm not listening to this rubbish. I am going to meet the trauma that is saying this, load it up and shift it out and bring in more light, so that my inner child, and being and therefore myself go free."
That is exactly what my friend did on this walk. She said to me, "In the past, I would have given in to these feelings. I would have caved in, started obsessing about the pain and gone out and gambled and drank. Instead, this time I stood up to this imposer inside me and did two Quanta Freedom Healing shifts on these horrible feelings, and then I felt even more empowered than I did even before I started my walk."
And this is the truth – every time we beat the attempt by the internal narcissist to try to take us down, we grow and emerge as even more healed, whole and extended. The hit from our ego is, in fact, the grist, the prompt for us to shift out more darkness and bring in more light – to become even more of our True Self than before these breakdowns come to threaten us.
That is exactly what the process of midwifing a breakdown through to a breakthrough means.
And, we need to get very clear as Thrivers, that just because we are doing work on ourselves, such as breaking free from abuse and abusers, our new life is not just going to be handed to us on a silver plate. If we are carrying a lot of trauma: past life, epigenetic and childhood wounds, as well as the ones we have accumulated and had accentuated as adults, there is work to be done.
We may wish to start dating – yet all these terrors and lower self-thinking and old fears arise for us. The same is true for the business we may wish to create, or the new healthy physical body, or the hobby or creation or study … or whatever it may be.
What are we do? Are we going to pull back and give up and stay in our uncomfortable comfort zones? Are we going to be on our deathbeds one day saying to ourselves: "I wanted this or that, but I held back and didn't break free and go for it? My life was stifled, mediocre and not fulfilling but at least I saved myself from failure?" I don't think any of us will say this in our final moments.
If we truly wish to Thrive, as an example to ourselves and others and be the living embodiment of what heaven on earth can really be, then we need to recognise that our soul does not get it wrong. Our desires are our soul saying, 'Hi" and our higher self, saying "Come toward this. This is the True You living without trauma!" And then it is up to us to roll our sleeves up and get into it – the releasing of all the traumas that are all the false ideas and fractures that we took on from the human experience. These are exactly the traumas that the ego, the internal narcissist, feeds off, clings to and gets energised from – no different to the outer narcissists who attach to and feed off our inner traumas.
Is it any wonder that when we start to release our inner traumas that not just external narcissists disappear from our lives, but our internal ones do too? Can you see the connection here?
In fact, as our personal inner healing journey deepens and widens we start to see that the greatest thing we ever need to overcome is, in fact, the internal narcissists.
Many people ask me, "What are the common traumas that create 'this'?" (Whatever it is in their lives.) The absolute truth is that our personal traumas and stuck places can be very unique. And truly, rather than try to guess what they are to work on them, the purest and most powerful way ever to find and release and replace them with our super-conscious True Self is to do the inner work with NARP or the Empowered Self Course to do direct reprogramming on them.
Yet for the sake of this The Thriver Life episode I will go through some of the most common traumas I have seen hamper people when they have tried to break out of old trajectories into new ones.
"I don't deserve … (whatever it is)."
"If I am my True Self I will be destroyed."
"If I get success I will have it taken away from me."
"If I become successful I will be all alone."
"Other people can have (whatever it is) but I can't."
"If I try, I'll just fail, and it will be even more painful."
But again, please know, the most impactful blocks that you can find and release, the ones that are keeping you separated from your higher potential in any area of your life, such as love, prosperity, success, creative expression, health and happiness – could literally be anything at all, and you won't know if you don't go within.
If we don't go within, we do go without.
And that's why I love this Community so much – because we get it – we understand that the fastest, most powerful way to get our life right is to release ourselves on the inside and then everything can start to flow from there.
I'm really looking forward to the discussion we'll have with this episode and hearing about your dreams and ego blocks, and what you wish to do to get the brakes off and go forward powerfully. So please write them below!
(Visited 1 times, 1 visits today)
The following two tabs change content below.

Melanie Tonia Evans
is an international narcissistic abuse recovery expert. She is an author, radio host, and founder of Quanta Freedom Healing and The Narcissistic Abuse Recovery Program. Melanie's healing and teaching methods have liberated thousands of people from the effects of narcissistic abuse world-wide.

Latest posts by Melanie Tonia Evans (see all)