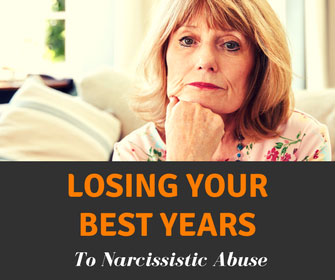 It's nothing short of devastating to end a relationship with a narcissist and feel like your "best years" are behind you.
I truly can't tell you how often people have shared with me the terrible trauma of losing the best years of their life to a narcissist.
Things like:
"I gave up my career to support the narcissist and now its too late for me to reclaim those years and opportunities" … and …
"The narcissist dangled the possibility of children constantly, and now I'm too old to have them" … and ….
"I pumped all of my finances and properties into a life with this person and now they are gone. How on earth am I going to rebuild at my age?"
And of course people commonly report the following:
"I'm (however old I am) and now I'm so depressed, unhealthy and stressed that I look terrible. I've aged considerably. Who would want me now?"
I know this topic is hard to reconcile and my heart goes out to you. It's so common to lose everything, as well as ourselves, to narcissists at mid-life onwards.
Only 5 years ago, again after being smashed by narcissist number 2, things were so bad in my life, I had to live in a cabin park! That was ONLY 5 years ago!
Despite this, at 46 years of age, like so many people in this Community (at any age) I was able to make a full Thriver comeback beyond my wildest dream.
Was I just lucky?
Absolutely not …
There was a definite process I took to get there.
And that is what today's Thriver TV episode is about – no matter what age we are, what we have suffered and lost, and even how affected our health has become, we CAN come back from this.
In today's episode, I share with you HOW to achieve this, as well as incredible true stories that I know will inspire you to believe your very BEST years are yet to come.
Did you find this video helpful? I'd love you to share your comments and question below.
(Visited 8,084 times, 3 visits today)
The following two tabs change content below.

Melanie Tonia Evans
is an international narcissistic abuse recovery expert. She is an author, radio host, and founder of Quanta Freedom Healing and The Narcissistic Abuse Recovery Program. Melanie's healing and teaching methods have liberated thousands of people from the effects of narcissistic abuse world-wide.

Latest posts by Melanie Tonia Evans (see all)