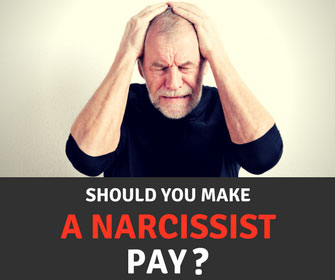 There are SO many things narcissists do which are totally out of bounds!
They lie and betray us to family and friends, work colleagues and bosses.
They try to get us taken down by authorities, potentially destroying our incomes, mental functioning and any future ability to generate our lives.
The narcissist's abuse may have destroyed not just our connections and our welfare, but also our health … you may now have so many chronic health conditions that it takes everything to merely survive your everyday existence.
And, we believing this person loved us, as they were telling us what we wanted to hear, whilst taking our resources, energy, time, money, souls, sexuality and best years, in order to maintain their own egos.
How do we reconcile THAT, when we had our entire beings invested in these people?
How on earth could we NOT want to make the narcissist pay?
Surely some sort of retribution would help us heal?
In today's Thriver TV episode, I share with you my own personal story about how I was barely eating, sleeping or functioning, whilst the ex-narcissist was living in my previous home, buying new cars, dating young women and enjoying the high life.
And how, after wanting him to pay for destroying my life and frenetically trying to make that happen, I had to find another way, to not just survive what I had lived through, but ultimately Thrive.
Within this video, I believe I describe "the meaning of life" and why we did the journey of narcissistic abuse, more candidly than EVER before … and it has everything to do with today's topic!
If you, like my previous self, lost so much and have suffered immensely at the hand of a narcissist – this episode is one I really don't want you to miss.
I look forward to answering your comments and questions below.
(Visited 7,402 times, 4 visits today)
The following two tabs change content below.

Melanie Tonia Evans
is an international narcissistic abuse recovery expert. She is an author, radio host, and founder of Quanta Freedom Healing and The Narcissistic Abuse Recovery Program. Melanie's healing and teaching methods have liberated thousands of people from the effects of narcissistic abuse world-wide.

Latest posts by Melanie Tonia Evans (see all)