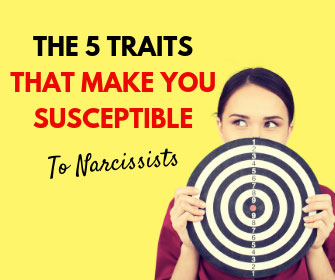 Narcissists know how to target, charm and ensnare people.
Soooo many of us, despite being smart, capable and even highly successful people in so many areas of our lives, were taken in.
And … so many of us shook our heads, threw our hands up into the air and exclaimed –
"WHY is this happening to me?!"
I was there, and I know you, more than likely, have been as well.
Why DIDN'T we see it coming?
How on earth did we let ourselves be BLED DRY of our time, energy, money, resources and health?
How was it possible that we stayed attached to these people who spoke to us, and treated us in the WORST ways we could ever imagine?
I promise you there are deeper REAL reasons for this, that are impossible for you to discover, learn and free yourself from … until you get deeper.
These things aren't obvious or logical, and looking around in your outer life will not grant you any clues.
You will only discover them if you turn inwards to your inner landscape.
Which is exactly what today's video is about – taking you on a journey inwards to identify the 5 traits that capable, lovely and intelligent can people have, making them easy and tasty targets for narcissistic predators.
Video Transcript
My work is always about empowering you so that you take your power back and become a force who is not susceptible to narcissists. This isn't possible just by finding out information about them and staying clear of them. The truth is narcissists haven't just infiltrated your life now, additional ones could turn up anywhere in your life.
There is a wonderful expression that I love, 'When we are no longer afraid to walk under ladders, there will no longer be any ladders on our path.' I want you to understand our job is NOT to look out for narcissists and avoid them. That would mean we can't be out in life conjoined with living. It would mean you are afraid, on the lookout, shrinking, holding back and not being you.
And the worst thing of all is, you are dreading coming across another narcissist which is always a sure-fire way of getting involved with one again. Whereas, if you don't give a crap about running into one and you are fully and powerfully yourself, it no longer even matters who is a narcissist or not.
People say to me "This person is undermining me at work. Are they a narcissist?" My response is "So what if they are? Lose your fear, show up, confront, be transparent and be powerfully yourself."
Other people say, "My boyfriend does this to me, and I'm really scared that I'm dating another narcissist." This is how I feel about that …  I don't care whether anyone's boyfriend's middle name is Satan or Stanley. What I care about and what you need to care about is, 'What are your values?' State them and be clear. Stand for them. If he can't rise up to meet you at that level genuinely (and your body knows the truth on this when you see his actions and if the cycles keep repeating) leave and live your life aligned with these values. Then you will share a life with someone who is capable of delivering them.
Other people say, "The ex is being hell with co-parenting, and she is ripping me to shreds, how can I protect myself against this?" My answer to that is: "Do what you normally wouldn't do. Release all fear from inside of you, stop trying to walk on broken glass, cut deals and appease her. Stand powerfully in truth and deliver it and create your truth for you and your kids no matter what she chooses to do or not do."
Can you see that there is a theme here? It's all about taking our focus OFF them and putting it firmly ON to changing the one person we have the power to change, which is ourselves. We are not going to change narcissists and unconscious people, but we sure as heck have the ability to change our part in this, which are the reasons why we are tolerating less than the life and treatment we were born to live. And, we can stop completely self-abandoning and self-avoiding everything that our inner being, the true guide to our life, is screaming at us.
We are going to do an exercise together, now, which is feeling some statements in your body.  If it feels strong, real and warm in your body, it's the truth. If it brings you anxiety, confusion and fear then its Wrong Town, it's a false premise. If you want to heal from narcissistic abuse and empower yourself against them, you need to take this journey out of your head and into your body, asap, without exception.
Repeat this after me: "I am going to learn all I can about narcissists, look out for them, avoid them and stay safe from them." How does that feel in your body?
Now say this statement, "I am going to heal and develop every part of me that hands power away whilst accepting painful relationships to try to get love, approval, security or survival. I declare I am going to heal and become my OWN true Source directly with My Higher Power and the healthy components of Life. Never again will I accept a False Source into my life."
How does that feel in your body? I want you to really feel what is going on for you, inside you.
Please pause this video and post your response below, after feeling your answer.
In my book, You Can Thrive After Narcissistic Abuse, I share the nine main susceptibilities that I believe make us targets and food for narcissists. Today, I want to share with you 5 of these main susceptibilities. These are really big, and it's not negotiable to ignore them if you want toxic people to stop hurting you.
#1 Unhealed Existing Trauma
A susceptibility is if you have already existing unhealed trauma from previous abuse. I know this has been the case for many of us, in fact all of us, until we clean it up.
Within our subconscious are the programs on every topic, as a literal powerplant manufacturing approximately 95% of our entire life by the time we are around 30 years of age (according to neuroscientist Bruce Lipton).  If your Beingness is that of an unhealed abuse victim, you will unconsciously seek out and be with more of the same.
This is the way that our unhealed wounds get our attention, by projecting their energy out into The Field (Life) which then draws to us exactly the evidence of what is unhealed within us. The inner creates the outer always. And the outer is the manifestation in the seen world of Life and our soul in concert making conscious what has been unconscious, in the unseen world, so that we can go to it, release it, and live free of it.
Don't we all know a person who has never done the inner work, and no matter how lovely they are, just keeps meeting their same patterns with a different face? I was one of these people too! Maybe that's also your story.
#2 Lack of Boundaries
Point blank, if you self-abandon your inner being when you know you need to speak up, you will people please, go along with other people's versions of life, and try to make the unhealthy deals of 'giving to get' (narcissists love cashing in on this) to try to get your needs met.
By not speaking your truth and living aligned with it, you have automatically positioned yourself as a victim to life, instead of a healthy generator of it. This was huge for all of us, handing our power away, going along, walking on broken glass and trying to have unhealthy people look after us, instead of looking after ourselves.
Like so many of us, I used to have total inner terror about saying my truth. I was deeply embodying the traumas of the fear of CRAP (criticism, rejection, abandonment and punishment) and you can add to the A in there also the fear of annihilation. I literally couldn't think straight or put two words together when I needed to look after me. I know so many of you are the same, and I promise you this makes us absolutely susceptible to narcissists.
Narcissists will push and nudge our boundaries bit by bit to see what they can get away with. And to our absolute distress, we discover our levels of tolerance to abuse are huge because of these unhealed previous traumas, and our inability to have healthy boundaries. Of course, we hope that someone else will look after them for us, but guess what? That doesn't happen, we don't get rocks to protect us, we get hammers that smash us until we heal and look after these boundaries ourselves. My NARP Program is all about healing and reversing these traumas, as well as all the ones that make us susceptible to narcissistic abuse.
#3 You Believe You Have to Earn Love and Approval
Narcissists can sniff this a mile away because it means they can twist it back on you and you will keep jumping through the hoops that get higher and higher trying to prove to the narcissist that you are a decent person who does have integrity.
Simultaneously the narcissist behaves atrociously getting away with all sorts, blaming you for it and you stay attached trying to change their idea about you, hoping they will finally treat you like a human being instead of like a piece of trash.
Can you see how twisted this is and how much it keeps us in the game? That is until we learn the vital Quantum lesson, so within so without, 'the only person who needs to think well about me is me, and then all of life that is healthy will follow'. Meaning, 'I won't give a damn if someone else doesn't, and I will easily attract and sustain relationships with people who mirror back what I already think about myself.'
The way we heal this one is to go back, find and release our original traumas (which NARP does) where we suffered conditional love, and felt like we weren't worthy of love unless we made other people feel a certain way about us. In short, we may have never felt good enough to be loved, regardless of what we did or didn't do for people. This is a terrible inner identity recipe to get hooked into narcissists.
#4 You Have a Heightened Need for Security
If you are over responsible and capable and need order, sensibility and security in your life, you may be used to cleaning up other people's disasters and poor behaviour so that you can feel safe. The old original programs for this (which I promise you are underneath this incredibly painful co-dependent pattern) are things like:  'You are sick and unhinged, but if I make you better, then I can survive.'
Can you see how dangerous this is with narcissists? If we are like this, we are like honey to toxic bees.  We stay attached to them whilst they do all sorts of loose and unaccountable behaviour (narcissists are a law to themselves), and we go into overdrive trying to keep authorities from the door, the roof over our heads and the issues from escalating.
It's not until we pull away and start healing this terrible compulsion within us that we stop doing that, hooking up with ridiculous out-of-control people, rather than generating our own solid, healthy life in co-creation with other real, genuine and healthy people.
#5 You Are Really Hard on Yourself
I want you to be very clear about this, that the following is an old and false platitude: 'People treat us how we treat them.' No, they don't, they treat us how we treat ourselves!
It's Quantum Law. There is no outside. If you treat yourself with criticism, disdain and contempt, that is how people will see you and relate to you too, especially the key people in your life.
Be clear, narcissists are narcissists. They behave like they do because of their unmet, unhealed inner trauma that they have no desire to resolve, and they are not magically going to be nice to you, once you heal your relationship with yourself.
Rather, you will no longer accept treatment from anyone beneath the level of love and support that you have established with yourself.
It's like being a healthy person who no longer has any attraction to junk food. It's just not you anymore.  You just don't choose it or participate. And you no longer kid yourself that a greasy burger is all of sudden going to become a healthy buffet. Narcissists will be firmly off your menu and really repulsive to you.
Can you see how cleaning these 5 susceptibilities up (there is so much more about this in my book as well) would change everything about your inner relationship code, which is who you are attracted to who, who finds you attractive and how you show up with people?
I promise you narcissists pick their targets. They sense and sniff out people who are people pleasers, stuck in previous traumas, hand their power way and are over responsible and acting out co-dependent fixer behaviours.
These are the people they can attach to, mine and abuse.
When you heal, uplevel and clean this up, not only will you become a boundary boss you will also be a radiant beast who has no fear of anyone anymore because you know all you have to do is be yourself!  And, if that doesn't fly with certain people, so be it! For every false door that closes, two true ones open, I promise you!
That is how spiritual, Quantum compensation works!
So, if this powerfully resonates with you, and I know with a lot of you it will, let's get started… right here by connecting to my free 16-day deep inner healing course which includes a healing workshop with the super-tool Quanta Freedom Healing, a set of comprehensive eBooks and so much more.
And, if you want to see more videos make sure you like and subscribe, so you get notified as soon as each new video is released.
So, until next time, keep smiling, keep healing and keep thriving because there's nothing else to do.
(Visited 1 times, 21 visits today)
The following two tabs change content below.

Melanie Tonia Evans
is an international narcissistic abuse recovery expert. She is an author, radio host, and founder of Quanta Freedom Healing and The Narcissistic Abuse Recovery Program. Melanie's healing and teaching methods have liberated thousands of people from the effects of narcissistic abuse world-wide.

Latest posts by Melanie Tonia Evans (see all)