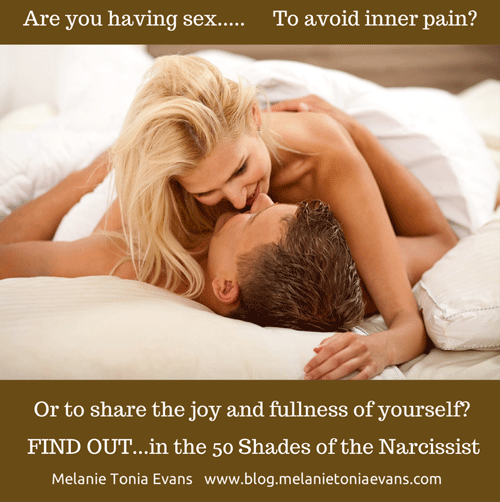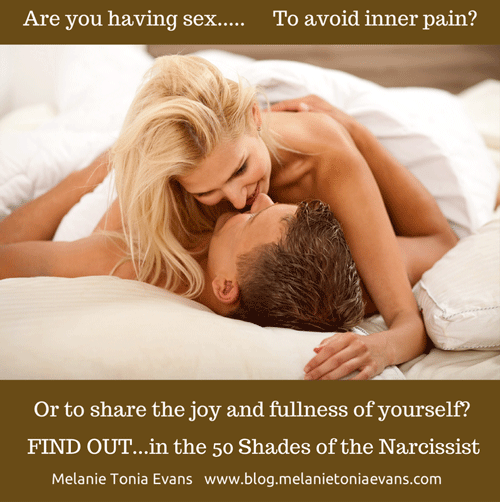 A couple of weeks ago, a HUGE discussion broke out on my Facebook page about the book and upcoming movie Fifty Shades of Grey.
I have never seen such a spirited and heated discussion on my page!
It was clear to see from the posts on the thread that people were divided into two camps. One being adamant that the book was an account of a narcissist and a co-dependent caught up in web of unhealthy sex, obsession and abuse – which triggered them intensely, and the other camp were equally as convinced that the fantasy of the book was harmless, and they had experienced a great deal of healing and libration whilst reading the book.
It was, all in all, a fantastic debate.
If you are not on my Facebook page I'd love you to join in on these discussions. I also post daily inspirational quotes and exercises for your recovery and empowerment after narcissistic abuse.
Here is a link to my Facebook Page.
So today, I want to talk about sex and the narcissist. I put some posts up on Facebook about this upcoming article, and I received a great deal of responses and input from the Community in the way of posts on the thread and many private messages.
Thank you so much everyone for your contributions; they have played a definite part in the creation of this article. I have included some of the public comments to assist bringing through the point in question.
I sincerely hope, because this Community is all in this together – healing and evolving, that when you see yours, you will graciously understand why I have included some snippets.
With the exception of one NARP Member's email, I have respected and not shared any parts of private messages. Please, know with the volume of messages I receive, it is impossible for me to answer you all personally, and I take this opportunity to thank you for being involved in this topic and sharing your inner life so authentically with me.
So now on to the article…
I've never dedicated an entire article to narcissistic sex before. But we are all adults, and I think it is time!
This article is specifically about what sex looks like when people are a healthy source to themselves, and what the difference is when people aren't…
The Greatest Purpose of Sex
I have no doubt that great sex, otherwise known as 'making love', is the highest expression of Heaven on Earth. This is when two people can melt into each other in total surrender and become an explosion of joy and bliss infinite times greater than the individual parts of themselves.
There is an opportunity – within orgasmic conjoining – to know the true meaning of 'Oneness'.
Not only can we be 'One' with a sexual partner, we can also catapult directly into the Oneness of God, and the entire Universe in a symphony of pure ecstasy.
Naturally, this is a very enticing state sought by many. Many people want to have the ultimate sexual spiritual experience that I have described. And maybe there are people, who when they really feel into such a powerful conjoining, may be terrified of 'losing themselves' – the dissolving of their individuality (egoic mind) into 'Oneness'.
Many people desire sex, however, the reason for the desire is all important.
Do we want to have sex to escape our inner pain? Are we trying to run from our woundedness by having sex?
Do we want to have sex with someone so that we can feel loved?
Do we want to have sex in order to gain control of another person? Do we hope that if we are available enough and 'sexual' enough that this person won't leave us and we will never be alone again?
Are we dazzling someone with sex so we can keep this person from really knowing our fears, our inadequacies, and the parts of ourselves we feel they will reject if they find them out?
Or do we wish to experience the heightened sharing and expansion of our already established divinity, authenticity, profound self-love and self-acceptance in arguably the most powerful statement of human love, connection and experience of an 'expanded self'?
Such a level of depth, true intimacy and absolute conjoining – where the other person's soul literally walks through your own, and where two people are completely merged with full emotional access and disclosure without fear (true intimacy – 'in-to-me-see') –  requires an incredible level of trust, wholeness and personal authenticity.
As sexual adults, have we experienced this level of true divine sexual communion, or have we just been having great body orgasms?
Or maybe we haven't been having great orgasms at all…
Even worse, maybe our sex life came at a terrible price, because it was connected to a relationship with a narcissist.
Our Healing Regarding Sex With Narcissists
During this article my intention is to bring the power back to ourselves.
We have no ability to grow, develop, heal or change any of our patterns or experiences until we take responsibility for them. This 100% personal responsibility is the deep understanding – "Life is not happening to me, it is happening through me."
For all of us, our true power and liberation lies in deeply accepting and doing the work on: "What were my blind-spots that allowed this to happen to me?"
I need to let you know…I am not holding back on this topic, in as far as what we all need to realise to get well – not just in regard to narcissists –  but with ourselves and life. And how we can STOP feeding narcissists the very lifeblood that enables them to exist and operate.
Sex, I believe, is one of, if not the biggest narcissist's Food Source.
Those of you who thought this article would just be a crack at the narcissist may be disappointed. Those of you who are dedicated fiercely to your own emancipation, personal growth and development won't be.
Many, many people believe opposites come together. However, because we live in the energetic system of life, Law of Attraction, which states 'that which is like itself will be drawn to self', I totally disagree.
It is in fact a quantum physics impossibility for 'opposites to come together'. This would be like saying, "When I am in a stinking bad mood, all this GREAT stuff happens to me!" Or, "When my vibration is high, and full of peace, love and acceptance all this HORRIBLE stuff keeps happening!"
Quite frankly the theory is ludicrous and incredibly self-defeating if we think this: It is because I was so 'whole' – had so much to offer, and was such a wonderful, joyful and giving person that I was targeted by a narcissist. (Many abuse forums love pushing this theory).
Why is it so powerless? Because it means we don't believe we have to change anything about ourselves. So we remain victimised by 'what someone did to us', never look inside for answers, development and growth, and wait around for something or someone else to change so that our life can get better.
In all the work I have ever done helping people heal from narcissistic abuse, the most powerful and lasting results have always come from healing what it is within ourselves that matches the narcissist.
In other words, our own unconsciousness – our own gaps that are not allowing us to be 'whole'. Time and time again, finding and targeting those wounds have proven conclusively to be the total reason for the hooks, the obsession, the pain and the powerlessness – and once these wounds are addressed and released – true liberation begins.
As such, for me to be true to my work and mission – which is to help people raise their own consciousness in order to heal from abuse – I have included in this article powerful self-reflections so that the truth can start to set you free.
I promise you this: narcissists are the most powerful force on the planet reflecting back to us our own unhealed wounds. This presents an incredible opportunity to embrace self-reflection in order to heal into your fullest potential – if you accept the truth of this.
Great Sex With a Narcissist
Some people report great sex with the narcissist. For these people this is often one of the greatest hooks to try to break free from –  the missing of the wonderful sex.
Mind you, there are many, many more people who report all sorts of 'sick', 'twisted', mind-bending and off-putting sex with a narcissist. (I will get to these later.)
So we can ask, "How can a pathological liar, who has no resources to genuinely care or be connected to and love another person healthily, be a part of such a great sexual union?"
To understand this we need to look at other areas of life when the narcissist is operating vertically. The narcissist is incredibly capable of deceiving, acting and using any method necessary to produce the desired result.
Sex is no different. However, there is a very good reason for certain narcissists being 'great lovers' that you may or may not know about.
Their sexual attributes and perfected craft have nothing to do with generating 'Oneness' or granting you the gift of their love and devoted touch – it is all to do with feeding their ego.
When you understand this, you know that the multiple orgasms they insisted on you having had nothing to do with wanting to please you, despite the declarations that they were. It was all about the narcissists being able to create a version of themselves as the 'ultimate lover'.
You truly could have been 'any object' that they used as the workbench to 'better their personal best if possible'. The truth is, if you are making love with a narcissist; you are the object they are masturbating with.
The narcissist is only making love to his or her true master – a twisted, demanding , never-satisfied and never-reassured False Self.
Additionally, if sex is 'your thing', and the narcissist knows it creates a dependency and gives him or her any 'easy out' after atrocious behaviour, copious amounts of good sex may be the weapon of choice.
It's one of the narcissist's 'get out of jail free' cards.
I have received many messages, emails and posts, and conducted research over the years on the people who had great sex with narcissists. The common thread I find is that the person the narcissist acts it out with is also highly sexed. The narcissist uses it as a tool to cover over bad behaviour, get the partner 'to make up and shut up' and to keep sexual partners hooked and addicted to the narcissist to provide ample narcissistic supply – whilst he or she continues abusing.
What is commonly reported by the partners, who enjoy regular and great sex with narcissists, is:  their own need for sex would override their limits and stop them from honouring their personal boundaries.
At times (or mostly), even after horrendous narcissistic abuse, they would acquiesce to 'make-up' sex to fulfil their own addiction.
This provides one of the greatest power trips for a narcissist: I can infiltrate you, your body and your psychic space to get a feed, no matter how badly I treat you.
You need to understand this – being sexually turned on by another's powerlessness, helplessness and emotional devastation and fear, and then having access to their bodies regardless (which TOTALLY means 'without regard') is exactly what makes paedophiles tick.
It is NOT love, it IS psychopathic.
Being able to be turned on after feeling powerless, helpless and emotionally devastated – if we are honest with ourselves – is absolutely NOT healthy either.
Can you imagine if your child grew up playing that out; how concerned you would be?
Naturally, many of these people who had great sex with the narcissist, after the disintegration of the relationship, discovered that the 'great sex' was not exclusive. In fact, the narcissist commonly was using this weapon and power-trip on many others as well.
The truth is, if we are addicted to sex to try to fill an inner empty void, and selling our soul to receive it, we are very, very susceptible to being abused at an incredibly deep violating level.
We also keep supplying narcissists with all the feedback that says: Yes come in, abuse me, hurt me and I'll still let you take the most precious part of me.
One of The Community members sent me this message privately – and it's a powerful one which I feel compelled to share. As a NARP member I am sure she understands why…
"In retrospect I can see that the N gained entry into my spiritual space through weak "doors" in my personality. During sex it's like I'm literally opening all of these doors – yes I'm lonely, yes I self sabotage, yes I agree to be a piece of property, yes I have no boundaries, yes I am a piece of meat, yes you can suck my energy, come in and take it all! I have a feeling that the sex was so good because the perpetrator is celebrating all of my weaknesses, and in an ultimate act of self sabotage and belief of non-deservedness I'm celebrating them too."
The Self-reflection Healing Question…
"If I am handing over sex, even after being abused, in order to try to feel safe and whole – what is the powerless young part of myself which believes: It's okay for people who are supposed to love me and take care of me to abuse me?"
The 3 Reasons Why Most Narcissists Are Highly Sexed
Number 1: Narcissistic supply
Sex is one of the most powerful methods a narcissist has to procure narcissistic supply – the attention that allows the narcissist to know that he or she exists. The real reason 'outside energy' is so necessary to a narcissist is: because he or she is an inward spiralling black-hole that can't sustain his or her own energy; he/she needs to continually suck life-force to emotionally survive.
This constant need for narcissistic supply is frenetically sought so that the narcissist doesn't collapse into the empty oblivion of his or her own inner self.
Sex is easy. It's cheap and readily available, and a high source of narcissistic supply. It provides copious amounts of psychic energy granted by another, as well as secures people as an ongoing source of narcissistic supply.
Narcissists are consummate liars, and have no issue in telling someone what they want to hear in order to hand over sex. Narcissists are the ultimate sexual predators.
Narcissists commonly have back-up supplies. They store sexual sources – akin to crocodiles keeping lumps of meat under rocks for a future meal.
Facebook Members posted these comments about this topic:
"He would say "We are the best together." I came to find out, those exact words were spoken during the act with multiple women."
"He bragged about how passionate we were with one another. He would always ask me to tell him how much I loved him and to promise that we'd "be together forever." I went on several dating sites and he has many profiles."
"He always had people on the back burner he was always carrying in and lying about it. So he was in multiple stages of relationships simultaneously like revolving doors."
The Self-reflection Healing Question…
"If I connect to someone who is not a source of their own energy, and needs to get it from the outside frantically – what are my own wounds stopping me from being a True Source of energy to myself?"
Number 2: Addictive relief
Sex also grants the added bonus of a heightened state, which provides relief. Like all activities, which provide altered and heightened states, such as alcohol, drugs, gambling or extreme sports, sex is a common obsession with addicts.
The sex addiction with narcissists is played out with real life people and / or porn, dating sites, group sex, swinging, strippers and prostitutes. Sex is sex. Narcissists traditionally are not fussy who it comes from, or in what form – and this can sometimes include same-gender sex, even if the narcissist declares being straight.
I was not surprised when many people in the Community posted and messaged me about the seedy sexual discoveries and even promiscuous bi-sexuality their narcissistic partners were involved in.
Narcissists seldom use sexual protection, and have no conscience about putting others at risk of sexually transmitted diseases. The narcissist has no respect for his or her physical wellbeing (as addicts don't), which always translates as 'no care' for others.
All addictions boil down to the same compulsion – I am escaping facing and dealing with the emotional anxiety within myself, by using an addiction to self-avoid.
Please understand this: It is the relief of escaping self that is so addictive for the narcissist (or any addict).
This is the plight of sex with the narcissist: "I am so into you, and 'feel' love, and intense connection to you BECAUSE you distract me from my own demons."
Many, many narcissists use sex regularly for self-avoiding.
That is not genuine love. By stark contrast, it is pathological obsession.
ALL pathological obsession leads to pathological abuse. Because when you (the drug) no longer create an adequate 'high' to help the narcissist escape those demons, those demons will be projected on to you and the narcissist will try to get relief from them by tearing you down.
Facebook members posted these comments:
"He blamed me for his lack of interest and sleeping with him too soon (4th date) after we met – I was too 'easy'."
"He could literally slap my face, emotionally traumatize me verbally and immediately pull off both of our clothings to f—. It was a brutally humiliating crescendo to the final act in my play of narcissistic players."
The Self-reflection Healing Question…
"If I am involved in an obsessive sexual relationship with a narcissist – what are my wounds, which are causing me to self-avoid, and causing me to be prone to the highs of addiction and abuse and drama filled sex and 'love'?"
Number 3: Power Seeking
Sex grants the narcissist another bonus – power wielding.
This point, Number 3, deserves much more explanation than the previous two points – because there is many, many ways a narcissist can use sex to power-trip.
I'll divide this point into sections…
1) Sexual conquests
Narcissists often perfect their wooing techniques, and have a highly stocked romantic kitbag. Many of them find it is incredibly easy to make the right sounds and promises to create someone trusting, opening up and bearing their bedroom, body and life to them.
Those who discover the extent of what narcissists will say and do to get people handing over sex, are naturally shocked.
I received that proof myself, as I know many of you did as well.
Many narcissists are excited and turned on by a challenge. They tend to quickly devalue sources, who they get bored with quickly, and prefer someone who is not so easily manipulated. Because narcissists tend to be serial daters, and often have had numerous serial affairs, they may have a great deal of savvy to know what does or doesn't work when circling their next prey.
Sexual conquering is a powertrip for the narcissist.
Narcissists are conscienceless, everyone is simply an object to serve the narcissist's insatiable, unrelenting need for outside energy and attention, or to be used as a device to 'prove' how powerful, special, unique or notorious the narcissist is.
After the narcissist has secured his or her new source of narcissistic supply (there is likely to already be existing ones, just think 'crocodile'), a narcissist within an amount of time will commonly start using sex as a form of cruelty and punishment.
One member posted his experience, which was consistent for virtually all of us…
"It was her "honeymoon" or "love-bombing" stage, I was completely smitten by her charm, the sex was good, at first, very intense eye-contact, lots of cuddling, whispering and it felt real, it really really felt like mutual sincere affection for each other, and that was wonderful."
The Self-reflection Healing Question…
"If I have been swept off my feet into a sexual relationship with a narcissist, because he or she acted and said what I wanted to hear – what is it that I don't know, love or approve of within myself?"
2) Reducing others with sex
Naturally, sexuality is an incredibly vulnerable position where we would like to be treated with loyalty, integrity and respect.  The narcissist can demean and exploit sexually, push people past boundaries they are comfortable with, or withhold sex if that creates more emotional pain.
If sex is a high need for a partner, the narcissist (who may be sexually demanding with a less sexual partner) can refuse sex and condemn the partner as a nymphomaniac, or taunt them with promises of sex and let them down at the last minute with excuses.
Naturally, the narcissist is a master of projection and blame. The other person's humiliation and disappointment will be turned into the narcissist being wronged.
One of the cruel ways a narcissist can confuse and hook someone is to hint, or 'innocently' openly discuss the sexual talents of former partners, or even degrade someone by saying they will never measure up.
This is effectively used on sexual partners who the narcissist has identified as having doubts regarding their own 'desirability'. This hooks such people into handing over copious amounts of sex, whilst trying to win the narcissist's sexual approval, or simply punishes them into feeling inadequate.
This is what Facebook Members posted about this topic:
"… had loads of pictures of his ex girlfriends "in action" with him and others guys/girls. I never made it there, since my body was wrecked and covered with stretch marks. He told me that he'd never felt attracted to me because of my battlefield body."
"I always felt like I was in bed with 2 or more other women, when in bed with him as he would always talk about his sexual experiences with these women. It was awful now I know what I was dealing with and can't believe I would get into bed with him and listen to it. Then have sex and think he must be so sexy to have so many women wanting him like that."
"Then he used it (sex) as a weapon and another way to measure my worth. He made me feel like I wasn't any good and couldn't satisfy him. There was constant pressure for threesomes regardless of how I felt and he would treat me like a failure for not giving in."
The Self-reflection Healing Question…
"If I have been taunted, abused and demeaned by a narcissist sexually – what is it that I don't know and believe about my worthiness that I am trying to get confirmed through another person's approval?"
3) Objectifying others with sex
Many narcissists' sexualise their sexual partners by referring to their sexual parts and calling them names that relate to their sexual parts, or constantly discussing sex with them. The narcissist may demean a partner's sexual parts or sexual ability in front of others. The narcissist may send and demand pictures of sexual parts.
This is what people posted:
"At first I enjoyed what felt like intense chemistry, but then noted odd comments and behaviors that felt degrading and as though I was more an object than a person."
"My ex always suggested another man doing me so he could watch..I would question it and he would say "I was just kidding".. I don't think so!"
"I remember her being only aware of herself during sex and being really turned off by it. It's such a strange phenomena. It really made me feel ignored and unimportant like a tool."
 The Self-reflection Healing Question…
"If I have been sexualised by a narcissist – what is it about myself that I objectify? Why do I see and treat myself as an 'object', rather than loving and accepting myself deeply and authentically?"
4) Condemning others with sex
Narcissists commonly work hard to get people to open up and share their past with them, and then use the details of a person's sexual past to throw in their face and abuse them with later.
The narcissists that decide to use withholding sex as a weapon to hurt their partners, can do so by flirting and promising sex, then reneging at the last moment – and twisting facts to blame that person – or may label them a sex addict.
Community members posted:
"He was a withholder of sex and affection. Absolutely. When I tried to talk to him about it he would try and shame me by saying I had a sex addiction (although really I was just saying once every 2 or 3 months wasn't ok with me)."
"…would literally pull away from me, or promise it and then not participate, and then blame me for him not wanting it."
The Self-reflection Healing Question…
"If I have been sexually condemned by a narcissist – what is the self-condemnation I have regarding my sexual self? What is the guilt or shame I carry about my own sexuality?"
5) The use of props and toys
Narcissists love toys, gadgets, and props that create 'a third entity' between him or her and the partner, and will push wanting these props forth whether the partner feels comfortable with them or not. The narcissist may be rough with these devices and enjoy inflicting pain and / or humiliation.
The narcissist may insist on watching porn, or using sex-enhancing drugs, such as viagra, even if that is not something that their partner would normally do. These props may extend to the request or demand for another body or bodies in the bed, or 'swinging'. Ultimately, through the use of these props, like any addict, the narcissist is looking for a greater high, a greater 'personal best' – and 'more, more, more'. All of which is a barrier to true intimacy and connection, and to ensure that the partner is reduced to a mere 'object' along with these props.
This is what Community Members wrote in regard to this topic:
"The dating sites, chat sites, porn sites, DVDs etc. that had been a constant source to him for years it seems, came out only after we had our son. All his fantasy obsessions were of school girls which makes so much sense now that he has a new supply barely out of her teens. He was setting up a new fantasy long before I walked out."
"…realized he was into porn and masturbation. All the time he was degrading me with emotional abuse."
"If I was sensual he couldn't get turned on. I realize now it was all about power and control. He was also addicted to porn, online dating and strippers."
"So, not only had I already begun to feel devalued because it had dawned on me that I had to "be someone else" (play a role, dress up) in bed. Now he wasn't even really interacting with the character I was playing…he was so engrossed by whatever porn he was watching."
Self-reflection Healing Question…
"If I have been a part of tools and props with a narcissist avoiding true intimate connection – what are the parts of me that are terrified of authentic connection and intimacy?"
6) Pathological Infidelity
Sexuality grants the narcissist the opportunity to instil grave insecurity, incite jealousy and triangulate – and play divide and conquer with multiple sexual partners.
Another powerful tool the narcissist has in his or her arsenal is to accuse a partner of infidelity. Often when this is the case many people are literally devastated and shocked when they discover the multiple sexual affairs the narcissist themself was having despite all their declarations of righteousness, monogamy and exclusivity.
We may think this is unthinkable behaviour, yet to a narcissist it makes perfect sense because sexual conquests, and getting another person to succumb, is a great source of narcissistic supply and a wonderful self provided ego stroke (power-trip). New sexual hook ups, and circling between different sources of narcissistic supply are needed to provide this.
Even the most 'devoted narcissist' does this without any regret or remorse. The narcissist can't perceive anything that isn't done to him or her as a breach of trust or loyalty. The narcissist simply does not have the brain-wiring to feel empathy for others – even people he or she has 'vowed' to love.
This were related posts on Facebook:
"Withheld from me but happy to share with others. I wasn't model material in his eyes. He was too good for me apparently."
"You can imagine my surprise when I discovered that this man who was so shy about sex was cheating on me."
Self-reflection Healing Question…
"If I have experienced infidelity and deception with a narcissist – what parts of me have caused me to self- abandon and deceive myself?"
How is This 'Love' or 'Lovemaking'?
Truly, I could take this much further…but I won't.
Firstly, because the article would be too long, and also because this has all become quite distasteful…
I truly have to remind myself whilst digging in amongst the 'seediness' of narcissistic sex, that there is a much greater and more important cause going on here, that makes this article so worth producing – the necessary mission to clean ourselves up so that no longer are we going to attract, maintain and experience the devastation of sexual / soul violation, and most importantly so that we are no longer food for narcissists.
I think when we lay all of this out in front of us, we can see clearly – this was not love, it wasn't connection, and it wasn't healthy. As Sam Vaknin says regarding the narcissist sexually:
"He idealizes his nearest and dearest not because he is smitten by emotion – but because he needs to captivate them and to convince himself that they are worthy Sources of Supply, despite their flaws and mediocrity. Once he deems them useless, he discards and devalues them similarly cold-bloodedly. A predator, always on the lookout, he debases the coin of "love" as he corrupts everything else in himself and around him."
Now…who are we in this?
We have no power to stop narcissists using people as objects, and we have no ability to change them, or get them to 'fix' what they have done. Our responsibility and true power lies in healing ourselves. Having the courage to recognise we are the generative source of our own experience, and therefore we are responsible for becoming the model of self-love, self-respect and self-wholeness that we wish to meet in another.
When enough of us do this – one person at a time – there will no longer be food (including sex) for narcissists, and we will no longer keep the generational cycles of abuse and abused going.
Then, and only then, will the horrible incurable virus that we know as 'narcissism', become extinct.
I hope this article has given you the courage to deeply look within – as I and so many people have humbly needed to do – in order to heal.
I look forward to your comments and questions below…
And if you are not yet a member of my Facebook page please sign up here so you can join in on these discussions.
The following two tabs change content below.

Melanie Tonia Evans
is an international narcissistic abuse recovery expert. She is an author, radio host, and founder of Quanta Freedom Healing and The Narcissistic Abuse Recovery Program. Melanie's healing and teaching methods have liberated thousands of people from the effects of narcissistic abuse world-wide.

Latest posts by Melanie Tonia Evans (see all)