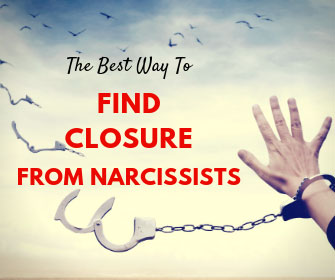 If you have ever tried to get closure with a narcissist, you know exactly what I am talking about.
Trying to get a 'sorry' is ridiculously impossible …
Remorse is not forthcoming … and,
Making amends is unheard of.
Unless of course, the narcissist has no other option other than to appear accountable (for their own agenda).
However … as we all so disastrously discovered, the remorse and proclamations to change simply don't hold weight.
Rather, everything goes back to 'narcissistic business a usual' very quickly.
And, of course, we may want to hold the narcissist accountable ourselves, through people we jointly know, or authorities, or even by hoping karma enters the scene and delivers the narcissist's just deserts …
Yet even THAT doesn't seem to happen!
Today, I want to talk to you about another way to get closure … The Quantum Way that will finally grant you EXACTLY what you need to be released from what happened, gain peace and resolution and move on.
Video Transcript
I remember a very funny meme that I once shared that went gangbusters. You may know it, it's a picture of a skeleton sitting on a park bench with the caption 'Waiting for a narcissist to apologise'.
It's hilarious and so true if you are wanting a genuine apology, remorse and atonement for the horrible things that narcissists do, the obscene conscienceless behaviour and pathological lies and deception that they are famous for, then you will be waiting an eternity.
There is zero closure to be had directly from the narcissist and don't be fooled if eventually you do get an apology, because when you reconnect with the narcissist you will discover that not only was the misdeed never truly recognised and significant to them at all, but also the same behaviour continues. You were simply being told what you wanted to hear for the narcissist's agenda.
If we have got past believing, hoping or wishing for the narcissist to be genuinely accountable, which is a HUGE relief when we do, I still strongly advise against getting trapped into wanting justice to be served.
Meaning, either the narcissist be held accountable by family and friends or the law, or for karma to strike him or her down with the rightful payback of what they did to you.
Handing Your Power Away
Trying to hold a narcissist accountable via outside forces is a step up from clinging to the narcissist, lecturing, prescribing and trying to force them to get it.  However, it still means that your life will be on hold. It means that you are stuck in the illusion of conditional living which is: 'The quality and capacity to generate and create my life is reliant on conditions outside of me.'
This is a direct contradiction to Quantum Law, so within, so without, which is THIS personal truth for all of us: 'I have the power to unfold my life from inside of me, regardless of what other people are or aren't doing'.
If we do stay stuck in trying to get the narcissist to validate our experience by apologising and atoning, then as understandable as this is, what we are REALLY saying is: 'My life experience is now in your hands. I can't go on healthily until you repair what you have done.'
Now please don't mistake me, in an ideal world YES, people should do this. They should understand how they have hurt people, have a conscience and do whatever they can to repair that hurt.
But, do we live in a world where this was a part of our childhood curriculum? Were humans taught the fundaments of emotional intelligence in the important foundational years where most of all our human programming took place, and how to honour our inner beings and then the inner beings of others healthily from a very young age?
No! Maths, spelling, grades and sport were deemed more important. And, we live in a world where acquisitions and superficiality are focused on and revered, not the way we treat ourselves and others. If we want to jump down and get all righteous about the way people should be awake and treat others, we are doing that on the wrong planet. That's our powerless, victimisation talking and no one in that model is happy because they are continually disappointed by people's unconscious behaviour and lack of accountability. (I know this for a fact because I used to be one of them!)
Narcissists are unconscious, it's all about what they are or aren't getting and their hurt, no one else's. They hold everyone else responsible for needing to grant them what they want, to try to feel okay, whilst they operate with their thoughtless, conscienceless behaviour towards others. The narcissist doesn't take responsibility for their own hurt, let alone the hurt they inflict on you.
How can they when they refuse to recognise and heal their own?
Of course, when someone violates us, it can hurt. It especially hurts when we are holding another person responsible for our own levels of self-love, approval, security and survival. It can feel intensely personal, because this surfaces our deepest wounds, fears and insecurities: such as 'You didn't love me', 'You lied to me', 'You cheated on me', 'You deceived me', 'You treated me cruelly', or whatever it is that hurts us so much.
When we are in our own lack of self-partnering and not being these commodities to ourselves, the terrible feelings equate to, 'This means I must be unlovable and can't have what is real and true, or live a kind and decent life.'
When we have assigned someone else as the keeper and provider of our identity, and they are not supplying the goods, of course, we feel traumatised and out of control. We feel like we need to make them change, step up and stop doing what hurts and take away our hurt.
This all equates to disastrously handing our power away.
What you want to feel, which is 'whole', is never going to come from a false source who doesn't even have the capacity to be real or whole within him or herself.
Your suffering can't stop if this is where you are. It means that you have not yet stepped into your true power, which is being an unlimited being, able to harness and create with the entire unlimited potential of your life experience.
Growing Up Your Unhealed Parts
Can you understand what these powerless and dependent feelings are really about? They are about feeling like a child on the inside, trying to get a person (metaphoric parent) to grant us what we need to be whole. As children, it was so, so true that if we didn't have someone loving us safely, kindly and honestly, we couldn't feel lovable, kindly treated and safe. And we were mega-dependent because we didn't have the resources yet to 'be' and co-generate these things ourselves.
However, as an adult, we can consciously choose to do the inner work, the reprogramming inside our own inner identity. We can realise that once the trauma is inside our own inner being that only we can choose to be responsible for healing it and that no-one else can do this for us.
People can help show us how to do this, but ultimately this was always about establishing a healthy, whole, loving relationship between us and ourselves, as the template for every relationship we then accept and create going forward.
This inner work is exactly what myself and others achieved though Quanta Freedom Healing in the NARP Program.
I promise you, personally if I hadn't, I would be that skeleton waiting on the park bench for the narcissist to make amends. There is no way I could have gone on and had the life I do.
When we commit to the inner work, we shift into the understanding that 100% we accept that with this person we can't have a safe, kind and honest relationship. It's just not possible, because the sanctity of ourselves, and our emotions and identity aren't respected and honoured. Yet we can become these things to ourselves and then cogenerate them with healthy others and life opportunities.
As kids, we couldn't leave the parent who was not conscious enough to help our inner identities grow up healthily, but as adults, we can leave the metaphoric parent damaging us this time.
Make no mistake, the hallmarks of narcissistic abuse are unacceptable. Things like pathological lying, conscienceless behaviour, and inability to recognise your feelings and needs and apologise for bad behaviour or make amends. These are all intensely damaging behaviours to be around, that destroy the sanctity, the trust and respect of relationships, as well as your relationship with yourself.
When we do the inner work on our young childhood wounds, those unhealed parts that didn't feel whole, safe and loved, we no longer take other people's unconscious behaviour personally. Instead, we recognise they don't have the capacity to be healthy, and we are relieved to have got the lesson and the healing from them.
Now, we are deeply invested in our own growth and development, expanding into life in glorious ways, able to generate with who and what is healthy and leave alone who and what isn't.  It's such a relief to no longer be putting our pearls in front of swine to be smashed.
Then, we stop being dependent on unhealthy others, trying to force them to take away our pain and grant us our wholeness, because we already have it. We are fully emancipated when we no longer try to change broken, unconscious people into whole people so that we can finally feel loved and safe. We already are our own life raft; we are no longer clinging on to them to try to stop drowning.
The intense wake-up call of narcissistic abuse drives us to do that inner work because it's too painful not to do it.
Then we have stepped in personal truth and our healthy alignment where we can bless and let go of abusive people, keep releasing and healing our wounds and become more and more of a match for the people and situations who do represent our True Selves.
The truest closure we can even have with a narcissist is this: 'I don't need any closure from you at all, because I am now lovingly self-partnered and being my True Source generating my own life. '
I want this for all of us, and I can help you anchor into this power and truth, just as myself and so many others have achieved. You can get started today, by signing up to my free 16-day deep inner healing course which includes a healing workshop with the super-tool Quanta Freedom Healing, a set of comprehensive eBooks and so much more. To access these, just click the link on the top right of this video.
The following two tabs change content below.

Melanie Tonia Evans
is an international narcissistic abuse recovery expert. She is an author, radio host, and founder of Quanta Freedom Healing and The Narcissistic Abuse Recovery Program. Melanie's healing and teaching methods have liberated thousands of people from the effects of narcissistic abuse world-wide.

Latest posts by Melanie Tonia Evans (see all)