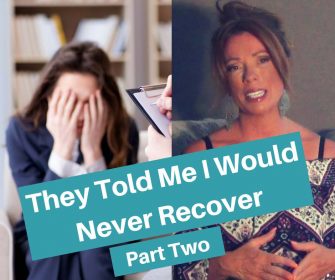 In Part One, I shared with you the intimate details about my breakdown, awakening and how my life was changed forever.
Please watch Part One first if you haven't already.
In this episode, Part Two, I share with you the numerous epiphanies I received shortly after my awakening, which took me from a person entrenched to living life from the outside in to one living life – for the FIRST time in my life – to the inside out.
And how I had finally realised that the broken parts of myself that had been with me all of my life, had been unconsciously involved in my patterns with painful and disappointing relationships – and that this had nothing to do with "blaming myself" and rather everything to do with loving those parts of me back to wholeness.
This began a quest of 18 months – until I finally cracked the code and learnt how to self-partner and work directly on my subconscious to release the crippling trauma that had overshadowed my life … and which created the template of what was to become the Thriver Community – revolutionising how we can heal from narcissistic abuse.
I hope that Part Two can help you believe the true healing is possible, no matter how broken we are – when we align with our truth and start releasing the trauma that was previously keeping us in the deep throes and symptoms of narcissistic abuse.
If you too have felt like you are at rock bottom, and are terrified you will never get back up again, or feel like you have had so much of the pain that you are going to give up – then I really do urge you to watch this episode.
The following two tabs change content below.

Melanie Tonia Evans
is an international narcissistic abuse recovery expert. She is an author, radio host, and founder of Quanta Freedom Healing and The Narcissistic Abuse Recovery Program. Melanie's healing and teaching methods have liberated thousands of people from the effects of narcissistic abuse world-wide.

Latest posts by Melanie Tonia Evans (see all)