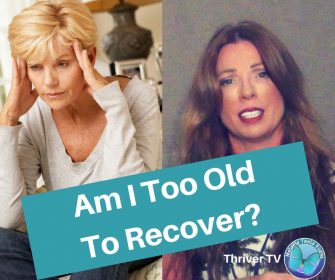 This is one of the most painful questions people ask …
It is so understandable, after being narcissistically abused, to think that you have thrown the best years of your life away … and that it's now too late to create a great life.
And let's face it – it's very unlikely that you have ended a relationship in a supported state, where you are healthy, happy and buoyantly able to move forward.
In fact, the exact opposite is usually true – you've lost a lot, and especially your confidence and faith in Life and yourself.
You may have been set back years – emotionally, mentally, physically and financially.
And of course it feels like the dreams that you had worked hard to accomplish have been thwarted!
In today's Thriver Tv Show I share with you some incredible and inspirational information, that I know will help you (no matter what age you are), as well as real life accounts from people who healed and Thrived despite their age.
These individuals generated not only relief and freedom, but also their life missions, aspirations and greatest joys after narcissistic abuse …  despite not having what most people would call the necessary support or contemporary qualifications to do so.
I thoroughly look forward to sharing you with WHY Quantum Law is unlimited and never discriminates …
And how to tap into it!
NO matter HOW old you are!
The following two tabs change content below.

Melanie Tonia Evans
is an international narcissistic abuse recovery expert. She is an author, radio host, and founder of Quanta Freedom Healing and The Narcissistic Abuse Recovery Program. Melanie's healing and teaching methods have liberated thousands of people from the effects of narcissistic abuse world-wide.

Latest posts by Melanie Tonia Evans (see all)