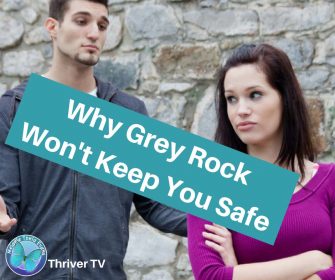 If you have asked for help on the internet or read articles on how to deal with a narcissist, chances are you have heard of the The Grey Rock Method.
If you haven't heard of it, the Grey Rock Method involves switching off, showing no emotion and providing nothing that attracts a narcissist into granting energy back – by us becoming so boring and lifeless to the narcissist that they simply don't see us as a source of supply any more.
Using the Grey Rock method is intended to help us reach the biggest goal we have with a narcissist, which is to detach and get well … mentally, emotionally, physically and financially.
But often detaching and offering up "no energy", to cut off narcissistic supply to narcissist, isn't enough for us to get there …
Why not?
Because we may not have realized just how deep the chords with a narcissist run between us and them.
True disconnection to a narcissist is not a logical or even a physical act … it is in fact a deep Inner Game that gets us there.
Tune in to this Thriver Tv episode to find out exactly what this Inner Game is, and how to activate true Quantum Detachment.
Due to the overwhelming support and positive feedback we have had about Thriver TV, we have decided to step things up a notch …
We are very happy to announce that we are going to be bringing you two new videos each and every week!
We honestly can't thank you enough here at MTE for your support and positive energy as we have built this channel over the last year and a half.
Please continue to comment and like our videos, and if you know someone who would benefit from the information – please share my videos with them.
We are all in this mission together to heal the world from narcissistic abuse, one person at a time.
The following two tabs change content below.

Melanie Tonia Evans
is an international narcissistic abuse recovery expert. She is an author, radio host, and founder of Quanta Freedom Healing and The Narcissistic Abuse Recovery Program. Melanie's healing and teaching methods have liberated thousands of people from the effects of narcissistic abuse world-wide.

Latest posts by Melanie Tonia Evans (see all)