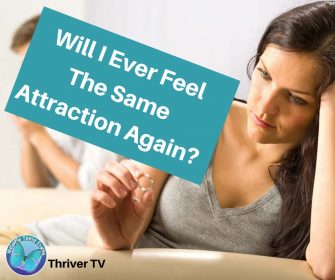 Have you ever had the agonising issue of being head over heels attracted to someone who is totally bad for you?
And …. even though this person abuses you and is impossible to create a healthy, safe and happy life with, you feel like they are your perfect match?
This is the traumatic world of being connected with a narcissist lover, where I promise you SO many people have reported the same thing!
In fact, some people when they first connected with a narcissist, felt this heart explosion … "This is The One" (yours truly included), and then … when the relationship blows up and ends (as relationships with narcissists are apt to do)  there is a forlorn emptiness of missing and obsessing about the ex-partner.
As well as, devastatingly, a benign non-existent attraction to anyone else.
These are pretty tough things to get past.
But … I promise you it is not only possible, it is inevitable when we apply the Thriver principles of recovery.
This is key …
You may not have realized WHAT the attraction really is, HOW if formed and WHY it was SO intense …
And … when you do, and you know how to break free from the connection – which I promise so many of us Thrivers have done, as a step by step process – you will discover all of the missing of that person is gone.
Truly …
And then the magic happens …
You organically start to feel attraction (including the "Oh hello!" feeling) for people who you CAN have healthy, happy and safe relationships with.
Bouya!
Isn't that what it is all supposed to be about?
It certainly is, if we want sustainable, glorious, fulfilling relationships with wonderful people, and I promise you the chemistry gets even better than what you had with a narcissist!
If you have been struggling with this topic, I can't wait to help you out with it … because I know how BIG it is!
Having personally struggled terribly with this issue for years, before my Thriver recovery, I know exactly how painful it is.
If you have any questions about this episode please leave them in the comments below and I would love to answer them.
The following two tabs change content below.

Melanie Tonia Evans
is an international narcissistic abuse recovery expert. She is an author, radio host, and founder of Quanta Freedom Healing and The Narcissistic Abuse Recovery Program. Melanie's healing and teaching methods have liberated thousands of people from the effects of narcissistic abuse world-wide.

Latest posts by Melanie Tonia Evans (see all)